My Current Home Grooming Setup And Why I Love It So Much
It's been mentioned in previous posts, but this site is a joint effort between me and Ryan. He's the true professional and has helped tremendously with some of my reviews here. You'll always see him giving a bit more in-depth advice, perfect for barbers or stylists. Me, on the other hand? I'm your perfectly average home user with some diffuse thinning and a beard that needs to be taken care of thrown in the mix. I got hooked on clippers and trimmers a few years ago and have experimented with quite a few models in my Average Self-Grooming Joe role. It recently occurred to me that I haven't shown you what I currently use to keep my hair and myself properly groomed in my daily life. Time to change that and, who knows, you might find something that will work for you too? Here's a quick snapshot of most of my home grooming setup and products: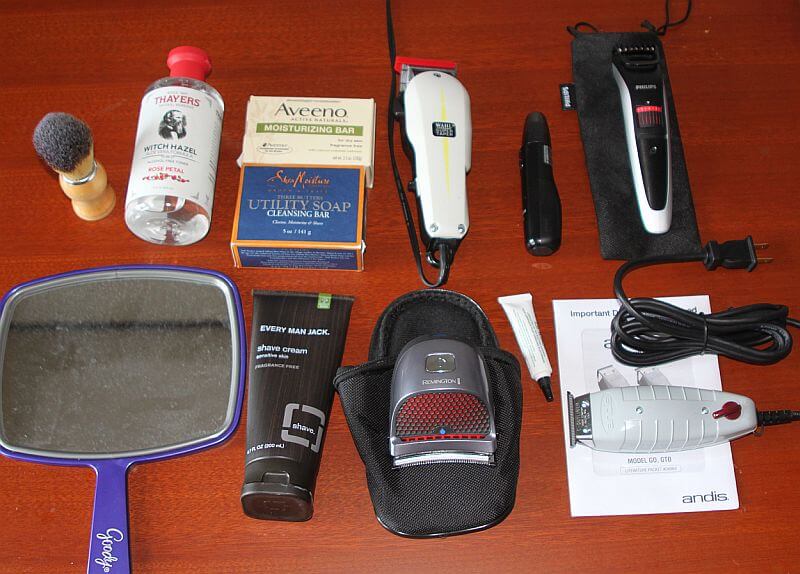 This might seem like an overkill for some people and I admit I might have a little bit of a hoarding problem that is evident in my home grooming setup. (Also yes, my mirror needs some cleaning. It's so darn dusty around here!) Let's go through the two groups of products I use to make sure I'm neatly groomed and not a wandering caveman instead.
Chop-chop-chop that hair!
As you can see, the right corner consists of the various clippers and trimmers that help me stay fashionable. The top row looks like this: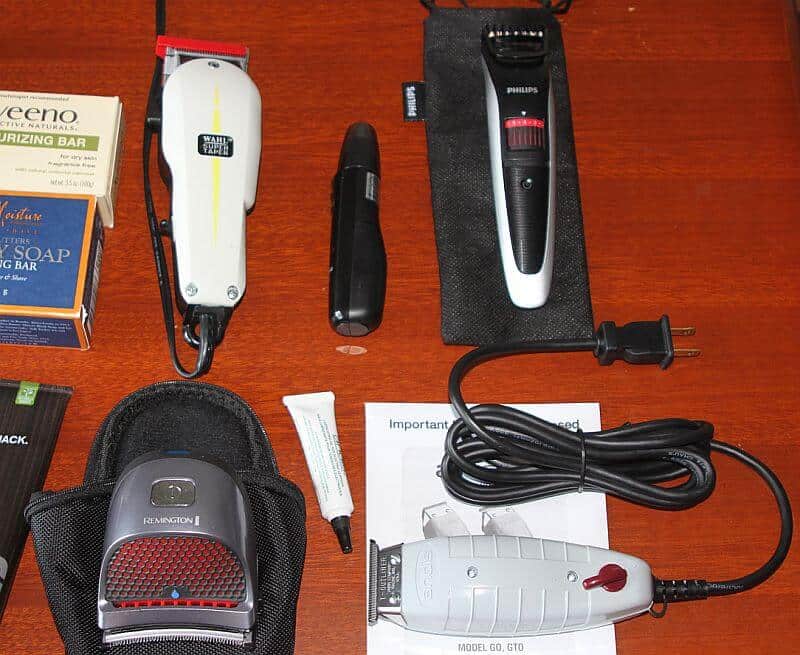 These five awesome products are as follows:
1) Philips Norelco beard trimmer
(furthest right)
2) Panasonic nose hair trimmer
(middle)
3) Wahl Super Taper clippers
(left) Bottom row complements these with:
4) Andis T Outliner hair trimmer
5) Remington HC4250 cordless clipper
Honestly, you could easily cut this group of 5 products to only 3. For example, the T Outliner can be used for beard trimming as it's a great all-purpose trimmer anyways. Few people need two sets of hair cutters either. I like having diversity, however, so I'm keeping all of these guys around. Here's why: The HC4250 is ridiculously lightweight, small and easy to cut hair with. It's wider blade achieves professional buzzcuts in only a few minutes, as it covers a bigger surface.
Why I love it? 
I don't need to concern myself cords and with the usual clipper weight (around 1lbs) here. Remington HC4250 is designed to be convenient and give you a hassle-free buzzcut in as little time as possible. It's my personal
top cordless clipper
and my
HC4250 review
speaks volumes about how much I treasure it for my home grooming setup.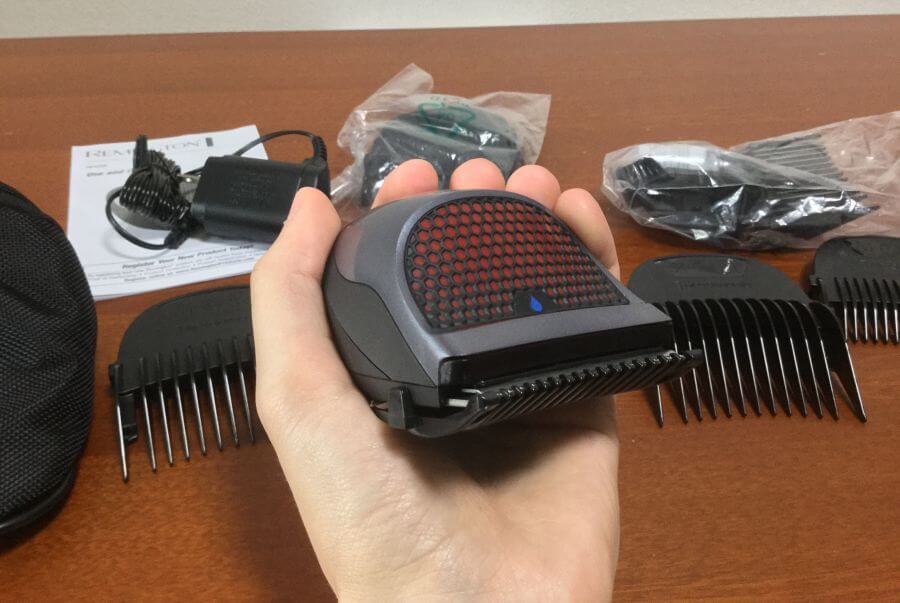 This neat palm-sized machine, however, has an important drawback: it lacks the taper lever other cutters have. Without it, you can't layer your hair/texturize it for some cooler hair styles. Its wider design also can be tricky when you want to clean up around the ears properly. That's why I'm keeping the Super Taper around. Easy to control hair length and taper things a bit, plus you can navigate around the ears with ease. That said, it's corded and weighs quite a bit, not to mention its vibrations and the heat after 10-15 minutes of use. While I like this white-yellow-black baby, I tend to mainly use it as a complementary home tool right now due to these exact reasons. Also, it's not as diverse as what a
Wahl Elite Pro
kit might offer you.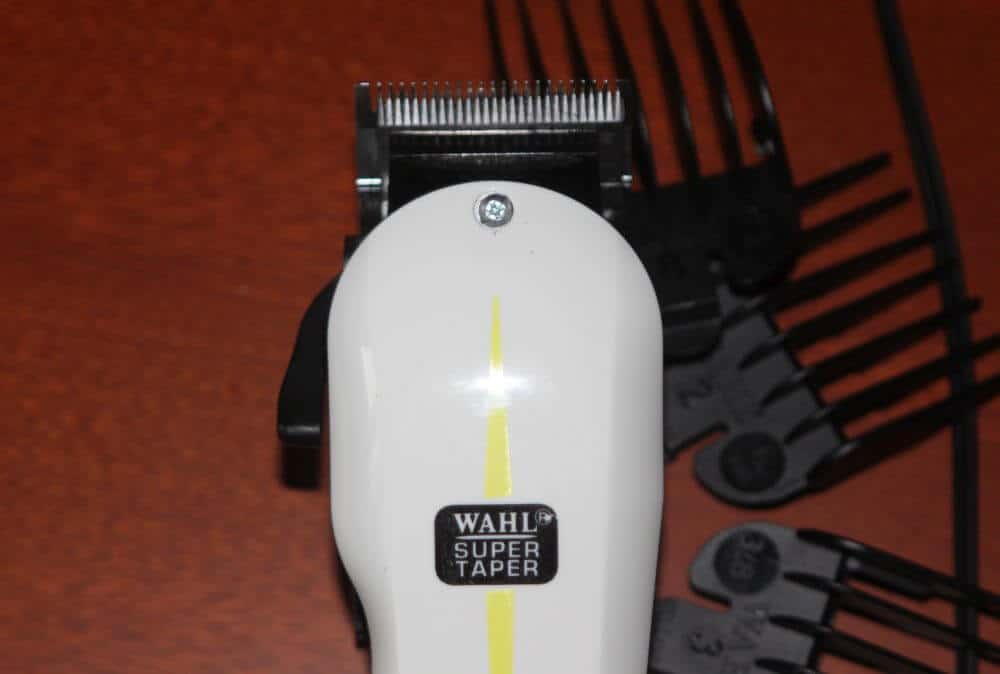 As I mentioned, you can always ditch the Norelco beard trimmer and just groom your beard with a T Outliner. That's what I do quite often, actually. However, sometimes I don't want to bother with oiling blades or cleaning them after a trimming session. The Norelco's always cordless with a great battery life, so when I want a quick, plugging-free beard action, I work with it. That said, the T Outliner excels in every way possible. This is a professional tool you'll see in most barbershops. The blades are sharper, so it doesn't pull on your beard. You can 
feel 
the motor roaring with power and it's pretty awesome. Going further on myhome grooming setup, the T liners (read our full review
here
) are also perfect for anything from sideburns to shaping that neckline or doing touchups. You can't do this with the Norelco, of course – or with the clippers either, actually. That's why I love this grey-colored beast and Ryan recommends it as the go-to
liners/edgers for barbers
too: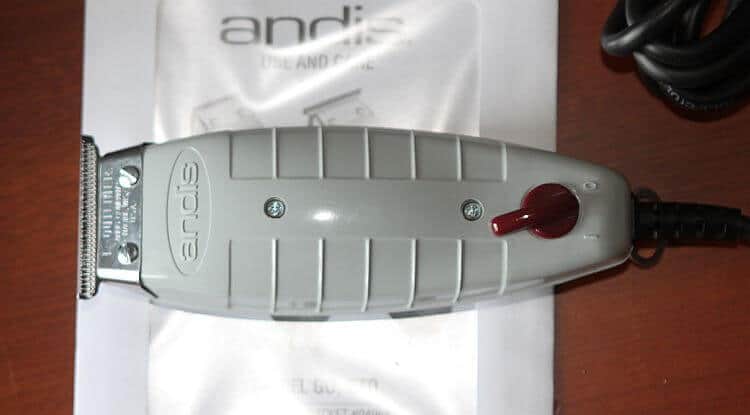 The nose hair trimmer is pretty self-explanatory. I'm a hairier dude so sometimes those ugly little thick hairs make their appearance out of my nostrils. Panasonic have pretty great nose/ear trimmer models and while the first time I took care of my nose hairs it felt weird, this quick ritual is an important part of my grooming routine right now.
Taking care of shaving and your skin
Cutting itself is half the task. If you groom yourself without taking measures to protect your skin, you're not going to have a great time. At all. While my hair isn't as curly as the issue Ryan discusses in his article on
shaving for black men
: how curly hair is prone to bumps and ingrown hairs, I still have quite the sensitive skin. There's a few important products which have helped me take care of keeping things soft and avoid irritation as much as possible: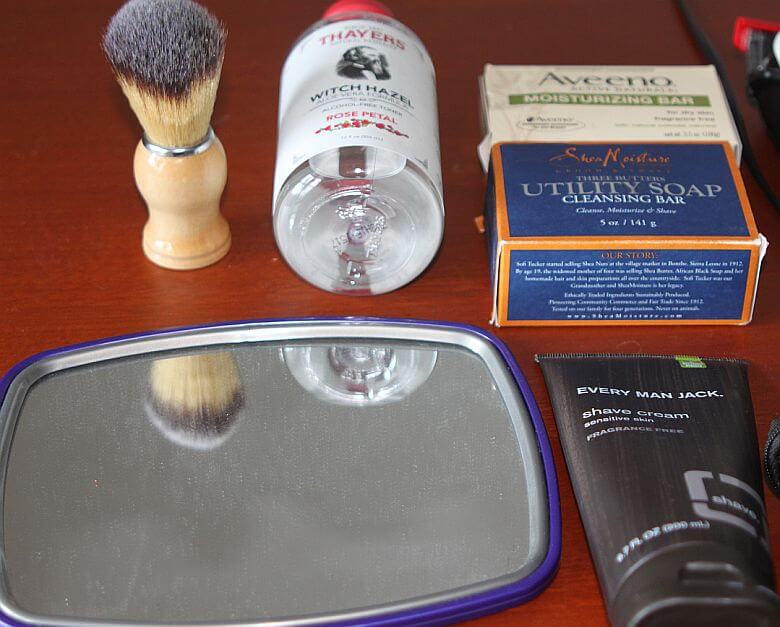 It's actually exactly Ryan that recommended using witch hazel to me. It's miraculous. Whenever I shave to the skin, I grab some cotton pads, sprinkle this magic liquid on them and gently rub my face. You'll be shocked to see how much such a simple routine can do for your razor burns/ingrown hairs or other skin irritations. As far as cream goes, I found out Gillette/Nivea gels or shaving creams don't jive well with my skin. Instead, I'm getting special shaving soaps or medical creams and it's been working out great so far. Sure, it might be a little bit more expensive, but I prefer that to itchy skin or constant red spots on my face.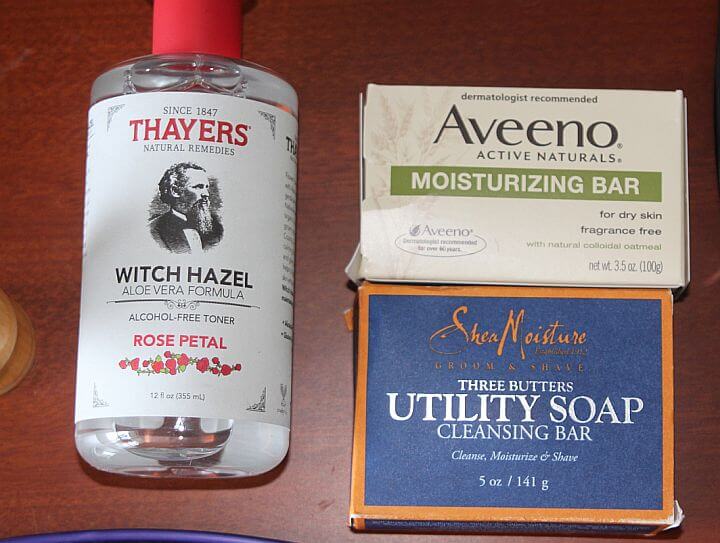 The soap you use for washing your face is also pretty important, especially if your skin is prone to drying out, like mine.
Now, this also depends on the size of your beard, as you can always go with a special beard soap too. I'm keeping things to a neat trim at the moment, so a moisturizing bar for my skin that also softens my beard is my personal pick.
Again, this might run you a bit more expensive than your standard soap, but it's completely worth it. After all, it doesn't make sense to be perfect in your hair/beard grooming, but skip on protecting your skin, right?
If you have any questions about my grooming routine or want some recommendations, let me know in the comments below! Alternatively, look around the site – especially the home clippers reviews should get you on the DIY home grooming setup track fast enough 🙂