There's two things you would expect from a home haircut kit: a sturdy, powerful clipper, and enough accessories to supplement it.
Some of the kits we've reviewed so far fit the bill properly. But none can match the class you'll find with the Wahl Elite Pro clipper kit – click here to check it out on Amazon.com.
Is it something about the luxurious Secure-fit stainless steel Wahl combs? Smoothly cutting blades? Or rather, its attractive price?
I'll elaborate on this kit's fantastic sides and some of its shortcomings in this Wahl Elite Pro review. Let's do this!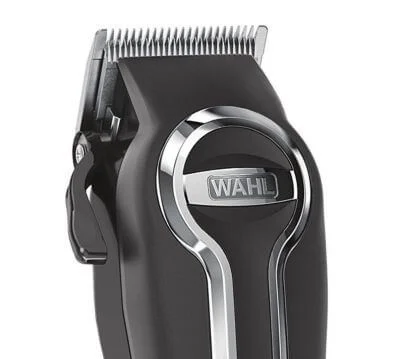 Overview of the Wahl Elite Pro haircut kit
| You'll love it for these | But you won't like these |
| --- | --- |
| | No left & right ear taper |
| Exceptional performance for a home clipper | Might feel a bit heavy for some |
| Wahl's high-end steel combs included | |
| | |
Wahl Elite Pro: your home turned into a barbershop
Do you think I'm exaggerating with such a bold statement? Not at all. There's quite a few things I consider unique about the Wahl Elite Pro clippers. Before we dig deep in this Wahl Elite Pro Review, first let's see what's in the gift box you'll receive – aside from the clipper itself, of course:
A styling shear & comb

Complete set of Wahl metal clipper guards (#1/2 to #8 or 1/16″ to 1″ in cuts)

28″ x 40″ barber's cape

Styling shear blade cover, cover for the clipper blade, clipper oil and a cleaning brush

Storage bag for the metal guards

A storage case for the whole Wahl Elite Pro high performance haircut kit #79602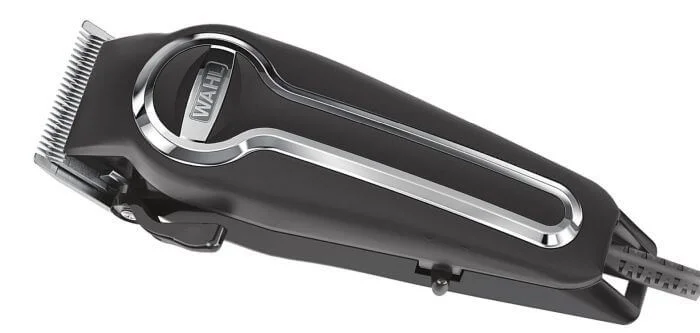 Wahl Elite Pro

Comes with a more powerful motor and quality self-sharpening blades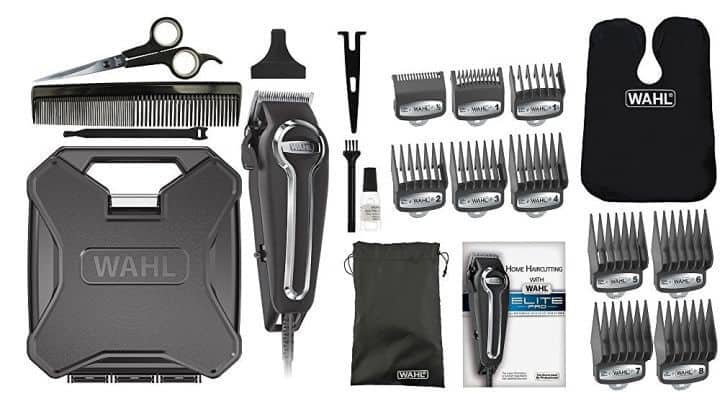 As you can see, you have quite a few things included for your home haircut. But that's just the dry facts. You could find that anywhere.
Let's get to the juicy parts: why this kit is such a gem and we included it in our best home clippers list.
Not your typical Wahl clippers to use at home
Home hair clippers are dominated by Wahl. You've probably seen the
Color Pro lower budget kit from Amazon.com
,  or the Chrome Pro deluxe haircut kit we've
already reviewed
.
With the Elite Pro, though, the brand has taken things further. This model is sturdier, its more powerful output is quite tangible, and there really is an "elite", premium feeling to it. The hard plastic body with chrome-colored lines sure helps with that.
The Wahl Elite Pro motor outperforms other Wahl models easily. While the Chrome Pro will encounter some issues with thicker hair types and bulkier volumes, the Elite Pro will plow through them.
I also really like the feeling it has when you pick it up. Sure, it's a bit heavier than other clippers for home use, but it feels very professional. Some of the weight has to do with the more powerful motor of this model. The trade-off is definitely worth it in my opinion.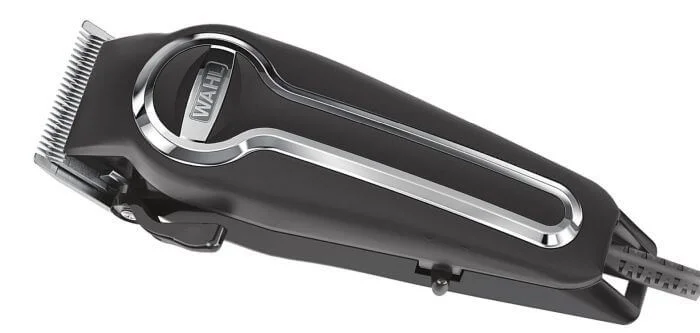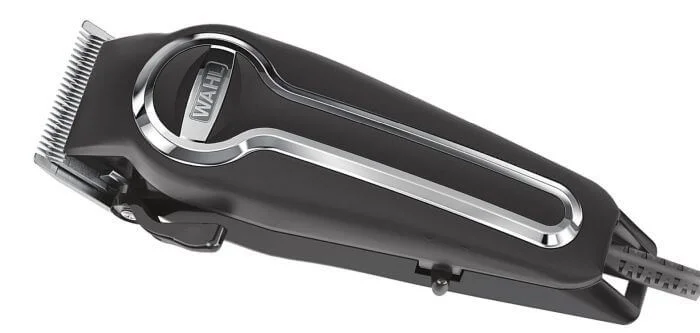 Wahl Elite Pro

Comes with a more powerful motor and quality self-sharpening blades
Then there's the blades. As you know, precise haircuts with more "problematic" hair types and volumes are achieved by both motor power and blade quality.
Wahl Elite Pro clippers come with special smooth cutting stainless steel blades. What I admire here is that they're self-sharpening, so you don't need to be that concerned with maintenance.
Talk about two birds with one stone. Not only do you get a nice home haircut, but you also have an easier time keeping your clippers on point. On top of that, this set of Wahl home clippers is quite easy to use even by complete beginners.
An important difference: Wahl Elite's steel guards
No, the Elite Pro's guards aren't fully made of metal. They are made of plastic, mixed with stainless steel for a secure, better fit.
It makes for a completely new experience, really.
The harsh truth is that both the standard Wahl and Oster guards are made of so-so plastic. It feels flimsy and you honestly wonder when the hell will you somehow break them.
The Secure-fit Wahl metal clipper guards you have here don't suffer from this problem. The hard plastic here is way sturdier and the metal part allows for extra durability.
The fit to the blades is also tighter and better, meaning more precise haircuts with less mess.
Not only this, but you get a full set of them, including the rare #1/2 and #1 1/2 Wahl guards.
I'll say it directly: the set of combs itself costs as much as a home clipper!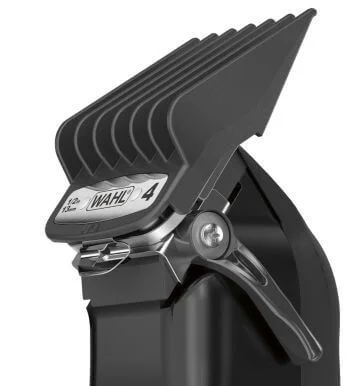 A few lacking moments with the Wahl Elite Pro
It would be unfair to not present you with a fair and objective Wahl Elite Pro review. There's a few things you should keep in mind about this haircutting kit.
First of all, despite all the accessories you get, two semi-important ones aren't included here. Yes, I'm talking about the left and right ear tapers. I don't know why the company decided to skip on them, considering the abundance of other stuff they deliver to you here.
The easiest thing you could do is to just buy the tapers separately from Amazon, they're quite cheap. Or if you have ones left over from your previous clipper set, simply use them.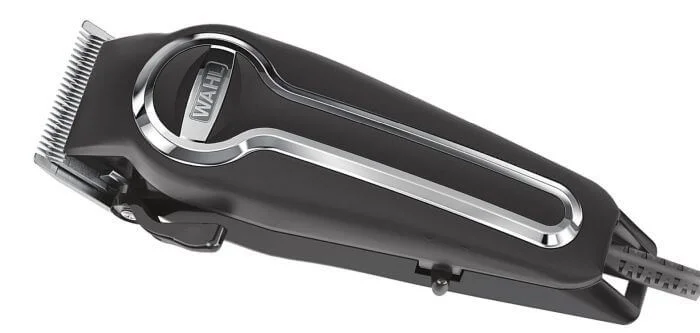 Wahl Elite Pro

Comes with a more powerful motor and quality self-sharpening blades
Also, let's get one thing clear. While satisfyingly powerful, the Elite Pro isn't a true professional Wahl clipper like the Seniors for example:

Its motor is far from the Wahl Senior's V9000 one, for example. Its blades won't give you the fades a Wahl Legend will.
As a clipper for home use, this model is king. But don't expect barber-grade performance of it – and you really shouldn't, considering its crazy good price.
Last point I want to make is, due to its power, the Elite Pro might feel a bit heavy for some people. As I mentioned, this is not a problem for me, because the tradeoff is worth it. Just take into account the Wahl Elite Pro's bulkier design.
After doing this Wahl Elite Pro Review, I'd say that out of all the Wahl home kits, the Wahl Elite Pro high performance haircut kit #79602 is your best choice for an awesome haircut. It doesn't hesitate to perform smooth cuts on whatever hair type it encounters. The Elite Pro motor blows away usual Wahl home clipper motors too.
I'd go as far as actually dubbing this the best clipper kit among all the major players on the current market.
Sure, you don't have the ear tapers included. But you receive Wahl's steel combs which, no joking, will completely transform how you do your haircuts. Side luxuries like the great barber's cape and the tough storage case only put a Wahl cherry on top of it all.
Do I think you should get this? Definitely, if you want a perfect haircut at home. The Wahl Elite Pro is just too good for you to skip on it.
In case you prefer a full-blown barber machine, check our list with the
best barber grade clippers
.
If you don't like cords and the heaviness of the Elite Pro, there's always our recommended picks for the best cordless hair clippers. Lightweight, maneuverable and portable: what's not to like about that?!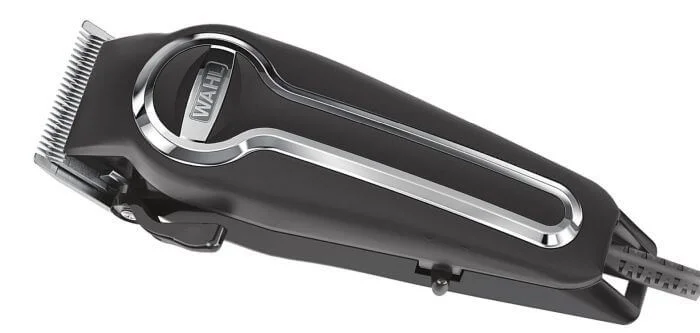 Wahl Elite Pro

Comes with a more powerful motor and quality self-sharpening blades
I'm an outdoor enthusiast and have sported a full beard since I was in my early 20's. Originally, growing a beard was a way to save time when getting ready each day, but I quickly realized that keeping a neatly trimmed beard takes work and some forethought. That's where this site comes in.
You get to benefit from my years of experience. I've reviewed many of the top hair clippers on the market today and also included some information on what works best for me. A great beard will turn lots of heads in your direction.
Since I never know when I'm going to find myself being photographed, whether it's climbing in Yosemite, or playing volleyball on the beach, it's important to me to always look my very best. Maintaining my beard is part of my daily routine and I hope you'll find some useful tips and information on this site to help you on your journey.