Getting a whole Wahl clippers set for the price of 2-3 haircuts is a crazy bargain in itself. I can't help but wonder why people needing a simple buzzcut haven't ditched the barber shop and taken things in their own hands.
If you have woken up to a similar realization, the Wahl Chrome Pro 25 piece kit on Amazon.com is a great low-budget option.
It provides you with a huge number of convenient accessories so you can do quick Wahl haircuts at home. But wait, I can feel a tinge of suspicion crawling in your thoughts:
Given their low price, can these Wahl chrome clippers do a proper job? Find out in this Wahl Chrome Pro review.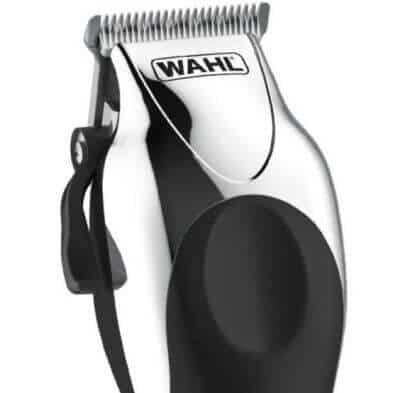 Overview of the Wahl Chrome pro 25 piece kit
| You'll love it for these | But you won't like these |
| --- | --- |
| Versatile accessories for the price | Included hair trimmer is a letdown |
| | Might pull hair occasionally |
| Self-sharpening carbon steel blades | |
| Easy to use & doesn't overheat | Not perfect for all hair types |
Full Wahl Deluxe haircutting kit for a versatile home haircut
To start with this Wahl Chrome Pro review and before getting into details on the Chrome pro clipper itself, I'd like to focus on the accessories you receive with this product. Especially bearing mind this cheap Wahl clipper's price, you'll find an abundance of sidekicks to help your hairstyling. All in all, you receive:
Wahl guards – from 1/8″ (3mm, shortest), to 1″ (25mm, longest)

Barber scissors

Styling comb

Cape

An eyebrow trimmer comb

An ear trimmer comb

Wahl clipper oil

Blade guard

2 hair clipers

A soft plastic storage case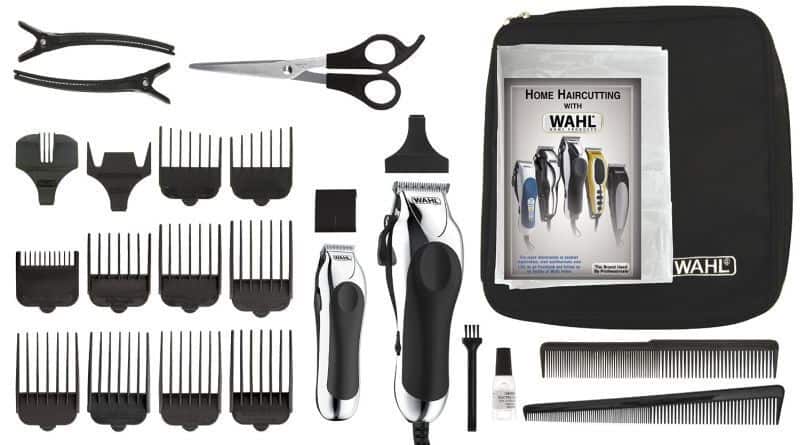 Of course, you will receive the Wahl chrome clippers and the smaller Wahl hair trimmer too. As you can see, you've got a full haircutting kit ready to be used. Aside from the famous generosity of Remington vacuum clippers, other brands won't provide you with so many options.
How does the Wahl chrome pro clipper actually perform?
OK, accessories aside, let's talk about the electric hair clipper itself. As I already pointed out, the hair cutter features a pretty good design. It's comfortable, ready for easy grips. The bottom part of the Wahl 79524-2501 hair clippers is made of hard plastic. You'll find it solid and tough enough to ditch any worries about it easily falling apart.
The chrome upper part looks stylish, though it isn't as strong as the black plastic. Overall, the Wahl deluxe definitely goes beyond its price tag when it comes to design and sturdiness.
To add to this, they don't vibrate that much. Any strong vibration, along with being a total nuisance, will tire your hands and slow down your haircuts. No one likes an electric clipper jumping around in their palms. You won't either, so that's a good point in the Wahl Chrome pro's book.
The Wahl Chrome clipper blades
As advertised, the blades of this Wahl hair cutter are self-sharpening. You will cut down on some maintenance, even though you should always oil them to keep them sharp and precise.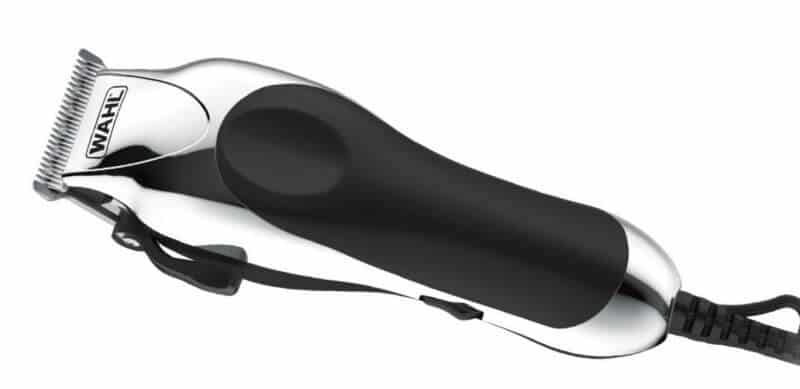 Carbon-coated for smooth cuts and extra toughness, they perform above average even with thicker hair. That said, sometimes they encounter issues with ethnic hair.
The Wahl clipper guards and the blades fit each other perfectly. In some other Wahl models sometimes guards can have a bit of a loose fit, but not here. No matter what guard size you pick, you'll hear the satisfying plastic "click" and the guard will snap right on top.
And the weak point of the Wahl Chrome Pro 25 piece is…
With all due respect, though, this Wahl haircut kit suffers from one huge drawback: its hair trimmer. I realize you get it for (virtually) free, but it still makes a not-so-flattering impression.
The Chrome pro small trimmer is intended to help you do some detailing, neckline touch ups and cleanup around the ear area or your sideburns. On paper, this sounds perfect.
In reality, though, the Wahl trimmer simply disappoints.
Its battery (one AA battery required here) dies fast, so you need to often change it. The trimmer pulls hair and is overall loud – way louder than the bigger Wahl electric clipper itself!
The trimmer blades, while putting up an average performance, can be harsh on the skin. Sure, the trimmer is quite comfortable to hold, but its operation is a letdown. Yes, I realize you fetch this gadget with all the other stuff included in the Wahl deluxe haircutting kit, but still…
A few things about the Wahl chrome pro main clipper
While I praised the bigger hair cutter in terms of design, it still leans on the heavier side. While this makes it more solid in your hand, some people might find it tiring to go through longer haircuts with it. I'd also expect heaviness from professional Wahl hair clippers (like the Wahl Senior), but not from a casual hair cutter like this.
On the topic of attachments…While you do receive a huge number of them with the Wahl haircut kit, some of the combs feel especially flimsy. Just like the storage case, the plastic seems a little soft. Not that it will be much of a problem if you're careful, but still worth mentioning.
Now this Wahl Chrome Pro review tells you this Chrome pro 25 piece haircut kit is a bargain in the sense that you get so much stuff for the price of a few haircuts. It'll pay for itself in a few months or even less, depending on how frequent you cut your hair. Whether the quality of the parts included in the kit is high enough is another thing…
If I'd go with a generic evaluation of the whole set, it would be something like this:
Main Wahl chrome clippers – Good enough, but nothing spectacular

Accessories – Great, with a small remark on Wahl guards flimsiness

Additional hair trimmer – Rather sloppy
The Wahl Deluxe haircutting kit is a great investment for people who are just starting out with clipping their hair. Alternatively, it will also work fine if you want to do some very simple haircuts.
If you want my honest opinion about the Wahl Chrome Pro review, I'd say…You can set aside a few more dollars and get something like the Wahl Peanut. It's way more professional, has a strong rotary motor and will provide you with better and more precise haircuts.
Good points
Accessories on a bargain
Good, sturdy design
Easy to use & no overheating
Self-sharpening blades
Bad points
Lacking hair trimmer
Might pull hair
Can be heavy for some
Issues with some hair types
I'm an outdoor enthusiast and have sported a full beard since I was in my early 20's. Originally, growing a beard was a way to save time when getting ready each day, but I quickly realized that keeping a neatly trimmed beard takes work and some forethought. That's where this site comes in.
You get to benefit from my years of experience. I've reviewed many of the top hair clippers on the market today and also included some information on what works best for me. A great beard will turn lots of heads in your direction.
Since I never know when I'm going to find myself being photographed, whether it's climbing in Yosemite, or playing volleyball on the beach, it's important to me to always look my very best. Maintaining my beard is part of my daily routine and I hope you'll find some useful tips and information on this site to help you on your journey.