Home users looking to save money with a DIY haircut. Barbers starting their profession in pursuit of mastering their art and bringing smiles to their clients.
What unites these two groups are hair clippers. Learning to cut your own hair – or shaping another person's locks, is a skill.
And new skills mean self-improvement. Other people respecting you more. Satisfaction.
We won't blast you with a cliche list of half-assed clipper recommendations. We've tried numerous models, and we know what just works.
If you want something professional: you'll love the adjustable Andis Master, or the detachable blade wonder Oster 76.
If you're more about convenience & home use: the compact Remington HC4250 or a a full kit like Wahl Elite Pro Kit will suit you well.
Here's my current home setup. A neat HC4250, a heavier duty Wahl clipper, and my favorite hair trimmer – Andis T-Outliner.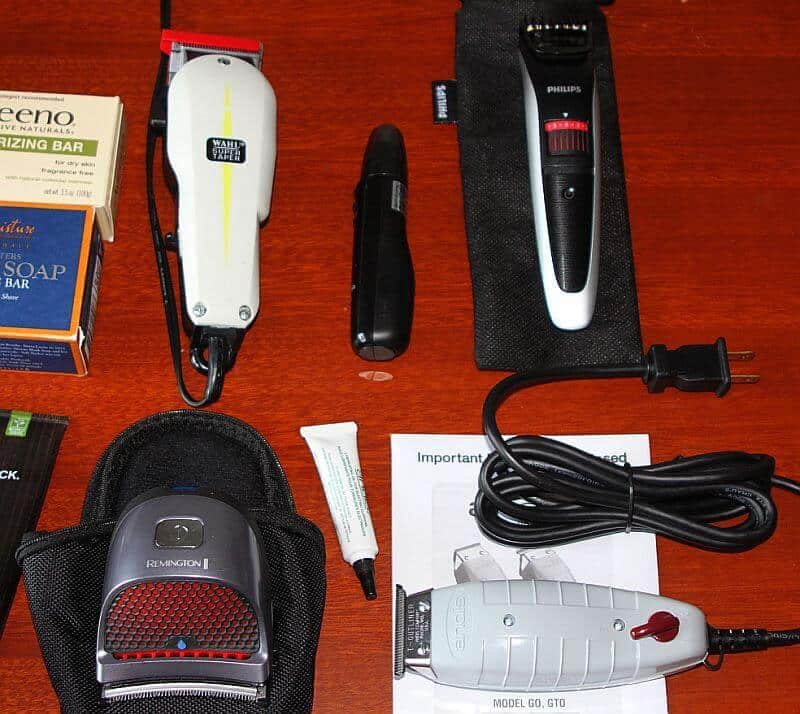 Alright!
Time for what you're here for. A concise comparison + reviews of the best clippers in 2023:
Our Recommendations for The Best Hair Clippers of 2023
Product
Details
 
 
Oster Classic 76


Ultimate professional clipper
Powerful motor & amazing blade quality
Classic design & sturdy body

Check Price on Amazon.com
Remington HC4250


Most compact clipper on the market
Waterproof
Curved blades for precise cuts

Check Price on Amazon.com
Wahl Elite Pro


Very powerful for a home clipper
Quality metal guards instead of plastic
Full home haircutting kit

Check Price on Amazon.com
Oster Professional Salon-Pro


Affordable hair clipper
Lightweight body
Quiet operation

Check Price on Amazon.com
Andis Master


Most durable hair clippers for men
Made of carbon-coated steel
Elegant design & aluminium body

Check Price on Amazon.com
Wahl 5 Star Balding


V5000 electromagnetic motor
Part of premium Wahl 5 Star series
Popular and recommended

Check Price on Amazon.com
After reading this buyer's guide, you can expect to find your own hair cutting clippers that will:
Fit both your preferences and hands

Treat your or your clients' hair properly

Suit the style and looks you want to achieve

Deliver the awesome skill of cutting hair!
The 8 best clippers for men
Best Oster clippers for men Oster Classic 76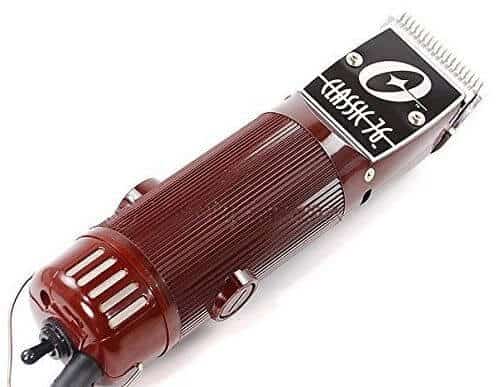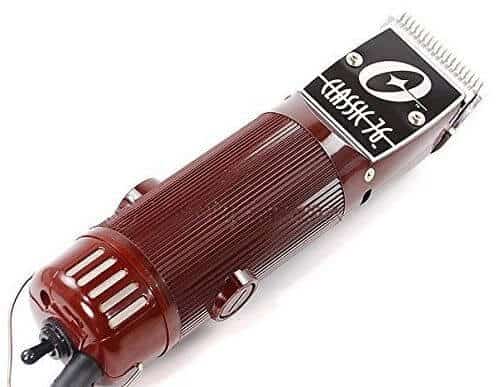 Oster Classic 76

Includes outstanding quality and premium detachable blades
Size and weight: Heavy & bulky, but it's really worth it.
Oster Classic 76 is the heavy artillery of Oster professional hair clippers. Manly. Powerful. Akin to a Harley Davidson, but on the hair clipper for men market.
This is a heavy-duty barber clipper with vintage looks, outstanding quality and premium detachable blades.
The Classic 76 comes with a single speed universal motor. It's more than a worthy competitor of Andis Master's ultra powerful motor and guarantees immense cutting action.
This is an Oster detachable hair clipper for men. This means that you need to swap the blades if you want to achieve different cut lengths. You can still use guards too, but the interchangeable blades are what makes the 76 the treasure it is.
Speaking of blades, Oster 76 blades are without a doubt the best clipper blades on the market. Tested in freezing conditions, they not only cut through any hair type or volume, but are also insanely durable.
The clipper will come to you with the stock #000 (1/50″) and #1 (3/32″) blade.
What can you expect of the best Oster clipper's life expectancy?
Here's the thing: once you buy an 76, it'll be around for quite a few years. Its break-resistant valox housing makes it a champion in terms of durability.
That said, the Oster Classic 76 clippers have a learning curve. In case you have specific needs, you need to purchase blades separately and blade changing is not that appealing to some. In addition, this hair cutter is rather bulky and tends to get noisy.
This is a small price to pay for the best Oster hair clippers out there, though. And, as we mention in our Oster 76 review, you can also get the Oster Model 10 if you prefer a true barber clipper that's slightly smaller.
| 3 best things about it | Shortcomings |
| --- | --- |
| Ultimate professional clipper | |
| Powerful motor & amazing blade quality | |
| Manly, classic design & sturdy body | Louder than usual clippers |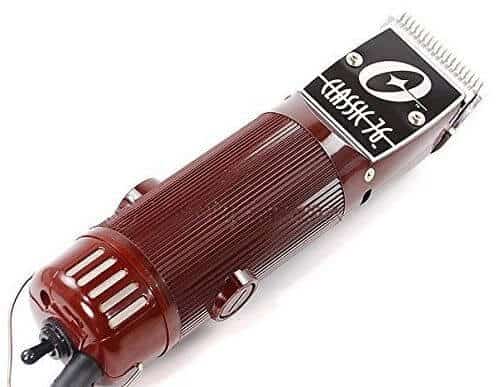 Oster Classic 76

Includes outstanding quality and premium detachable blades
Best convenient men's clippers Remington HC4250 Shortcut Pro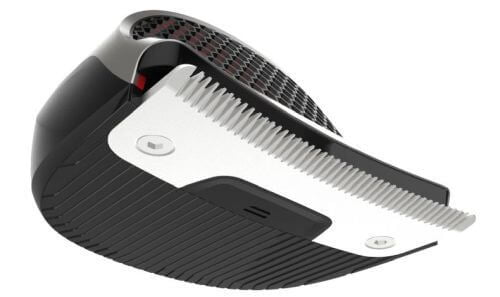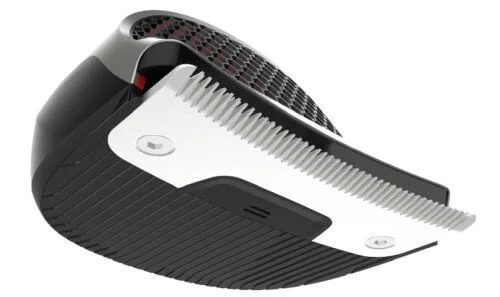 Size and weight: Extremely compact and quite lightweight.
Flexibility, innovation and compactness. The cordless Remington HC4250 gets our pick as the best Remington hair clipper and the best compact clipper for men to use at home.
A big game changer with the Shortcut Pro is not only its cordless mode, but also its waterproof feature.
You can simply wash its parts instead of the lengthier and all-around irritating process of cleaning the clipper the standard way. HC4250 scores ridiculously high on our easy maintenance scale.
This outstanding innovative hair cutter for men also comes with a very specific stainless steel blade!
Shaped in a curved form, it follows your head's shape when you do your haircut. This, combined with the wider design of the blade, make for quicker, easier cuts at home.
With the cordless function, you get up to 40 minutes of Lithium-Ion battery life on a 4 hour charge. Somewhat of a standard for the niche, the battery will last you for a few haircuts without any issue.
Another perk you get here are a whole lot of 9 Remington combs from 1/16″ to 5/8″, with a travel pouch, clipper oil and a cleaning brush.
This is one of the best electric clippers for travelling people – washable, compact, and coming with its own accessories kit.
That said, in terms of power output, you won't get something as powerful as a true professional haircut machine. Don't expect the Remington HC4250 to perform barber-grade wonders.
And you know what? Considering its design and convenience, there's no way it could anyway. Head to our HC4250 review if you want to learn more.
| 3 best things about it | Shortcomings |
| --- | --- |
| Most compact clipper on the market | Not the most powerful clipper |
| | |
| Curved blades for precise cuts | |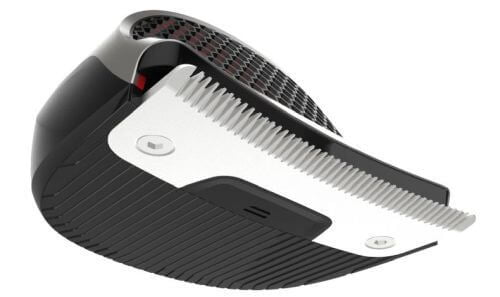 Remington HC4250 Shortcut Pro

You get a cordless clipper, and its waterproof.
Best all-around hair clipper for men: Andis Master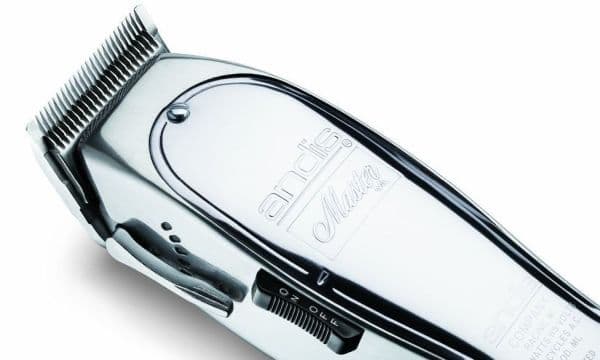 Size and weight: Slightly heavy & bulky.
Andis are one of the 3 most loved hair clipper brands among barbers all over the globe. Andis Master? One of the reasons for that.
The Master clippers are one of the most durable hair clippers for men with their chrome-colored body made of aluminum. A beastly electromagnetic motor cutting at 14 000 strokes per minute delivers powerful, professional-grade performance.
The blades of Andis' best hair clippers are made of carbon-coated steel for additional sharpness and long-lasting quality. No compromise.
Its really appealing point, though? The Master's outstanding taper lever which is the reason we choose it as the best fade clipper on the market. You have more freedom to adjust the blade length here than you would with any other adjustable hair clippers.
Have no doubt, though – you can use this hair buzzer for anything from taper haircuts, to fades, to general buzz cuts or longer hairstyles. A versatile beast of a barber clipper for sure.
As any heavy-duty electric hair clippers, the Master tends to run hot and might feel a bit heavy.
You also need to keep in mind that these Andis hair clippers will require some exercise to be mastered completely. In return, you get grade A barber cutter action.
Our Andis Master review can offer you more information on Andis' best clipper out there.
| 3 best things about it | Shortcomings |
| --- | --- |
| Sharp carbon steel blades | |
| Elegant design & aluminium body | |
| | |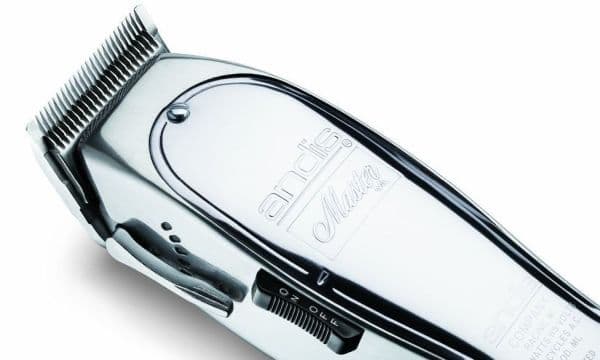 Andis Master

It delivers powerful, professional-grade performance
Best balding hair cutter Wahl 5 Star Balding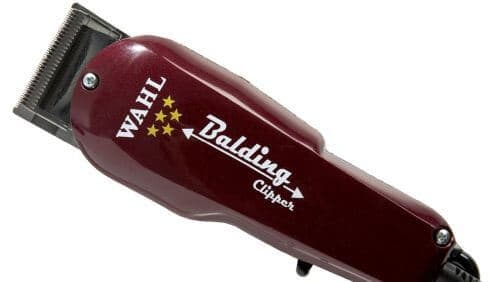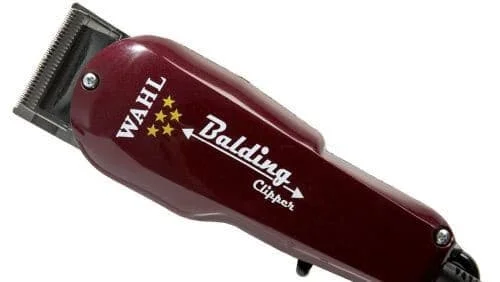 Size and weight: Average.
Balding or already bald guys – look this way! This Wahl 5 Star is the best balder out there and its exceptionally high reception among smooth-shaven men speaks volumes.
Other hair clippers for men might cut close, but no model cuts as close as this burgundy-colored beast. Fueled by a strong V5000 electromagnetic motor, the steel blades will leave your hair at around 0.1 mm.
That's the closest you can go without grabbing the razor!
Sporting a traditional Wahl clipper body, the 5 Star Balding men's clipper yields a great grip. For some it might feel a big sizable, but its 6.25″ are pretty standard. A 1 pound body won't tire your hands in any way either while you're shaping your smooth bald cut.
If you decide to leave a little bit of a stubble, I've got some good news!
The best hair clipper for bald men comes with two guards – sizes 1/16″ and 3/16″. You also grab a small bottle of blade oil and a blade guard.
However, a word of caution: the blades can get really, really sharp. If you're used to other electric hair clippers, you should start slowly with this one.
We've seen quite a few people nicking their skin because they weren't careful – read some instructions in our full Wahl 5 star Balding clipper review.
The Wahl clippers that cut bald might also require some time for you to master it properly. At the same time, it's your best option if you're looking to nail the smooth bald look!
| 3 best things about it | Shortcomings |
| --- | --- |
| | |
| V5000 electromagnetic motor | Requires care so you don't nick your scalp |
| Part of premium Wahl 5 Star series | |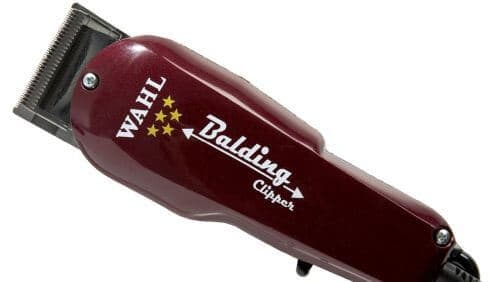 Wahl 5 Star Balding

The steel blades will leave your hair at around 0.1 mm.
Semi-professional affordable pick: Oster Professional Salon-Pro

Size and weight: Lighter than average weight and average size.
We introduced the Oster Classic 76 beforehand, but the brand also keeps more casual users in mind. The Oster Professional Salon-Pro clippers are a tribute to hair cutters for men being "in the middle".
Professional, yet comfortable enough for you to use them without any knowledge or skills needed.
Don't think the Oster Professional Salon-Pro clippers aren't packing a punch, though. Beneath this lightweight body with classic barber looks lies a roaring pivot motor.
Combine it with once again tested in harsh conditions sharp stainless steel blades and you've got a winning formula.
What differentiates this model is its lightweight body and quiet, cool operation. Usually, professional clippers tend to overheat and be rather bigger in their design. Not the Oster Professional Salon-Pro hair cutter.
As we mentioned, this is the best affordable hair clipper from the Oster line. It's perfect for beginners, as well as barbers starting out. An adjustable clipper, it can get its blades moved between #000 and #1 with a simple flick of the side lever.
You'll get a few accessories too: two guides (1/4″ and 1/2″), as well as a convenient blending comb. Clipper oil and blade guards are also included in the mix, as always.
The model's biggest issue are the plastic combs indeed.
We've already elaborated on what you might want to do with your Oster Professional Salon-Pro guards. This will improve the affordable Oster hair cutter's potential tremendously.
Oster Professional Salon-Pro

Affordable hair clipper and perfect for beginners, as well as barbers starting out.
Philips Norelco Hair and Beard Trimmer BT7215/49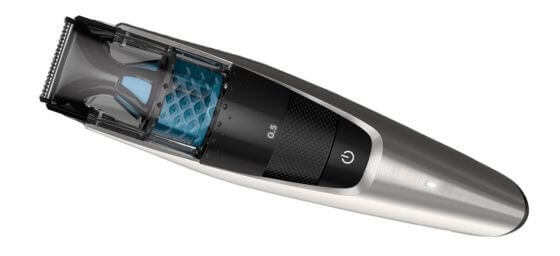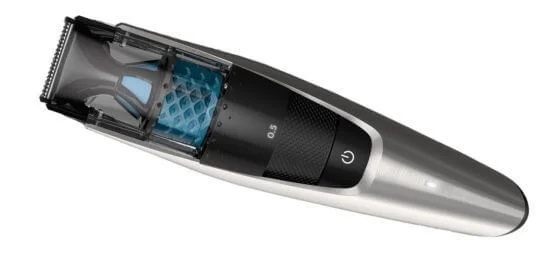 If you've done any amount of research into the best hair clippers for men then you no doubt have come across a wide array of Philips Norelco products.
Any one of them could make a best of list, but I have singled out this BT7215 model as it does it all and can even do the cleanup. Though, note that this is a clipper meant for beards, it can do double duty on your head as long as you're giving yourself a buzzcut.
The integrated vacuum system of this trimmer is what sets it apart from most other men's hair trimmers on the market today. It will suck up about 90% of cut hairs. It's run with a high-velocity motor and fan system. This creates a powerful suction system that will lift up and suck in hairs as you trim.
A sleeker look than the previous models, but it still gives a solid grip which is necessary for trimming thicker beards. It has a slightly more sophisticated design with a nice high-tech, satin chrome finish and that 'I get the job done' look. It comes with a convenient pouch to store the combs and second trimmer blade.
The lift & trim technology that guides the cutting process actually lifts and guides hairs for a more efficient cut. The self-sharpening steel blades are perfectly positioned to cut each hair effectively which prevents skin irritation from tugging. This same technology also ensures a more uniform trim because it guides more hairs per pass.
The blades are double-sharpened which means they can cut more hairs per individual pass than other blades. This makes for faster trimming as you only need one pass over that iron chin of yours. This is very good news if you have sensitive skin. Most times guys get irritation because you need to keep going over the same spot to get everything cut evenly.
With a choice of 20 different trimming lengths, this vacuum beard trimmer is excellent for men who want to experiment with different styles. Just press the dial on the right-hand side of the trimmer and you'll the length will go up by 0.5mm all the way to 10mm. This is roughly half an inch so if your hair is going to be left longer than that you will need to freehand or use a clipper over comb system to trim.
As far as battery goes, after about an hour of charging you'll get 80 minutes of runtime before it needs to charge again.
It's a Lithium Ion battery so it will last quite a while, but to make sure it can keep a charge for the longest amount of time possible, I recommend waiting until it is just about dead before you charge it. If the batteries does run out you can also use it with the cord. Just not in the shower!
On that note, it can get wet but shouldn't be used in the shower. This simply means that to clean it you can run the blade under the tap to rinse hair away but you can't actually use it wet.
Verdict
This is one of the best models of trimmers with or without the vacuum. But since the vacuum adds so much to the convenience factor, it is a win win.
| 3 best things about it | Shortcomings |
| --- | --- |
| Revolutionary vacuum feature | |
| | Blades can't cut ultra close |
| | |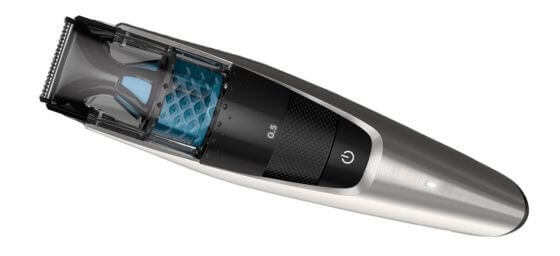 Philips Norelco BT7215/49

A clipper meant for beards, it can do double duty on your head.
Best ceramic clippers Andis Ceramic BGRc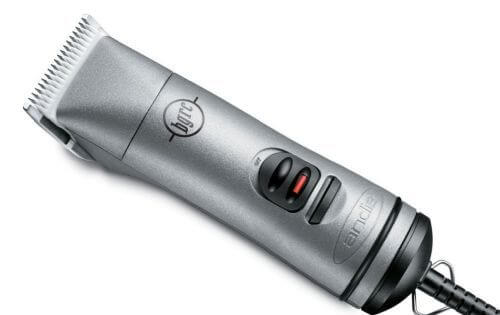 Size & weight: More compact and lightweight than usual hair clippers for men.
There's a reason we listed this one as a luxury choice. Andis BGRc will tickle your fancy with a set of features that comprise an ergonomic, easy to maintain and barber-grade men's hair clipper.
The BGR+ is the cordless version of the BGRc clipper – you can differentiate it by its black-colored body.
Beneath a sturdy, stylish body weighing only 0.90 lbs you'll find a rotary motor. Rotary motors are pretty exquisite as they score higher both in terms of cutting power and blade speed. They also tend to last longer.
But the real beauty of Andis BGRc is its ceramic blades. Ceramic stays cooler (up to 70%) and sharper for much longer periods of time than usual stainless steel blades.
Andis ceramic blades are very precise, won't overheat on you and are a total pleasure to cut with.
This is an Andis detachable clipper with a #000 CeramicEdge blade included. If you decide to opt in for the cordless BGR+, you'll enjoy a battery life of up to an hour. The recharge time is also around this timeframe, despite the older NiCD technology.
The best ceramic clippers indeed, the BGRc is highly ergonomic, quiet and ready to serve barbers and casual users alike. There's a reason why we praise it so much in our full Andis BGRc review.
Bearing this mind, the BGRc gets a bit pricy. There's also no side lever for you to adjust the blade, so you can't go shorter on the go with them. Once again, you have to swap blades, and ceramic blades can get expensive.
Also, be careful with dropping them – they tend to shatter easily, compared to steel blades!
If you go with this Andis professional clipper for men, though, you'll shape the most luxurious haircuts ever.
| 3 best things about it | Shortcomings |
| --- | --- |
| | Leans on the expensive side |
| Ultra powerful rotary motor | NiCD old battery technology |
| | No side lever for blade adjusting |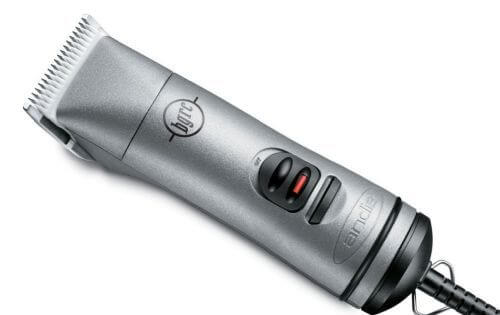 Andis Ceramic BGRc

Highly ergonomic, quiet and ready to serve barbers and casual users alike
Best kit to use at home

Wahl Elite Pro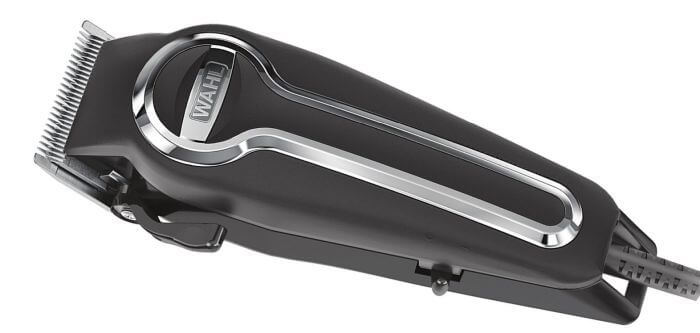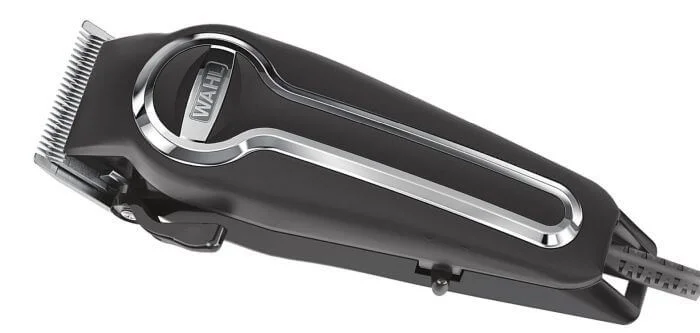 Size and weight: 
Average size, a little heavier than some other home clippers. Haircutting kits are the perfect way to get a home haircut both for you or for the whole family. And there's no doubt the Wahl Elite Pro is the best haircutting kit on the current market. It combines power with versatility and accessories quality. The Elite Pro clipper is of very solid build, unlike a lot of fragile hair clippers for home use. It also comes with a more powerful motor than usual haircut kits and quality self-sharpening blades. Their smooth cut won't snag on thicker hair types. The big news here are the accessories and to be exact – the guards. You're not getting the standard plastic combs that feel rather flimsy. With the Elite Pro clipper, you're getting the famous Wahl metal guards.  Sizes range from 1/16″ up to 1″ with the "blending" #1/2 and #1 1/2 ones too. The guards themselves cost as much as a small clipper. Why? Because they provide a secure fit to the blades, feature extra sturdiness and will improve the quality of your home haircuts. From buzz cuts to more bulk volume cuts, the Wahl metal guards will outshine any plastic accessory. The Wahl Elite Pro high performance kit also includes a styling shear, barber's cape (28″ x 40″), cord wrap and a deluxe, extra durable storage case among other things. Definitely the best quality home haircutting kit out there. There's two main drawbacks here. First, there's no left or right ear taper included in the set – but you can get them for quite cheap on Amazon. Second, the Wahl Elite Pro clipper is a bit heavier. However, its power is unmatched among other home use hair cutters.
| 3 best things about it | Shortcomings |
| --- | --- |
| Very powerful for a home clipper | No right & left ear tapers |
| Quality metal guards instead of plastic | |
| Full home haircutting kit | |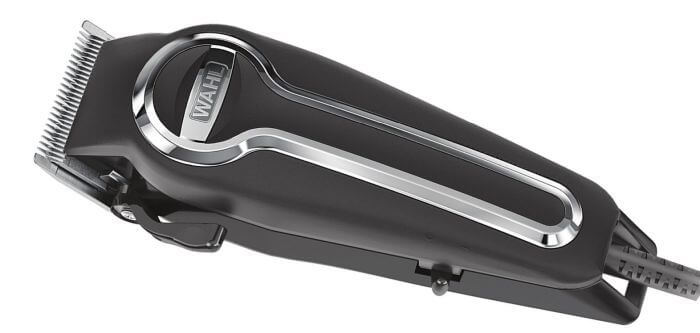 Wahl Elite Pro

Comes with a more powerful motor and quality self-sharpening blades
Picking the right electric clipper motor
How often do you cut your hair? Do you need it to be done fairly quickly? Do you think changing hair clipper blades is beyond your ability? And lastly, what type is your hair? Let's check what motor will fit your situation the most, bearing in mind these points of concern.
Hair cutters powered by pivot motors are suitable for everyday cutting and are enjoyed by casual users and professionals alike. Their distinctive feature is high cutting power paired with low blade speed.
What does that mean for me?
Summed up, this means you simply get things done quicker. A pivot motor's blades get pulled in both directions, so your clipper produces twice the number of blade strokes. This leads to pivot motors being twice as fast as the usual magnetic-powered hair clippers. Andis – a leading brand putting one of the best professional hair clippers out there mention their pivot motors are 4x the speed of an average magnetic motor.
Do I need to know anything else?
Well, we could tell you that a pivot motor has no spring, but comes packed with a total of two electromagnets. But you don't really (and shouldn't) care about this fact. What matters is that hair clippers running on a pivot motor come with removable plastic guards/combs. Swap one out, put the other. It's that easy and effective.
You'll also see a lever on the side of pivot powered clippers. It adjusts the blade, bringing it closer – perfect for fades, if you're into that.
Oh, and a final note – pivot motors are pretty good at cutting thick, heavy or damp/wet hair.
Most popular example: Oster Fast Feed clippers.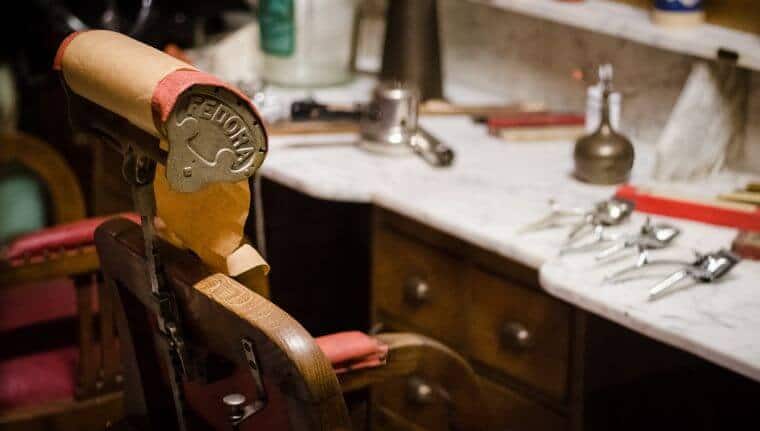 If a pivot motor's blade is slow, any magnetic motor will make you feel dizzy. These guys blaze through everything, sometimes going at up 7200 blade strokes/minute. As a tradeoff, they cut down in the power department.
Magnetic motor powered hair clippers are perfect for longer haircuts. You might also notice that they run a bit cooler than pivot-based hair cutting machines.
What's in for me here?
In case you're looking for a relaxed, casual way to cut your hair, you'd be pleased with this type of motor. They require no complicated maintenance whatsoever. Even if you forget to oil things a bit, they will forgive you and still run well. Don't go overboard, though!
Magnetic clippers also tend to come with a lever, making things a bit easier for you. People with fine to medium hair will be especially delighted by possessing a set of such hair clippers.
Do I need to know anything else?
Of your direct benefit – no, not really. However, if you're curious…Magnetic motors do have a spring, unlike the pivot ones. The spring mechanism retracts the blade back after the motor has pulled the blade. While pivot motor blades' get pulled in two directions, magnetic clippers limit themselves to only one.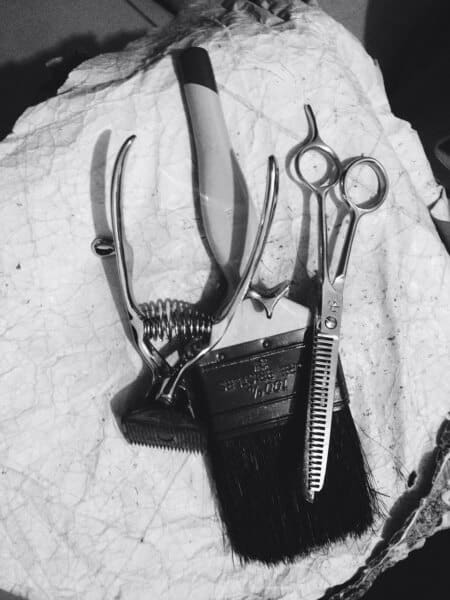 We're venturing into professional hair clippers territory here. Rotary motors are the real deal and combine durability with respectable power. Unfortunately, though, hair cutters that run on them tend to be pretty expensive.
Rotary motors score very high both in terms of blade speed and cutting power. They bring forth impressive versatilityand possibilities if you decide to experiment with your haircuts.
Where's the deal, then?
"Deal" is a very good word here. While rotary motor powered professional hair clippers might break the bank, they make up for it. First, they are way lighter than other clippers. They are also pretty quiet, humming instead of risking to wake anybody around you during that brisk morning haircut. To top it off, they will last for eternity given you take proper care of them.
Do I need to know anything else?
Yes. Rotary motors are paired up with detachable clipper blades. This means you need to switch blades if you decide to play around with your haircutting habits. A bit more demanding and expensive, we know. However, between plastic combs (pivot and magnetic motors) and a sturdy, high quality blade…Guess which one is way classier and will last in time?
Usually, you'll see rotary motors in barber clippers designed to last a long time during the busy day of a professional. If you want to go the hardcore clipper route, this motor type is for you.
What you need to know about clipper blades
Let's first look at how clipper blades are structured. Usually, a hair clipper blade consists of five pieces (seven if you include the two screws). You've got the comb and the cutter blade, the blade socket, the spring, and a plastic blade guide.
The blade's material is where differences arise. Assuming your blade is in optimal condition (in other words, sharpened and taken care of), the harder the metal, the better.
The current hair clippers blade standard is rust-resistant stainless steel. Notice it's rust-resistant. You still need to watch out for any blade rusting.

From time to time you'll come across clipper blades that are titanium-coated or even carbon-coated. This is even better, though many models lack such reinforced coating.
Then, at the top of the blade pyramid, you'll find the ceramic blades. Ceramic tends to last longer is way sharper than your run of the mill steel cutters.
You'll notice hair clippers with ceramic blades don't heat that much – the material is poor heat conductor. On the flipside, though, ceramic blades are a) prone to breaking (brittle) and b) a tad expensive compared to stainless steel blades.
What do you recommend for me?
To be honest, quality hair clippers brands all have good quality blades. If you're looking for low to medium budget clippers, you'll fetch stainless steel blades. If you venture into professional barber clipper territory, like Andis BGRc, you'll witness what ceramic blades can do.
Also, if you're feeling lost to hair clipper sizes, including clipper blades and guard charts, we have written a full guide on the leading clipper brands' sizes.
Cordless clippers or corded ones?
This question always sparks heated debates, even between us, the founders of this place. The hard truth is: there's no definite answer. It all depends on how you plan to use your clippers.
Is your hair rather short? Are you looking for quick, non-complicated haircuts? – Cordless hair clippers will do a fine job with their added flexibility and mobility.
Are you rocking high hair volumes? Do you enjoy thoroughly styling your hair? – Corded hair clippers are better as cordless hair cutters might get their battery depleted fast.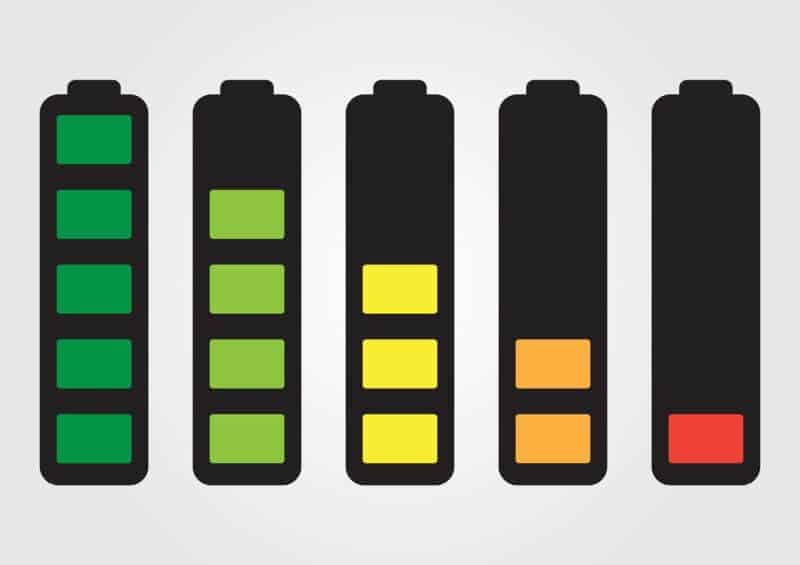 Going the wireless hair clippers route or staying "wired" is also connected with your mobility. If you're on the go and travel a lot, cordless might fit your lifestyle better. Cords usually measure 6 feet and above, so they can get a pain to drag around with you.
Usually, people would say that cordless clippers also lack the power output of corded ones. We agree, but to some extent. For example, the Wahl 5 star Magic clip has 90 minutes of battery time which is plenty.
Heads up: Check our list of the best cordless hair clippers if you want additional flexibility from your hair cutter.
I'm an outdoor enthusiast and have sported a full beard since I was in my early 20's. Originally, growing a beard was a way to save time when getting ready each day, but I quickly realized that keeping a neatly trimmed beard takes work and some forethought. That's where this site comes in.
You get to benefit from my years of experience. I've reviewed many of the top hair clippers on the market today and also included some information on what works best for me. A great beard will turn lots of heads in your direction.
Since I never know when I'm going to find myself being photographed, whether it's climbing in Yosemite, or playing volleyball on the beach, it's important to me to always look my very best. Maintaining my beard is part of my daily routine and I hope you'll find some useful tips and information on this site to help you on your journey.