Simply put, Andis BGRc is the luxury line of professional Andis clippers. Its most remarkable quality is the fact it's a ceramic hair clipper – it stays cooler, its blades are sharper, and you can count on it for long-term durability.
A rare breed among hair cutting tools, ceramic clippers are simply luxurious. They also stand the test of time better than their standard counterparts.
Throw in the usual Andis quality as one of the best barber brands, and you've got a recipe for success.
Despite its slightly higher price point, the Andis BGRc clipper outshines other professional clippers.
How about you and me, together, explore what makes this ceramic piece of art so great by doing an Andis BGR clipper review?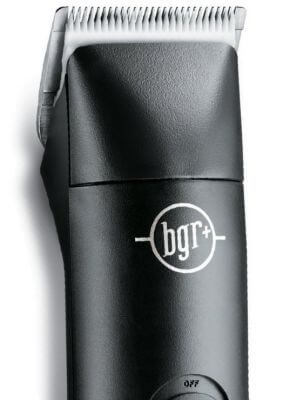 Andis BGR Clipper: An Overview
| You'll love it for these | But you won't like these |
| --- | --- |
| Outstanding blade quality | |
| | No side lever for hair blending |
| | Old battery technology (NiCD) |
| | You need to buy additional blades |
| | |
| | |
Small clarification on BGRc models
A few people get slightly confused when they check Andis BGRc's Amazon page. You'll see two models there. One is black, while the other one is a silver ceramic clipper (and it's cheaper.)
The difference is simple: the black BGRc clipper is cordless, while its silver/grey version is a corded hair cutter. Their features are the same, it's just that the cordless Andis BGRc gives you a more flexible approach to cutting your hair with clippers. It's entirely up to you – pick the one that suits you better.
Having no cord makes your life so much easier in so many ways. If you cut kids hair then you can not only navigate the haircut easier if they move around, but they won't be getting annoyed by the cord dangling in front of their face.
As any barber will tell you, kids will find any reason at all to freak out during the haircut so best to not give them anything that will set them off.
Luckily cordless technology has really improved and you can get the same kind of power from a cordless as you can from a corded.
In any case, you should receive 7 plastic Andis combs (size 1/16″ to 1″), storage kit, instructions and 4oz. bottle of Andis clipper oil with them. For the cordless version, you should also get the charging base.
Andis BGRc clipper: high ergonomics, low weight
The BGRc ceramic clipper is 20% lighter and up to 10% smaller than other barber clippers. "Sure it is", you'd think, sceptical that this is yet another marketing ploy.
However, this is the absolute truth. 6.5″ in size and weighing a mere 0.90 lbs, this Andis ceramic clipper leans on the compact side of heavy-duty clippers. Its body is made of high grade polymer with a black finish (cordless version) or metallic silver (corded version.)
The weight of a clipper may not seem like it is important as it is. But the difference of even just a few ounces can mean the difference between pain or no pain in your hands. Besides the frequent hand fatigue that many barbers experience, there is also less risk of carpal tunnel syndrome when you use a lighter clipper.
Not to mention, you can also make more money when the clipper is lighter. Yes, it's true, a lighter clipper pays for itself in that you can actually do more haircuts per day and make more money. If your hands are tired, you work more slowly. When you use a lightweight clipper, then you can work faster and do at least an extra haircut per day. That adds up over time.

A usual problem with professional hair clippers is they feel heavy. As a result, you get tired after a few minutes of cutting hair. Andis BGRc minimizes such dreaded moments and its extremely ergonomic shape boosts its usability even further. You'll benefit from its quiet operation too, as it scores way lower in terms of noise levels.
A ceramic secret: the Andis BGRc blades
The BGRc blades are where it's all at. Both of them, size #1 and #000, are Andis' famous CeramicEdge detachable blades. Being ceramic, they stay up to 70% cooler than your usual stainless steel clipper blades. In addition, ceramic is more durable in time, scoring sharp performance 4 to 5 times longer than standard blades.
It's not only about convenience. Andis BGRc ceramic blades cut through any hair without any issues. They score extremely higher in terms of versatility and sharpness and are on par (if not higher) than other Andis barber clippers.
What powers these ceramic beauties is an Andis rotary motor, operating at 2900 strokes per minute. Remember, rotary motors usually outperform electromagnetic or pivot motors. You're getting another perk with the engine hidden inside the BGRc clipper.
The combination of high quality ceramic blades that stay cool and a powerful rotary motor make this Andis model the perfect heavy-duty choice. While not as great for fades as the Andis Master, it's way lighter and skips on the dreaded heating.
One downside to the ceramic blades, however is the fact that they can break easily if you drop them. They are not as resilient as carbon steel. Just use extra caution when handling your clipper, which you should be doing anyway, and you will be fine.
If you decided to go with the black, cordless version on Amazon, you will want to know how the Andis BGRc battery performs. Fitting the premium theme, it will last you for close to an hour, or around 5 to 6 average haircuts.
Benchmarked against other cordless clippers, it outperforms models like Remington's HC4250 and is a bit below Wahl's Magic Clip. What really makes it great, though, is its recharge time. The BGRc battery can be fully recharged in just an hour. You literally will use it the same amount of time it will get recharged for! It's also easily replaceable.
Shortcomings of the Andis BGRc clipper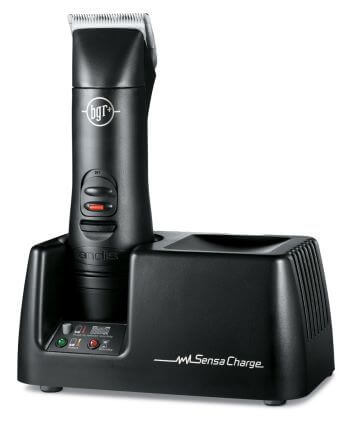 In this Andis BGR clipper review, the main issue you might have with the BGRc hair clipper is its price. Even the corded version runs a bit higher than some other professional clippers. Yet, if you think about it, other barber tools lack its lightweight body, quiet operation, lack of heating up…and above all, the detachable ceramic blades.
Another thing would be the NiCD (Nickel-Cadmium) batteries. While the battery life is more than great, NiCD is an older battery technology. Most newer clippers run on Lithium-ion, which is the modern standard.
Last but not least in this Andis BGR Clipper review, it'll be a bit tricky to use this as a hair clipper for fades. As a detachable Andis clipper, BGRc will need you to swap out blades to perform "layers".
People searching for a balding clipper also need to think twice. The #000 won't cut that close, but you can also fetch a #0000 size CeramicEdge blade.
If you're a beginner, detachable blades can feel overwhelming. If you think you can't cope with them, just stick to an adjustable clipper. But, to be honest, Andis BGRc makes it really, really easy. You shouldn't feel nervous about swapping out the blades.
In fact, I think that using removable blades can speed things up sometimes. Yes, the adjustable blade can be tweaked with one hand while you go, but what about putting on the comb guards for longer cuts? Those take longer to get on and you really have to be careful so they don't come off mid-haircut, too.
Final verdict
This professional hair clipper is a premium tool. It'll make your haircutting routine a real delight. Despite its price, I really recommend you the cordless version. If you pick it, you'll get:
Cord-free flexibility to use BGRc wherever you wish

The best blades – ceramic, up to 70% cooler and sharper than steel ones

A quiet, ergonomic, compact for a barber clipper Andis model

2900 strokes per minute power brought by a high class rotary motor

A real piece of art, ready to hum and cut professionally in your palms
There's no debate: the BGRc is for people who know what they want from their haircuts. It has really no equivalent among other professional hair cutters. Why don't you pick the high way, then? Well I hope this Andis BGR clipper review has been helpful.
Good points
Blade quality
Ergonomics & lightness
Replaceable battery
Easy maintenance
Quiet
Stays cool
Bad points
Expensive
No side lever for hair blending
Old-tech NiCD battery
Additional blades need to be purchased
I'm an outdoor enthusiast and have sported a full beard since I was in my early 20's. Originally, growing a beard was a way to save time when getting ready each day, but I quickly realized that keeping a neatly trimmed beard takes work and some forethought. That's where this site comes in.
You get to benefit from my years of experience. I've reviewed many of the top hair clippers on the market today and also included some information on what works best for me. A great beard will turn lots of heads in your direction.
Since I never know when I'm going to find myself being photographed, whether it's climbing in Yosemite, or playing volleyball on the beach, it's important to me to always look my very best. Maintaining my beard is part of my daily routine and I hope you'll find some useful tips and information on this site to help you on your journey.