Ah, Wahl's 5 star Magic Clip. Whether you pick the V9000 corded Magic Clipper or its fantastic cordless version, you'll be getting Wahl's finest.
There's quite a lot to be said about these two hair cutters. So while in this Wahl 5 Star Magic Clip review I'll focus on its cordless version, you will also read:
Insight into which would be a better fit for you – corded or cordless
Comparisons: How the cord vs cordless Magic Clip compare to each other, as well as comparing them to Wahl Senior and the Cordless Designer
This Wahl 5 Star Magic Clip review might seem long, but should cover most things that concern you.
I'll be honest. The cordless Magic Clips are up there at the top of Wahl's pro lineup for me, along with my favorite 5 star Seniors: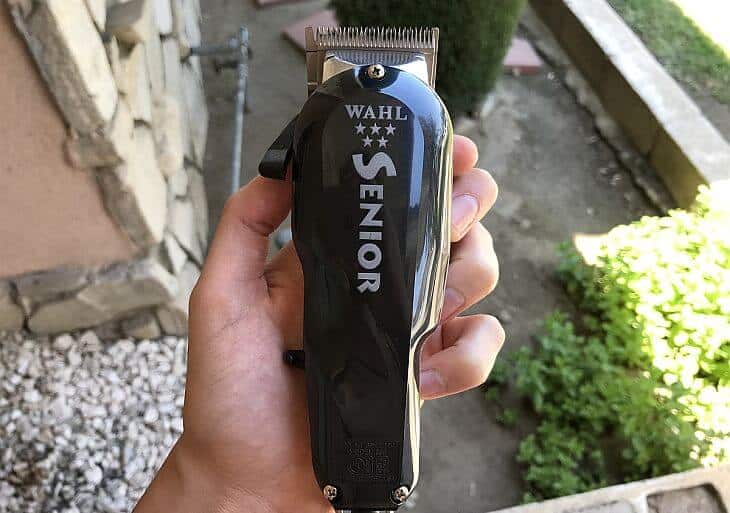 The corded (V9000) vs cordless 5 Star Magic Clip: A Review
While both hair cutters are under the same 5 star series – which guarantees top Wahl quality, there's quite a few different things to them. And no, I'm not only talking about the cord-free vs wireless function only.
Dimensions 
is the first distinction. The
corded 5 star Magic Clip on Amazon.com
weighs 1 lb and measures 6.5″. The wireless version cuts the weight with around 40%. Yes, the cordless Clipper weighs a mere 10 oz and its body is also shorter at 6.25″. The motor is another important point. The corded cutter comes with Wahl's strongest V9000 electromagnetic motor. It's the same as the one you'd find in classics like the Wahl Seniors. Here's a quick overview video of it:
The 5 star cordless Magic Clip, however, runs on a rotary motor. Yes, it isn't as powerful as the V9000. However, it operates by causing less frantic blade movements. Instead, the blades move back and forth, parallel to each other. Thus the risk of blades getting misaligned is significantly lowered. Speaking of the Magic Clip blades, it's good to know how the two models differ here too. The 5 star Magic Clip comes with the 2-hole #2191 blade. This is a fade-ready blade, the same as the 5 star Seniors, with a zero overlap feature included. Once again, the cordless Wahl Magic Clip takes another approach. Here, you have the #2161 stagger tooth, "crunch" blade. Combining close cuts with great fading potential, it also allows for more free range. I'd say it's more precise than the #2191 fade blade.
In terms of accessories, the clippers are the same. You'll get 8 Wahl guards: from #1 to #8 (1/8″ to 1″), including the #1/2 and #1 1/2 (1/16″ and 3/16″ respectively, for blending/tapering/fading.) Guard #7 is not included in the kit. However, you get clipper oil, a cleaning brush and a blade guard.

In other words: We recommend the corded Clip if you want a traditional professional clipper on a tighter budget. It's perfect for bulk cutting and fades/tapering alike. However, the cordless 5 star Magic Clip is ridiculously lightweight, has an even better stagger tooth blade and is way more mobile. With a record-breaking 90 minute battery included, it features the ultimate convenience.
Protip:
 we included
the cordless 5 star Magic Clipper in both our
best barber clippers list
, as well as our list with the
best cordless clippers
. Let's get to the Magic Clip cordless review itself.
What I love the most about the 5 Star cordless Magic Clip

…is actually the amazing combination of features it strings together beautifully. Usually, clippers trade convenience for power/performance. Not with this model.
As I mentioned, the 5 star cordless Clip weighs only 0.62 lbs. That means absolutely no strain on your hands, even after quite a few haircuts.
Flexibility meets functionality with the premium rotary motor. The problem with some electromagnetic motors (like the V9000 too) is that they cause frantic movements. This both makes them heat up and puts some pressure on the blades.
The cordless Magic Clipper's rotary motor both ensures cooler operation and makes the blades move only back and forth. With less abnormal movements, they are less prone to get misaligned too.
Motor aside, the stagger-tooth crunch blade you have here is my favorite Wahl blade type.
It not only guarantees high-quality fades, but works extremely well on ethnic/curly hair. The #2161 crunch blade is Wahl's biggest masterpiece. You shouldn't encounter any issues with gliding through any type of hair with it.
Absolute freedom of movement
on a great battery
You already know what getting a cordless clipper means – mobility, convenience and getting your haircut wherever you wish. For barbers, this means you don't have to dance around tangled cords all the time. A very common problem with cordless cutters is the battery charge. A lot of companies will promise you intense action for minutes upon minutes…And you'll find your clipper choking after only a few haircuts. Once again, the 5 star cordless Magic Clip doesn't disappoint. Its durable Lithium-Ion battery holds a close to 90 minute charge. This is one of my favorite things when I compare it to the corded clip.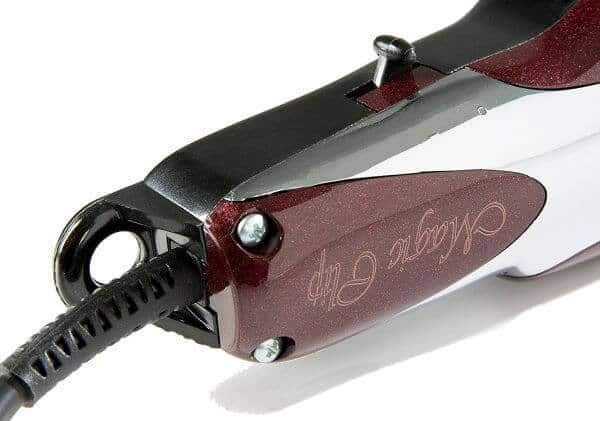 The battery life is a huge improvement on other wireless cutters on the current market. A lot of them are limited to 40 to 60 minute charges.
What's more, the Clip charges quite fast. Around 3 to 4 hours and it's up and running again.
Also, even if it dies out on you, you can plug it and use it corded too. Yes, it won't ever, ever leave you hanging – if you've had horror stories with half your haircut done and a dead battery ending your hopes.
Shortcomings of the cordless Magic Clip
It's pretty hard to point out any serious problems with this machine. That said, the cordless Wahl Magic clip tends to suffer from lack of proper torque from time to time.
The root is in its rotary motor, vastly different to the corded version's V9000 motor. What this effectively means is that you might experience blade slowdowns on some rare occasions.
As long as you cut carefully and smoothly, though, you shouldn't encounter any serious issues.

You also have to be a bit careful with the Wahl 5 star Magic clip's blade. Its high quality also means it can get sharp. You risk cutting yourself if you treat it lightly and decide to fully zero gap it.
Nicking your skin is a possible scenario if you don't pay attention. However, this also holds true for many other electric hair cutters. As long as you take your time in growing accustomed to how the Clip works, you'll be fine.
I have to say this again: this is one of the best professional Wahl clippers for beginners.
Wahl cordless Magic Clip vs Wahl cordless Designer
&
Wahl Magic Clip vs Wahl Senior
There's an important difference between the cordless Magic Clip and the Designer: the blade.
With the cordless Designer, you have Wahl's #1005 universal blade. While great for general cuts, it won't perform as well as the Clip's dedicated #2161 crunch blade with its zero overlap.
In other words, with the Clip you pay a little more in exchange for blade versatility. The Designer (our review here), while also sporting a great body, doesn't feel as sturdy.
Both clippers differ quite a bit with their design so it also depends whether you like Wahl's typical chrome x burgundy 5 star mix, or the Designer's crimson looks. In both cases you get 8 Wahl guards, so you won't lack accessories.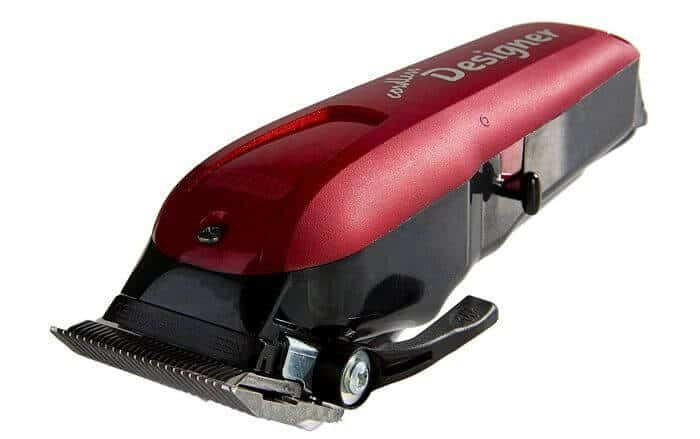 Comparing the Magic Clip vs Wahl Senior is a 50/50 situation. The Seniors are extremely heavy-duty ready, and especially if you grab the 5 star model equally better for fades. After all, they have the same #2191 fade blade from Wahl.
As I said, the corded V9000 Clip shares the same motor as the Senior clippers. However, the Seniors' highly durable, metallic construction is a better choice if you prefer heavier (1.3 lbs) clippers and increased security.
This is especially true if you go for the Reflections Senior on Amazon.com which scores the highest in terms of tight grip, overall feel and sturdiness. However, it'll be a bit more expensive too.
Final verdict
As you can already see from this Wahl 5 Star Magic Clip review, I'm a huge fan of this clipper model:
Very comfortable to use, lightweight and ergonomic

Exceptional quality in both the crunch blade, rotary motor and battery life

Perfect for people just starting out with cutting their own hair at home with clippers
If you're looking for something flexible, easy on the hands and capable of more intense haircutting, this is your pro hair cutter of choice.
There's a reason there are 5 stars in the Wahl 5 star Magic clip's product name. It will make your life more compact and simple and unlock a lot of possibilities for doing quality haircuts at home.
Good points
Wahl 5 star series quality
Incredibly lightweight
Perfect for people starting out
Superb battery
Rotary motor + good blades
Bad points
Motor torque difficulties
Blades can get too sharp
Sensitive to current battery life
No battery indicator
I'm an outdoor enthusiast and have sported a full beard since I was in my early 20's. Originally, growing a beard was a way to save time when getting ready each day, but I quickly realized that keeping a neatly trimmed beard takes work and some forethought. That's where this site comes in.
You get to benefit from my years of experience. I've reviewed many of the top hair clippers on the market today and also included some information on what works best for me. A great beard will turn lots of heads in your direction.
Since I never know when I'm going to find myself being photographed, whether it's climbing in Yosemite, or playing volleyball on the beach, it's important to me to always look my very best. Maintaining my beard is part of my daily routine and I hope you'll find some useful tips and information on this site to help you on your journey.