Criteria when choosing the best wireless hair clippers
Battery life
A cordless hair clipper's most valuable feature is its battery life. It makes sense, right? You will rarely use it charged, otherwise you would have gone with a corded electric hair clipper in the first place. It should last you long enough for a haircut at home and shouldn't affect hair cutter performance in any way for pros either.
A standard battery runtime for most of the best cordless hair clippers would be 40 to 60 minutes. The best battery powered hair clippers will last you a around 90 minutes (Wahl's cordless Magic Clip as we mentioned.) Exceptions like the Oster Juice hair clipper are rare – it does run for 2 hours, but its price is also pretty steep.
You would prefer to have a cordless hair clipper for men that utilizes the newest Lithium-ion battery technology. Lithium-ion electric clippers recharge faster and last longer, thus providing a better bang for your buck.
Compactness & Easy grip
A cordless hair clipper lasting for long is great. But what value would it have if it's uncomfortable to use for your short haircut at home? Electric hair clipper size, weight and the grip of its body are integral to enjoying a proper home haircut.
Luckily, most brands focus on ergonomics and you'll rarely happen upon absolutely atrocious to hold models. From Wahl's best cordless clippers to Andis, Philips, Oster cordless hair clippers: all of these machines differ, yet strive to fit your hand correctly.
Clipper size is something that varies, though. As a whole, Wahl cordless hair clippers for men are a bit bulkier than, say, Remington hair clippers. However, they also pack a better punch, so it's a fair trade-off in the end.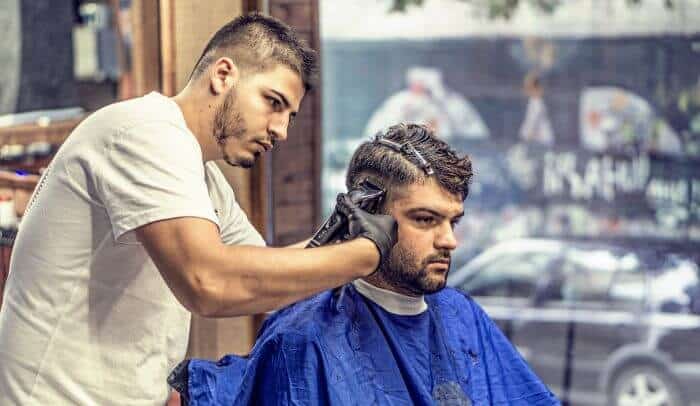 Blades & Motor
More humble in their output as they are, the best cordless hair clippers still have to maintain power. We gauge "power" by the combination of sharp, properly cutting hair clipper blades and a powerful clipper motor.
The ideal combination would be rotary motor clippers with ceramic clipper blades. This is why we have listed Andis BGRc (Amazon) cordless hair clipper as a premium choice.
However, this combination would cost a bit more, so you can easily settle for something more in line with your budget. Standard cordless hair clippers come with stainless steel blades (sometimes titanium or carbon-coated) and electromagnetic motor. If you're looking for cordless balding head clippers, you'd want the blades to perform closer cuts.
Best value for price
This is pretty straightforward: in order to choose the best cordless hair clipper, all different criteria are combined and put against the electric clipper's price. Cheaper hair clippers not always equal low quality; expensive cordless hair clippers for men might be exquisite, but you might not really need them given your specific needs.
The best value for price factor led us to pick the Remington HC4250 cordless clipper (Amazon) as a top choice. However, the other electric hair cutters on the list might fit your custom requirements more.
Taking care of your cordless hair clipper
Maintenance is key not only with corded clippers – professional cordless hair clippers or more casual models, every machine needs some care. While clippers with a rotating head like the Philips Norelco QC5580 Do It Yourself electric hair clipper will require little to no maintenance, others will be more demanding.
We have already covered the fundamentals of hair clipper maintenance in our extensive article here. Give it a read so you make your new purchase last longer. In case you decided to fetch a Wahl cordless hair clipper, you might want to check out our article on adjusting Wahl hair clipper blades.
Last but not least, you might feel overwhelmed with the various guard and blade sizes. Our total guide on hair clipper sizes will help you understand everything you need to know here.
We hope we've helped you out with picking the best cordless hair clipper on the market! Get to action and do the perfect haircut at home with ease. No cords attached!
 If you prefer to put more focus on professionalism, our list of the best barber clippers in 2017 would be of value to you!