Usually, professional Wahl Clippers tend to be rather bulky. For me, this is fine. I really like my clipper feeling solid while I'm cutting my hair. Other people prefer more compact choices. Wahl Peanut caters exactly to such tastes with its delicate, elegant twist. It's a handy clipper that can also be easily used as a hair trimmer.
Protip: the stylish black version of the Peanut is extremely high rated on Amazon.
Quite a few things can be said about this Wahl trimmer and its corded and cordless versions. Let's start with this Wahl Peanut review!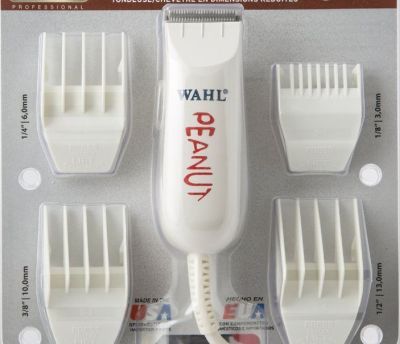 The Wahl Peanut Review: An Overview
| Good points | Bad points |
| --- | --- |
| | |
| | Feels a tad too small in bigger hands |
| Close and precise shaving | Blades may demand more care than usual |
| | |
| | |
Rotary motor excellence in a compact body
Wahl's Peanut professional hair trimmer comes with a powerful rotary motor. Translated, this means you get the smoothest of the three hair cutter motor types (the others being the pivot and the magnetic motor.) Rotary motors score high in both blade speed and power, last longer, and are generally considered top notch.
What makes this better is the fact that the Peanut weighs a mere 4 oz and is ridiculously compact with its 4″ body. Not only do you get a strong motor, but you receive it packaged in a professional trimmer, way more ergonomic and mobile than usual models.
Just look at it: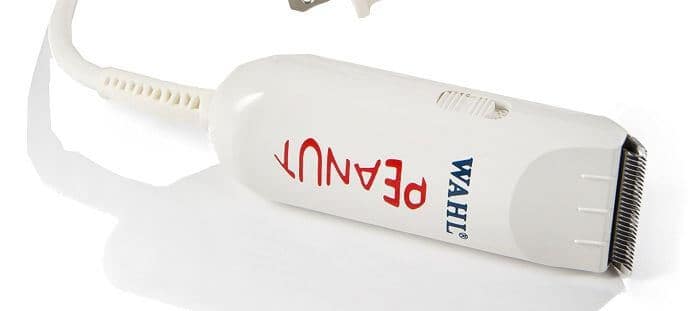 As I mentioned, you'd be wrong if you assumed the Peanut lacks action because of its humble size. But the rotary motor is not the sole reason you'd like this little trimmer.
 Versatile to fit your trimming needs
Clipper use aside, this is a quality Wahl trimmer too. Very versatile, the Peanut offers you a wide range of hair trimming opportunities. It cuts very close, especially compared with a lot of similar budget models (looking at Andis T-Outliner here.)
The Peanut steel blades are on par with Wahl's line of professional hair clippers.
In fact, you can even use it as a balding clipper without much hassle. Just keep in mind that the Peanut, as most standard clippers and trimmers, is limited in this. It won't cut as close as a razor. You will still have some stubble left.
If you're going for the ultra smooth look, you still need to follow up with a razor.
For some cutting length diversity, you will receive 4 Wahl guards (from 1/8″ to 1/2″ in size.) You'll also fetch a red blade guard, Wahl cleaning brush, clipper oil and the instructions for the Peanut clipper.
For those of you who're into lineups, achieving proper lines is very easy with the Peanut. Due to its light body and small size, the hair trimmer is highly maneuverable and will cater to all your crazy or not-so-crazy hair lining ideas.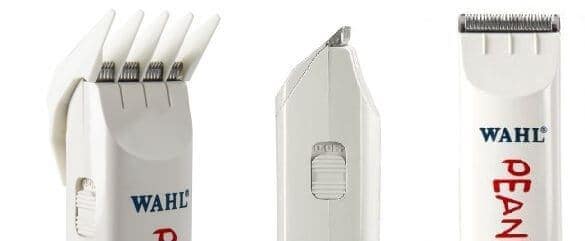 As you might guess, thanks to its compact body, the Peanut is a wonderful candidate for the best hair trimmer for kids. Forget about it being a trimmer for men.
Its delicate design lowers any risks related to children's usual restlessness during home haircuts. The Peanut is also cute which always attracts the little ones' attention – at least judging from the experience of a friend of mine (a mother).
Finally, it's possible to use this Wahl hair trimmer for doing some work on your private parts. I advise you to be mindful, though – delicate areas should be handled with extra care.
Especially when there's a specific disadvantage the Peanut exhibits sometimes. Let's see what I'm talking about as we continue with this Wahl Peanut review. .
Being the all-around amazing electric trimmer it is, the Peanut still suffers from a few disadvantages which we will also discuss here in this Wahl Peanut review. The main one would be its tendency to pull hair from time to time. I'm not saying you'll experience this 100%, but – maybe due to its size, this Wahl trimmer does "chew" on strands.
Is it such a major pain and are there any serious risks? Not at all, you needn't be concerned. All this does is disrupt your hair cutting session a bit.
The Peanut's size can also be a disadvantage if you have big hands. To some people, hair clippers and trimmers should feel solid when holding them. Getting a good grip yields easier, more comfortable results.
This Wahl trimmer's 4″ body might be slightly "slippery" for people with bigger palms. In this case you might consider a more standard Wahl clipper like the cordless Magic Clip.
Last but not least, the Peanuts' blades really require proper attention. Sure, that can be said for all hair clipper blades, but…I've had at least a few people mentioning that to me. Maybe they overlooked the basics of proper clipper blade care, maybe not.
Never hurts to tend to your trimmer's little blades. On the upside, though, you can easily remove the Peanut's blade and clean behind it. Here's a comprehensive video on that:
The Wahl Peanut Review: Final verdict
Wahl's Peanut is the best professional hair trimmer if you're after a compact machine, combined with immense power. If you want to be even more mobile with your trimmer, you can consider the Peanut's cordless version.
It's actually not far off the corded Peanut when it comes to price. I'd like to point out that the cordless Peanut trimmer tends to pack a little less power than its corded equivalent. In the end, it's up to you and your specific situation as a future buyer.
All in all, if you're unsure whether Wahl Peanut is your trimmer, you should ask yourself these questions:
Are you constantly on the run and need a small, flexible hair trimmer?

Do you want to trim other areas and/or get some hair lining done? In other words, do you need a versatile trimmer?

Do you have kids and plan to cut their hair often?
If you nodded a "Yes" to any of these three scenarios, go ahead. The Peanut's just for you.