Focused on Wahl's hair clippers, many people forget that the brand also has quite a few professional hair trimmers in stock.
The Wahl 5 star Detailer is the most popular of them, no doubt about that.
Combining a stylish body with a T-wide blade and powerful output, it's the tool of choice for many barbers.
A variation – the Wahl professional 8290 Detailer, adds some other perks you'll love.
Let's take a look at both models in a thorough Wahl Detailer review. To be fair, I prefer the 5 star, though recently I've been toying with the 8290 professional: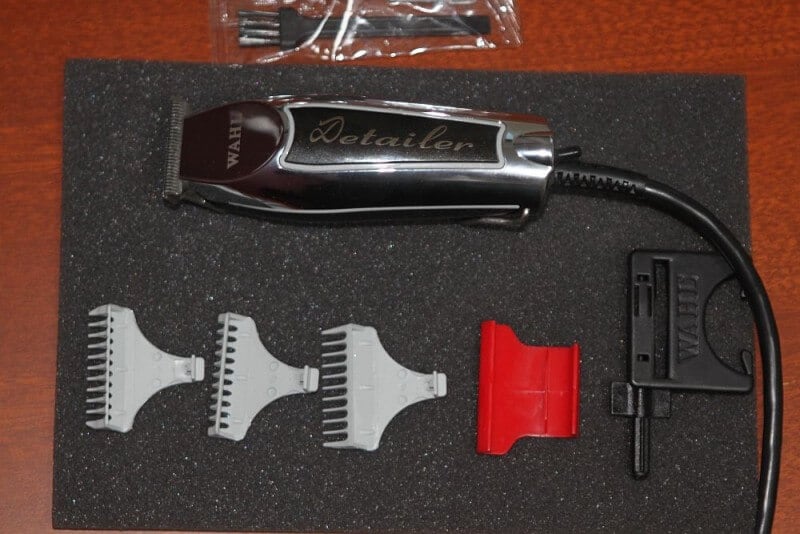 Overview of the Wahl 5 star Detailer trimmer
| You'll love it for these | But you won't like these |
| --- | --- |
| | |
| | Have to be careful with the T-blade |
| | Guard compatibility issues |
| | |
The body of the Wahl 5 star Detailer
If you're familiar with Wahl's 5 star series, you surely know the color preference there. Sporting a burgundy body, mixed with a chrome finish and white parts, the Detailer trimmer adheres to the color scheme.
It's 5″ in size and weighs around 6.9 oz. The material is hard plastic, with the chrome finish on the top ensuring some extra sturdiness.
I don't usually give in to how a tool is designed for looks. I like them to work well, save me time and help make me money. If a tool can do that for me I don't care if it is hot pink.
With that said, I love the style of these trimmers. They have a retro throwback appeal that looks good in any shop. They also work great, though as we will go into right now.

It's clear what Wahl are shooting for with this 5 star hair trimmer – elegance and stylishness. Many trimmers are powerful enough, but score low in terms of attractiveness. The Wahl Detailer combines both and you'll be delighted to hold it in your hand. Something to remember: it's made for 110/120V outlets.
As for accessories, you'll get three Wahl trimmer guides (1/16″, 1/8″ and 1/4″), clipper oil, a cleaning brush and a red blade guard.
Inside the Wahl Detailer trimmer
The 5 star Detailers are furnished with a powerful rotary motor. This gives you just enough cutting strokes per minute to achieve fast, crisp trims and detailed work. Trimmers with rotary motors somehow manage to stay slightly cooler than electromagnetic models. You'll be delighted to find out the Detailer warms up, but will never get too hot.
It's unusual for trimmers to have this rotary motor as it is mainly for clippers since they need more torque to cut through lots of hair.
In fact, I wish that Wahl made all of their clippers with a rotary motor because if they did I would be strictly a Wahl guy.
You can get some good clipper over comb types of cutting action which is great for beard trims. The rotary motor allows you to cut through thick, wiry and even wet hair. When you're cutting a long beard and the clipper guards will cut it too short, this is your best bet.
What defines this Wahl barber trimmer is the unique T-wide #2215 blade.
Made of stainless steel, it's around 1/4″ wider than your usual T-blades. It's also the reason why you can cover larger areas and trim quickly.
The 5 star Detailer trimmer is great for anything from beard or mustache trims to professional outlines or crisp, piece of art edge ups. Check this video for a quick demonstration:
With easy to maneuver, lightweight body, you can really get flexible with your trimmings. You can zero gap the Wahl Detailer T-blade if you wish.
If you do a lot of skin fades, then you really need to 0 gap these so you can get the edges shaved down to nothing.
Even if you don't 0 gap them, you can adjust them to go shorter so you can use them to wipe out any shadow from where the skin fades into stubble. I worked in a shop that had me doing several skin fades per day and these were the most important tool I had to be able to remove the line when fading. With a good balding clipper, you have a really powerful combo.
This will make it cut even closer and sharper. By rule, Wahl blades are easier to zero gap compared to Andis blades, like the GTX T-Outliner ones for example.
Wahl 5 star Detailer vs Wahl professional 8290 Detailer
Let's do a comparison in this Wahl Detailer Review. The 8290 Detailer trimmer is an offshoot of the 5 star model. At a glance, you'll see a very clear difference. The professional Detailer hair trimmer ditches the burgundy. Instead, it sports a black and grey body with a shiny chrome look.
Cosmetics aside, there's two main things that distinguish the professional Detailer from its 5 star version.
First, the 8290 Detailer on Amazon.com has a narrower T-blade. Instead of the wide #2215 Detailer blade, you get a #1062-600 one. If you want to perform trims on smaller, more delicate areas, it would be easier to maneuver with it.
Aside the width, the narrower T-blade performs exactly the same crisp, fine cuts and trims. Here it is: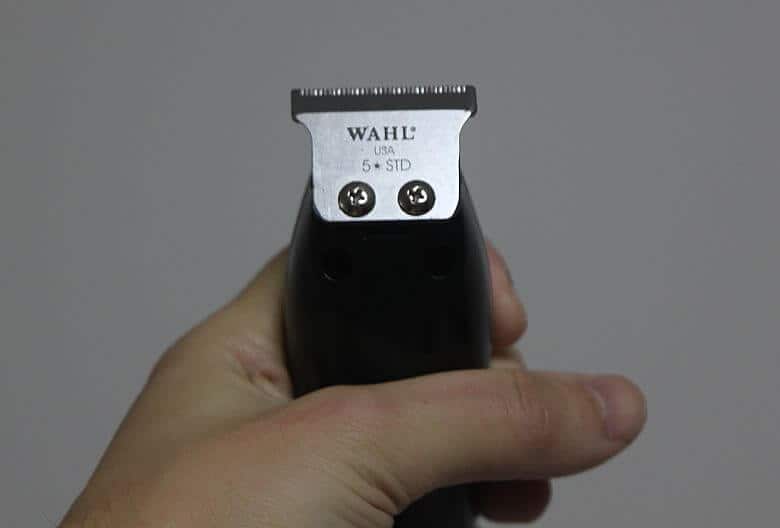 Second, this Detailer trimmer comes with Wahl's so called "Pro set tools". The set will help you adjust the barber trimmer to your liking. You will find a zero overlap tool for sharper edge ups too.
Beyond this two things and the black color scheme, there really is no need for a separate Wahl professional Detailer review. It performs absolutely the same as the 5 star trimmer.
Some drawbacks of the Wahl Detailer hair trimmer
Compared with the benefits you get from this model, its shortcomings aren't that serious. Yet in the name of objectivity and to make this Wahl Detailer Review reliable, I should mention them.
The T-wide blade of the 5 star Detailer can get really sharp, twice so if you decide to zero gap it. If you have sensitive skin, you should be very careful. Don't press too much when you're performing your trims, otherwise you'll irritate your skin.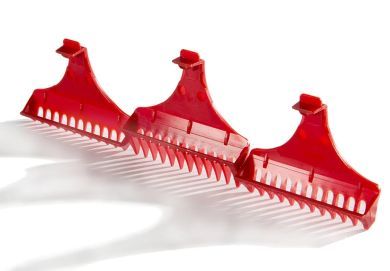 As I mentioned, you'll get three Wahl guides in terms of accessories. The problem with the wider Detailer T-blade are its specific dimensions. It will be rather hard for you to find other Wahl guards, especially bigger ones. Its narrower than traditional Wahl clipper combs, despite being wide for a T-blade.
Last but not least, if you have very big hands, the lightweight, compact body might be a tad inconvenient for you. However, I have to say you must have really large hands for this to become a serious problem.
In my humble opinion, the Wahl Detailer is Wahl's top hair trimmer. While not as popular as, say, Andis T-Outliner trimmer, it's still a great choice. Usual Andis trimmers might be more powerful, but they overheat easily. The Detailer will stay rather cool and reasonably quiet.
Lightweight and stylish, it's a perfect tool for barbers and casual users alike. Very lucrative in terms of price too, it won't break your bank.
I started out with the T Outliners from Andis because that was what everybody else was using. If i had known about the Detailers when I first started I would surely have begun my career with these instead.
In case you prefer a narrower T-blade, get the professional Detailer. If not, you know what to do. Hope this detailed Wahl Detailer Review gave you all the info you need.
I'm an outdoor enthusiast and have sported a full beard since I was in my early 20's. Originally, growing a beard was a way to save time when getting ready each day, but I quickly realized that keeping a neatly trimmed beard takes work and some forethought. That's where this site comes in.
You get to benefit from my years of experience. I've reviewed many of the top hair clippers on the market today and also included some information on what works best for me. A great beard will turn lots of heads in your direction.
Since I never know when I'm going to find myself being photographed, whether it's climbing in Yosemite, or playing volleyball on the beach, it's important to me to always look my very best. Maintaining my beard is part of my daily routine and I hope you'll find some useful tips and information on this site to help you on your journey.