If you go around a few barbershops in your neighborhood, chances are you'll see a few Andis T-Outliner hair trimmers there.
A medium budget take on what a trimmer for men should be, this seemingly unpretentious machine might surprise you with its potential. Don't think of the T Outliner as a pure barber trimmer only, though.
It's a perfect choice for any casual user, too. So without spending too much on an introduction, let's see what this T-blade hair trimmer offers you.
Preface: I'll also do an Andis T-Outliner Trimmer review vs Andis Outliner 2 comparison as a lot of people wanted to know more.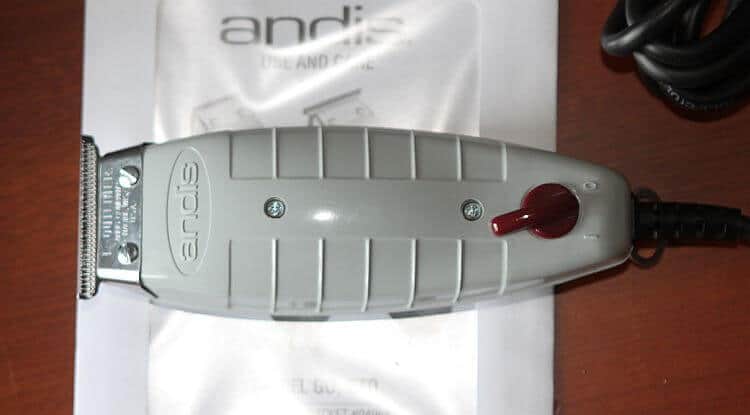 Andis T-Outliner Trimmer: An Overview
| You'll love it for these | But you won't like these |
| --- | --- |
| Cuts close and with precision | Can get really hot to the touch |
| | Slightly uncomfortable on/off switch |
| Sharp, quality & adjustable blades | |
| | |
The body of Andis T Outliner trimmer
So here we have it, the trademark trimmer of Andis. Does it live up to the hype? What exactly does it feel like? Let's begin this Andis T-Outliner trimmer review by taking a look at Andis T Outliner's body.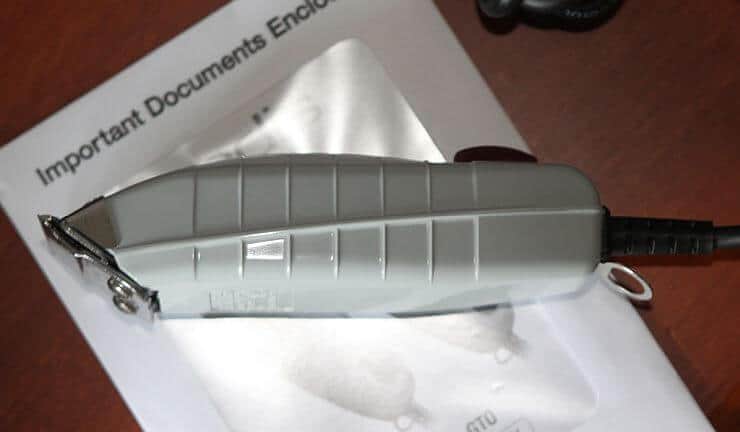 As you can see, we have a grey, hard plastic casing with an attractive switch on the lower part of the body. While there definitely are sturdier models than the T Outliner, it scores above average in this regard. At 5.5″ and 0.70 lbs, it's a standard-sized trimmer. The model is ergonomic enough to guarantee you a stable, comfortable grip when you start working with the sharp Andis T blade. The T Outliner is for corded use only, coming with a 8-feet long cord. That's just enough coverage to allow you mobility, no matter if you're a casual user or a barber.
Note: in most cases, you won't receive any guards with the hair trimmer! The one thing about the design that I really don't like is the power button. I love one handed operation of my tools and the fact that I have to use two hands to twist the switch to turn it on and off is annoying. It is not a deal breaker, but I don't understand why they haven't upgraded that yet since their other trimmers all have a switch you can flick with one finger.
The T Outliner blades & motor
Beneath the hard plastic case lies an oscillating electromagnetic motor, cutting at 7200 strokes per minute. A pretty good performance, this guarantees you fast trimming and more than enough power.
Especially if you're looking to do more extensive trims, you'll find a solid, heavy-duty ready choice here.
To ensure smoother hair cutting action, Andis tend strengthen their products' blades with carbon. The T-blade of the T Outliner trimmer follows the same formula.
Its carbon-steel blades are manufactured to be extra tough and work through high volumes of hair without pulling on it. They're also quite sharp, so be careful not to sink their teeth too deep in your skin.
The T shape of the blade helps to do some nice detail work and to get in those hard to reach areas. When you want to do some beard designs when trimming, you can use the ends of the blade to work it around, which is nice to have. I make sure all of the trimmers I get have that shape since I end up lost when they don't.
Note: If you want to zero gap the Andis T-blade, be careful. As with other Andis blades, doing a zero gap on the T-blade can be challenging for beginners. Watch this video to learn how to do the blade adjustment:
What can you use Andis T blade for?
Andis T-Outliner hair trimmer is widely revered with a reason. You can use it for anything from outlines, to neckline cleanups, beard or mustache trimmings, edge ups…Combined with an Andis Master or another hair clipper for fades, it allows for artistic fades too.
A very important benefit of the T-Outliner is how precise, close and gentle it cuts. If you are prone to bumps, red spots or even rashes, this is hands down one of the best hair trimmers for sensitive skin. As long as you are careful with the angle you trim yourself and don't go overboard with the zero gap, of course.
If you decide to use the T-Outliner with a T-blade for beard trimming, I advise you to throw preshave oil in the mix. It will allow for an even smoother, pleasure-filled experience. This Andis hair trimmer is also perfect for dry shaving, something other trimmers have some difficulties with.
If you do opt to use pre shave oil, make sure you clean the blade well afterwards. Especially if you will be using these in a barbershop. The fine teeth will easily get gunked up by the oil and hair mixture. As you go, it will slow down to the point that it will have a hard time cutting, so you really need to stay up on this. Hair is quite acidic and will also dull your blade over time if you don't make sure it is cleaned off.
Just make sure that at the end of the day you are giving it a good brushing with an old toothbrush or something similar. I like to also take off the blade and use a can of compressed air to blow out the loose hairs that get trapped underneath.
Once in a while you should also clean your blade with a blade wash to get all of the grime that has built up over time on the blade. Guys oily skin or sweat plus dead skin cells end up getting stuck on the blade and will eventually slow down your blade over time.
Make sure your blades are kept sharp either by sending them out to get sharpened or by sharpening them yourself.
For those who're looking for a balding clipper, you won't find a complete solution with the T-Outliner. However, it will cut surprisingly close, so shorter buzz cuts are totally doable.
Some weaknesses of Andis T-Outliner hair trimmer
No product is perfect and Andis T-Outliner definitely has some things you need to be aware of. Our Andis T-Outliner trimmer review is here to help.
First of all, it scores badly in terms of heating up. That's a common issue with some of Andis barber clippers and trimmers. Some say it's the byproduct of the high number of cutting strokes per minute, powered by the electromagnetic motor.
If you are using it as intended, meaning to outline the edges of the hairline or beard, then you're only using it for a few minutes at a time. Then it rests while you finish the cut and move onto the next one. I find when I am working that I only use the trimmers about every 15 minutes or so. This gives them plenty of time to cool down and I have never needed to use a spray on the blade.
If you do need to shave somebody's head, or your own, then you should be using a tool to do that specifically. I think the Andis Pro Foil is one of the best tools for a barber to use to shave somebody's head so click that link to see the full review.
In any case, expect overheating problems with the T-Outliner trimmer if you go for longer haircuts or trimmings. This can be easily solved, though. You can either rest a bit to let the blades/body cool off, or use blade wash like Andi's own
Blade care disinfectant on Amazon.com
. I can't give you an exact threshold, but around the 13-15 minute mark you will feel the T-blades heating up.
If all you are using it for is to outline, then overheating is not likely to be much of an issue.
It really only get shot if you are using it as an electric shaver and are shaving beard after beard with it.
And it will definitely get hot if you use it to shave a head, which I do not recommend. You will very quickly find yourself buying a new blade for this trimmer if you are shaving heads with it.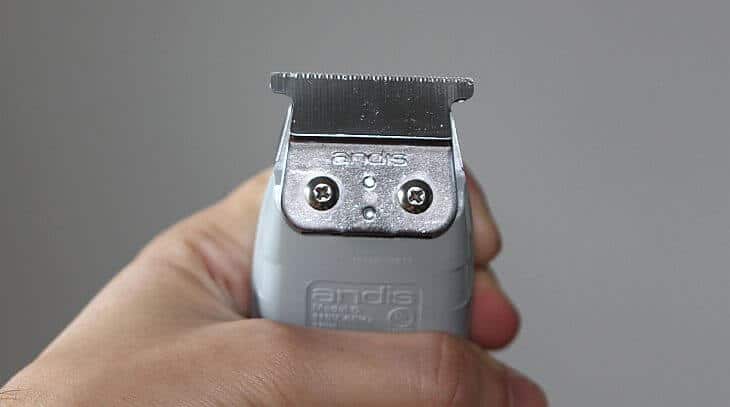 The second thing that might be a problem for some is the body design of the trimmer. The hard plastic is not an eye-catcher for sure. What might be frustrasting for you would be the on/off red switch on the lower part of the T-Outliner Andis trimmer. Compared to other models it's a little bit unintuitive.
Andis T-Outliner Trimmer vs Outliner 2
It's important to note that there's an Andis Outliner II, a different variation of the standard T blade trimmer. In fact, herein lies the difference. The professional Outliner 2 trimmer doesn't have a T blade at all. Look at it: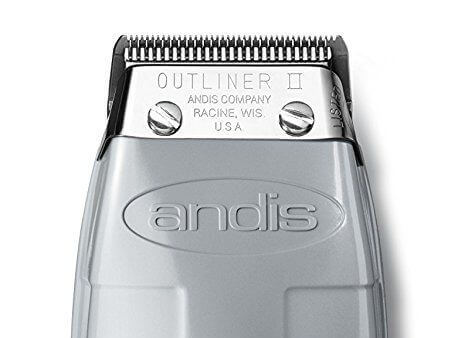 As you can see, the Andis T Outliner 2 blade is square instead of keeping to a T-shape. It's smaller, narrower than the standard T Outliner. The teeth are also a little larger. In other words, for trimming longer lines, the Outliner 2 wouldn't work as great. However, it's way better for dry shaves – the smaller blade equals easy maneuvering and less risk of nicking your skin. I'd recommend the Andis T Outliner II for rookies and people who would use it mainly for shaving/trimming on a dry skin. Aside from the blade size/shape, both trimmers are the same – in weight, size, 7200 SPM magnetic motor and overall performance.
The T shape of the T Outliner blades are ideal for getting into the nooks and crannies the Outliner 2 can't get to. The edge of the blade can even allow you to trim inside the ears or nose easily.
If you are looking for convenience then there is also a cordless T Outliner out now so check out the review.
Outliner Review: Final verdict
This Andis T-Outliner Trimmer review proves this tool is a great hair trimmer for men. It lives up to its reputation and will be perfect for you if you:
Want a quality Andis trimmer on a great price
Seek a not-so-complicated, yet powerful hair cutting tool
Have sensitive skin and want to do close trims
Want to do detailed work (outlines, fades, edgeups and others)
That said, I recommend you to give the Andis GTX T-Outliner a thought too. Especially if you're looking for a fading trimmer, it'll be a better choice. Just remember both models suffer from the infamous overheating issue and keep that in mind.
But as I said, there's no perfect product. For their price, both T-Outliner models are a great sidekick to your grooming routine. Trim happily!
I'm an outdoor enthusiast and have sported a full beard since I was in my early 20's. Originally, growing a beard was a way to save time when getting ready each day, but I quickly realized that keeping a neatly trimmed beard takes work and some forethought. That's where this site comes in.
You get to benefit from my years of experience. I've reviewed many of the top hair clippers on the market today and also included some information on what works best for me. A great beard will turn lots of heads in your direction.
Since I never know when I'm going to find myself being photographed, whether it's climbing in Yosemite, or playing volleyball on the beach, it's important to me to always look my very best. Maintaining my beard is part of my daily routine and I hope you'll find some useful tips and information on this site to help you on your journey.