You heard us, ladies and gentlemen–well perhaps just gentlemen in this case–your long-awaited trimmer is finally here. A big step for barbers everywhere. This gorgeous outliner is now more powerful and easier than ever before to use. With over 100 minutes of use time after only an hour of charging, this new trimmer cannot be beat, and we have the Andis Cordless T-Outliner review just for you.
For designs, outlining, and zero-gapping, this is the trimmer you need to have if you're serious about cutting hair. At about $200, this trimmer isn't cheap, but it is certainly worth the price. A huge step up from the original Andis T-Outliner, this new version allows you to swivel around and get in tight spots without having to drag around a clumsy cord–and it's just as, if not even more, powerful than its predecessor.
The high price shouldn't be looked at in horror. It is going to pay for itself in a few short months.
How does that work?
Think of it like this. Time is money.
Anything that helps you do your job more quickly is going to make you more money. Not having a cord getting in the way is an obvious time saver. This means that you'll be fumbling around less with your trimmer and spend more time cutting hair. This means you'll get that haircut done faster without rushing and you can add at least an extra haircut per day due to the time you've saved.
Sometimes you have to spend money to make money.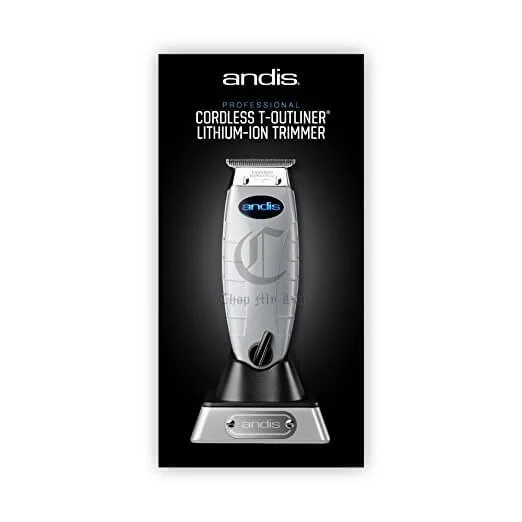 If you've gotten caught up in the hype over this new release, the moment is finally here. The Andis Cordless T-Outliner is everything we wanted it to be and more. Keep reading to find out how Andis has improved upon their former models and what features you can expect from this trimmer.
Andis Cordless T-Outliner vs. Other Andis Trimmers
Andis has a whole line of hair trimmers, but if you're a man who takes impeccably good care of his physical appearance, you're going to want to invest in the Cordless T-Outliner. We'll explain why.
The Andis GTX T-Outliner is great for versatility. With its deep teeth, it can cut through thicker hair, and you can rely on it to do pretty much anything. Neck clean ups, sideburn and beard trims, outlines and edge-ups….but that's the problem. It does everything well, but it isn't meant for anything specifically. It's powerful, but it can't zero gap, and it's not meant specifically to do detail work.The Andis Promotor Combo has the same problem–it's an economical option that's designed as an all-in-one kit.
The Andis Speedmaster II and Styliner II are both good medium-priced options that are relatively lightweight and can give you a great smooth trims. However, they're not meant for detailed work. For a proper styler, you need a very wide t-blade that can zero-in accurately giving you clean straight lines.
Is the Andis Cordless T-Outliner a Replica of the

Slimline Pro

?
Okay, so clearly the cordless version of the Andis T-Outliner far outshines most of the Andis products, but is it really that much different from the Pro Li Trimmer?
The Pro Li Trimmer is an elegant, cordless trimmer meant for professionals and enclosed in sleek, black alloy casing. However, the Andis Cordless T-Outliner is still a step up for a few reasons.
Though the battery life is just about the same, the motor is far more powerful. At 7200 SPM, it beats out the Pro Li's 6000 SPM by a long shot.
Motor power does, in fact, matter quite a bit when it comes to hair trimmers because strong motors can cut through more hair more quickly. If your hair is thick or curly, you're going to want a trimmer that can get the job done quickly and efficiently. You're not going to want to go over the same area multiple times. Not only is that a waste of time, but eventually it will irritate the skin.
The more power you have, the more versatility. You'll be able to accomplish more with one tool that does everything very well.
What That Means
The Andis Cordless T-Outliner is the best trimmer from Andis so far because it's designed to do one thing very well. This is not your one fits all kind of trimmer. It does outlining, detailing, and styling extremely well. It's precise and accurate, and it's worth every single penny. It's got an extremely powerful motor, and the cord will never get in the way.
Don't take our word for it though. Check out some Andis Cordless T-Outliner reviews on Amazon!

Andis Cordless T-Outliner:
What You Need to Know
This Andis Cordless T-Outliner Review reveals that it is made with a gray plastic coating and looks similar to the standard Andis T-Outliner though its body is slightly more elongated. Andis did a great job of replicating the previous style to fit this newer model, and the design is similarly striking. However, on the cordless version, you'll find that the Andis logo on the front lights up with blue LEDs when the trimmer is charging.
The charging port has a flashy chrome base that is plenty sturdy to hold the trimmer. You shouldn't have to worry about the trimmer falling over. Even if you knock into the razor with your elbow accidentally, the trimmer should stay securely in place.The cord for the base is in the back, and the power switch is on the bottom of the trimmer.
One perplexing thing about the design is the fact that they left the power switch the same. Instead of a toggle or a button which can be used one handed to turn it off or on, they kept the switch the same as the old school corded one. I don't like needing to use two hands to turn it on or off. It throws off the whole flow. It may seem like a minor gripe, and is certainly no deal breaker, but is disappointing in my opinion.
Best yet, this trimmer is just as powerful as the previous edition even though its cordless, but there is an option to attach a cord should you choose to do so. It comes with a high-speed rotary motor with blade speeds of 7,200SPM.
This is the key right here. The rotary motor.
Rotary motors are way better than electromagnetic ones like most of the Andis line of clippers and trimmers.
When a motor spins around a pivot, you get way more torque which makes cutting more efficient without any slowing down of the blades when you encounter thick hair.
It also stays cooler as there is less friction from a pivot rocking back and forth that moves the blades.
Then there is the issue of noise. A rotary motor is much quieter. Since it spins rather than rocks a pivot arm, there is less there to make noise.
This is what elevates this trimmer above what you expect with it being cordless just a bonus.
It also features constant speed technology and blades that never drag or pull regardless of the texture of your hair. The close-cutting carbon-steel T-blade can be easily zero-gapped and is perfect for lining, designing, and dry shaving.
The blade can be easily removed with a Phillip's Head screwdriver, and you can even substitute a GTX blade or another Andis blade in place of the original. To screw the blade back into place, simply secure the blade with the black plastic piece inside and twist in the screw on the back.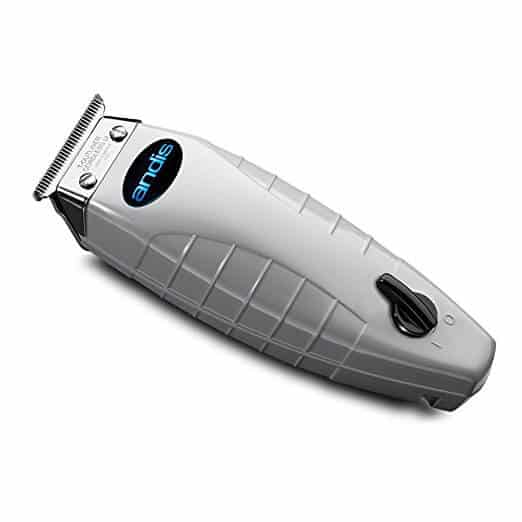 Andis Cordless T-Outliner – Final Thoughts:
To summarise this Andis Cordless T-Outliner review: if you're a barber, you need a hair trimmer that is as flexible as you are. You take care of each of your clients–you know how they like their sideburns, how closely they trim their beard, and how long or short they want their hair in the summer and winter. To say the very least, your clients trust you, and you give them your best every single day.
For you to do your best, you also need your tools to be reliable. With a Lithium Ion battery, you can be sure that it will work at its peak for years to come. It isn't enough to just be cordless, it has to allow the tool to function the way it is menat to which the battery does.
You need a trimmer that can help you get up close and personal. You need the precision that only the Andis Cordless T-Outliner can offer you.
Any man, in fact, who cares about his appearance, needs a trimmer that is as powerful as he is. You don't have time to mess around in the morning–you need your hair and beard to look perfect, and that's why you're ready to pay extra for it. If you are particular about how you style and outline your hair and beard line, then the Andis Cordless T-Outliner is the trimmer for you.
If you're ready for a trimmer with a wide blade that can outline accurately and won't ever tie you down, then you need to check out the Andis Cordless T-Outliner review today and see how different it is from the others. This trimmer's only just come out, but it's already so popular, the price might even go up. You'll want to catch it now before your friends catch on and all buy theirs too.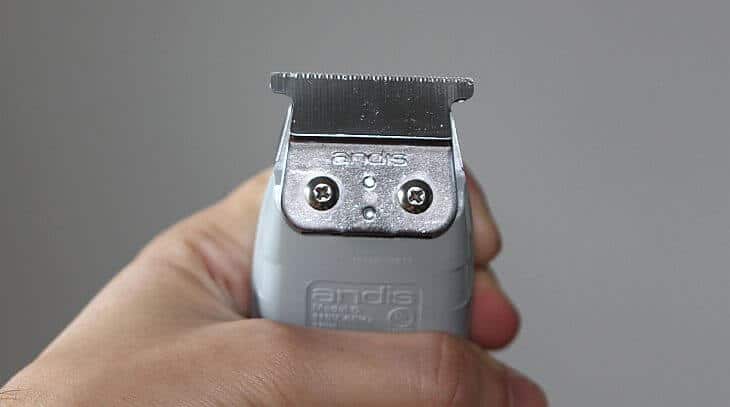 I'm an outdoor enthusiast and have sported a full beard since I was in my early 20's. Originally, growing a beard was a way to save time when getting ready each day, but I quickly realized that keeping a neatly trimmed beard takes work and some forethought. That's where this site comes in.
You get to benefit from my years of experience. I've reviewed many of the top hair clippers on the market today and also included some information on what works best for me. A great beard will turn lots of heads in your direction.
Since I never know when I'm going to find myself being photographed, whether it's climbing in Yosemite, or playing volleyball on the beach, it's important to me to always look my very best. Maintaining my beard is part of my daily routine and I hope you'll find some useful tips and information on this site to help you on your journey.