A lot of you guys mentioned that we haven't given Andis GTX T Outliner the proper love it deserves in a standalone review.
That may be right: we did write an extensive T Outliner review. We also compared the GTX and Wahl's Detailer.
And I've mentioned it before – to me, the GTX is the best Andis trimmer out there. I'll explain why it outperforms both the standard Outliner and the T-Edjer too.
It's high time I did a full Andis GTX trimmer review.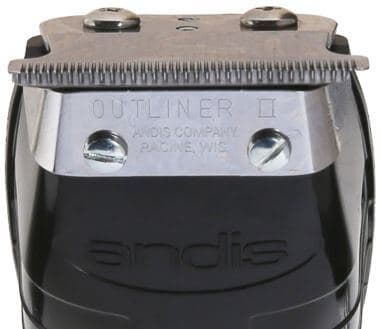 | | |
| --- | --- |
| You'll love it for these | But you won't like these |
| | Tricky to zero gap the blade |
| Very versatile & great for fades | A bit heavier than some other trimmers |
| | |
| | |
Knock, knock! It's the GTX T Outliner, ready to trim
Starting out with a kick, the GTX trimmer will charm you with its black-themed elegance. The standard T Outliner is not bad, but its grey body was always a bit dull to me. Clad in stylish, tough polymer, Andis GTX measures 5.5″ and weighs 0.7 lbs.
Look at this guy: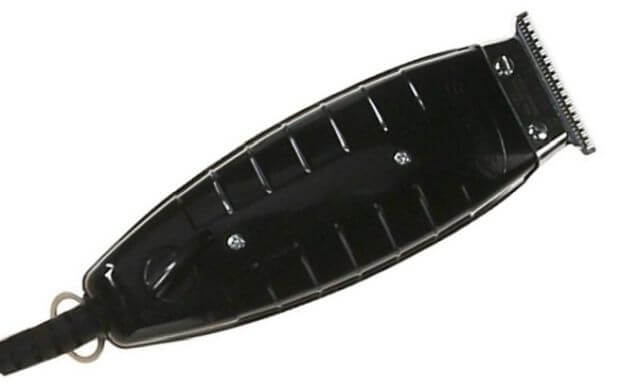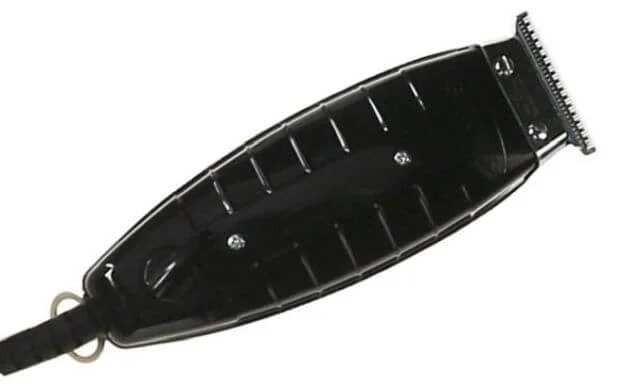 Let's be honest, 0.7 lbs is a bit heavier than your traditional trimmer. However, I like it. You get a proper grip with that thing, I'm not that much of a fan of lightweight hair cutting tools.
Speaking of Andis GTX vs T Outliner, a big difference with this black beauty is the cord. The standard T Outliner has your usual 2-pronged cord of medium thickness.
The GTX trimmer comes equipped with a 3-pronged, extra thick cord. It feels more solid, regulates the tool's movement better and, you know, just feels manly. It's also safer due to the grounding element. Keep in mind it adds a little bit to the trimmer's overall weight.
As far as accessories go, most sellers should ship this Andis trimmer with 4 attachments. Starting with #0 up to #3, you'll get 1/16″, 1/8″, 1/4″ and 3/8″ trimmer guards. For other countries, that's 1.5, 3, 6 and 10mm respectively. You also get the usual blade oil too.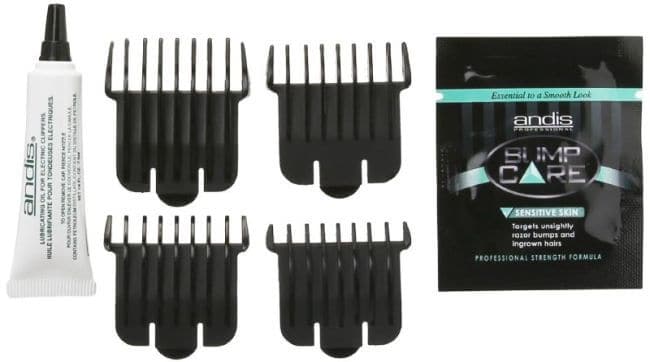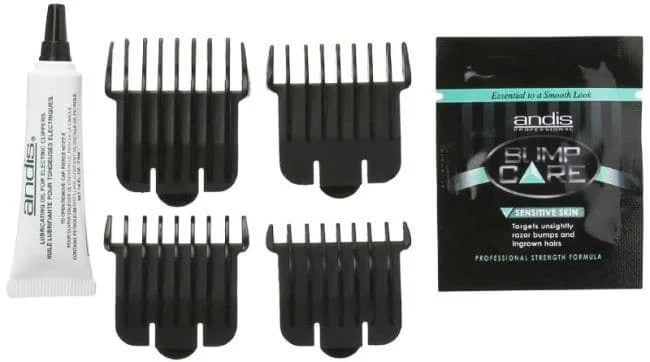 It's all about the Andis deep tooth blade
It really is. The blade you'll find with this neat Andis machine is the reason why I consider this the best T blade trimmer overall. Neither the standard Outliner or the T Edjer can match it, really.
The black Andis T Outliner features a blade with deeper teeth. What this effectively means is that it'll cut longer and thicker hair types way smoother than other T Blades. Anything from casual trimming to detailing or doing a fade will be simply superior to what you'd achieve with the standard T Outliner.
In his fantastic blog, The Rebel Rouser showcased really clearly the Andis GTX vs T Outliner difference. Here's his comparison photo: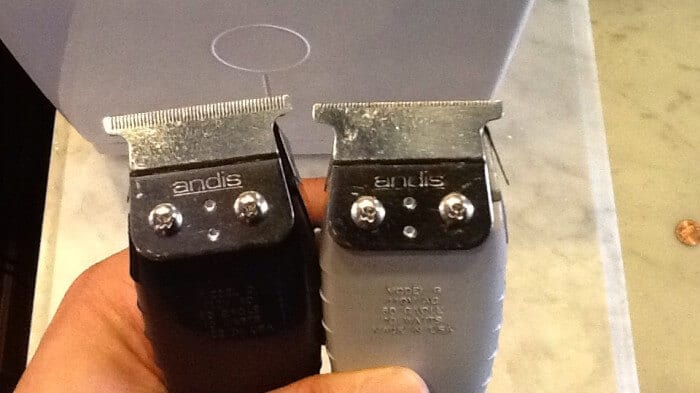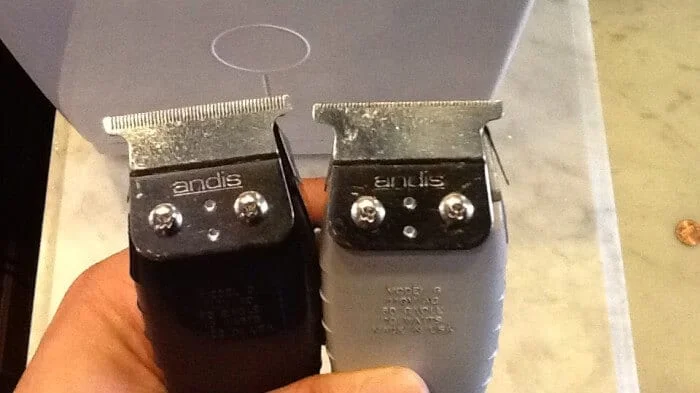 Notice the depth of the blades? Almost twice as much as the standard grey Outliner with a T-blade!
The GTX blade is also quite good for sensitive skin. Its carbon-coated steel will stay sharp and strong for a long period too.
What you can use the Andis GTX T Outliner for
I mentioned that to me, this is the best Andis trimmer and the best T blade trimmer overall. Why? The answer is…versatility.
First of all, the GTX "engine" allows it to go hard. Andis electromagnetic motors put in their high end trimmers clock at 7200 strokes per minute as buyers' reviews praise on Amazon.com. Let me tell you: this is pretty, pretty strong.
Combined with the deep tooth blade, you can perform anything from outlines to edge ups, beard or sideburn trims and neckline cleanups. Needless to say, this is an amazing trimmer for bald fades or general fades too.
Wondering about Andis T Edger vs GTX or the standard T Outliner vs GTX? Here's your difference: this model's trims are more precise, more powerful and simply better.
Stuff about the GTX trimmer you want to keep in mind
OK, first of all, I want to say that many of you will want to zero gap this model eventually. And as I've mentioned before, doing a zero gap on Andis trimmers and clippers can be a bit tricky. The Wahl Detailer, for example, is way easier for this kind of tinkering.
Please be very, very careful when customizing Andis GTX. Your blades can turn really sharp and poke your skin rather unpleasantly if you go overboard. There's quite a few videos on YouTube on that, take your time and go through them. Here's my favorite:
Second, the GTX T Outliner doesn't overheat as easily as the standard model. However, it will still get hot around the 15 minute mark or so which might be faster than other models. Think about it, though – this Andis trimmer has a 7200 SPM motor monster.
Do you really expect it to stay cool or quiet all the time? That is simply naive. Your trade off here is the sheer power and detailing potential you get.
So base from this Andis GTX trimmer review, I'll say it again and again: this is the best Andis trimmer, the company's finest. Sure, for some people it might feel too robust, but for most, this machine will be an insane addition.
The deep tooth blade to style thicker/longer hair better, the solid 3-prong cord that balances the GTX trimmer's movement, that motor power…The black Andis T Outliner is a must for both barbers and people just seeking quality grooming at home.
I hope you liked this Andis GTX trimmer review I made. The GTX outperforms every other Andis trimming tool. And, just my personal preference, it also qualifies as the best T blade trimmer on the market. You can't go wrong with it.
I'm an outdoor enthusiast and have sported a full beard since I was in my early 20's. Originally, growing a beard was a way to save time when getting ready each day, but I quickly realized that keeping a neatly trimmed beard takes work and some forethought. That's where this site comes in.
You get to benefit from my years of experience. I've reviewed many of the top hair clippers on the market today and also included some information on what works best for me. A great beard will turn lots of heads in your direction.
Since I never know when I'm going to find myself being photographed, whether it's climbing in Yosemite, or playing volleyball on the beach, it's important to me to always look my very best. Maintaining my beard is part of my daily routine and I hope you'll find some useful tips and information on this site to help you on your journey.