Wahl Professional Cordless Designer Review
Wahl's Cordless Designer Clipper is a mid-range professional hair clipper. Its famous for its light body at 0.63 lbs, compared to the usual barber clippers that go beyond 1 lbs.
The first thing you'll notice when you check the Designer is its vivid red color. Just like a predator, ready to sate its hunger with your hair.
Indeed, this Wahl professional clipper has the reputation of a powerful hair cutting machine with solid performance no matter the hair type.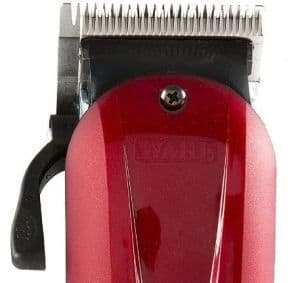 In addition, this hair cutter is famous for its great ergonomics despite the seemingly bulky body it sports. In this Wahl Professional Cordless Designer review, I'll also say a few words about the corded Designer.
Wahl's Cordless Designer Clipper Review: An Overview
| You'll love it for these | But you won't like these |
| --- | --- |
| Very lightweight (0.63lbs) | |
| 90 minutes of battery life | Can feel a little bulky (6.25") |
| | Cheap-looking storage box |
| | |
Body that puts other hair cutting machines to shame
For me, Wahl's Cordless Designer clipper is very pleasing in the aesthetics department. As mentioned earlier, it's like a hungry predator ogling your (or your clients') strands of hair, ready to jump on them.
All in all, the hair cutter is 6.25″ long and weighs 10.2 oz. An outstanding weight given the elongated design.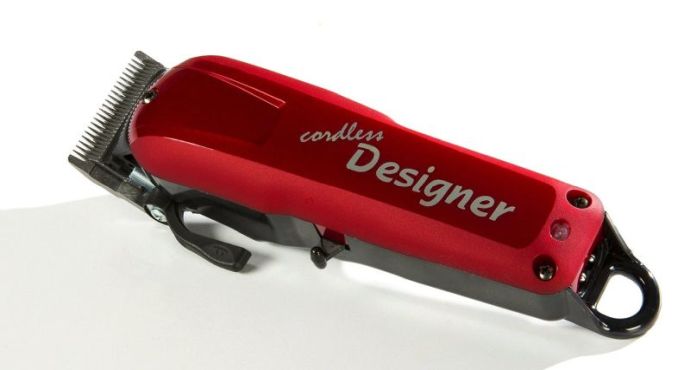 Red looks aside, these Wahl professional clippers are stunningly ergonomic. Don't mistake them being a tad lighter with you possibly lacking a grip with them.
They strike just the right balance, not tiring on the hand, yet comfortable to cut hair with. The cordless Designer is way easier to work with, as the corded version on Amazon.com is significantly heavier at 1 lbs.
A few ounces one way or the other might not seem like a lot. But, trust me when I tell you that at the end of the week, you will see that it does indeed make a difference. Reducing hand fatigue is very important for you to be a barber long term. In addition to that, it will also make you more money. When your hand is tired, you move more slowly and end up doing fewer haircuts. The more efficient you are with your quickness the more money you will make over the long run.
You'll receive a total of 8 Wahl guards (1/8″ to 1″ in size), red blade protector, clipper oil and a cleaning brush for your convenience.
Wahl 85910 Cordless Designer Review – for experts, by experts
The Wahl Designer clippers are a great pick both as home hair clippers or as a hair cutting tool for barbers.
The model is equipped with a 1005 universal blade. It's one of Wahl's higher end blade types and will cut through any hair type, no matter the thickness.
While not as great as the cordless Magic Clip's crunch blade when it comes to fades, the Designer performs solidly in general cuts.
Every shop has a different type of clientele. Where I work, we do mainly regular business haircuts, so the blade of the 85910 is more than good enough for my needs. You may work in a shop where you need to be doing lots of fades and will probably appreciate the crunch blade. Of course, you can always swap out those blades if you don't want to buy a new clipper.
In fact, why not check how it glides through hair in a quick overview video like this:
In terms of motor, don't expect the Designer to be on par with a heavy-duty Wahl barber clipper like the
Seniors
. While you won't see the brand's famous, most powerful V9000 motor here, it's more than fine. Considering its flexibility and ergonomics, the cordless Designer's motor will leave you with no complaints. You'll get the power you want to see from a pro hair cutter.
Boss cordless performance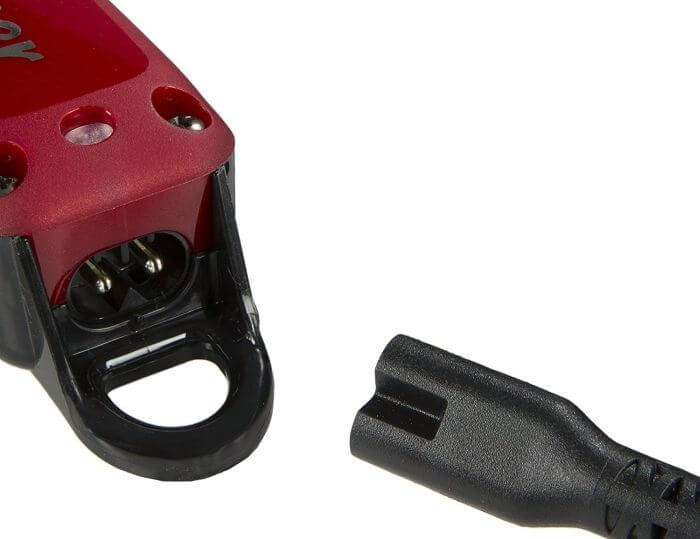 What really makes a difference between the two Designer models is the cordless action this one offers you.
You have up to 90 minutes of runtime on the 85910 cordless Designer clipper. The Lithium-ion battery life is comparable to the higher priced Magic Clip.
In fact, both hair cutters go well beyond the industry average. With most cordless cutters in this price range, you'll get 40 to 60 minutes of runtime.
As you can guess, this makes the cordless Designer clippers great for barbers. You can perform quite a few client haircuts without the need to switch to another tool.
If you plug it in between haircuts, you can likely get the entire day without the battery dying even if it is your primary clipper. If it does die on you, then you can use it with the cord so you don't miss a beat.
Home users will be satisfied too as you can go a few weeks without even grabbing the charger. If you prefer going corded, you can always use this model plugged in too.
Cordless Designer vs the corded Designer
Obviously, the wireless version is way more convenient, maneuverable and lighter. This makes for a slightly higher price in comparison with the standard Wahl Designer
budget-friendly option from Amazon.com
. Aside from the cordless mode, I want to remind you that the cordless Designer is only 0.63 lbs compared to the heavier 1 lbs. wired counterpart. With the corded 8355-400 Designer clippers, you also get only 6 Wahl guards, compared to the wireless' pack of 8. Otherwise, the two models sport the same #1005 blade and perform similarly in terms of raw power. You might notice that the corded Designer clippers have a more rounded, wider body too: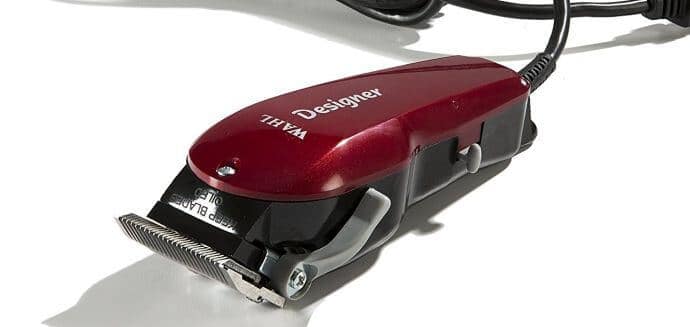 Some weaker points of the wireless Designer
Let's be honest in this Wahl Professional Cordless Designer review and good thing it lacks many severe bad points. What might be of concern to some people is the cordless hair clippers' vibration. Wahl's models as a whole tend to vibrate a bit more than other brands in my personal experience.
However, the Designer's vibration is smoother so it shouldn't be too much of an issue. Especially if you've been around for a while. Even if you're a beginner, I'd say you'd need a short time to adjust to the hair cutter "jumping" in your hand.
There's one severe disadvantage for a specific audience, though. If you're looking for a balding clipper, you're not going to find it here. A better pick would be the 5 star balding clipper (for close cuts or bald fades.)
Lastly, I find the box this Wahl professional hair clipper comes with rather ugly. Wahl should really step their game up with these soft plastic storage boxes…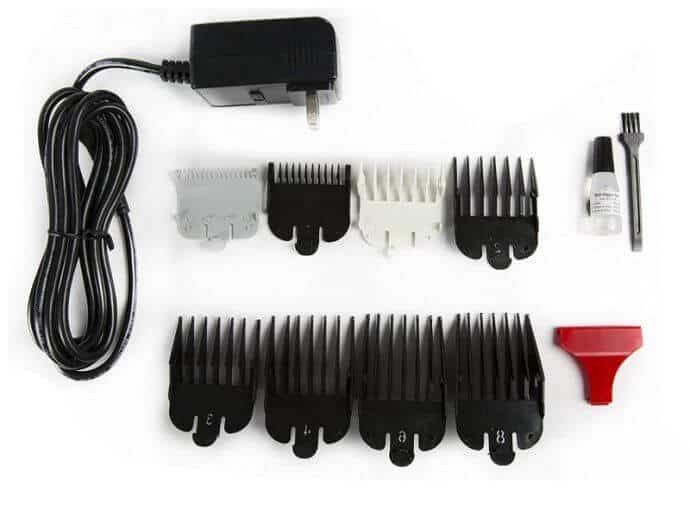 Wahl Cordless Designer Review: Final verdict
Wahl's Cordless Designer is an all-around very solid choice for both home use or as a professional clipper.  You surely want to look in the Designer's direction if you:
are in search of a flexible, maneuverable professional clipper

value aesthetics

are a busy professional who needs ergonomics and good battery life

want to have a good set of guards included with your purchase
I've elaborated on the many reasons Wahl clippers are my choice to go to usually. And after doing this Wahl Professional Cordless Designer review, I'd say the Cordless Designer is yet another addition to the universe of Wahl professional hair clippers – without a doubt, a very worthy addition indeed.