Andis are pretty famous for their huge portfolio of professional hair clippers. This year's summer marked the release of a new generation of Andis barber clippers – the Pro Alloy.
Marketed as something that will "change clipper technology", the Pro Alloy XTR clipper is supposed to outshine classics like Andis Master clippers.
Strong words indeed. But does it live up to the hype? Will it be able to establish itself as the new face of Andis barber tools?
Join us for a thorough Andis Pro Alloy XTR review to find out. I will preface it with the fact that we included the XTR in our best barber clippers list.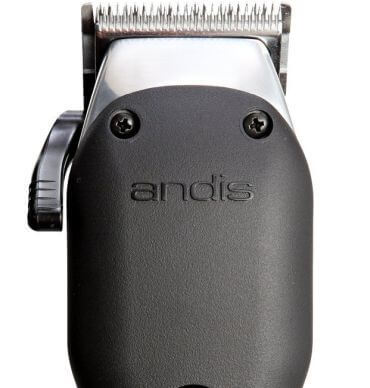 Overview of Andis Pro Alloy XTR clipper
| You'll love it for these | But you won't like these |
| --- | --- |
| 35% cooler & 20% less vibrations than usual clippers | |
| Sharp carbon-coated steel blades | Compatibility issues with "older gen" guards |
| | Has a bit of a learning curve |
| | |
| | |
Andis Pro Alloy: the future of Andis hair clippers?
No doubt about this Andis Pro Alloy XTR Review: the core feature of the Andis Pro Alloy clipper is its so called XTR technology. This is short for "Extreme Thermal Reduction".
What it really means for you is that you receive a hair cutter that stays 35% cooler and vibrates 20% less. If you've cut your own hair with clippers like Andis Master, you might have noticed something.
They get hot, and they get hot a lot. Most professional hair clippers are like this due to their heavy-duty operation.
Any clipper that uses an electromagnetic motor will inevitably heat up as it uses an oscillating piston. This causes friction and is what makes that clicking noise in Andis and Wahl clippers.
This is why I generally like rotary motors since they are much quieter and don't heat up like the electromagnetic ones.
For whatever reason, overheating was always a bigger problem with Andis than with other brands. It is always the biggest complaint among barbers, even ones that live and breath Andis, and finally Andis decided to do something about it.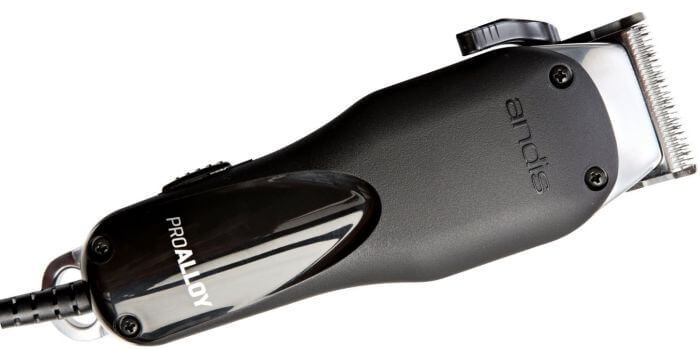 With XTR, though, Andis Pro Alloy opens a new window of opportunity for you. Fewer vibrations mean a better grip – something reinforced by the Pro Alloy's highly ergonomic body.
This also means less hand fatigue. If you have been using a clipper that vibrates a lot then you know how tired your hand is by the end of a busy day at the shop. Anything that helps reduce that will keep you working more efficiently and ends up making you more money in the long run.
Tough aluminum housing, coated with hard plastic on top. This is Andis' way to ensure you get a durable barber-grade clipper that will last you for long.
It is this new housing that also helps to keep it cool. The aluminum casing of the Andis Master, for instance, allows the heat from the motor to transfer to your hand. Using this heavy duty plastic keeps the heat inside the clipper to keep you and your client comfortable.
You may think that all this means is that the heat is transferred to the blade, but that isn't the case.  It is not only comfortable for the barber's hands, but the blade won't feel hot against your clients head.
Speaking in terms of size, the Pro Alloy clipper leans on the bigger side of things. It weighs 1.38 lbs and measures 7.25″. A solid, heavier Andis barber clipper that lives up to what you would expect of a total beast.
Andis Pro Alloy motor & blades
Sticking to their own approach to barber grade motors, Andis has furnished the Pro Alloy clipper with a high-speed, high-power magnetic motor. 7200 strokes per minute are twice of what you'd get with an Oster Outlaw, for example.
Sheltered inside the metal housing, this beast of a motor powers the clipper's carbon-coated stainless steel blade. It's adjustable from #000 to #1, or 1/50″ to 3/32″ in terms of length.
I've said this before: titanium-coated or carbon-coated hair clipper blades are superior to your usual steel blades. And out of those two, I'd much prefer the carbon ones. Andis Pro Alloy XTR blades are ready for high volume hair cutting and will glide through any type of hair. They aren't as great as the Master's blades (pictured below), but then again XTR is quite cheaper too.
They are also much less prone to breaking. Now, a drop against a tile floor in just the right way will break some teeth. I know this from experience! But, a bump or knock against something will be a lot less likely to break your blade.
And on top of it, they stay sharper longer. As long as you are taking care of them of course!
Make sure you are wiping the hair away from your blade before and after every haircut. This may not seem like a big deal, but the acidity of the hair will eat away at your blade and end up causing it to go dull.
These blades are not cheap to replace so take good care of them!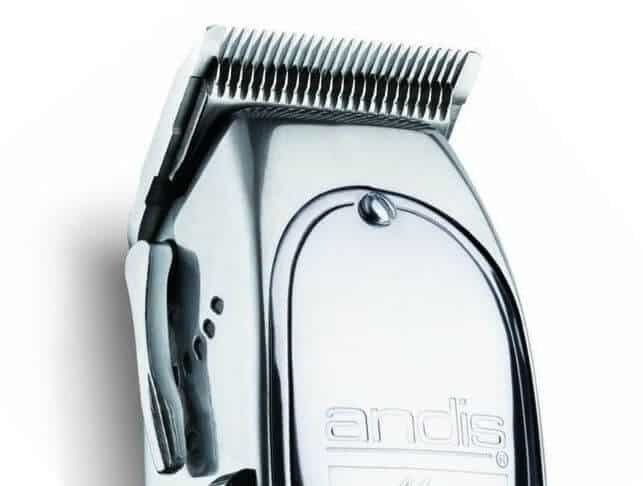 With Pro Alloy, you also receive nine attachment combs – from 1/16″ to 1″. Andis blade guard and clipper oil are also present in the kit you'll receive with a one-year limited warranty.
A great Andis hair clipper for fades
Andis professional clippers have also been more than potent for getting some fading action done. Andis Pro Alloy hair cutter doesn't stray from this path.
The side lever you'll see adjusts your Andis Pro Alloy blade easily so you can perform high quality fades with a single flick. Check how it really looks in this video by Ron The Barber:
It's still debatable whether it beats the Andis Master fade potential. We
did a comparison
between the two clippers, but it'd be interesting to see other people benchmark them too. Pro Alloy's blades come with a beveled edge, which allows for smoother, free motions. While Andis Master is an already established champion, Andis Pro Alloy is yet to show what it's capable of. I'm curious which one will turn out to be better 
hair clippers for fades.
If you are a beginner then you will love that beveled edge of the blade. As a newbie, I myself scratched a few heads with the sharp edge of the teeth of the clipper blades. It takes a while to understand how to angle your hand to avoid doing that.
The nice thing about the Pro Alloy XTR is that it takes away a bit of the learning curve for rookie barbers.
Some tricky sides of Andis Pro Alloy clipper
No doubt about it: Pro Alloy XTR improves on similar niche Andis Master hair cutter's severe heating problems.
Sure, it will get warm to the touch eventually, but you will have to work with it for quite some time. At least compared with how other professional hair cutting machines behave.
At the same time, though, it can't help but be a bit noisy. The noise levels aren't as high as powerhouses like the Oster classic 76.
Yet you won't have this Andis barber clipper "humming" for you. It will be a bit loud. Then again, that's how professional hair cutters are usually.
Any clipper with an electromagnetic motor will make that click-clack sound no matter what. Just some are louder than others. If the noise really bothers you, you have to go with a rotary motor clipper.
Thanks to the rubber coating on the body it does soften the noise so it is much less noisy than other Andis clippers.
Perhaps because it's next generation, Andis Pro Alloy XTR also doesn't seem to "inherit" some older blade guards properly. I suggest you switch to the newer single magnet Andis Nano on Amazon.com if you are willing to pay the extra. These purple wonders are admired as the best Andis guards out there and will really beat any stock guards you receive with your clipper purchase.
They may seem like they could easily pop off due to being held on by just a magnet. You'll be surprised just how tightly they hold. In fact, prying them off to change them can take some force! There really is no way these will come off mid haircut and end up buzzing a customer down.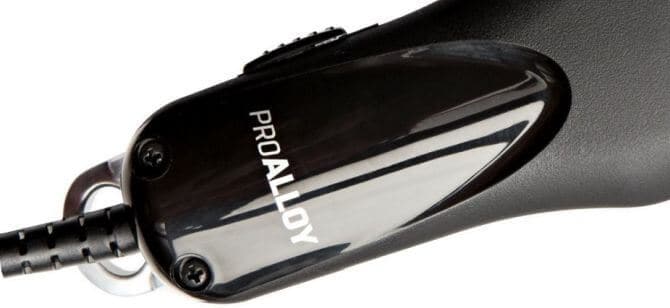 A bit of a learning curve required
At their core, the Andis Pro Alloy hair clippers are professional tools. They're not as simple to use as the beginner-friendly Remington HC4250 Shortcut Pro, for example.
I'm not saying you won't cope with this model if that's your first hair cutter. But you will need to practice and learn a bit.
That said, I feel the Pro Alloy XTR is a tad easier in terms of operation in comparison with the Master. And the learning curve is a reasonable exchange for the amount of power and opportunities you get with professional hair clippers.
No matter what clippers you use, you'll need to get used to them anyway. Especially if you are replacing a clipper that you've been using for some time. That's just how it goes with being a barber.
Over the years, I can't tell you how many clippers I have tried. Some I loved and some you couldn't pay me to use again! Every barber is different and has different ideas of what makes the best clippers or not.
I'd say Andis did live up to the expectations with the Andis Pro Alloy. It's a professional clipper, priced moderately (bearing in minds its features). In time we'll see whether it outperforms the Master in all aspects except for the innovative XTR technology.
All in all, the Pro Alloy hair clipper is for you if you:
Are looking for an ergonomic, cool hair cutter that won't shake too much in your hands

Want the usual guaranteed Andis barber clippers quality with a "next gen" element

Are a fan of fades and wonder what is the best clipper for fading (this one is a contender!)

Don't mind a little bit of a challenge, learning curve, and exploring the future trends of Andis clippers
The Pro Alloy is still pretty young, but I can definitely see it becoming an Andis classic in the future. And you can easily be a part of that. If you like what you read in this Andis Pro Alloy XTR review, then…
Good points
20% less vibration
35% cooler than other Andis pro clippers
Carbon-coated steel blades
Great clipper for fades
Heavy-duty ready
Ergonomic, classy design
Bad points
Rather noisy
Clipper guards compatibility issues
Has a bit of a learning curve
I'm an outdoor enthusiast and have sported a full beard since I was in my early 20's. Originally, growing a beard was a way to save time when getting ready each day, but I quickly realized that keeping a neatly trimmed beard takes work and some forethought. That's where this site comes in.
You get to benefit from my years of experience. I've reviewed many of the top hair clippers on the market today and also included some information on what works best for me. A great beard will turn lots of heads in your direction.
Since I never know when I'm going to find myself being photographed, whether it's climbing in Yosemite, or playing volleyball on the beach, it's important to me to always look my very best. Maintaining my beard is part of my daily routine and I hope you'll find some useful tips and information on this site to help you on your journey.