Hair clipper or trimmer blades age slowly, but they do get duller with time. You can't stop that. Luckily, there are lots of affordable clipper and trimmer replacement blades.
Where things get a bit more complicated is finding out which replacement fits which models. You'll see many posts around the web with consumers left confused and wondering.
Worry not! We've compiled this short guide with Andis and Wahl replacement blades. Pick your brand and check which blade you need for your clipper.
We'd say Wahl blades are the most confusing due to the sheer amount of models the brand has. It's easier with Andis.
Wahl clipper removable blades
One of the reasons I highly regard
Wahl clippers
is because of their adherence to only using high quality materials.
Their use of carbon steel for their replacement clipper blades is a perfect example. They could have just used stainless steel and saved money, but instead they opt for high strength, durable carbon steel.
Not just any carbon steel. They use an alloy high in carbon which makes the blades much stronger. They last longer as a result and stay sharp. Of course, they can still be broken when dropped and eventually will get dull and either need to be sharpened or replaced. It just takes longer for them to get dull compared to other brands and if you don't drop them then they will last a long time.
Replacement blades for Wahl clippers come in two main types. They will either have two holes in them or you'll notice you have a three-hole blade.
Among the two hole Wahl replacement blades, you have another two sets. #1045-100 blades fit more casual clippers like the home haircutting kits (Color Pro, Deluxe Pro etc.) #2191 blades are targeted at higher end models like the Seniors.
Replacement parts usually also include a small tube of clipper oil and screws.
Wahl blade replacement #1045-100 (2-hole precision)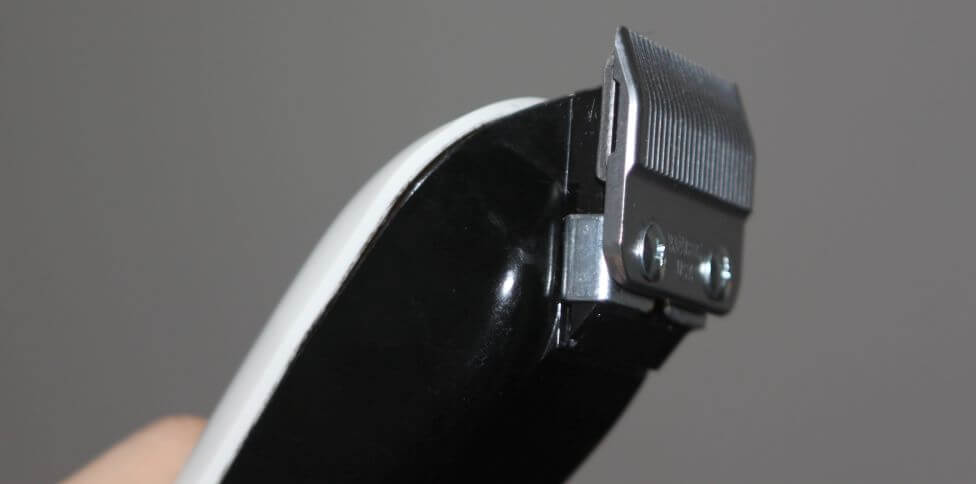 This is your standard replacement part. It fits most home haircutting kits like:
Chrome Pro Deluxe

Color Pro

Multi-Cut

Also Lithium-Ion clipper
According to Wahl, it fits models 9100, 9200, 9400, 9600, 9700, 8640-500, 8645-500, 8643-400 and S/C or M/C.
Wahl replacement blade #2191 (for professional models)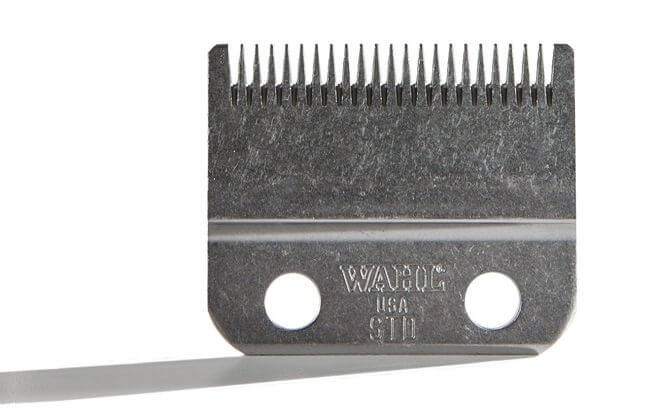 Another two hole blade, the #2191 replacement part for Wahl clippers is sharper than the #1045 blade. Be careful when installing it! It's also amazing for doing fades with its zero overlap precision.
If you're not familiar, 0 gap means when you adjust where the teeth of the blade are so they are as close as possible to the guard edge. With no overlap, the skin is still protected from getting cut by an exposed blade. Basically the teeth are as close as they can get without going over the edge.
This will get you as close as you can get without using an actual razor. For clean, crisp lines, there is no better way to that than to 0 gap and with Wahl designed blades, it is as safe and comfortable as it gets.
For skin fades, this is how you want to go.
Notable models that you can use this blade on are:
Wahl 5 star Senior (#8454)

Wahl Magic Clip (#8451)

Wahl Cordless Magic Clip

Wahl Reflections Senior
Wahl clipper blade #1005 (3-hole adjusto-lock precision)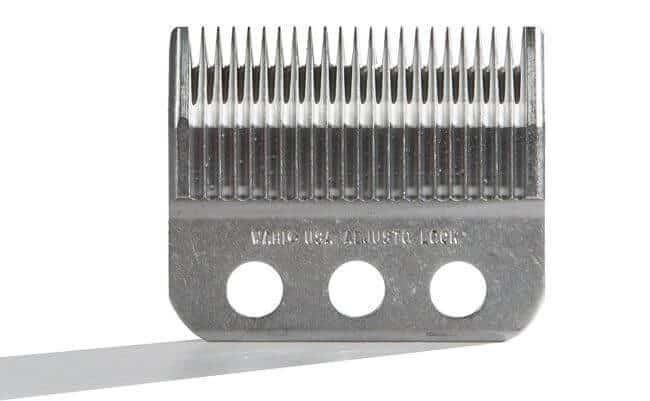 The prominent 3-hole champion of Wahl clippers: sharp, accurate and high-performing. You'll want to grab one set of these if you have the following models:
Wahl Designer

Wahl Cordless Designer

Wahl Pilot

Wahl Nugget

Wahl Cordless Sterling / Wahl Sterling 4 / Wahl Sterling 1 Plus
Double-wide #2215 T-blade (Detailer)
This is a blade specifically designed for the 5 star Detailer. However, if you have a Wahl Hero trimmer, you can install it without hassles and it will work fine.
Check whether it's discounted on Amazon.com.
Wahl straight trimmer blade (2-hole, CL1046)
Replacement blades of Andis (T-Outliner, Master, Styliner)
Andis also have quite the arsenal of clipper or trimmer replacement parts. There's a high chance you're looking for something for the T-Outliner family, the Master series, or Andis' Styliners.
Andis clippers also use only the best carbon steel blades just like Wahl and even Oster.
And like those brands, they will last quite a long time.
Andis T-Outliner blade replacements (#04521, all Outliner types)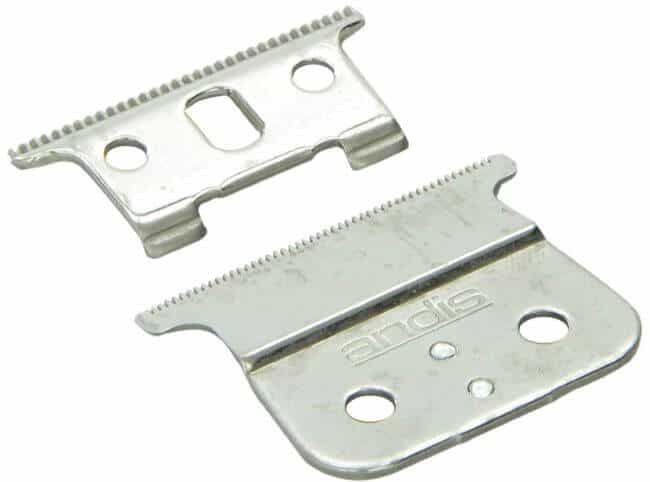 This is the most common Andis replacement part for the Wahl replacement blades. It fits:
Standard T-Outliner (GTO)

GTX T-Outliner trimmer (black)

Outliner II Square blade (GO)
As usual, the Andis replacement blades will be made of carbon-steel for extra toughness. Its #00000 size will leave hair at 1/150″ (0.1mm.)
Note: The stock GTX blade comes with deeper blade teeth for easy gliding through even the thickest of hair. If you want a deep-tooth blade replacement, you should get the Experience Blade from Amazon.com.
Note 2: There is a dedicated Andis Outliner II replacement blade with finer teeth on Amazon.com.
Andis Master replacement blades (for Master & Fade Master)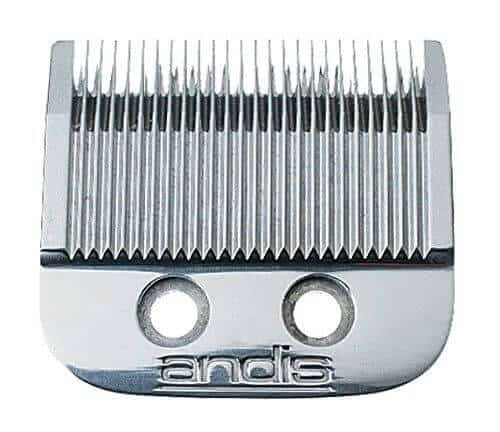 With the Master clippers, you'll need two different replacement parts. Why? Because the Fade Master has a specific, ultra-close cutting blade.
This is a very important difference. In fact the blade is really the only difference between the Fade Master and the Master.
They both use very good quality materials that are durable and long lasting, but the Fade Master gets a closer cut as mentioned.
You can of course 0 gap the Master and get as close as the Fade Master, but you still need to buy the specific blade for the clipper.
How to Take Care of Your Blades
Now that you have your new blades, you don't want to be replacing them anytime soon. You're in this barber business to make money so when you can save it you should.
Taking care of your tools is essential if you want to be a proper barber. Here are some tips on how to maintain your blades so they last you a long time.
Wipe them off
Keeping the hair off of your blades is one of the most important things you can do. Not only is it professional since it is hygienic, but the hair will cause your blades to become dull.
Hair is very acidic and will eat away at the steel causing them to get dull over time. You should wipe them off before and after every haircut. Just use the included brush that came with your clippers or even an old toothbrush will do the trick.
Deep clean
Your blades will start to get a build up of grime over time. From your clients sweat, hair styling products and other dirt. As it builds, the blades slow down and get dull. Dull blades also make your motor work harder so you end up having parts that give out much sooner than they should.
Once a month or so you should do a deep clean of your blades with a blade was like this one from Amazon.com.
It is almost like a kerosene solution that will clear away grime in seconds. You just turn your clippers on and dip the teeth directly into the blade wash. You'll literally hear the blades speed up as they get cleaner.
Keep them lubed
Now that they are clean, keep them running smoothly by adding clipper oil. You only need a couple of drops and only once or twice per day. Just keep the clipper running and add a drop at either end of the blade. The moving teeth will help evenly distribute the oil so it covers the whole blade.
Spray them down
Use a clipper spray to that not only disinfects so you can keep your blades safe, but use one that also gives it some lubrication.
For the standard Masters, you can get the #01556 blade here on Amazon.com.
Fade Master clippers, however, will require you to grab the #01591 one on Amazon.com.
Replacement part for Andis Styliners (fits the whole family)
If you have a model from the Styliner family, the dedicated #26704 Andis blade replacement is what you need.
It will fit the Styliner II, Styliner M3, as well as the D-1 and D-2 trimmer models.
I'm an outdoor enthusiast and have sported a full beard since I was in my early 20's. Originally, growing a beard was a way to save time when getting ready each day, but I quickly realized that keeping a neatly trimmed beard takes work and some forethought. That's where this site comes in.
You get to benefit from my years of experience. I've reviewed many of the top hair clippers on the market today and also included some information on what works best for me. A great beard will turn lots of heads in your direction.
Since I never know when I'm going to find myself being photographed, whether it's climbing in Yosemite, or playing volleyball on the beach, it's important to me to always look my very best. Maintaining my beard is part of my daily routine and I hope you'll find some useful tips and information on this site to help you on your journey.