Andis Fade Master is a very specific clipper. On first glance, it looks just like the traditional Master. However, there's a subtle, yet very important difference between them. I'll give you a thorough Andis Fade Master review and highlight some of the differences between the two.
This time I'll do an unconventional review. Quite a few of you wrote to us that you're interested in how the Fade Master compares to other popular clippers. That's why this post will be structured like this:
An Andis Fade Master vs Master comparison

Fade Master vs Oster Fast Feed comparison

General remarks in a Fade Master review
Andis Fade Master Review
Product
Details

Andis Professional Fade Master Hair Clipper

Perfect for all-around cutting and tapering
Generates 14,000 cutting strokes per minute
Blade is adjustable

Check Price on Amazon.com

Andis Fade Master Replacement Blade

Chrome finish
Made in the USA
Adjusts from size 00000 to size 000

Check Price on Amazon.com

ADJ. BLADE / MASTER

Adjustable blade includes top and bottom blades
Leaves hair 1/125 inches or 0.2mm
Made in the USA

Check Price on Amazon.com

Andis Magnetic Guide Comb Set

5 pieces magnetic set
Magnetic comb
Easy attachable

Check Price on Amazon.com
I'll try to be as concise as possible and cover all questions you might have!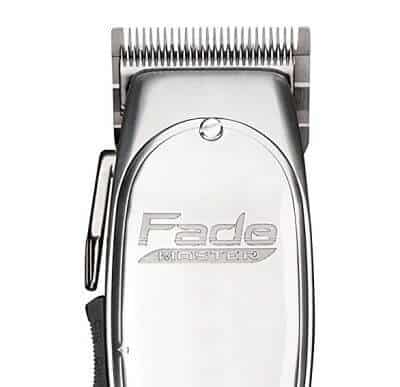 Andis Master vs Fade Master:
What's the deal?
As I mentioned, on the outside, both models look the same. You can easily question why exactly is there two so identical cutters.
It's all about the blades. This is the big difference between the Masters and the Fade Master clippers.
The Fade Master blade adjusts from #00000 to #000. This is 1/125″ to 1/50″ (or 0.2mm to 0.5mm.)
The standard Master, however, has a blade that adjusts from #000 to #1. This is 1/50″ to 3/32″ (or 0.5mm to 2.4mm.)
Here's how the blades look. In the top photo, you have the #01591 Fade Master blade. In the bottom one, it's the #01556 Masters blade. Notice the difference in the teeth.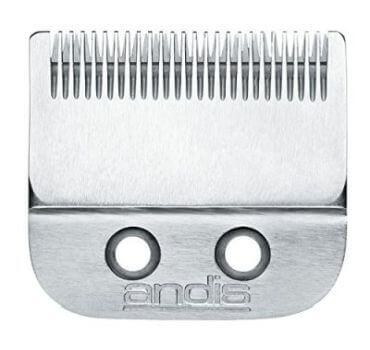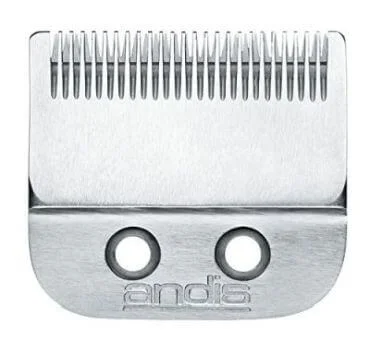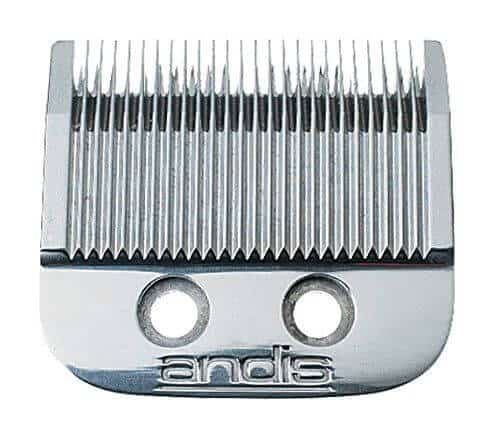 The difference in the adjustable blade seems subtle. However, it can transform how you use the clippers – and for what. Here's my personal thoughts:
The standard Masters are amazing for fades. The Fade Master's close-cutting blade, however, is better if you want to focus on bald fades.

You have to be more careful with the Fade Master blade. As it shaves so close, you can easily poke/nick your (or your client's) scalp. You shouldn't apply too much pressure.

If you want an all-around cutting clipper including bulk hair removal, go for the standard Master clippers (you can read our full review here.) The Fade ones wouldn't do as great.

I wouldn't recommend the Fade Master clippers for beginners. It's a bit tougher to work with and I'd wait until you've "warmed up" with other models.
Of course, these are only my own recommendations. AD the Barber also shares similar sentiments in his video comparing the two models:
Oster Fast Feed vs Andis Fade Master
We did an in-depth comparison between the standard Masters and Oster's model a few months ago. Comparing the Fade Master and the Fast Feeds is quite similar.
If you want a deeper analysis, just read our thoughts there. If you want a summary, here it is:
The Fast Feeds are quieter, lighter and run cooler. They're better for home users or traditional haircuts.
The Fade Master is heavier (1.25 lbs vs the Feeds' 1 lbs), tends to heat and can be somewhat noisy. It's better for professionals who want quality bald fades and close-cutting, detailed work.
While neither are optimal for bulk cuts (the standard Master would be better for that), the Fade has a 14 000 strokes per minute electromagnetic motor. This is way more powerful than the pivot motor of the Fast Feed clippers.
In addition, the Feeds are cheaper and come with four combs. You don't get any guards with the 01690 Fade Master hair clippers.
A review of Andis Fade Master
With comparisons out of the way, here's a thorough Andis Fade Master review you can refer to.
As I mentioned, the Fade Masters follow the same design and looks as the original model. You've got aluminium housing that is fall-resistant. In fact, it's near unbreakable and perhaps the toughest casing of all professional clippers.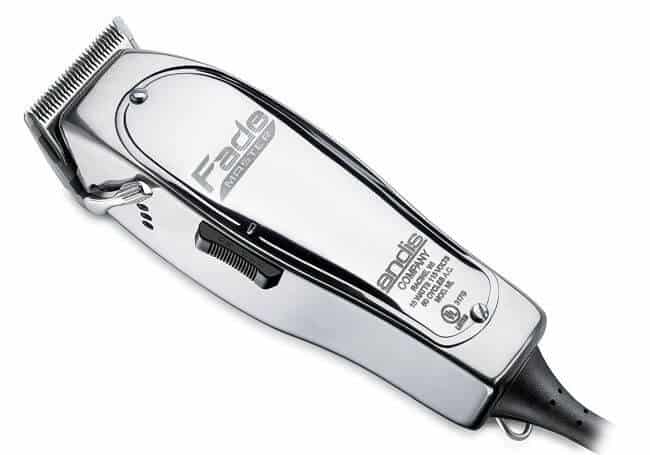 The clipper measures 6″ and weighs 1.25 lbs. This puts it on the heavier side, but that's the trade off you pay for having such a durable hair cutter.
As an adjustable clipper, the Fade Master lets you customize your cutting length. Same as the standard Master, the side lever is the most versatile among all barber tools.
You can gradually set the cutting length which is incredibly convenient for getting tight tapers and fades done. The blades are made of carbon-coated stainless steel for extra sharpness and durability. You can zero gap them for ridiculously close cuts.
Same as the Master clippers, the Fade has a 14 000 strokes per minute electromagnetic motor. This outshines other Andis motors (running on 7200 SPM usually) and most of Wahl's models too. Extreme power for extreme cuts.
Some things to keep in mind
That said, the Fade Masters can't escape the standard model's fate. Yes, once again it's the overheating. The metal casing, paired with such an insane electromagnetic motor is a formula for regular heat.
As we've elaborated before in our reviews, this is quite expected for heavy-duty professional clippers. You should consider getting a cooling spray like Andis' Cool Care to use while working with this cutter.
In addition, you won't like the fact that you receive no guards with the Fade Master clipper. Other pro models like the Wahl Senior at least include a few combs.
What I advise you to do is simply get the Andis Nano purple guards. They're magnetic and will fit your Fade Masters perfectly for more secure, tighter cuts.

Keep your blades clean
Whether we are talking about the Master or fade Master or any other clippers out there, you need to keep your blades clean.
Keeping your blades clean will ensure a top notch haircut every time that cuts evenly and doesn't pull your clients' hair. Plus, it will also extend the life of your clippers. A dirty blade will slow down and end up straining the motor. Parts will start to fail and eventually your motor will give out prematurely. It's like a domino effect that starts with cleaning your blades.
Wipe the blades
Hair is very acidic and will cause your blades to get dull if you let it sit there for too long. After every use you should use a small brush or old toothbrush to wipe away any hair left there. You don't want to wait until the next time you use them as it isn't just about hygiene.  
You should also be spraying down the blade before and after every cut to disinfect, but also to lubricate. It even removes some of the stuck on hair you didn't get with the brush.
Deep clean
Once a month or so you will need to really do a thorough cleaning that is more involved than just wiping the blade off.
Get yourself some blade wash and sip the blade into the wash just enough to cover the teeth. Leave the clipper running so it can work its way between all of the teeth. You'll hear it speed up as all the dirt, grime and hair products that have built up start to dissolve away.
Once it seems like it isn't getting any faster, remove the blade and dry it off. Do this when you won't be needing the blades for a while so they can air dry.
Final verdict
I hope this Andis Fade Master review shed some light onto when and why would you pick this one over other similar products. It's all about your needs: this clipper tends to lean on the situational side of things.
If you want an extremely close-cutting cutter and you do a lot of bald fades, grab it and practice your art. If you want an all-purpose machine, though, just stick to the standard Masters.
This review just proves, the Fade is yet again an outstanding offer from Andis. The design they implemented for the Master series is simply amazing. This is an electric clipper that should last you a long, long time.
I'm an outdoor enthusiast and have sported a full beard since I was in my early 20's. Originally, growing a beard was a way to save time when getting ready each day, but I quickly realized that keeping a neatly trimmed beard takes work and some forethought. That's where this site comes in.
You get to benefit from my years of experience. I've reviewed many of the top hair clippers on the market today and also included some information on what works best for me. A great beard will turn lots of heads in your direction.
Since I never know when I'm going to find myself being photographed, whether it's climbing in Yosemite, or playing volleyball on the beach, it's important to me to always look my very best. Maintaining my beard is part of my daily routine and I hope you'll find some useful tips and information on this site to help you on your journey.