Andis are an absolute giant when it comes to hair clipper brands. Famous for their high-end barber hair cutters, they have chosen the Andis Master clipper as a poster boy for the company. Zero surprise here. There's a reason it's our best pick for fading clippers and a part of our list with the best hair clippers for men. This model's design and powerful operation helped it earn its reputation among barbers and casual users alike.
Read on for all the details in this Andis Master review!
If you want to compare the Master to other models of Andis clippers, then check out this article that highlights the whole line up of Andis models.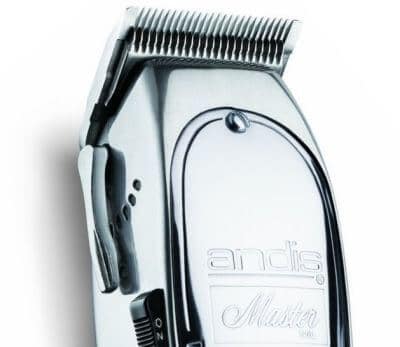 | You'll love it for these | But you won't like these |
| --- | --- |
| | |
| Extra tough aluminium body | Additional combs not included |
| Top choice for fading clippers | |
| | |
| | |
Andis Master's design: a legend
Ready for my Andis Master review? I doubt another professional
clipper
has such a distinctively designed body. The Master clipper features a stylish, elegant and 6″ long body made of aluminum. It's not only gorgeous with its exquisite chrome-colored looks. The Master's body is also extremely durable, owing its toughness to the extra strong metal housing.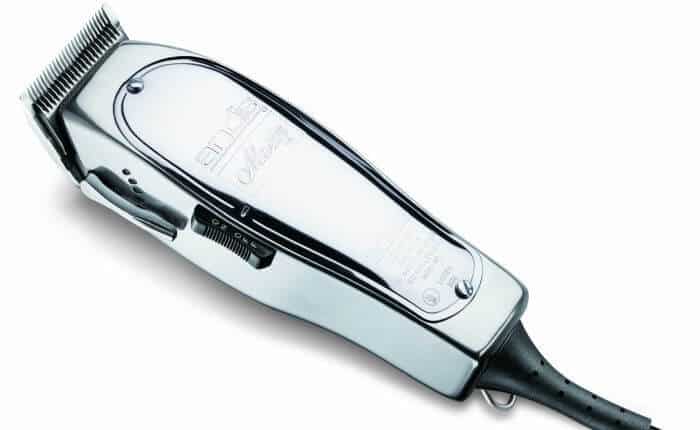 Many people fret over dropping their clippers and damaging them irreversibly. No such danger with this Andis barber clipper. It's absolutely fall-resistant – but that doesn't mean you should drop your tools anyway!
Undoubtedly, Andis Master is a heavy electric clipper. It's no small baby with its weight of 1.25 lbs. However, you can't expect such a heavy-duty clipper to be lightweight anyway. What ultimately matters with professional tools are ergonomics. And despite it's heaviness, there's no denying the Master clipper is a good fit for any hand.
What's beneath: Andis Master clipper parts
This hair cutting machine features Andis highest line of oscillating electromagnetic motors. Once you plug it in (120V/60Hz), the Master's motor runs on 14,000 cutting strokes per minute. To add some substance to this simple number: consider your haircuts done twice faster, or even more.
The cutter will go through any hair powered by its roaring electromagnetic engine, and it will do so lightning fast.
If you're thinking about mainly doing fades then check out our review of the Andis Fade Master.
The motor's spectacular power is supplemented by carbon-coated, stainless steel blades. Andis Master blades adjust from #000 to #1 length, you just need to use the side lever. That's something I want to especially turn your attention to. Look at its lever here: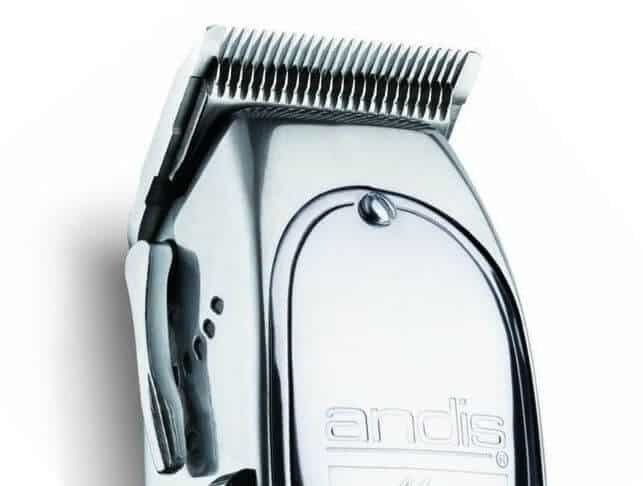 Usual adjustable clippers can move only from position A to position B with their levers (Wahl hair clippers, for example.) If you take a closer look at the Andis Master adjustable lever, you'll see gradual positions, allowing for more precise blade adjusting.
That's the exact reason why this Andis model is a top clipper for fades.
The blades' sharpness guarantees precise cuts and tapering, regardless of hair type and density. Remember to oil the Master clipper blades to ensure they run smoothly and they will serve you for a long, long time.
Relatively quiet for a barber hair clipper
I'm writing this review with all honesty so I won't lie to you: if you expect a humming hair cutter, look elsewhere. Andis Master will be slightly noisy and there's little you can do about that. However, compared with other professional clippers like the Oster 76, it will run relatively quiet.
To add to this, the noise you'll hear from a Master clipper is somewhat of a pride to many barbers. The sound of this model is so specific that it's, paradoxically, turned into an unspoken benefit for professionals.
Pain points of the Master clipper
Like any clipper, the Master also suffers from a few shortcomings. The biggest issue you'll have will be with the Master clippers heating up. It's something that any barber clipper will suffer from, but it can still be uncomfortable.
Two reasons for this. First, you have the extremely powerful electromagnetic motor. With its 14,000 strokes per minute it accumulates just enough energy to heat up. When you throw in the all-metal housing of the Andis barber clipper, no wonder it'll get hot to the touch.
If you want something that stays cooler, Andis' newest barber clipper – the Pro Alloy XTR might suit your taste.
The Master won't overheat after a quick 5 minute usage, but you will feel the heat at around the 15 minute mark for sure. You can either rest a bit, or simply resort to using the lucratively priced Andis cooling sprays. So and so you should clean and disinfect your hair cutting machine.
Another thing you want to keep in mind is the fact that this is a professional Andis hair clipper.
There's a bit of a learning curve here. If you're a total beginner, you might feel overwhelmed and you might prefer easier options like the Remington HC4250.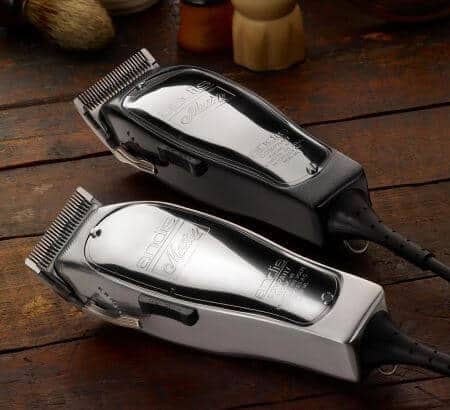 While a bit demanding, the Master will make it worth your time in the end, though. So unless you're really reluctant to try out something more pro, I suggest you don't worry too much about it. Here's a video to give you a head start in using your Andis Master clipper:
Important tip for Andis Master accessories
Unfortunately, you won't receive any Andis guards with the Master. You have to purchase these separately if you want more freedom in terms of hair cutting lengths. If you need Andis Master combs, I can't recommend the Andis Magnetic guards enough!
They are long-lasting, will attach themselves to the clipper blade more securely and tightly, and are essentially the best guards on the market. There's a reason why users of other clipper brands like Oster's Fast Feed purchase these.
The 5 set of purple magnetic guards on Amazon.com includes sizes 1/16″, 1/8″, 1/4″, 3/8″ and 1/2″ (or 0, 1, 2, 3 and 4 in Andis sizes.) They will make your Master experience even better.
How to Maintain Andis Master Clippers
You're only as good as your tools and if your tools are not properly maintained then you aren't going to get the most out of them.
Now that you've read the Andis Master review it's time to make sure you are maintaining your Andis clippers and you will make sure you are getting peak performance that will last you for years.
Keep the Blades Clean
Have an old toothbrush on hand or a small rigid bristle brush to clean any hair off of the blades before and after each use. Human hair is very acidic and will dull your blades if you don't keep your blades free from hair.
At the end of the day take your blade off and spray it off with some compressed air like this one from Amazon.com to make your life easier.
Once a week or so you'll need to do a deeper clean of your clipper and use a blade wash to get all of the gunk and grime off of the blades.
Keep it Lubed
Since we're talking about metal rubbing against metal you need to make sure all the parts are oiled properly.
You should be adding oil directly to the blades all throughout the working day.
All you have to do is add a drop at each end of the blade while it is running to get it applied evenly.
Spraying it will Kool Lube before and after each cut will also help keep things running smoothly.
Sharpen the Blades
I recommend having a spare set of Andis Master blades that you can get from Amazon.com. Having a spare set, you can send out your blades to be sharpened once in a while without missing a beat.
Of course, if you are feeling bold and have some time on your hands you can always sharpen them yourself!
Have Back Up Everything
It is a good idea to have not only a backup blade but also other parts. If you drop your clipper, even though the body is quite durable, you can end up chipping a tooth on your clipper. I have done this more times than I can count and it always paid to have a spare blade to pop right on.
You can also have a spare lever or cord, too, just in case.
The final thing we can say about this Andis Master review, it is an absolute classic in the niche of professional hair clippers. Few other models can take pride in being such a great hair clipper for fades.
No other cutter sports such an elegant, aluminum body and clean design. The Master's sheer power and flexibility make up for its heavyweight body and heating problems.
If you want something powerful, sturdy and a clipper that will last you for a long, long time…this should be your pick. You can go over this Andis Master review or ask your local barber about it. They know what's up with this model and the classy haircuts it's capable of performing.
I'm an outdoor enthusiast and have sported a full beard since I was in my early 20's. Originally, growing a beard was a way to save time when getting ready each day, but I quickly realized that keeping a neatly trimmed beard takes work and some forethought. That's where this site comes in.
You get to benefit from my years of experience. I've reviewed many of the top hair clippers on the market today and also included some information on what works best for me. A great beard will turn lots of heads in your direction.
Since I never know when I'm going to find myself being photographed, whether it's climbing in Yosemite, or playing volleyball on the beach, it's important to me to always look my very best. Maintaining my beard is part of my daily routine and I hope you'll find some useful tips and information on this site to help you on your journey.