Remington – the innovators. Wahl, Oster and Andis might be the holy trinity, but when it comes to convenience, Remington have a secret card in their hand.
You guessed right. It's HC4250 Shortcut Pro, click here to check it out on Amazon.com, an incredibly innovative, easy to use and maintain cordless clipper for home use.
In fact, this is THE go to hair cutter when you need a quick buzzcut. Did I mention it's absurdly lightweight too? Read my Remington HC4250 Shortcut Pro review to get all the info you need!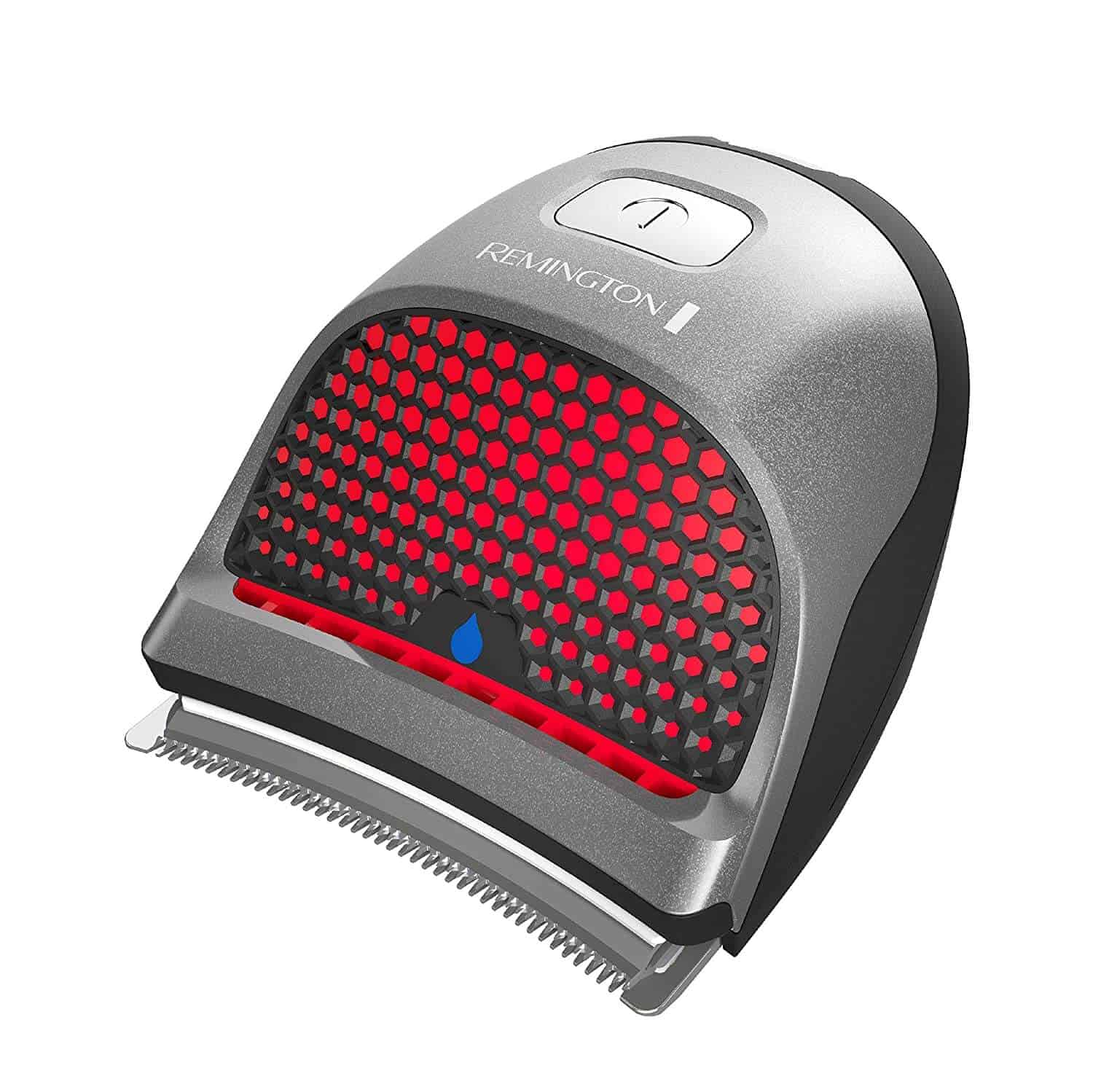 Remington HC4250 Pro

Ergonomic, a small and compact product that's waterproof with a stunning design.
This model's our double winner: we chose it both as a top pick for the
best cordless clippers
and
as the leading
home haircut clipper
. You can bet this machine's a lovable fellow. Here it is with all of its accessories included: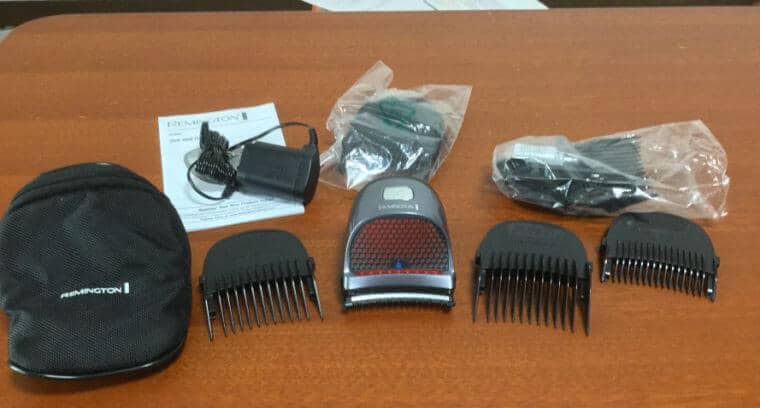 Yes. It's as small and compact as you see. Literally just a little bit bigger than its combs!
Remington HC4250 Pro Review: An Overview
| You'll love it for these | But you won't like these |
| --- | --- |
| | |
| | Largest comb is still rather short |
| Ultra ergonomic & lightweight | |
| | |
| Curved blades for wider cuts | |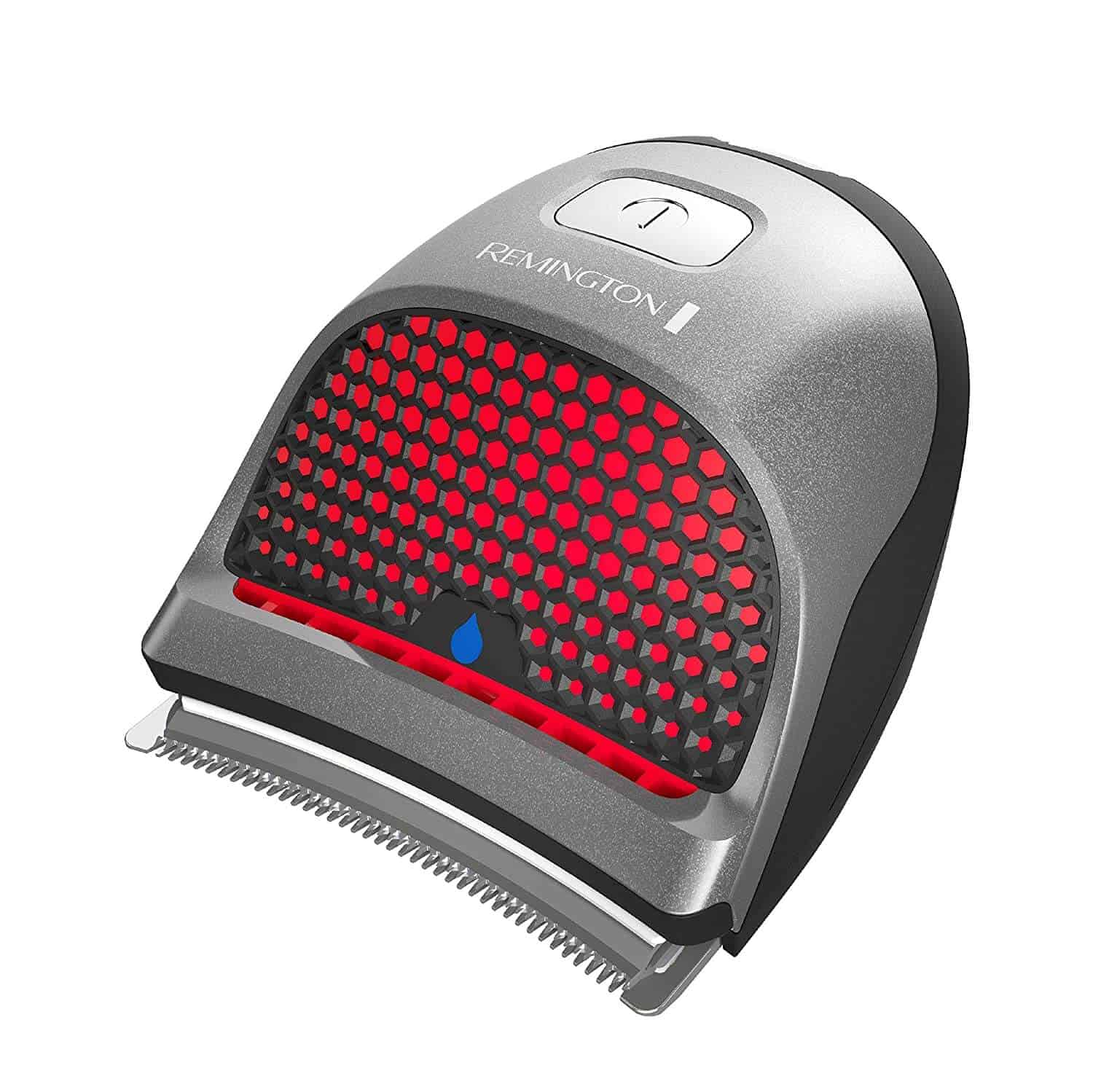 Remington HC4250 Pro

Ergonomic, a small and compact product that's waterproof with a stunning design.
Good to know: a few bits of Remington history
The Shortcut Pro actually "inherits" a previous Remington model – we're talking about the SCC-100. For those of you familiar with the art of cutting your own hair with clippers, perhaps that's a reminiscence of a very interesting facet of Remington history. If you're new to the buzzer business, here's the now pulled out SCC-100: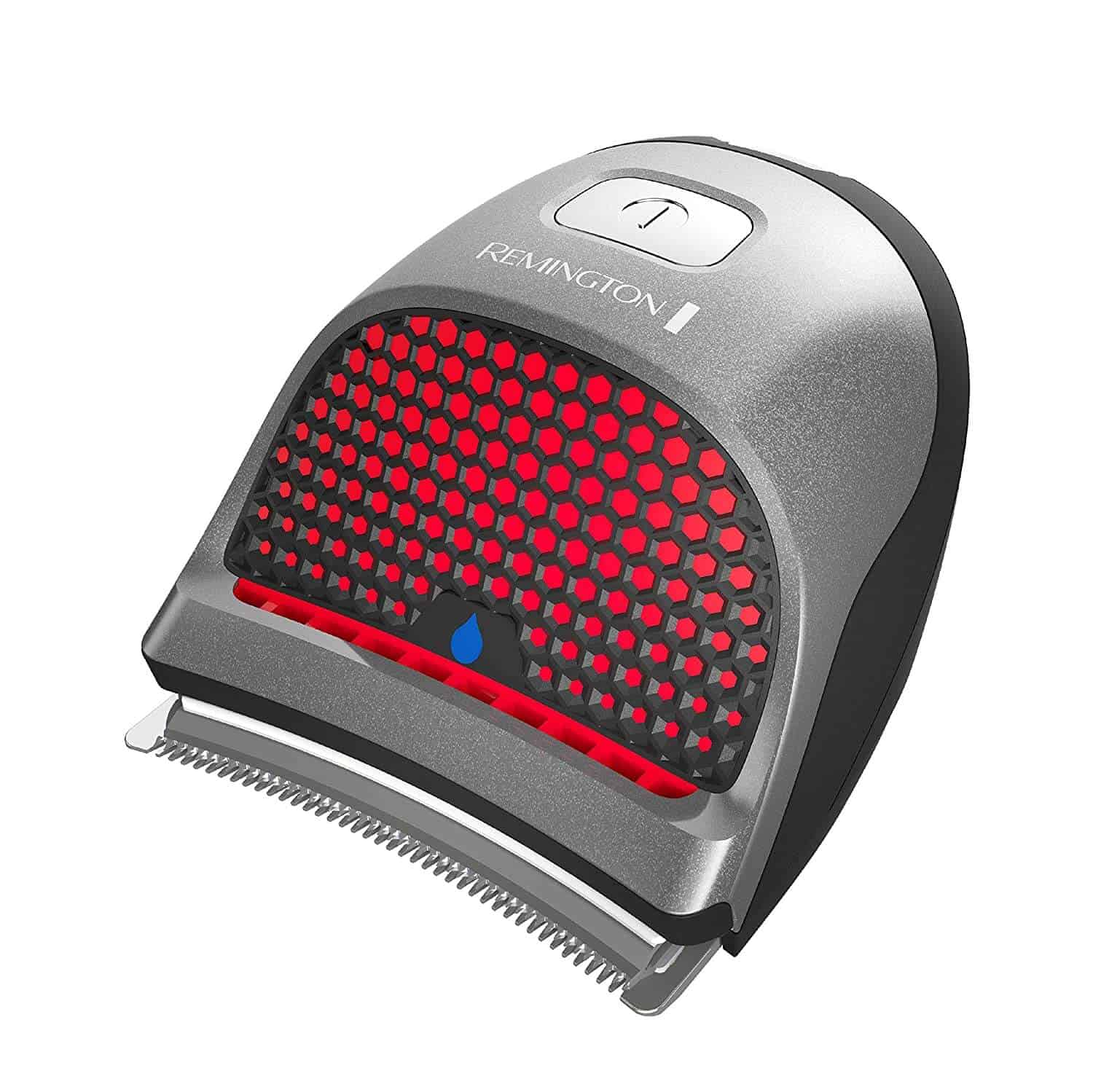 Pretty interesting shape, right?
In fact, I think the shape of the SCC-100 is much nicer and more ergonomic. I wish they could have continued with this style when they updated the clippers.
This set of Remington cordless hair clippers had one exceptional disadvantage, though. Its battery was hideous. So now that we have a new pair of, surprise – Remington cordless hair clippers (again), what's the deal? How will the HC4250 Shortcut Pro fare? It would be a bummer if it disappointed after substituting a Remington classic. Here's how the HC4250 looks when its battery is being charged, by the way: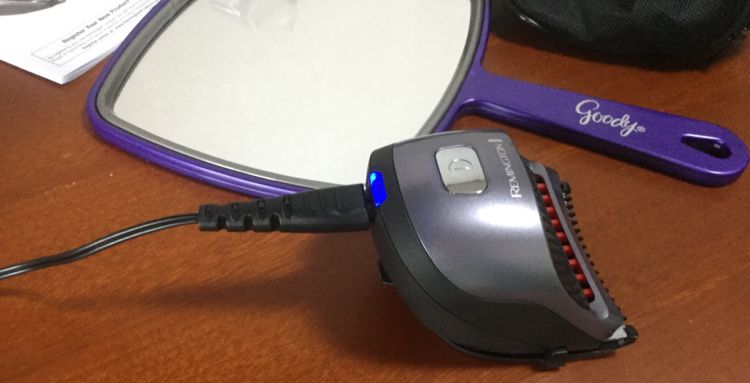 A shortcut to your pleasure-filled buzz
The brand surely knew what they were doing with getting this little cordless hair clipper out there. Shifting from SCC-100's rectangular-ish design, the Shortcut Pro is smaller, more ergonomic and overall – more kickass. Without me exaggerating, it will fit your palm, nestling itself there. This neat Remington clipper comes with grade A stainless steel blades, ready to give your head a close, sharp-looking, even cut. Even better – the Shortcut Pro's blades are self-sharpening. You won't need to tend to them as much as you would with other clippers.
You should still keep them clean, however. Always use a brush to remove the hair before and after every haircut. Even self sharpening blades will eventually get dull and start tugging at your hair.
In fact, when people complain that clippers started pulling their hair. Most of the time it is not from a defective clipper, but a lack of proper clipper cleaning that is the culprit.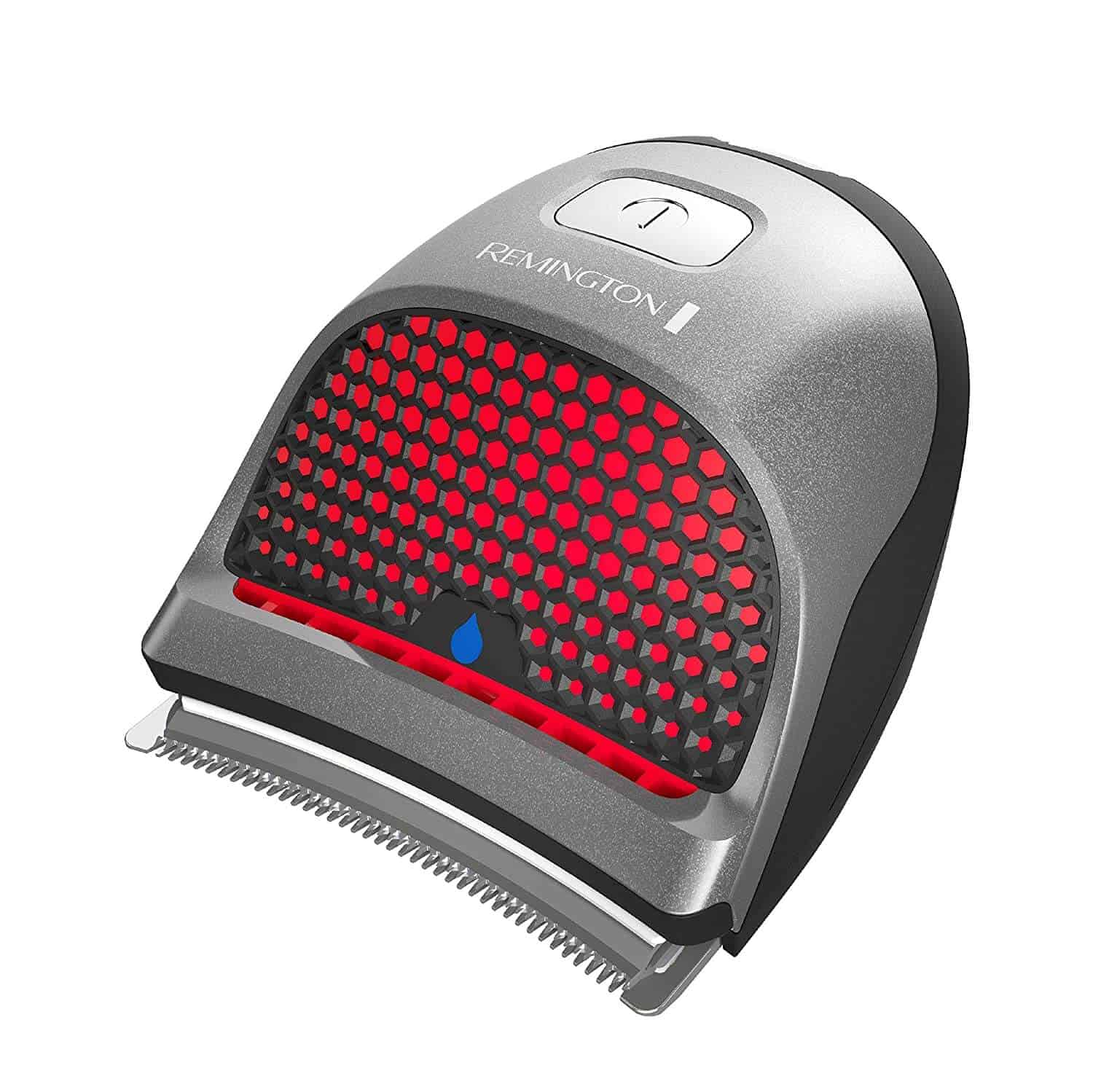 Remington HC4250 Pro

Ergonomic, a small and compact product that's waterproof with a stunning design.
While in no way as barber-grade as some other similar-priced clippers like the Magic Clip, the HC4250 blades fare more than well. Remember that this model's most important selling point is how ridiculously comfortable it is to use it.
The more comfortable something is to use, the more often you are likely to use it. So comfort isn't just a nice luxury to have when dealing with hair cutting tools, it is essential to make sure it works as intended and is a pleasure to use.
Anyway, an important finishing touch when we're on the blades. Their little metallic teeth have a curved shape, which fits the shape of your head way better than usual clippers. The Remington cordless hair clipper's wide design enables it to cover a large cutting area too. You do more with less cutting strokes. All in all, a suite of well-picked qualities if you're searching for something to get a nice home haircut with.
Washable, portable, compact
Remington tout the waterproof body of the HC4250 clipper. They do so quite energetically. And you know – they have the full right to.
Just make sure that after every time you wash it off under water, that you need to let it dry thoroughly before storing it. You have self-sharpening blades that make easy as possible to maintain, but if you are storing them while wet they will rust and corrode.
Once you think about the Haircut Pro from a specific angle, you'll realize that it's a:
cordless hair clipper

that is waterproof, so you can even get some buzzing done without stressing over cleanup and mess after that

and is also so compact it fits your palm, so you can swing it around however you wish
If this ain't a winning combination, I don't know what would be. To top it off, aLithium-ion battery is here to give you up to 40 minutes of cordless action too. Charging it fully takes 4 hours which is quite acceptable.
Of course, you can also use it corded if that tickles your fancy.
The battery life and compact design make for quite the travel companion for people who need to be on the go often.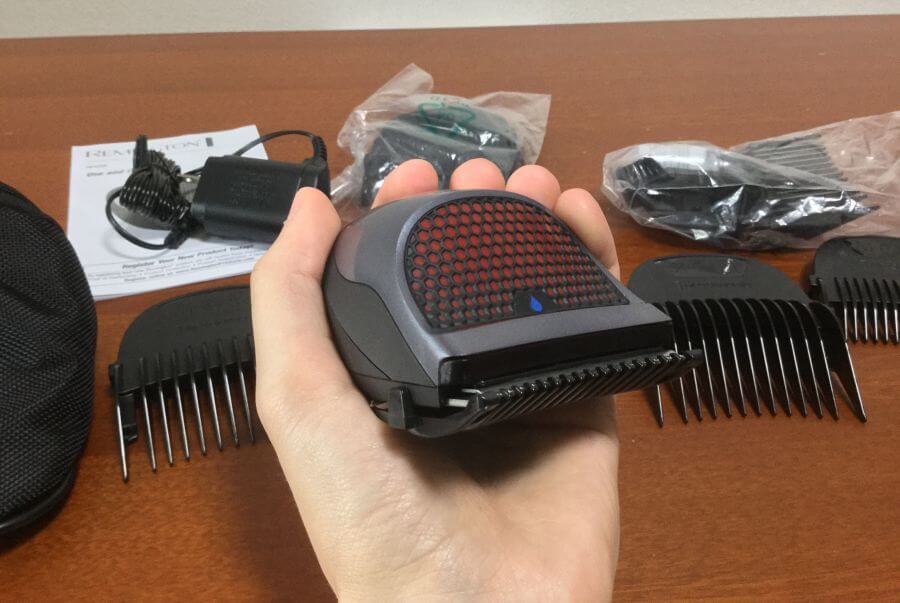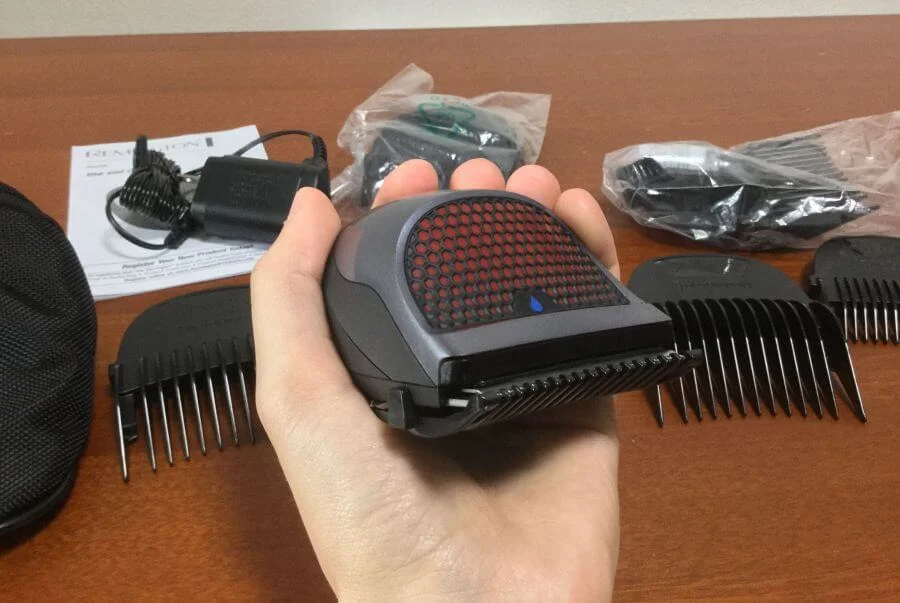 Picture yourself in a hotel room, quickly rinsing the HC4250's parts after a quality buzz cut. Absolutely no strings attached. Something you'll also like here is the typical Remington accessories treatment. You get 9 combs (sizes 1/16″ to 5/8″.) All of them follow a slight curve, just like the clipper's self-sharpening blades. So even with the plastic attachment you'll get quite convenient cuts. You should also receive a small tube of clipper oil, a Remington bag to keep your accessories in, and a cleaning brush. Let me finish the benefits off with the HC4250 Shortcut Pro's remarkably low noise levels. Thought out to be a portable home clipper too, it'll keep rather quiet. You can expect some humming, but reserved for an intimate audience – you.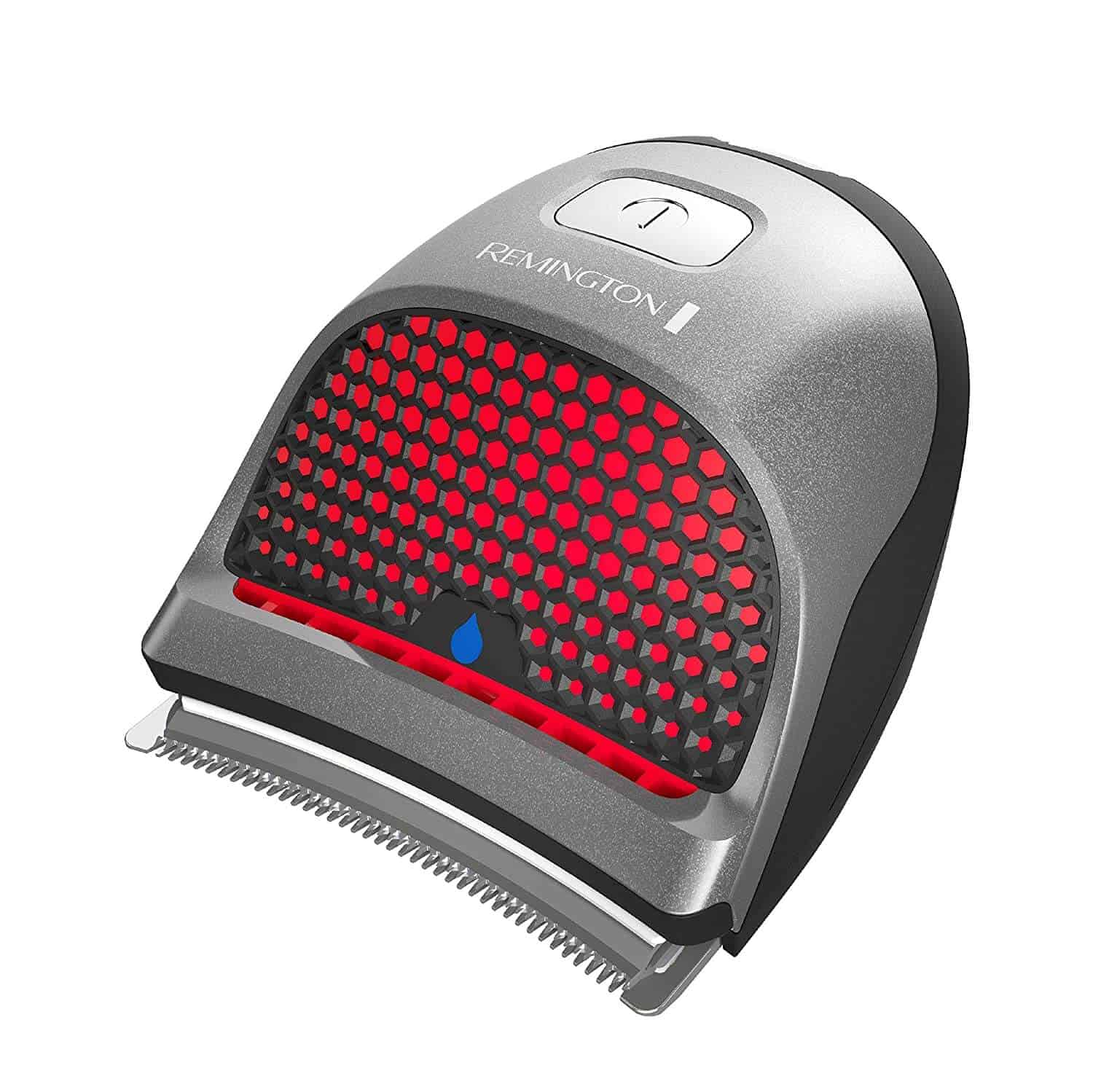 Remington HC4250 Pro

Ergonomic, a small and compact product that's waterproof with a stunning design.
It's not all Remington roses, though
Here's the catch – innovative and slick as it is, this Remington cordless clipper still has a few letdowns. First of all, I want to clarify something: this is a hair cutter for casual users.
In no way can it compare with professional tools like Andis Master for example.
And while yes, the price tag is very different here, it's also less pro and powerful than similarly priced Wahls or Andis too.
As I mentioned the SCC-100 before, here's something the Shortcut Pro does worse.
The SCC-100 had a dial-like area where you would lower or raise the blade a bit, tinkering with its closeness to the scalp. There's no such thing with the new Remington clippers.
Moving onto the combs, the fact that the largest comb is some measly 5/8″ (15mm) is a bit disappointing. While the Shortcut Pro improves on SCC-100's shortest attachment (1/8″ -> 1/16″), 5/8″ is still rather limiting.
Just keep in mind that this is for simple buzz cuts that you do regularly. If you are trying to do a regular haircut that you leave long on top, then I would recommend other clippers like the Wahl lineup of quality clippers to use at home.
There is a tool for every job so the fact that this only does one thing, that is ok. It is better to do one kind of haircut well instead of being mediocre at many different hairstyles.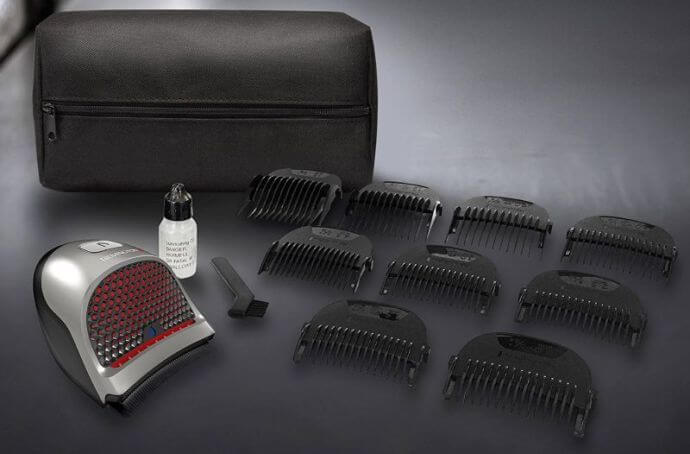 The lithium battery is also average, not spectacular. While a vast improvement on this Remington cordless hair clipper's predecessor, it's still shorter than other models like the Magic Clip.
At the same time, though, you get unmatched compactness with this model. Besides, 40 minutes are plenty even if you want to do 2 or 3 haircuts in a row.
You also have to be careful with how quick you cut your hair with these clippers.
The HC4250 is a bit sensitive and requires of you to perform slower, more delicate motions. Otherwise it might pull your hair a bit. Cleaning up around the ears can also get a bit tricky.
That's actually one downside to the curved blade. The area around your ears is usually flat so it is a little tricky to get the right angle to cut the hair evenly there.
Remington HC4250 Pro Review: Final verdict
I have to say it one more time in this Remington HC4250 Shortcut Pro review: this is not a clipper for professionals. It lacks the output other similarly priced model have. However, if you're a casual user, this is undoubtedly one of the best cordless hair clippers on the market.
How often do you get to cut your hair and just rinse the blades afterwards? Now you can grab this little fellow, skip the dreaded cleaning after a buzz and be done in only a few minutes. It's extremely ergonomic as well.
Given its price, it's a total bargain. Just keep in mind the battery life and certain comb limitations.
Other than that, it doesn't get more compact and simple than this minimalistic Remington cordless hair clipper. Hair cutter innovation in its purest form. This Remington HC4250 Shortcut Pro review proves Remington do it once again.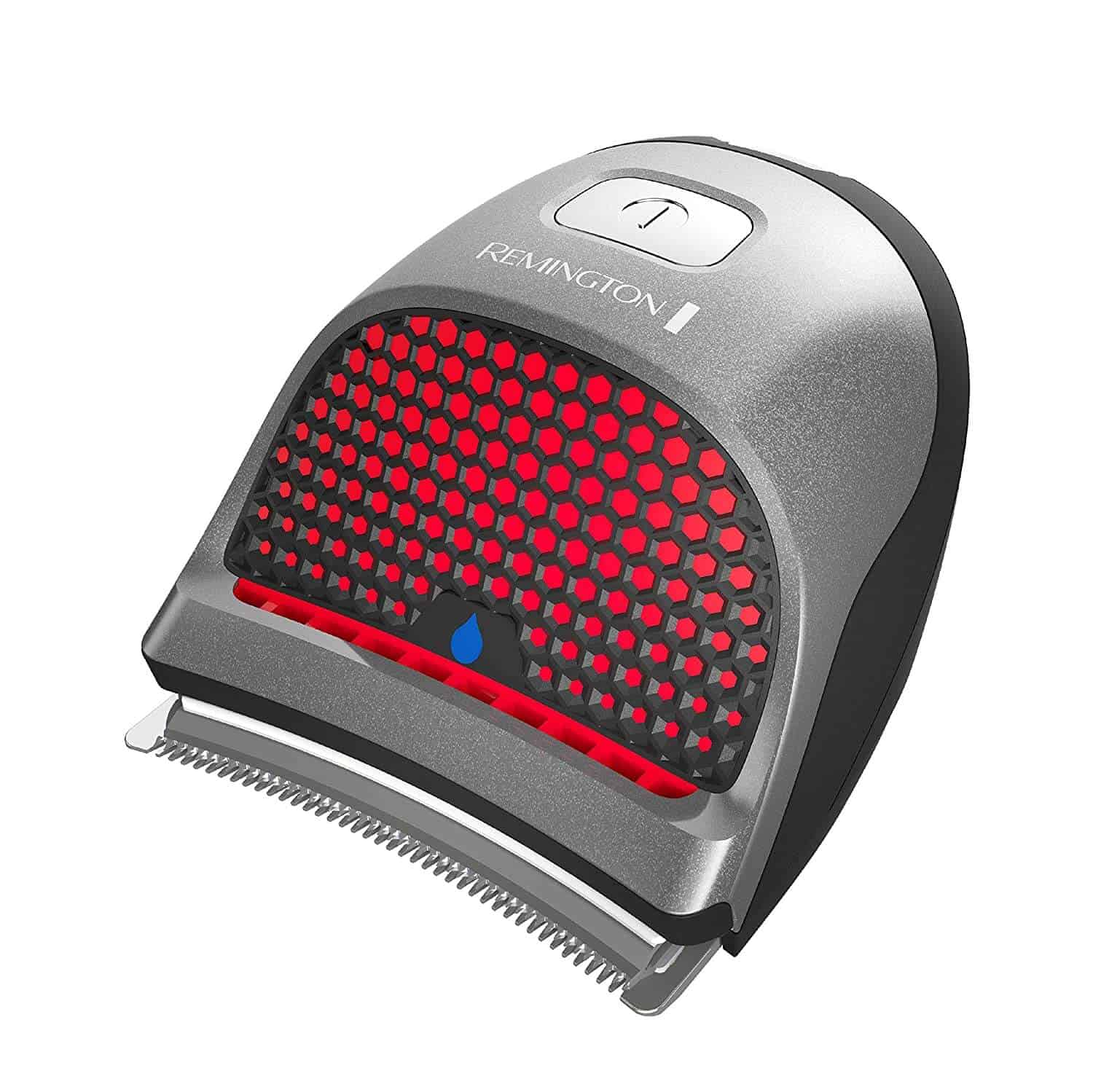 Remington HC4250 Pro

Ergonomic, a small and compact product that's waterproof with a stunning design.
I'm an outdoor enthusiast and have sported a full beard since I was in my early 20's. Originally, growing a beard was a way to save time when getting ready each day, but I quickly realized that keeping a neatly trimmed beard takes work and some forethought. That's where this site comes in.
You get to benefit from my years of experience. I've reviewed many of the top hair clippers on the market today and also included some information on what works best for me. A great beard will turn lots of heads in your direction.
Since I never know when I'm going to find myself being photographed, whether it's climbing in Yosemite, or playing volleyball on the beach, it's important to me to always look my very best. Maintaining my beard is part of my daily routine and I hope you'll find some useful tips and information on this site to help you on your journey.