Sometimes you're not looking for just any hair cutter. Sometimes you want a balding clipper that will give you close cuts and that smooth shave.
You know, the ones that makes it irresistible for anyone to not rub your shiny, freshly shaved head.
There's quite a few hair clippers for bald men. And above them all soars the Wahl 5 star Balding clipper.
From Amazon reviews to praises on community forums, it's earned its reputation as a top choice.
What can you expect from this electric beast? Let's examine our suspect closely in a thorough Wahl Balding clipper review.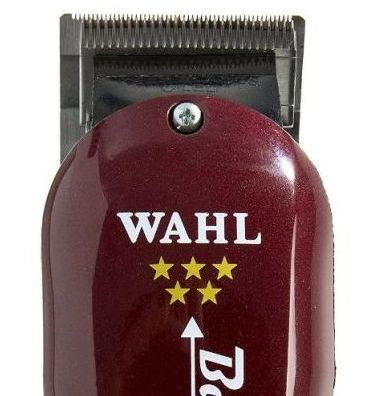 Wahl's 5 star balding clipper review: An Overview
| You'll love it for these | But you won't like these |
| --- | --- |
| Closest cutting balding clipper out there | |
| | Can be dangerous and leave cuts |
| | |
| Surprisingly quiet for its power | |
| | |
Wahl Balding Clipper: from Illinois with love
As other Wahl hair clippers, the 5 star Balding clipper is produced locally in the US. Illinois born and raised, it sports a 6.25″ body and weighs 1 pound. Its color is a pleasant mix of black (backside) and burgundy (on the front.)
While not as durable as an Andis Master or Oster 76 classic, it's pretty sturdy as you will find out more in this review. The typical Wahl design leans on the bulky side, but the professional Balding clipper is ergonomic. It won't slip from your hands or cause any strain.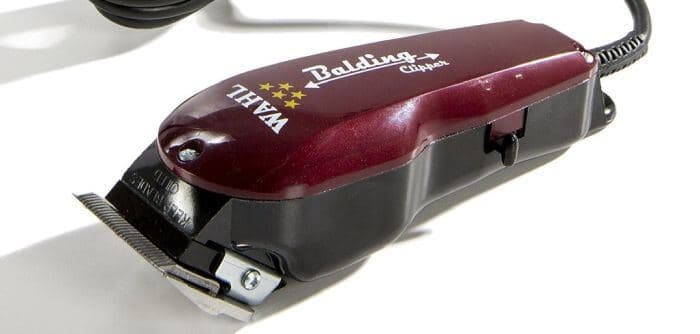 You'll receive the standard Wahl clipper oil, cleaning brush, red blade guard and instructions. As a small surprise gift, you'll also get two Wahl guards sizes 1/16″ and 3/16″.
Before anything else, please let me send a word of warning:
Don't use this hair cutter for lineups, fades, or even beard/mustache trimming.
This is not a suitable clipper for such details. Stick to its primary use as a hair clipper for bald men if you want to avoid injuries.
Every tool has its strengths and you need to work around what it does and doesn't do. Part of being a barber means having an array of clippers. Each one has a specific job to do. I know it can get expensive, but you'll need to use the right tool for the job. This will speed up your workflow and allow you to make more money. Keep this in mind so it will be less anxiety inducing when you see how much money you are spending on your gear.
The 5 star Balding clipper from Amazon.com comes with a V5000 electromagnetic motor. It adheres to your expected Wahl quality and performs above average. Normally Wahl's strong motors cause some heating issues, but this model stays rather cool.
Let's get to the real selling point in this Wahl Balding clipper review. It's not the body. It's the blade.
Surgical cuts galore with the Wahl balding clipper blade
Have you ever wondered what would happen if a bunch of razors got slapped onto a clipper?
That's how it feels to operate with the Wahl 5 star balding clipper's blade. Made of quality stainless steel, it's a unique #2105 blade, reserved specifically to this model. Without any additional attachments, it will cut to around 0.1 to 0.2mm, leaving only very, very small stubble behind.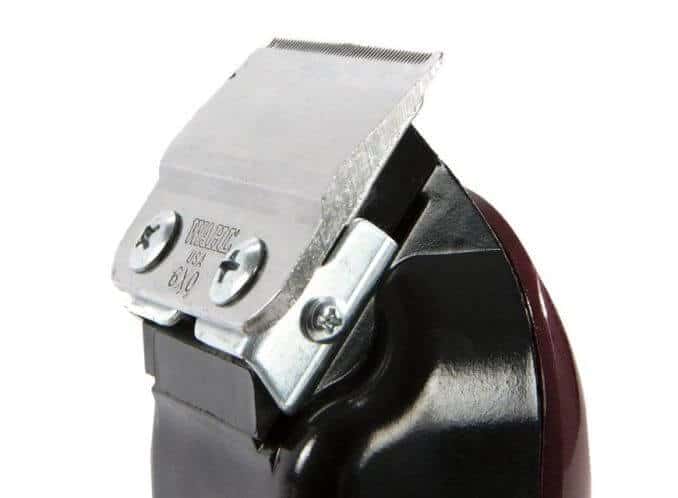 There's no other hair cutter that has this professional machine's potential for smooth bald shaves.
While a bit behind a careful wet shave with quality razors, the balding clipper blade is inarguably your best option on the current market.
To get any closer you literally would need to use an electric razor to shave your head. Which is not a bad idea, but with this clipper you can do other things like a clipper over comb cut. An electric razor is a one trick pony so your money is better spent on these clippers that get close enough.
You have to remember that this is a balding clipper. In other words, the #000000 blade is a single position one. You won't find the usual Wahl side levers for blade adjustment here. 1 3/4″ wide, it will raze any hairs you don't want to keep on your scalp.
The Wahl Balding Clipper: Nice and Quiet
A fantastic feature of the Wahl 8110 balding clipper is its rather quiet operation. I love Wahl hair cutters, but they sometimes they tend to be noisy. This model skips on that. While it's not exactly soundless, it runs on impressively quiet levels considering its power.
Vibrations are also minimized, which is a great benefit for close-cut shaves. Nobody wants jittery electric hair cutters that mess with your cuts' precision and aim.
It is inevitable that in time your clipper will get loud and will also vibrate and heat up. This is true for any clippers. You just need to give them a bit of a tune-up.
Make sure that you are keeping the blade cleaned of any hair and that you regularly oil it. Once a month or so do a deep clean by taking the body apart and cleaning out any hair that got trapped in there.
Then use a blade wash to clean away any grime and dirt that got built up. There's no way around it, you're going to have a buildup of dead skin cells and sweat on the blade that will slow it down. Using a blade wash will get it back to almost brand new and keep it from getting hot. This will also prolong the life of not only the blade but the motor.
The Wahl balding clipper blade: a double-edged sword
The Wahl 5 star Balding clipper blade is a perfect example of a main advantage also being a weakness.
While the professional blade will deliver the sharpest look possible, it can also be pretty dangerous.
If you're not careful, you'll find yourself nicking your skin.
A #000000 blade can cause blood gushes and some nasty scalp cuts, and it can cause them pretty easily.
I can't stress this enough: Don't apply too much pressure. Mind the angle from which you cut. Go slowly, no need to rush.
My personal protip is to use the slight curve on the bottom of the balder to gently glide over your head's surface.
Take some precautions and don't underestimate the sharpness of this model's Wahl blades.
A few words on the Wahl V5000 electromagnetic motor
If you've read other Wahl professional clipper reviews, like the Super Taper II, you'll notice something. Yes, I listed the V5000 as a disadvantage there too. It's an older version of the cutting-edge V9000 one present in Wahl Seniors.
However, it really isn't that big much of a disadvantage. The V5000 is still a powerful motor, twice so when you so and so need to tone it down due to the sharp blades. Usually Wahl's V5000 outperforms standard pivot motor clippers, so you're more than good to go.
Wahl's 5 star balding clipper is the best electric hair cutter for bald men. The surgical precision you'll find here is unmatched and better yet, you get it on a pretty good price. You will, however, need to develop some skill in operating this fellow. The Wahl balding clipper's blades can also be dangerous if you decide to be too hasty with working on your slick look as we confirmed during our Wahl Balding clipper review.
If you're worried about that, you can always try an alternative. Philips' Norelco cordless QC5580/40 hair clipper is one viable option. It's compact, simple to use and easy to maintain. However, it won't cut as close as Wahl's balding clipper and you'll definitely need to finish up with a razor.
In case you're after a balding machine that's the real deal, Wahl's offer is far, far superior.
Good points
Best balding clipper
Made in USA
Sharpest blades ever
Good noise levels
Surgical, smooth cuts
Durable body
Bad points
Blades run too sharp
Danger of cuts & wounds
Definitely requires skill
V5000 motor instead of V9000
I'm an outdoor enthusiast and have sported a full beard since I was in my early 20's. Originally, growing a beard was a way to save time when getting ready each day, but I quickly realized that keeping a neatly trimmed beard takes work and some forethought. That's where this site comes in.
You get to benefit from my years of experience. I've reviewed many of the top hair clippers on the market today and also included some information on what works best for me. A great beard will turn lots of heads in your direction.
Since I never know when I'm going to find myself being photographed, whether it's climbing in Yosemite, or playing volleyball on the beach, it's important to me to always look my very best. Maintaining my beard is part of my daily routine and I hope you'll find some useful tips and information on this site to help you on your journey.