One of Wahl's most popularly used hair cutters, the Wahl Super Taper II is a professional clipper on a very lucrative price.
Before deciding to switch to the previous generation (Super Taper), I used it for quite a while. I'd describe it as a true Wahl classic, famous for its sturdiness, power and attractive, ergonomic design.
Don't be fooled by the moderate price. This machine doesn't compromise on quality as this Wahl Super Taper II review will prove.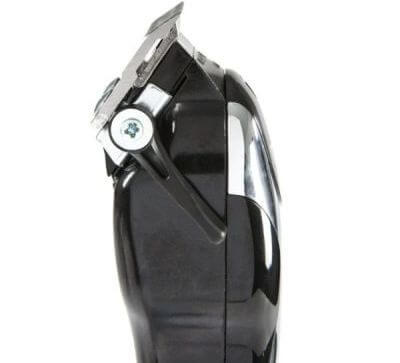 Wahl Super Taper II: An Overview
| Good points | Bad points |
| --- | --- |
| Solid cut regardless of hair type | v5000 motor instead of a v9000 |
| | |
| Can be used for beard trimming | |
| Colored combs make picking what you need easier | Watch out for blade rusting |
| | |
Traditional Wahl-grade quality
Wahl clippers in general are considered the workhorses of any barbershop. They are super reliable and very durable. They don't compromise on the quality of the materials used to manufacture them so expect one to last years even in a busy shop.
The Wahl Super Taper II adheres to the trademark quality of Wahl professional hair clippers in many aspects. First things first: the blades. Impeccable sharpness.
In fact, they are so sharp that I'd advise you to steer away from using the Super Taper II clippers without guards if you're a beginner.
Used with the combs you'll receive with this set of Wahl professional hair clippers, though, they are 100% safe and will deliver outstanding haircuts.

Speaking of Wahl guards, you'll receive eight of them – from 1/8″ to 1″ in terms of length. Clipper oil, blade guard and cleaning brush are also included in the package.
A very distinctive difference here lies in the fact that the Super Taper guards are colored. Easier to distinguish which one you need to grab for your haircut.
No lag or "chewing" on hair whatsoever. I'd say these are among the best hair clippers for different types of hair, including multicultural/ethnic hair. You can easily detach the blade in order to clean it, so that's a plus too.
There's a lever on the left – you can use it to bring the blades closer, resulting in a shorter, tighter cut.
Even though the blades are really sharp, I recommend having a spare on hand. Once in a while you'll want to either send the blades out to be sharpened or you can sharpen them yourself with a bit of patience.
You'll also want to keep them clean which I will get into in more detail further into the Wahl Super Taper II review.
Along with pretty great beard trimming, you can use the Super Taper II for hair blending and buzzcut tapering. A versatile, multi-purpose hair cutter for those of you who need something like this.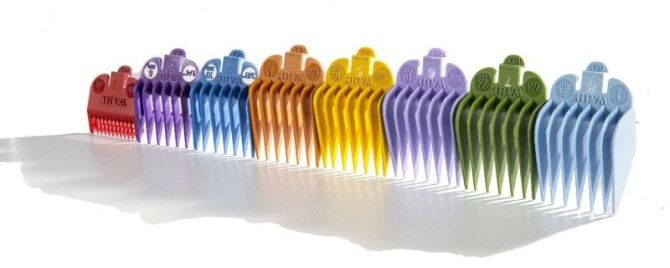 The body of the Super Taper II professional hair clipper
I'll be frank in this Wahl Super Taper II Review – it is not a design masterpiece. At the same time, though, you might be surprised by its performance in the looks department. It definitely looks better live than on Internet images.
We're looking at a very fine body balance in this set of Wahl professional hair clippers. The Super Taper II is not too heavy, but solid enough to ensure stability and maximum precision. It weighs around 19 oz/1.2lbs/~540 grams.
It also differs quite a bit from the original Wahl Super Taper on Amazon.com if you compare them. Check my old Super Taper and see for yourself: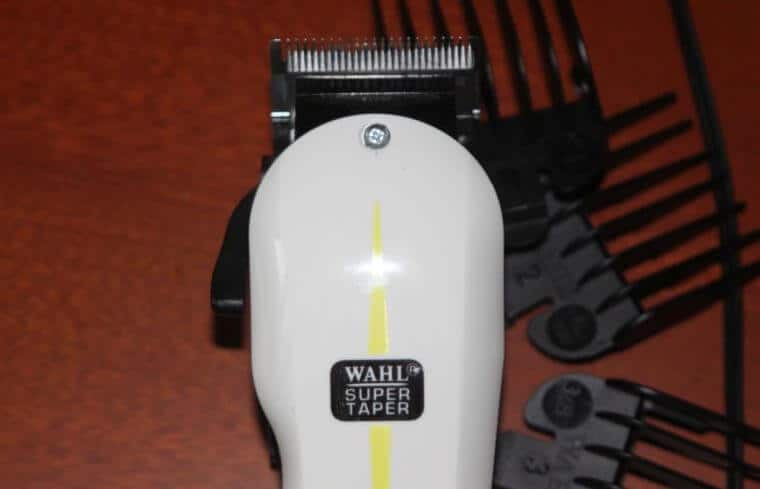 You'll notice the body of the Super Taper II gets slightly slim in the middle part, more than the original model. That's perfect, because it lies really comfortable in your palm and eliminates awkward, tiring hand movements.
If you want something smaller and more "hands-on" from Wahl, the Wahl Peanut might fit your preferences.
The cord is lengthy enough to allow for a wider range of movement. Perfect for home use, to be honest. I haven't ever had issues with extending my Super Taper II to get better buzz cuts.
A note on the Super Taper II motor
Maybe you noticed I listed the V5000 motor as a disadvantage. I want to elaborate that this is a relative, rather than an absolute drawback.
It's not that the V5000 motor is bad. On the contrary! If you compare it with the motors of similarly priced professional hair clippers, you'll find out it's way more powerful than them.
However, Wahl do have the V9000 motor in similar hair clipper models (such as the Wahl Icon on Amazon.com, for example). It was a concern for me before I jumped on the Super Taper II ship.
To be honest, though, if you're a casual user, it really doesn't matter that much. If you're more of a pro, you might consider switching to a vV9000 motor-powered Wahl professional hair clippers model like the Icon.
You absolutely have to oil the motor from time to time. I can't stress this enough.
There's always this odd person who complains about their hair clippers not performing as expected in the long-term. Regularly oiling the motor is a complete must.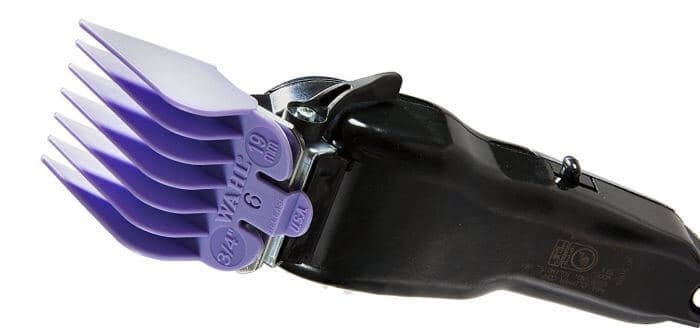 Some shortcomings of the Super Taper II clipper
The Super Taper II is one of the best hair clippers for me, but that doesn't make it a perfect machine. Mainly, there are two things you need to know about this hair cutter.
First of all, it gets noisy. If you don't want to wake up your family during your quick morning buzz, you're out of luck. The Super Taper II is powerful and it won't compromise on noise levels. That's not that much of an issue for me, but some people really prefer quiet hair clippers.
Second, the model ranks among the more vibration-prone of Wahl professional hair clippers. In case you're not used to clippers shaking around in your hand, you might be surprised.
This is easy to get used to, though, so I wouldn't say it's such a fatal downside. If you don't think you can handle a 19 oz/half a kilo Wahl clippers jumping in your palm, look elsewhere.
As for secondary things to be aware of… Please watch out for blade rusting. No set of hair clippers are immune to this. Always clean them and store your Super Taper 2 clippers properly so they last you a long (and happy) time.
In addition, there's no case included. This can be a bit of a letdown, but you can always grab a bigger Ziplock bag or purchase a specific case if it's that much of an issue for you.
How to Maintain Your Wahl Super Taper II
After having read the Wahl Super Taper II review and possibly even already ordered your very own, you'll need to do some routine maintenance to get the most out of these clippers.
Keep It Clean
To keep the blades sharp they must be free of hair. Hair is very acidic and will dull your blades over time if you don't clean them.
Make sure you are using an old toothbrush or something similar to remove the hair before and after every haircut.
Once a month or so you need to do a deeper clean with a blade wash. Lots of dirt and grime accumulate on the blades from your customers so to dissolve it and keep the blade running smoothly, use some blade wash to remove it.
Also, it pays to open up the clipper  to get behind the blade. Remove the blade and use a compressed air can to blow all of the hair out of the chamber.
Keep It Lubed
To ensure you get a long life out of the motor and the blades you need to be using oil on it.
If the blades are not oiled then they will end up causing friction. This will not only cause the blade to heat up and e uncomfortable to your customer, but it makes the motor struggle. This will eventually put extra wear and tear on the motor and shorten the life.
Add oil to either end of the blade while it is running to allow the oil to coat all the teeth.
Wahl Super Taper 2 Review: Final verdict
To summarise this Wahl Super Taper II review, the Super Taper II is an overall great choice for both casual users and professionals alike. Safe from the vibration and noise levels, this is a solid set of Wahl clippers showcasing what the brand is all about. I've been using them for years and don't plan on dethroning them from their leading position as the best hair clippers I've used so far.
If you are a professional and just starting out then I think this is a fine clipper. I just wouldn't plan on using it forever. Eventually you will want to upgrade. When you are just starting out and not doing many haircuts it is fine.
As you gain customers, then the weight of this will end up becoming a burden. Hand fatigue is very real in a busy shop. My hands would ache by the end of the week in a bad way until I started using lighter clippers.
If you are on a budget, great go for it. If you have more money to play with then I would go for any Oster clipper over these.
And if you plan to do a lot of fades, then the Wahl Balding Clipper is your best bet.
It's simply Wahl. You can't go wrong with this company. The Super Taper II is yet one more set of professional hair clippers supporting this claim.
Good points
Solid cut regardless of hair type
Stays relatively cool
Can be used for beard trimming
Quality colored combs included
Great ergonomic design
Bad points
v5000 motor instead of a v9000 one
Rather strong vibration
Tends to get a bit noisy
Watch out for blade rusting
I'm an outdoor enthusiast and have sported a full beard since I was in my early 20's. Originally, growing a beard was a way to save time when getting ready each day, but I quickly realized that keeping a neatly trimmed beard takes work and some forethought. That's where this site comes in.
You get to benefit from my years of experience. I've reviewed many of the top hair clippers on the market today and also included some information on what works best for me. A great beard will turn lots of heads in your direction.
Since I never know when I'm going to find myself being photographed, whether it's climbing in Yosemite, or playing volleyball on the beach, it's important to me to always look my very best. Maintaining my beard is part of my daily routine and I hope you'll find some useful tips and information on this site to help you on your journey.