Rarely do we see a hair clipper that isn't just a standalone tool – instead, it's a whole combination of utilities. Without a single speck of doubt, the king in the do-it-yourself hair clipper niche is none else than Philips.
Their Norelco QC5580/40 Pro, an upgrade on previous Philips hair trimmers, collects all you could ever need to cut your own hair at home. Of course, it does suffer from a few drawbacks, too.
Let's take a closer look at it. I want to elaborate why I would highly recommend this rotating fellow to you – despite not being a huge Philips fan. Let the Philips Norelco QC5580 review commence!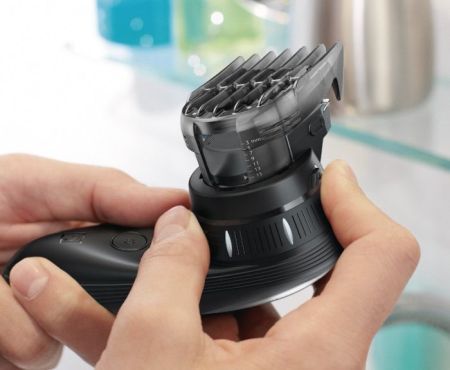 Overview of the Norelco 5580/40 Pro electric clipper
| You'll love it for these | But you won't like these |
| --- | --- |
| Unique design & extreme flexibility | Plastic combs not that great |
| | |
| Versatile length adjustment | Can sometimes fail to cut even |
| | |
| Incredibly easy maintenance | |
The Norelco QC5580/40 hair clipper: a real DIY powerhouse
The first thing you'll notice about this member of the Norelco trimmer family is its design. How many hair cutters that operate with rotating heads do you know? That's what I thought too. Philips really have an edge on their competitors here, as it's exactly this rotating head that makes the Norelco QC5580/40 clipper such a beast.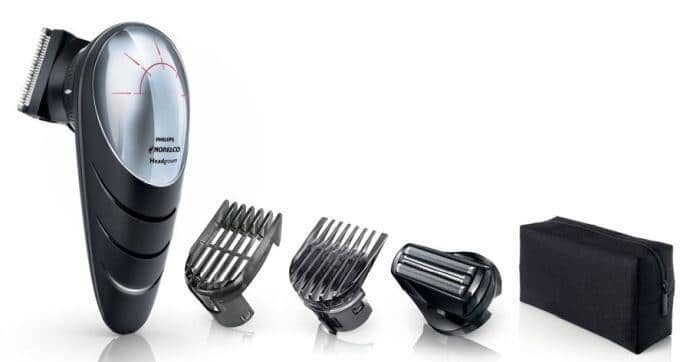 It's equipped with stainless steel blades – the amazing thing is you don't even need to care about them. Not only are they self-sharpening (means you won't deal with oiling them), but they can be easily washed at any time. How? Easy – the set of Philips clippers is manufactured so that you can take the machine apart and simply wash its parts. Extremely convenient and something other brands should think about too.
Convenient durability for any cut-your-own-hair taste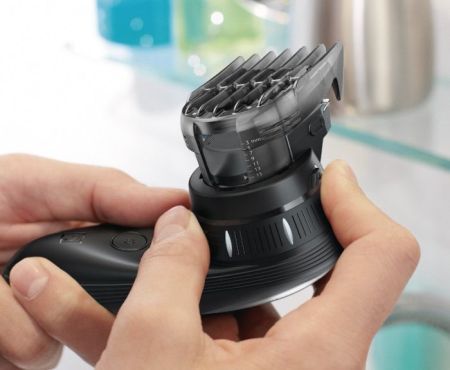 The hair cutter can be adjusted to altogether 14 different lengths. The range is spectacular, as it starts from 0″ (the Philips balder mode) and goes up to 5/8″. You saw that I didn't mention anything about dealing with numerous attachments, right? You don't need to concern yourself about such hassles – everything comes built-in. All you have to do is turn the Norelco QC5580/40 clipper's dial and set your preferred length.
It might feel a bit strange the first few times you do it. However, once you get used to the rotating head, you'll enjoy fast, flexible and easy haircuts.
Remember how I tore apart the Norelco QC5130 hair clipper's atrocious battery? It's exactly the opposite here. The QC5580/40 electric clipper packs a real punch with its Lithium-Ion battery. Its recharging time is up to the highest of industry standards and allows for up to 60 minutes cordless action.
A light indicator will let you know whenever you're nearing battery depletion. When only around 10-15 minutes of cordless action remain, the QC5580/40 indicator will blink with an orange color to let you know. Very handy and a feature many other cordless hair clippers lack.
Combined with the winning body design, the battery shoots this Philips trimmer to the stars as one of the best cordless hair clippers for busy people.
A spectacular balding clipper, too
The Philips QC5580/40 features a special head shave attachment so you can use it as a balding clipper as well. The combination of quality blades, maneuverable body design and precise cutting potential guarantees a quick and close shave. That said, if you want to achieve the really, really slick bald looks, you might need to run a razor on your scalp too. Few hair cutters have the potency to leave completely naked skin. Unlike the more powerful, yet more dangerous
Wahl 5 star Balding
clipper, this Philips model is very skin-friendly. Its steel-sharpening blades have rounded edges to minimize any risk of you nicking your scalp. This careful approach to full head shaving is
extremely important if you suffer from the infamous bumps issue
. I know I've seen quite a few people shooting for the slick bald look who had such pains. The Norelco
head shaver attachment is also ridiculously easy to put on
. Just clip it on, rotate it per your wish, and you're ready to go.
As for trimming action, you can use this set of Philips clippers as a trimmer too. The results are more than good if you don't need anything too complicated. However, if you want to play around with some fine details, you might have to look elsewhere.
Here's where the Norelco QC5580/40 leaves a bit to be desired
There's no doubt – this Philips hair clipper is revolutionary in many ways. However, it can't help but suffer from one very specific shortcoming: its combs.
Unfortunately, the electric hair cutter's combs are made of not that spectacular plastic. That's a similar problem to the issue that plagues the QC5130 too.
The plastic not only looks a bit lacking, but it also tends to bend a little. In other words, you need to be very careful with storing this electric clipper's combs.
Back in the days, I had a medium-budget Philips hair trimmer and it suffered from a similar shortcoming in its accessories.
Maybe the brand has to think about introducing something better across its product lines…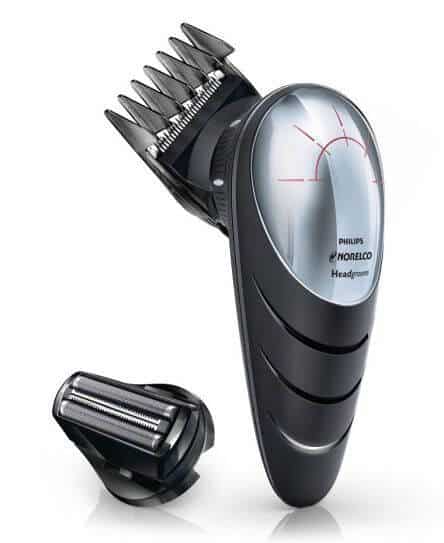 Cuts & prices
While the blades of this Philips electric clipper are great, the rather average motor leads to some complications. The Norelco QC5580/40 will cut with great accuracy – however, sometimes it might "choke" and fail to cut evenly. Especially on lower lengths you might find yourself needing to go through the same place twice to ensure it's been equally trimmed.
In this Philips Norelco QC5580 review, I have listed the hair cutter's price as a disadvantage – truth is, it's not that bad of a price given what this Philips DIY hair clipper offers you. That said, the replacement parts for this model run very expensive too.
Aside from the plastic combs I mentioned, there are no significant issues with the hair cutting machine's body. It's also pretty long-lasting. Yet, if something happens with it, you'd need to pay some extra.
Final verdict
All in all, though, based from this Philips Norelco QC5580 review, this hair clipper is a great tool to have around if you want to cut your own hair at home. It's more than perfect if you:
are new to the whole cutting your hair by yourself business

need something that is compact, requires minimal maintenance and is flexible

are a fan of cordless hair clippers and the freedom they give you

look for a decent balding clipper that's gentle and great for more sensitive skin types
If it weren't for the plastic combs, this would be in my top 3 of best cordless hair clippers. Even with this issue present, the Norelco QC5580/40 electric clipper will bring you some quality haircutting experience both at home or on the go, as what this Philips Norelco QC5580 review suggests.
Philips Norelco QC5580/40
50
Good points
Design & Flexibility
Compact & Light
Versatile length adjustment
Washable parts
Very easy to maintain
Bad points
Lower quality plastic combs
Higher price range
Even cuts can be tricky
Expensive replacement parts
I'm an outdoor enthusiast and have sported a full beard since I was in my early 20's. Originally, growing a beard was a way to save time when getting ready each day, but I quickly realized that keeping a neatly trimmed beard takes work and some forethought. That's where this site comes in.
You get to benefit from my years of experience. I've reviewed many of the top hair clippers on the market today and also included some information on what works best for me. A great beard will turn lots of heads in your direction.
Since I never know when I'm going to find myself being photographed, whether it's climbing in Yosemite, or playing volleyball on the beach, it's important to me to always look my very best. Maintaining my beard is part of my daily routine and I hope you'll find some useful tips and information on this site to help you on your journey.