When it comes to hair clippers, a lot of people tend to underestimate Philips. While indeed companies like Wahl or Andis dominate the market, the Dutch brand also has some nice models to show off with.
In fact, some of Philips' cordless hair clipper models are a very viable option for people on the go.
The Norelco QC5130 is one of these models. It combines a bunch of great cordless hair clipper characteristics.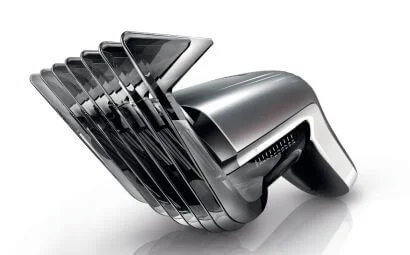 However, it also tends to suffer from one very important shortcoming. Continue reading and let's find it out together in an extensive Philips Norelco QC5130 review.
Overview of the Norelco QC5130 hair clipper
| You'll love it for these | But you won't like these |
| --- | --- |
| | |
| | Not satisfactory plastic comb quality |
| Self-sharpening blades, no oil needed | Battery soldered to the clipper |
| | |
| Very clever length adjustment | |
A Norelco cordless clipper any busy person would love
Norelco QC5130 can be used at home perfectly fine, but Philips seemingly created it with people who travel often in mind. These Philips clippers feature a very ergonomic design with an exceptionally light body of ~0.5 lbs. Compared with many other hair cutters – even cordless ones, the Norelco QC5130 clipper is like a feather. There certainly is something ethereal about its design and how it feels in your hand.
The rather silent operation of this Philips hair clipper further reinforces this feeling. While you will surely hear QC5130 humming, you won't have them roaring in your ear as some other hair cutting machines available out there tend to. As you can guess, this also makes it a very good hair clipper for kids. It can be certainly said that the Norelco QC5130 has a soothing effect to it.
If you're looking for a hair cutting machine that's easy to take care of, you'll like this Philips clipper. QC5130 allows for ridiculously easy maintenance, even for people who are complete newcomers. You don't even need to oil it!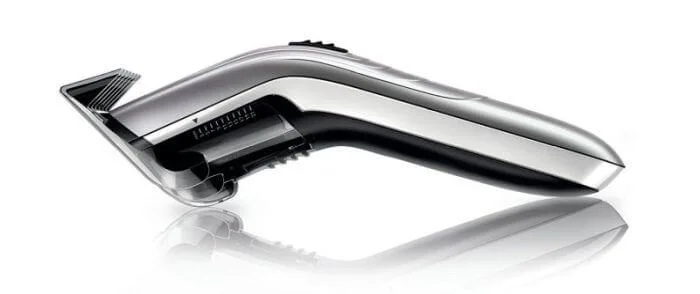 The Philips approach to length adjustments
The Philips Norelco QC5130 comes with conventional stainless steel blades. Convention as they are, they cut with precision and you can rely on them to do a clean job. Even extra thick hair shouldn't be a challenge and you won't experience any of the dreaded snagging.
To top it off, their self-sharpening feature means you don't need to think about using clipper oil. A finishing touch is their gentle touch, as they are specifically designed for sensitive skin types.
What's more interesting here is the way Philips decided to organize this Norelco hair cutter's length adjustment. The machine comes with a built-in adjustable comb which has 10 settings altogether.
You can go up to 7/8″ with it, while the lowest length gets to around 1/8″. If you decide to remove the plastic comb, you'd get a 1/16″ length – perfect for very, very close shaves.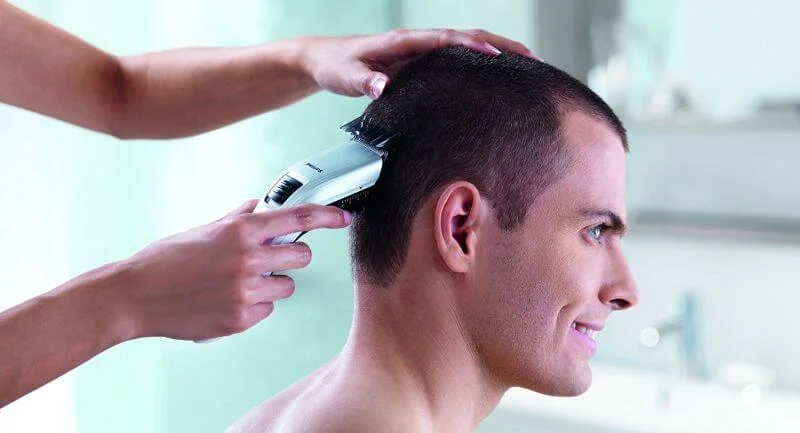 This means that you don't need to change guards at all. Instead, you just adjust the attachment and pick your preferred height. I can't stress how comfortable that is and can't help but wonder why some other hair clipper models don't feature something like this.
This representative of the Philips Norelco hair clipper family is also perfect for tasks like beard trimming or shaving the back of the neck. An all in all very versatile cordless hair clipper.
Norelco QC5130's main weakness: the battery
This part of Philips Norelco QC5130 review is kind of frustrating as it hurts to see such an otherwise amazing Philips hair clipper suffer from a battery issue. But the QC5130's battery leaves much to be desired, even if it won't be such an issue for many buyers. Let's start with the fact that its charging time is 10 hours, compared with other models' like the
Wahl Cordless Magic clip
average time of 3 to 4 hours.
Moving on, despite a good benchmark of ~40 minutes cordless action, the hair cutter comes with a NiMH battery. That's a bit older than what some more strict consumers might prefer.
Compared with the current Lithium-ion battery standard, this Norelco clipper stays way, way behind.
Additionally, the battery is soldered to the clipper itself. As you can guess, this means only one thing: you can't really change it if something ever happens to it.
Now, this particular Norelco hair clipper is known to be pretty sturdy and long-lasting. However, this still counts as an important imperfection on Philips' side.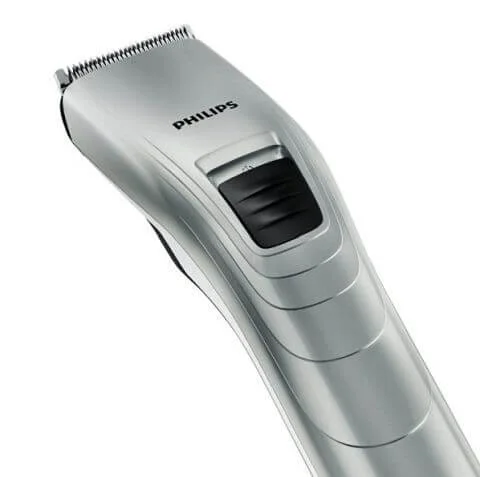 The Norelco QC5130 hair cutter is a potent medium-budget hair tool. However, for some reason, it has gone through several price hikes. Considering its battery shortcomings, I'm not sure whether it can compete with similarly priced models relying on newer battery technology.
Another thing that seems cheapish to me is the plastic comb included with this Philips clipper. If you're spending a few bucks on a hair cutter, it would make sense to get fetch something more presentable than this guard.
Edit: Recently the price of the QC5130 hair cutter has fallen to medium-range levels again.
That said, the Philips Norelco QC5130 hair clipper is a quality option for people who value flexibility, simplicity and easy maintenance. Few other machines are that silent and lightweight, so the QC5130 is great if you decide to travel around.
It ultimately depends on whether or not the QC5130's battery issues are a big deal to you. I know they would be to me, but then again, my colleague Alex wouldn't mind this so much. You have to decide whether an older battery technology and charging time (up to 10 hours needed) will be a dealbreaker.
After going through this Philips Norelco QC5130 review, I would say that a better alternative for Philips Norelco fans is the Norelco QC5580 from Amazon.com. A bit more expensive, but comes with Lithium-ion battery, more cordless operation time and some other additional perks. You can also read our in-depth Norelco QC5580/40 review to get a better idea of its features. If you want something less expensive, the Remington HC4250 Shortcut pro is a top choice.
I'm an outdoor enthusiast and have sported a full beard since I was in my early 20's. Originally, growing a beard was a way to save time when getting ready each day, but I quickly realized that keeping a neatly trimmed beard takes work and some forethought. That's where this site comes in.
You get to benefit from my years of experience. I've reviewed many of the top hair clippers on the market today and also included some information on what works best for me. A great beard will turn lots of heads in your direction.
Since I never know when I'm going to find myself being photographed, whether it's climbing in Yosemite, or playing volleyball on the beach, it's important to me to always look my very best. Maintaining my beard is part of my daily routine and I hope you'll find some useful tips and information on this site to help you on your journey.