Crisp lines and neat edge ups. Shaping them properly just feels great, doesn't it?
Indeed: achieving a tight line or edging is a source of pride for any barber. In order to nail this, you will however need the right tools: the best hair edgers or best hair liners clippers.
Let's be honest… trimmer preferences vary from person to person. Still, I'm a big fan of the classic Andis T-Outliner as the best hair liners + all purpose cutter.
As for specialized best hair edgers, I've had good experiences with Wahl's Razor Edger. And for best hair liners, we've been using both the T-Outliner and a Wahl Pro Detailer (way narrower T-blade) for some DIY fun projects recently: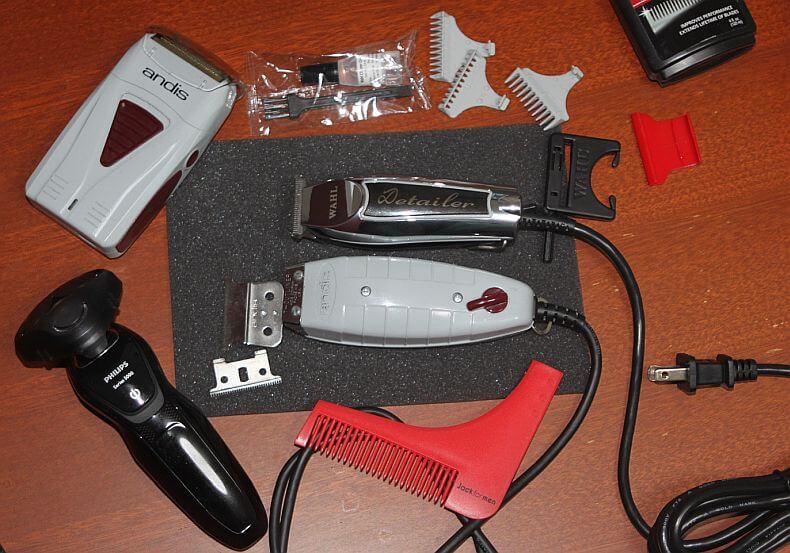 Honestly, you can use any of the 4 models I'll review. They're perfect for all kinds of detailed work! However, their strong points differ and you have to pick what matters the most to you and your art.
Often it's also a good idea to grab, say, two of these – one as the main liner, the other one – a trusty backup machine.
The Best Hair Edgers & Liner Trimmers for Barbers
1. Best hair liners for barbers


Andis T Outliner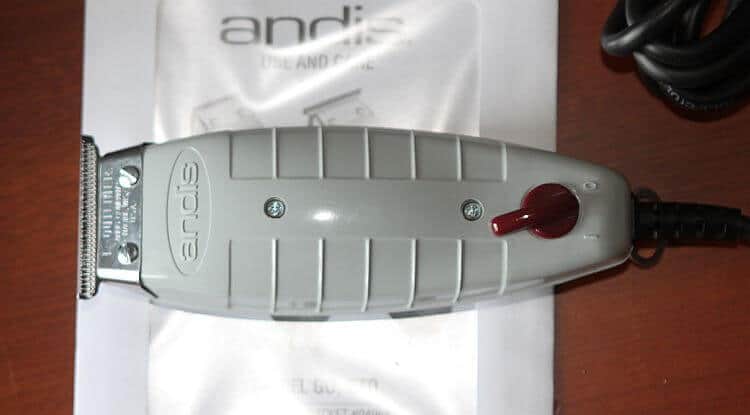 Any surprises? Andis' trademark outliners are any professional's trimmer of choice. Easy to work with due to their 5.5″ and 0.7 lbs, they are quite brilliant for hair lining.
They're definitely the workhorse among trimmers. Every barber knows how durable they are with their plastic polymer body that can takes its share of bumps and bruises. I had a pair of these trimmers that I dropped a few times. Aside from the teeth of the blade breaking once, they were never the worse for it.
However, don't feel limited. You can do anything from lines/edge ups to cleaning your client's necklines or standard beard trimming. A 7200 strokes per minute electromagnetic motor will fuel the exquisite blades with extreme power.
Because of the power you get out of these you have a quick way of trimming the hairline and even beard edging. In fact, for longer beards it is ideal to do a clipper over comb technique to trim down the ends. There are no plastic comb attachments that work on the T Outliner so if you do want to do beard trims it's your only option anyway.
What you'll love here is how gentle they are to dry skin. Sometimes trimmers can be a tad too sharp, thus causing irritation. While maintaining expert precision, the T-Outliner will minimize such risks.
If you want to work with a smaller blade, consider the T-Outliner 2 as we mention in our Outliner review. Keep in mind that it has a square blade, instead of a T-shaped one. It's still great as barber outliners, but it also specializes in gentle edging around the ears.
The bad news? T-Outliners heat up quite a bit. In fact, they get the hottest among the models I've included here.
This is due to the electromagnetic motor that rocks the blades back and forth. Rotary motors are generally stay much cooler. A trick that many barbers do with clippers that get hot is to spray down the blade and body with a cooling spray. This isn't an option with the T Outliner because of the plastic body. It won't cool down quickly enough.
Make sure you cool them and make small breaks so you don't cause inconvenience to your clients. Still, this is the best T blade trimmer for me and I love using it.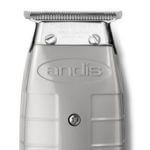 Andis T Outliner

Delivers extreme power but gentle on dry skin
2. Best hair edger for barbers


Wahl 5 star Razor Edger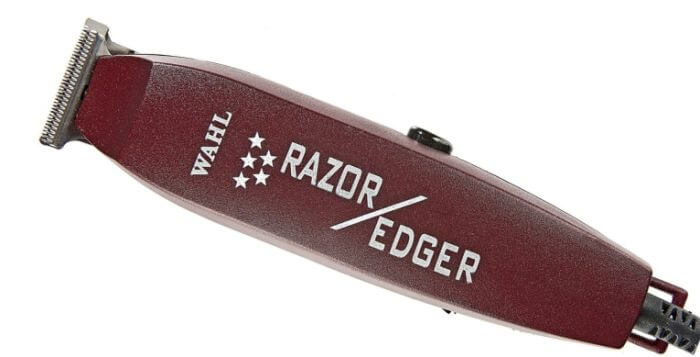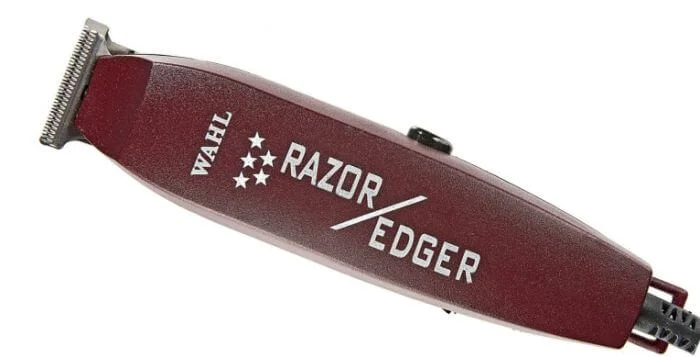 A lot of things can be said about the best hair edgers: Razor Edger vs Wahl Detailer. In my opinion, though, if it's about edging, the 5 star Razor is a bit better.
Sure, at 6.25″, it's a bit longer than the other best hair edgers of its kind. However, its extremely slim design allows for a weight of only 0.6 lbs and great flexibility.
It does sport an ergonomic shape ad fits nicely in the hand. This gives you a lot of maneuverability and allows you greater freedom than the squat shape of the T Outliner.
Similar to the T-Outliner, this fella runs on an electromagnetic motor. It's weaker than Andis' liners. Even though they have the same type of motor, the Wahl doesn't heat up quite as badly or as quickly as the T Outliner. This seems to be an Andis issue that they can't solve with their line of electromagnetic motors. They do have some rotary trimmers, however. However, here you get bonus accessories: 3 T combs (1/16″ to 3/16″) and a blade setting tool, among the oil, brush and blade guard.
Instead of writing more, here's a video of how these best hair edgers perform:
The 5 star Razor Edger is the quietest trimmer from Wahl's product line. In fact, it soars above Andis' models too – which is a very important plus.
The weak point? While good for edge ups, this lean cutter isn't as great as the T Liner or Detailer when it comes to other detailing work, in my opinion. A bit limited, in a way.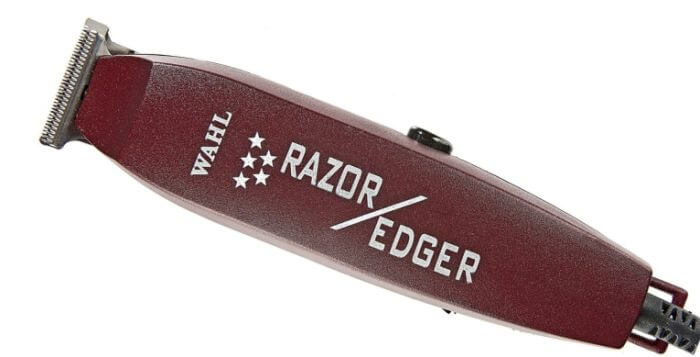 Wahl 5 star Razor Edger

Gives you precision trimming and edging
3. Best all purpose styler


Wahl 5 star Detailer

Wahl's shining star in the trimmer market, the #8081 Detailer comes with a wide blade and seductive body. Seriously, if it's about model design, this is a complete winner.
I recommend this and not the Pro 8290 version we've been experimenting with, though. Reason? The extra wide T-blade (around 1/4″ wider.)
This may not seem like much, but it shaves a lot of time off of your haircuts, literally. This means you can get the haircut done faster without sacrificing any quality. That ¼ inch ends up helping the Detailer pay for itself over time with the fact that you can do a few more haircuts over the course of the year.
Chrome and burgundy beauty aside, the Detailers are also very compact. At 5″ and a mere 0.43 lbs, they're the most convenient lining/all purpose tool you'll find. Talk about aesthetics and functionality!
Once again, you have the benefit of getting a few accessories. Three guides (1/16″, 1/8″ and 1/4″) will wait for you, along with brush, blade guard and clipper oil.
This gives you a lot of versatility as it not only does a great job at edging hairline and beards, but you can also trim the beard down if they like it short. With the accessories you can get a much more even trim than doing the clipper over comb technique if you haven't mastered it.
The big difference is the rotary motor the Detailer runs on. It's not as powerful as the Outliner, but it also helps the trimmer stay cooler. In terms of noise it's on par with Andis' most popular model, unlike the quiet Razor Edger.
When it comes to hair detailing, lining, necklines and others, this machine is a total champion. That's why it's also included in our best barber trimmers list.
There's a catch: it trades its cooler operation and lightweight, stylish body for too sharp blades. In other words, it's a bit more prone to irritating skin if you're not careful.
You shouldn't be using any pressure with any trimmer as the blade should be doing the work.
If you get the Detailer, watch out with the pressure you put when styling your clients. It's not as forgiving as the T-Outliner among the best hairline trimmer options.

Wahl 5 star Detailer

It offers an appealing aesthetic in addition to top-notch precision and function
4. Most quiet liners for hair


Andis Styliner II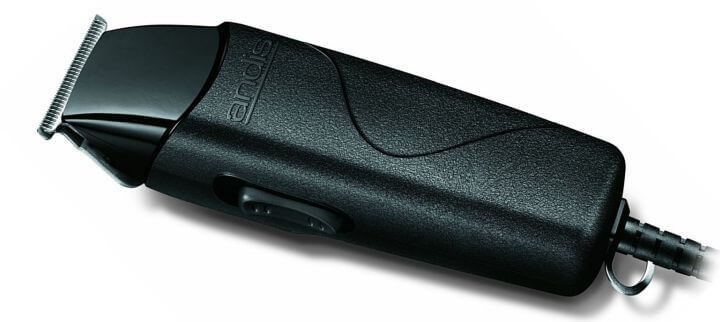 The Styliner 2 won't win design awards with its rather dull-looking 5.75″ body made of black hard plastic. It's also somewhat heavier at 0.8 lbs.
Yet beneath this slightly boring appearance there's the trademark 7200 SPM electromagnetic motor. It promises you smooth and powerful operation, ready to shape some outstanding lines.
Best hair edgers? Hardly, but the Styliner II can perform some decent edge ups/lines and around-the-ear work. Its blade won't be as crisp as a Razor Edger, though.
The biggest selling point of the Styliner trimmer is its ridiculously cool operation. I'm not talking only about the blades – its body also skips on heating as much as the other models do.
A very important point, as no client likes warm blades to their naked skin!
Is there a catch once again? Of course. If you value zero gaps and tinkering around with how the blade is set, bad news. The Styliner II is very hard to customize compared to the other models I listed here. You need to really know what you're doing here.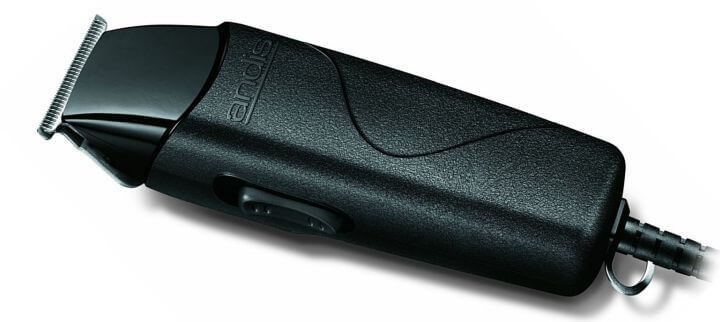 Andis Styliner II

Gives you smooth and powerful operation, ready to shape some outstanding lines
How to do a crisp line up & edge up with clippers
Nailing a really neat lining or edge up involves some practice and dedication to your art as a barber. However, there's some things that you'd better follow.
Start after finishing the haircut/cleaning up
Start detailing after you've finished with the other haircut work. Make sure there is no leftover hair around your client's lining areas. The same applies for products like greases or pomades. You need everything sparkly clean.
Careful with the pressure
As I mentioned, blades can be pretty sharp. If you apply too much pressure, you risk skin irritation and leaving red marks on your client's skin.
Pick a starting point
Some people start from the sides, others at the middle of the hairline. For most barbers, the middle is the preferred spot. Your hair liners or edger trimmers should be put horizontally to the hairline. You'll make vertical motions when you get to the sides.
From these basics on it gets a little bit more complicated. I believe a video is worth a thousand words, so check how glorious ADTheBarber does his kickass lineup art:
If you're interested in other aspects of the art of barbering, remember to see if you have ticked all of the
barber tools
in any stylist's must-have items.
Edge ups are a special source of pride for the masterful black barbers so be sure to use only the best hair edgers and best hair liners . Check our list of the best clippers for black men's hair if you're interested in general haircutting advice.
I'm an outdoor enthusiast and have sported a full beard since I was in my early 20's. Originally, growing a beard was a way to save time when getting ready each day, but I quickly realized that keeping a neatly trimmed beard takes work and some forethought. That's where this site comes in.
You get to benefit from my years of experience. I've reviewed many of the top hair clippers on the market today and also included some information on what works best for me. A great beard will turn lots of heads in your direction.
Since I never know when I'm going to find myself being photographed, whether it's climbing in Yosemite, or playing volleyball on the beach, it's important to me to always look my very best. Maintaining my beard is part of my daily routine and I hope you'll find some useful tips and information on this site to help you on your journey.