Looking for an awesome DIY home haircut, you've decided to take your hair in your hands. Or, you're a black barber just starting the big hustle and ready to conquer the hairstyling world.
Here's the catch, though: some hair clippers sometimes work better on specific types of hair.
It's not only about the blades properly gliding through your coarse or curly hair. It's about caring about that scalp, reducing the risk of bumps, and other points to consider when cutting black men's hair.
For a barber-grade, heavy-duty clipper: Andis Master is the standard. However, it requires some skill and maintenance.
If you want convenience and cordless action: Wahl 5 star Magic Clip is your best clippers for black men's hair pick.
In case you want a trimmer: I can't recommend my Andis T-Outliner enough: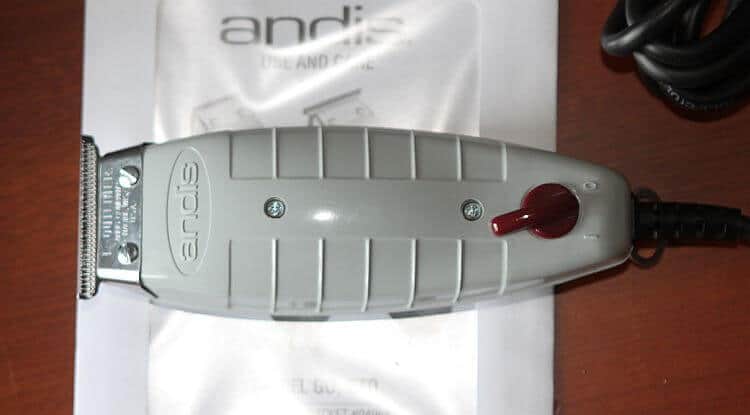 Still, both me and Ryan advise you to go through the whole list with the best clippers for black men's hair and the most popular black men trimmer. Happy hunting!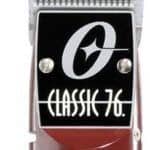 Oster Classic 76

Single speed motor

Motor power:
★★★★★

Blades:
★★★★★

Easy to use:
★★★½

Price: $$$+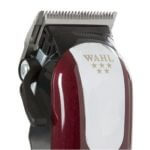 Wahl 5 Star Magic Clip (Cordless)

Wahl rotary motor

Motor power:
★★★★

Blades:
★★★★½

Easy to use:
★★★★½

Price: $$+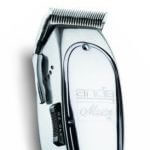 Andis Master

Electromagnetic motor 14,000 SPM

Motor power:
★★★★★

Blades:
★★★★★

Easy to use:
★★★★

Price: $$$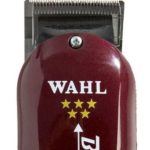 Wahl 5 Star Balding

Electromagnetic motor V5000

Motor power:
★★★★

Blades:
★★★★★

Easy to use:
★★★½

Price: $$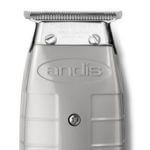 Andis T Outliner

Electromagnetic motor

Motor power:
★★★★

Blades:
★★★★

Easy to use:
★★★★

Price: $$
Important points that decide what are the best clippers for black hair & black males:
Quality blades that go through coarse or thicker hair types
A strong electromagnetic or rotary motor to "fuel" the blades
Clippers that are more gentle to the scalp, thus reducing dreaded bumps
Ready for both home use or professional work
Top pick best clippers for black men's hair:
1. Andis Master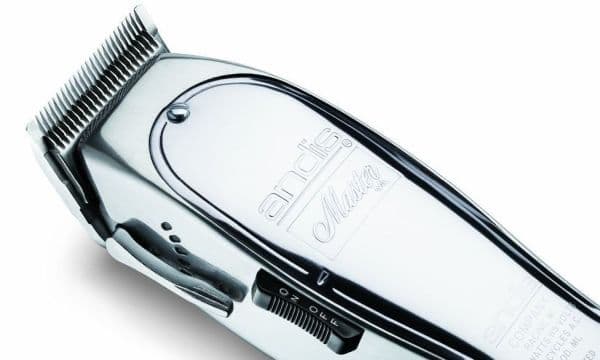 Andis Master is the trademark clipper of a brand with over 80 years of history. This fact should speak volumes to you.
The first thing you'll recognize with this clipper is its outstanding design and polished looks. The Master features an aluminum body that is virtually unbreakable. It's the toughest among all clippers for African American hair. Even if this machine happens to slip from your hands, it shouldn't suffer any damage.
What matters more are the hair cutter's blades. Made of carbon-coated stainless steel, they cut through black hair easily. You get quick, quality haircuts without the need to repeatedly go over the same spot.
All that action is powered by Andis' premium electromagnetic motor, performing at 14,000 strokes per minute. Precise in their cuts, the blades shouldn't cause you the dreaded irritations and bumps.
Aside from being the best clippers for black males among our other contestants, the Andis Master has another specialty. It's among the best fading clippers too. As its blades are adjustable (#000 to #1), you can perform high quality fades. The adjusting side lever has the most spectacular range among current barber clippers.
Its significant downside is that it's a bit heavy and tends to get hot. Longer haircuts might call for some breaks or using some blade wash to cool it off. Nevertheless, the Master leads the best clippers for black hair in our list.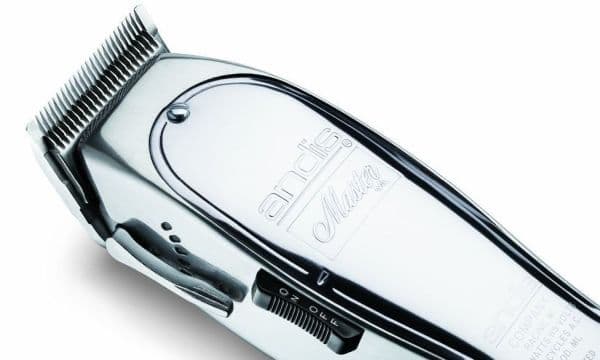 Andis Master

Get a heavy-duty clipper designed for prolonged use and tough hair cutting jobs
Best cordless hair clippers for black men:
Wahl 5 star Magic Clip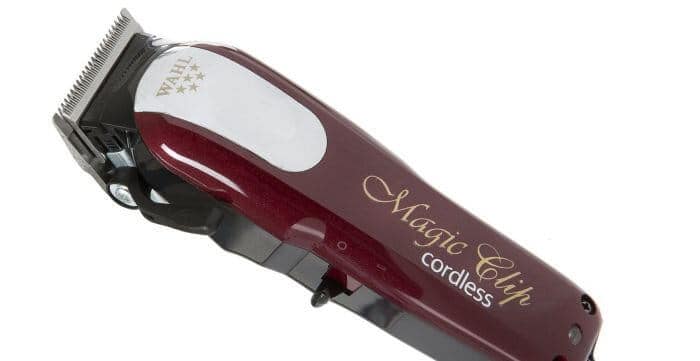 Some say Wahl is the best brand of hair clippers for black men. I'd rather say this depends on models, not brands. And when it comes to Wahl professional clippers, the 5 star Magic Clip is top quality. It's also rather gentle so you can expect less after-buzzcut bumps with it.
This Wahl hair cutter combines extreme power with the benefit of it being cordless. You can get flexible, convenient haircuts, all powered by a rotary motor. If you don't know what's that – the rotary motor features the best balance between speed and power.
The Magic Clip's secret lies in a one-of-a-kind stagger tooth crunch blade. Once again great for fades, it's specifically designed to take proper care of ethnic hair too.
You'll get accurate, crisp cuts, even if you have a lot of hair you want to shave off. A side lever will help you out in adjusting the length. While not as flexible as the Master's one, it still does a great job.
The Wahl 5 star cordless Magic Clip is also extremely lightweight despite being a barber hair clipper.
Its Lithium-ion battery guarantees you close to 90 minutes of cordless mode – a record in itself. You also receive a diverse set of clipper guards from sizes #1 to #8 (#7 excluded), #1/2 and #1 1/2.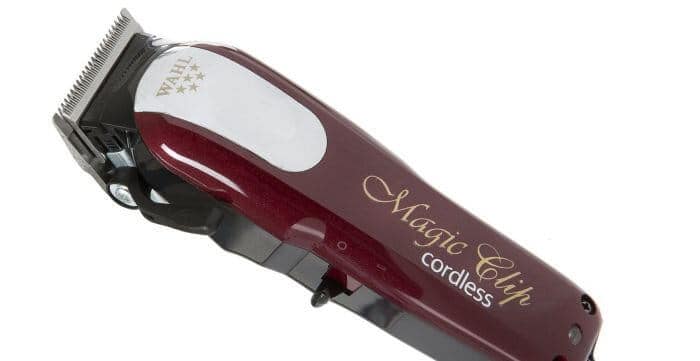 Wahl 5 star Magic Clip

Get a Cord/Cordless Magic Clip is intended for professional use only and is designed to deliver the sharp performance that experts demand with the freedom of a cordless clipper
Best barber black hair clippers:
Oster classic 76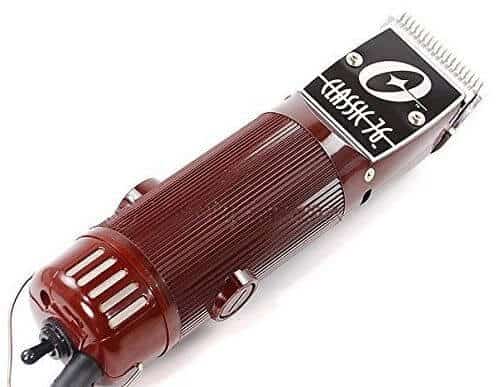 Are you ready for a true barber clippers experience? The Oster classic 76 professional hair clipper is the most powerful contender in our list. This is a heavy-duty, ultra performance hair cutter with a single speed universal motor.
Oster 76 comes with detachable blades, unlike the other hair clippers for black men I'm presenting to you here. They are tested in freezing temperatures to ensure their toughness and sharpness.
Pure quality steel, able to withstand all kinds of conditions. No other hair cutter will go through your hair like these.
Similar to the Andis Master clipper, the Oster classic 76 haircutting machine is wrapped in a durable, break-resistant case. The model's design is outstanding: in line with decade-long traditions among American barbers.
Oster don't have as many clippers on the market as Andis or Wahl, but their products have an outstanding vintage vibe to them. My colleague Ryan thinks of the 76 as the "Harley-Davidson of hair clippers".
What I should warn you, though, is that they are a set of Oster barber clippers. They might be a bit tough nut to crack in the beginning. Similar to the Andis, their powerful motor and blade speed lead to some problems with the hair cutter overheating at one point.
Though I am a big Oster clippers guy, I have to admit that I don't do a ton of skin fades in the shop where I work. If I did then this would not be my primary clipper. I would definitely keep these as my secondary set though as they are great at bulk cutting and can handle regular cuts like a champ.
For bald fades you need to go with an adjustable blade rather than detachable blade system like with Oster.
If you climb the learning curve, though, you'll enjoy the power of a truly barber-grade machine.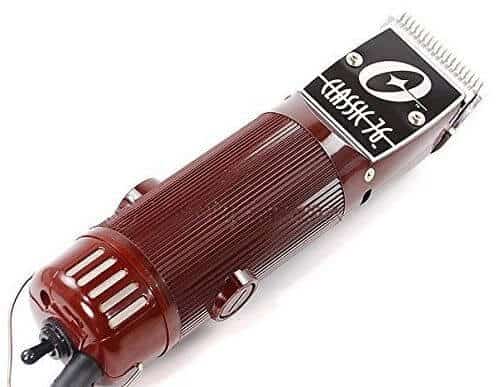 Oster classic 76

Ergonomic design reduces fatigue.. Heavy-duty hair cutting. Useful hanging loop
Best hair trimmer for black men's hair:


Andis T-Outliner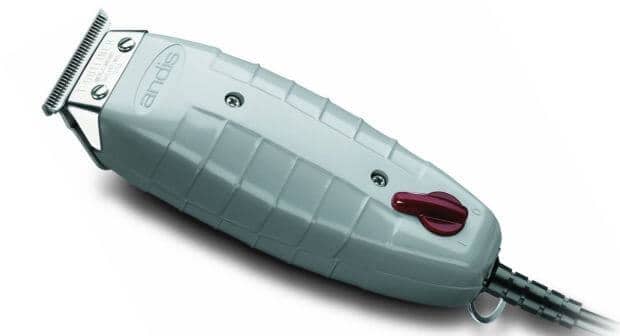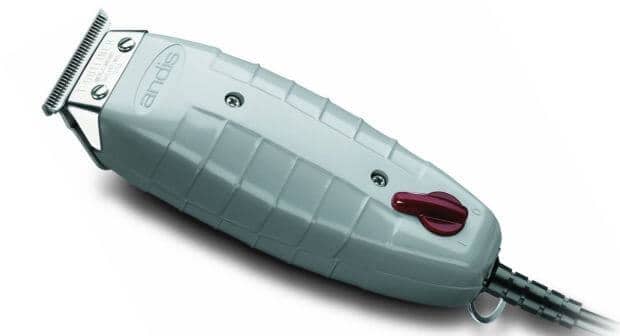 Andis T-Outliner

The fine-cutting teeth allow for extremely close cutting that is ideal for fades and design work
What about balding clippers for black men?
All of the models I recommended you deliver high quality, close and accurate cuts. However, if you're looking for the best balding clippers for shaving your head completely, they won't do. You need a set of clippers with an extremely close-cutting blade.
Top choice balding clippers for black men:
Wahl Balding clipper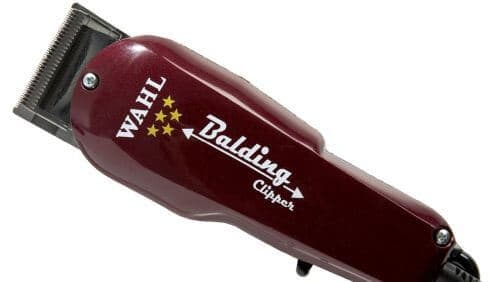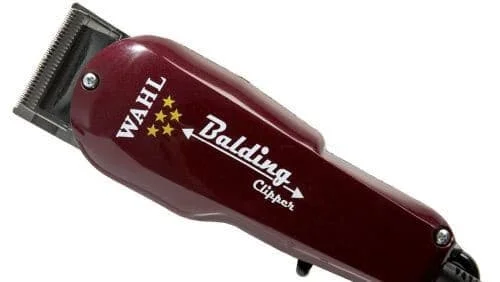 No doubt, the most popular choice for the best balding clippers for black men would be Wahl's 5 star Balding clipper. No other cutter will get as close as this model's surgically close blade. It will cut your hair to a mere 0.1mm. You wouldn't even call that a stubble.
What's even better is that the Balding clipper cuts extremely even. The precision will take proper care of the smoothness of your scalp. Nobody likes uneven patches, especially when they will stand out so much from the bald spots.
You've got one more good reason to get this balding clipper for black men: its price. This model fits right into the mid-budget hair cutters and is the most wallet-friendly professional clipper for black hair you can get.
Don't worry about compromise on power and quality – you'll get both with a V5000 motor and the 5 star Balding's sturdy design and body parts.
Here's the catch: you have to be quite careful here. The surgical Wahl blades are extremely sharp and you can nick your scalp. Bumps are one thing, a bleeding bald head is a completely different story.
You should always go slowly and with cautious, smooth movements over your soon-to-be-perfectly-shiny head.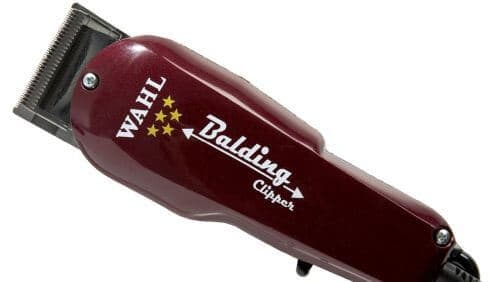 Wahl Balding clipper

Get the cleanest bald fades with this unique clipper by Wahl Professional!
Easy to maintain & gentler balding clipper
Philips Norelco 5580/40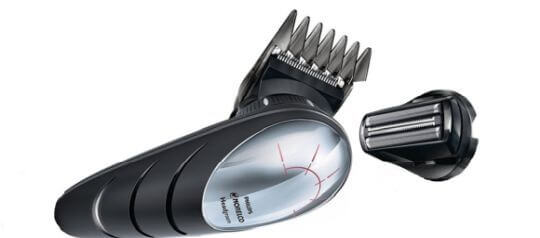 If you're looking for an easier, simpler and overall safer option, Norelco 5580/40 is the balding clipper for black men you need. This Philips do it yourself clipper comes with close-cutting, self-sharpening steel blades. Its balder head attachment is what will interest you the most for sure.
The Norelco 5580/40 clipper will net you a smoother shaving experience. First of all, it's cordless with a battery charge of 60 minutes. Second, while sharp, its blades won't be as risky as the Wahl Balding cutter.
Third, all of its parts are washable. Even a small stubble can clog things in a hair cutter. Usually cleaning hair clippers is a major pain, but not with this Philips model.
To add to this, the Norelco balding clipper for black men is quite lightweight and really compact. If you decide to (or can) rock a longer cut or a buzz cut, its convenient 14-length built-in adjustment will come in handy. It's also relatively mild on sensitive skin and will help with your bump-related issues.
Of course, a balding clipper for black hair like this does come with its price, literally. This is a pricier alternative that might extend beyond your intended budget.
In addition, its motor power is inferior to the Wahl model. The Norelco 5580/40 is also not as sturdy and won't really cut that close as the 5 star Balding clipper.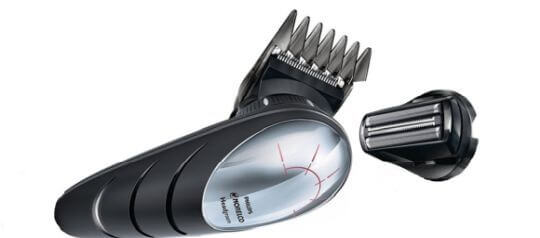 Philips Norelco 5580/40

Quickly and conveniently cut your own hair or shave your head
Feeling like trying another set of balding clippers? You can check our recommendations for the
best clippers for bald men
and see if other models don't seem more appealing to you.
Andis Fade Master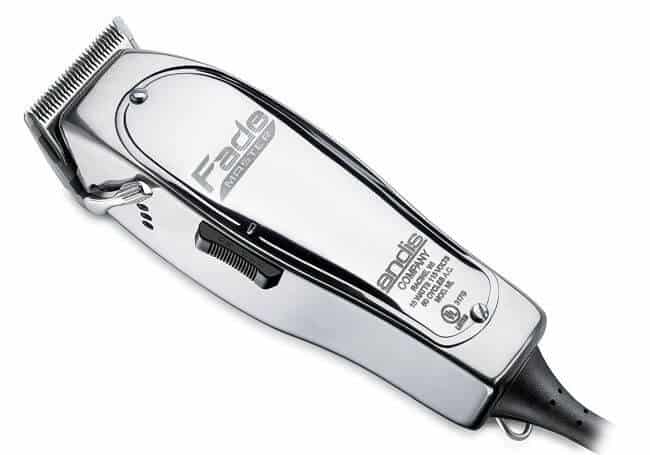 If you work in a shop where you plan to do a lot of bald
fades
, or even if you need to use them at home, then the Fade Master is one of your best bets.
Yes, it looks like the Master and they both work great on African American hair but for fades, the Fade Master lives up to its name.
The biggest difference is the blade. It goes from the open position at #000 to a closed at #00000. Where the Master starts at #0 and goes to #000. The five 0 is about as close to the skin as you can get. You'll barely see or feel any stubble whereas the Master will leave more then 5 o'clock shadow.
Other than that, there are way more similarities than differences.
As overheating is common among Andis clippers, it is no different. In fact, it may even be more susceptible to getting hot since a bald fade can take a lot of time. You may want to use the Fade Master to just do the bottom of the fade and use another clipper for the top or the crown to keep your hands comfortable. And your customer since the blade also gets hot and can drag against the skin when it is too warm.
Another benefit to using it though is that it is very lightweight so it won't cause hand fatigue as you get later in the day.
Taking care of your clippers for black hair
No matter which of our recommended best clippers for African American hair you choose, you should know something:
You absolutely need to take hair of your hair clipper blades.
Clipper blades can be a fickle mistress. Once you neglect them for a while, they might refuse delivering the great haircut you had in mind. While maintenance varies across models, oiling your hair clipper blades every few times is a good practice to follow.
Always wipe away any hair from the blade both before and after the haircut. There is a lot of acidity in hair which causes your blade to get dull if it sits there for too long. And when the blade gets dull, it is uncomfortable for the customer and will also put a strain on the motor.
This will cause you to lose years from your clipper as the motor and parts will start to wear out faster. Which loses you money.
Then you're also losing money when your clippers are slow. It takes longer to do a haircut since you are always going over the same spot multiple times. This also loses you money. Taking a few minutes per day to keep your gear clean is as economical as it gets.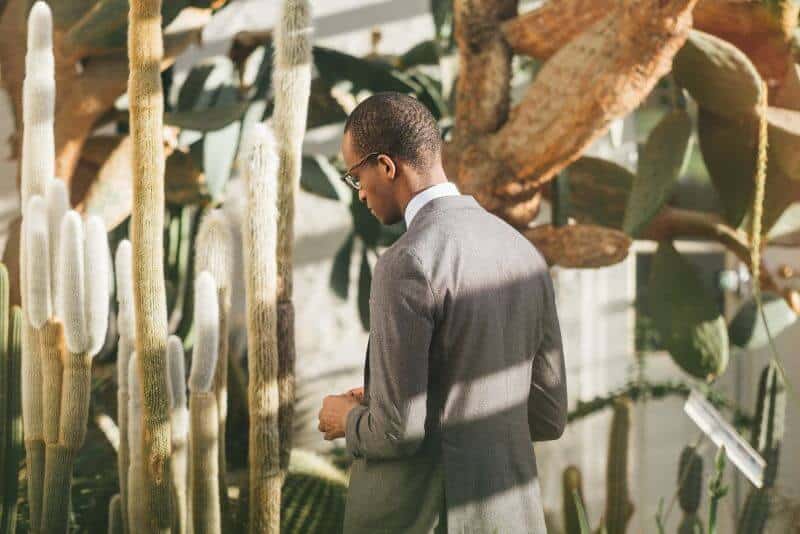 Think about it. You'll be investing quite a few bucks in a quality hair cutting machine. It has the potential to serve you a long, long time. Why ruin that?
If you're not sure how to maintain your best clippers for black men's hair, just follow our guide and have your hair cutting machine last longer.
 In case you have problems with razor bumps or skin irritation when shaving/trimming yourself, fret not when buying the best clippers for black men's hair. We also have some tips that might help you in our guide to bump prevention.
If you have any questions about these clippers or any others then just leave a comment in the box below and we will get back to you ASAP! Don't forget that we are here to help.
I'm an outdoor enthusiast and have sported a full beard since I was in my early 20's. Originally, growing a beard was a way to save time when getting ready each day, but I quickly realized that keeping a neatly trimmed beard takes work and some forethought. That's where this site comes in.
You get to benefit from my years of experience. I've reviewed many of the top hair clippers on the market today and also included some information on what works best for me. A great beard will turn lots of heads in your direction.
Since I never know when I'm going to find myself being photographed, whether it's climbing in Yosemite, or playing volleyball on the beach, it's important to me to always look my very best. Maintaining my beard is part of my daily routine and I hope you'll find some useful tips and information on this site to help you on your journey.