Andis Professional Barber Combo Review
Ah, Andis. A brand that's like a cult for many barbers.
I think I've seen more stylists sticking to Andis T-Outliner than any other hair trimmer.
Speaking of which, here we have a very interesting duo. Andis barber combo pairs you quite the interesting duo of a clipper + trimmer.
Given the lucrative price, are we really looking at high quality?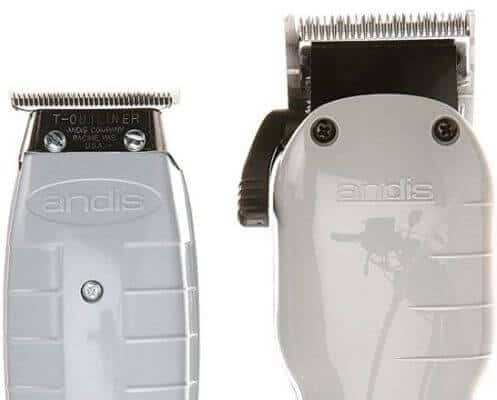 Or is there a catch? That's just what I'm about to uncover with an extensive Andis professional barber combo review.
Overview of Andis professional barber combo
Instead of dissecting the kit, I'll list some good and bad things about Andis barber combo as a whole. In the review below, I'll get to the details separately.
| You'll love it for these | But you won't like these |
| --- | --- |
| Andis grade magnetic motors | |
| | |
| Very comfortable hanger loop | |
| | Suffers from the "package deal" phenomenon |
| | |
Andis professional barber combo – a barber's Santa gift?
Did I mention you can easily be your own barber when you cut your hair with clippers? Andis might slap the term "professional" here, but casual users can benefit from this kit just as much.
OK, so what is in the gift box exactly?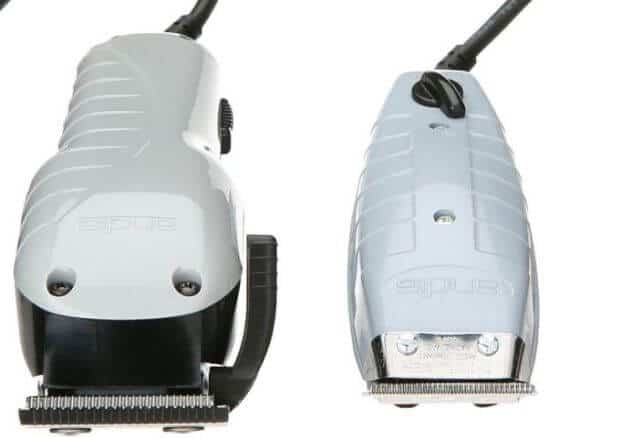 We have an adjustable blade clipper and a T-Outliner blade trimmer that cuts joyfully close. As a part of the deal you also fetch a great deal of attachments (size 1/8″ to 1″ and 1/16″ to 3/8″).
The duo comes equipped with the standard branded magnetic motors the company is famous for. The trimmer ditches pure stainless-steel blades and improves on them – you've got carbon-coated steel here. As you can guess, this means better performance and overall strength.
How close is too close with this Andis T-blade trimmer, you might ask? Combs put aside, you can actually zero gap it for that ultimate close cut.
I really think Andis have the most easily zero-gapped hair cutters or trimmers…or is it just me? Even without zero-gapping it, the T-Blade trimmer blade chops close enough. In other words, be sure to test it out before trying anything radical.
A duo that gives you some versatility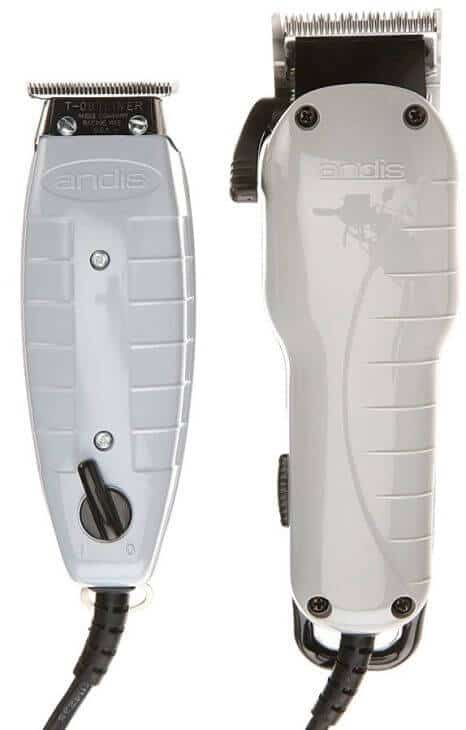 If you're into obsessive linings or seek to land that perfect fade, I've got good news. Paired with Andis T-Blade trimmer, the electric clipper adds for a pretty great sinergy.
Some of their drawbacks put aside, Andis hair trimmers are always proficient in giving fantastic fading results.
I almost forgot – remember to play around with the adjustable blade of the bigger hair clipper. You'll notice the single lever on its side – this enables you to switch from a 000 to 1 and vice versa.
Both Andis and Wahl implement these adjusting levers in a classic manner. I miss them whenever a clipper model lacks such a feature.
Pretty good bang for your buck
A very strong selling point for Andis professional barber combo is the kit's lucrative price.
You're effectively getting a good quality T-Blade trimmer and corded clipper for not that much above the standalone price for Andis T-outliner trimmer.
To add an icing on the cake, you're getting a very cozy hanger loop on the clipper. Design extra points aside (I love them!), this is pretty handy when it comes to storing a hair cutter.
So where's the catch with Andis professional barber combo?
It does sound a bit too good, right? But with this Andis professional barber combo review, I want to be honest as possible. As with any clipper, and any deals, the professional combo has a few under-the-surface details I'd like to talk about.
First things first – the plastic attachments. They aren't as bad as what you would see with some Philps Norelco series for example. Yet they could be a tad better. What I suggest you do, if you're as sensitive as me, is to fetch the Andis Nano magnetic guards. These are, undoubtedly, the best thing to slap onto your hair cutting machine. Especially when it's made by Andis! An ex-colleague of mine used them on his Oster Fast Feed clipper.
Suffering from the "package deal" phenomenon
You know this one: you get a package for a great price…Because the products contained are a liiitle bit behind their usual counterparts.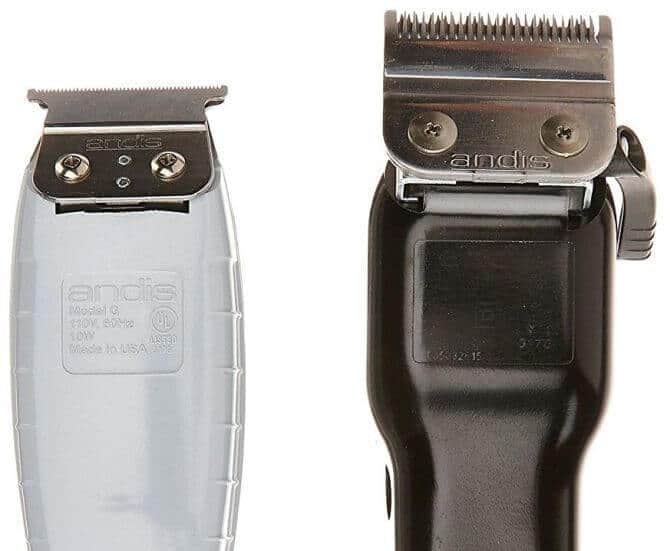 Let's take the T-Blade trimmer included in the Andis professional barber combo, for example. Is it a pretty well-functioning Andis trimmer? Sure it is, it does the job pretty well. Is it comparable to Andis T-outliner trimmer? Similar design aside, not much. "Pales in comparison" would be an exaggeration, but the T-Blade hair trimmer here doesn't pack as much punch as the T-outliner.
Same applies for those of you who have noticed something specific about some Andis hair clipper models.
For example, the Andis Master has some notches that hold the adjustable blade. In this way, you get it in a firm position, no matter how much the Master vibrates. You won't find these notches with the clipper from the Andis professional barber combo – and it does vibrate.
What else is Andis Master great at?
I have to mention in this Andis professional barber combo review that the hair cutter also feels heavy and tends to get hot. However, safe from the exquisite ceramic piece of art called Andis BGRc, Andis clippers are like that. Same as many of Oster's models.
The reason? Both brands extensively specialize in professional barber hair clippers. And you won't find a professional hair cutter that doesn't make you feel its weight or skips on the heating process.
Final verdict
I might have inserted a bit of negativity towards the end of this Andis professional barber combo review, but don't get me wrong. For the price, you're getting a pretty sweet deal.
Some flaws aside, the kit is what any casual person who wants to cut his own hair at home would love to have. Same applies for aspiring professionals (but maybe not established ones).
I just think that the separate Andis products – despite the higher price, outshine what you get here. Keep in mind that I'm used to more luxurious hair clipper choices due to my previous background. If you're not that much of a hair cutter snob, you probably won't feel that much of a difference.
Even a "discounted" Andis quality is still Andis quality. This is a name that carries some significant weight – with a darn good reason!