Updated on November 5. Read below for general specifications!
This year's biggest piece of news in the barbering world is here, guys and girls:
We're getting a 5 star Wahl Cordless Senior!
My god is that going to be glorious.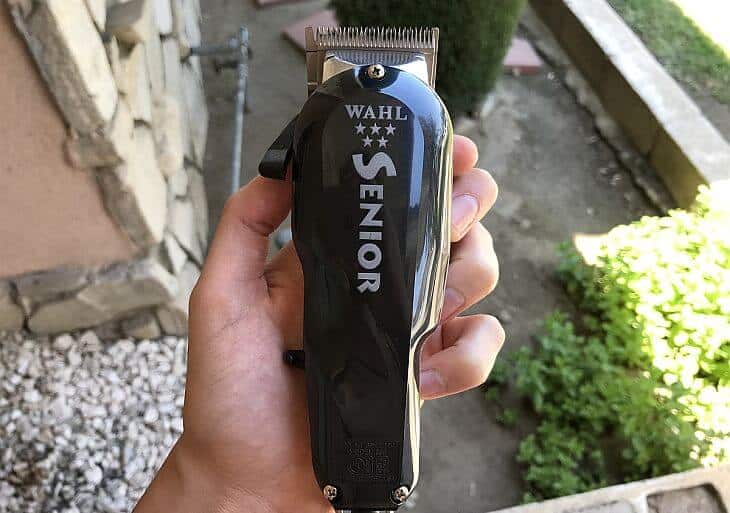 However, there's also been some lack of information surrounding the Wahl 5 star CORDLESS Senior. I know you're as impatient as me, so here's what me and Ryan gathered.
When will the Wahl's 5 Star Cordless Senior be in stock? What about the price?
It's already in stock in the UK, Japan and other markets. On Wahl Japan it's around 26 000 yen or roughly $220. Distributors in the UK list it for around 150 pounds.
Some bad news for the good ol' USA:
We probably won't see the cordless 5 star Seniors hitting the US this year.
On their official Facebook page, Wahl elaborated that they "have no immediate plans." The Seniors will be released in foreign markets (starting with the UK) which don't have access to the regular 5 star Senior due to the higher voltage.
Effectively, this means we might need to wait until 2018 to get our hands on a US-version of them.
Also, we're not really sure what will be the US price. Judging from the mean price seen so far, it probably will hover around $200, but this is only our personal speculation.
(Below: me, wondering whether the blades of the new Senior will differ from my #2191 fade blade.)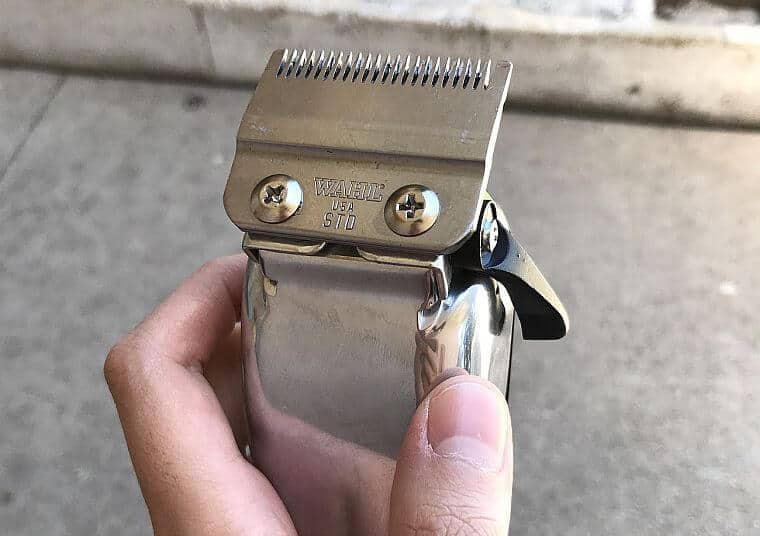 What will be the core specifications of the Cordless 5 star Senior?
Update: Wahl have released the official specifications of the Cordless Senior.
Battery: The cordless Seniors run on a Lithium-ion battery that holds a 70-minute charge. It'll need 70 minutes to recharge fully.
That's quite comparable to the Seniors' main rival from the Wahl line: the cordless 5 star Magic Clips.
Blade: We have an "adjustable thin profile blade with a flat bottom", controlled by the trademark Wahl lever.
It should comes with zero overlap. We're not sure whether this is actually a #2191 fade blade like the corded 5 star Seniors or something different.
Motor: Here's the catch – all we know is the buzzword "powerful". Is that going to be the first V9000 motor in a cordless clipper from Wahl's 5 star line?
Both the Sterling 4 and Magic Clip cordless run on rotaries. If the Senior has a V9000, will it be more powerful? Or maybe not?
Note: One of our readers pointed out that a rotary motor would be a better idea given the Lithium Ion battery. His assumption is that the rotary has been tweaked for more RPM. Gotta say this makes sense!
Combs: Inarguably, the biggest difference!
The Wahl 5 star CORDLESS Senior comes with Wahl's premium metal guards! At last something aside the Wahl Elite Pro gets the proper Wahl guard treatment!
The model comes with 10 combs (#1 to #8, with #1/2 and #1 ½ included too.) Complementary accessories are a flat top comb, brush and oil.
Body: The Wahl 5 star CORDLESS Senior is a bit slimmer than the regular ones. It's also way more lightweight at only 0.8lbs!
It keeps the durable aluminum metal bottom housing, with black plastic on top. An important highlight is the finger rest.
Unlike the Magic Clips (frontal finger rest), it's moved to the left side of the clipper.
Wait in anticipation if you're in the US too!
I'm really eager to see how this performs against the 5 star corded Senior in the long run. It's no secret the regular Seniors can get a bit heavy.
Judging from the slim design, the cordless will provide not only flexibility, but a more lightweight feel for those of us who prefer that.
I mentioned being curious how the new Seniors will benchmark against the cordless Magic Clip. The latter has become a barber's favorite, definitely.
Here's what Jack the Snipper has to say on these two Wahl beasts:
I'm an outdoor enthusiast and have sported a full beard since I was in my early 20's. Originally, growing a beard was a way to save time when getting ready each day, but I quickly realized that keeping a neatly trimmed beard takes work and some forethought. That's where this site comes in.
You get to benefit from my years of experience. I've reviewed many of the top hair clippers on the market today and also included some information on what works best for me. A great beard will turn lots of heads in your direction.
Since I never know when I'm going to find myself being photographed, whether it's climbing in Yosemite, or playing volleyball on the beach, it's important to me to always look my very best. Maintaining my beard is part of my daily routine and I hope you'll find some useful tips and information on this site to help you on your journey.