Are you looking to get into cutting your own hair with a pair of well-rounded clippers? You need to check out this Oster fast feed review.
Can't decide whether you want to be more casual or take a leap into the more "pro" hair cutters?
Would prefer something that doesn't heat too much and cuts back on noise levels?
There's a high chance your preferences align with what the Oster Fast Feed offers. While as I barber I prefer their bigger brother, the Oster 76, I can't deny a simple fact:
These are one of the best medium-budget hair clippers on the market currently.
Join me for a thorough, balanced Oster Fast Feed review. Its purpose would be to let you know whether indeed this is the hair cutter you've been looking for.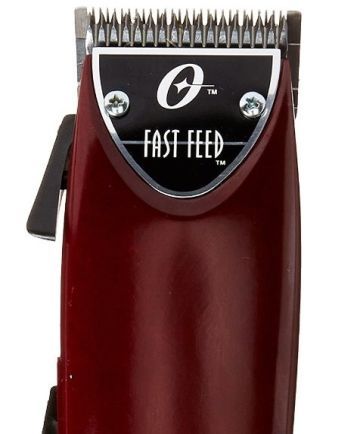 Overview of Oster Fast Feed
| You'll love it for these | But you won't like these |
| --- | --- |
| Great value for its average price | |
| Stays rather quiet & cool | Not great for bulk cutting |
| Quality carbonized stainless steel blades | |
| | Can't be used as balding clipper |
| | |
Getting to know the Fast Feed clipper
A lot can be said about these clippers in this particular Oster fast feed review. Let's start with the usual: they weigh the standard 1 lbs. Considering their output, this is just the right weight – you have a professional hair cutter here. Fast Feeds stick to the basics of Oster's product line: vintage looks in a classy burgundy color that leans on the darker side. The cord is also pretty solid and of high quality: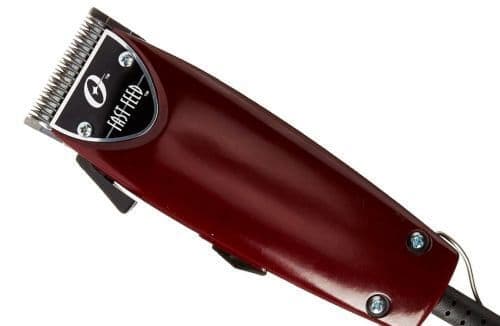 You'll receive three combs (1/4″, 3/8″ and 1/2″) with the set, all along with a blending comb that's nifty for fading action. Of course, Oster have prepared the usual maintenance kit – cleaning brush, blade guard and a little tube of clipper oil too.
Note: 
If you want to get all 8 guards, there's also Fast Feeds with the whole kit included
on Amazon.com
. I'll talk about the guards a bit later. First, I want to focus on the sexiness of the Fast Feeds. That's right, I just used the word "sexy" for a set of Oster hair clippers. Here's why:
Fast Feed clippers have a very comfortable grip due to their shape and quality of the material.
Unlike many other barber hair cutters, they stay cooler for longer periods of time.
They're quiet. You can enjoy your blissful moments of buzzing without a machine roaring in your ears.
Three extremely important points and three wins for this model, which you should take into account. Furthermore, even when the Feeds get hotter, they will be warm instead of the more sizzling heat you might experience with some heavy-duty models. These Oster clippers are quite versatile in their use. Let me talk about their blades so you understand their possible applications better.
Oster Fast Feed blades & applications
First things first: this is an adjustable blade clipper. In other words, you use a side lever to control the cutting length of the Fast Feed blades. The same as standard adjustable hair clippers, this model lets you go from #000 to #1. This means you adjust from 1/50″ to 3/32″ as we explain in our extensive
guide on clipper sizes
. Take a look at the blades: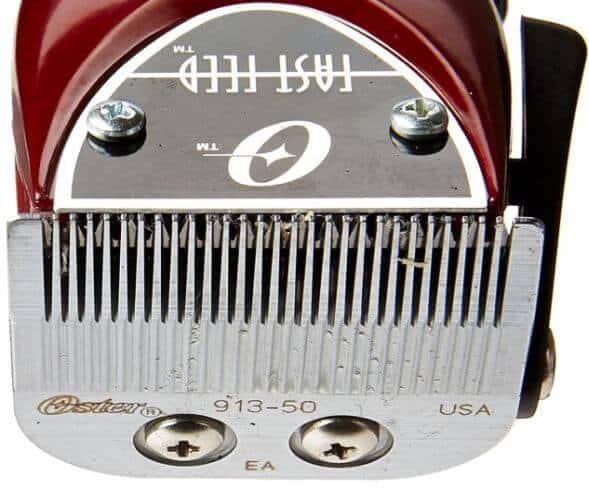 Looks quite sharp and sturdy, right? Because it is. Oster tend to put their clipper blades through very harsh cold conditions, cryogenically testing them. This means the stainless steel, carbonized blade becomes even sharper and lasts for a longer period of time. The black lever on the side is the exact same "arm" you'll use to adjust the cutting length. You'll also notice that the spacing between the teeth. This is what makes the Fast Feeds quite adept at cutting coarse and thick hair properly. The blade quality is one of the reasons we've included this Oster clipper in our list of the
best fading clippers
. Don't doubt its versatility, though – its quiet and cool operation makes it quite the amazing clipper for beginners and home users too. At the same time, the Fast Feeds aren't great for bulk cutting. I suggest you reserve them as a sidekick to heavy-duty clippers like the Oster 76, Wahl Senior or Andis Master if you plan on cutting volumes of hair. While the pivot motor of the 76023-510 Fast Feed clippers is powerful enough, it's no match for a Seniors motor or the capabilities of the Classic 76. And without a very powerful motor to "feed" the clipper, bulk cutting will be a bit difficult.
Various designs to pick from
If you want to stand out from the rest, the Oster Fast Feed clipper comes in many variations. You have eye-candies like famous Woodgrain Fast Feeds, Snake skin or Driftwood customized clippers…And of course, you have my favorite: the Oster Fast Feed Club Tattoo version: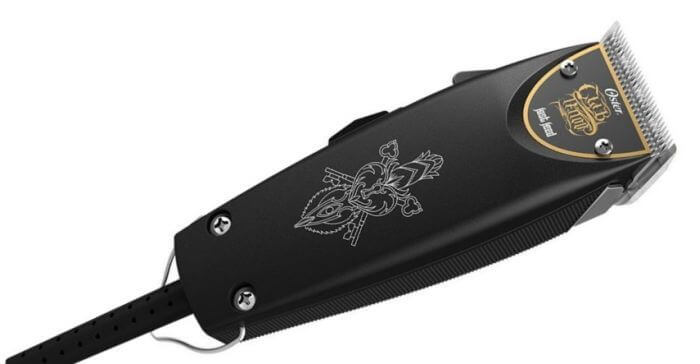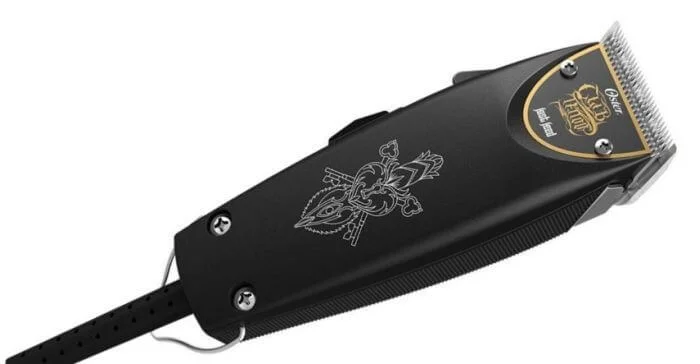 Close, but no cigar: the Oste

r Fast Feed guards
The Fast Feed comes with a few hair clipper guards included, as I mentioned. And that's great!
However, their quality, at least when compared with the other pieces of this hair cutter, are…well, disappointing.
What I would advise you to do is to get the double Andis Nano magnetic guards. They're fully compatible with the model and will improve your haircuts and the Feeds' performance as a whole.
You can get either the smaller #0 to #4 Nano guards (1/16″ to 1/2″) or the bigger #5 to #8 ones (5/8″ to 1″.) With their magnetic mechanism, they won't feel flimsy, will fit to the blade more secure, and simply make your life easier.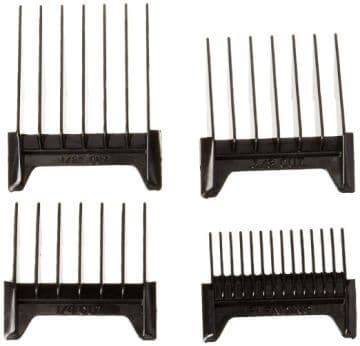 Not the balding clipper you're looking for
For people looking to nail the slick bald looks, the Fast Feed clippers won't quite suit you. As with bulk cutting that got mentioned before, serving as a balding clipper simply isn't one of this Oster cutter's purposes. I suggest you head to the
best balding clippers
list we've prepared for you and take your pick from the haircutting machines presented there.
If you're a casual user who wants to touch on a semi-pro territory, this is one of the best hair clippers for you.
It's ergonomic, quiet, doesn't heat too much and will get that buzzcut you want to land right. 
For barbers starting out, this is a great tool for beginners. Just remember to get something more heavy-duty ready as your main bulk hair cutter.
In this Oster fast feed review, I assure you. You'll be more than delighted by one of the medium-budget market kings. You just have to know its boundaries.
Good points
Quality blades
Quiet & stays cool
Easy to use
Great cord & ergonomics
Good for budgets
Bad points
Guards don't live up to expectations
Can't use it as balding clipper out of the box
On/Off switch
Not a bulk hair cutter
I'm an outdoor enthusiast and have sported a full beard since I was in my early 20's. Originally, growing a beard was a way to save time when getting ready each day, but I quickly realized that keeping a neatly trimmed beard takes work and some forethought. That's where this site comes in.
You get to benefit from my years of experience. I've reviewed many of the top hair clippers on the market today and also included some information on what works best for me. A great beard will turn lots of heads in your direction.
Since I never know when I'm going to find myself being photographed, whether it's climbing in Yosemite, or playing volleyball on the beach, it's important to me to always look my very best. Maintaining my beard is part of my daily routine and I hope you'll find some useful tips and information on this site to help you on your journey.