A part of Wahl's premium 5 star series, the Wahl 5 star Legend clipper is a very potent hair cutter.
Some people tend to call it the "Wahl Senior for beginners".
Priced cheaper than other barber clippers, the Legend is a very wise pro choice for people just starting out. It's also lighter than other pro tools.
You'll be surprised to find how much of a punch it actually packs, even compared with more high-end models.
Let's examine this model closer in an extensive Wahl Legend review.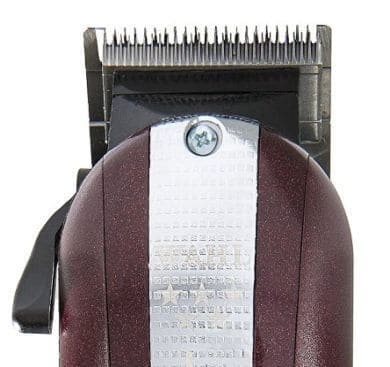 Overview of the Wahl 5 star Legend clipper
| You'll love it for these | But you won't like these |
| --- | --- |
| | |
| | |
| Crunch blade great for fades | Still not a true barber clipper |
| More flexible blade adjustment lever | |
The Wahl 5 star Legend clipper body
Adhering to Wahl's 5 star color scheme, the Legend clipper mixes burgundy with a silverish stripe in its middle body part. The cutter is 6.25″ in size and weighs 1 pound. Its weight is less than, say, the Wahl Senior with its 1.2 pounds.
This allows for easier maneuvering and less strain on your hands after continuous use. Hand fatigue is definitely a major concern for barbers working in busy shops. Even the difference of a few ounces adds up and can be much easier on your hand at the end of a long week.
This also can end up making you more money in the long run, too, since you can end up working faster and more efficiently which means more cuts by the end of the week.
As the Wahl 5 star Legend clipper is made of hard plastic, it also won't overheat on you. Two great properties if you plan on using it for longer haircuts.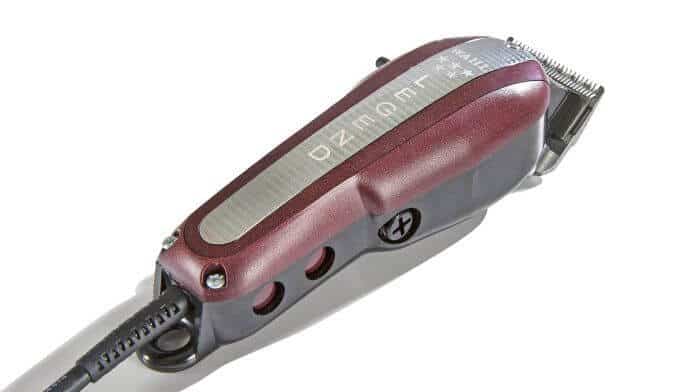 A very distinctive part of this model's body is the adjustment lever. I'll elaborate on that in the next section of this Wahl Legend Review, though. For now, keep in mind that this Wahl clipper runs on 110V.
You will also receive several guards with it. On paper, they should be 8 (Wahl guards size 1 to 8), but many buyers say they haven't received the #5 and #7 Wahl guard in their kit. As expected, you get a red blade guard, Wahl clipper oil and instructions.
Truth be told, though, I wish the clipper guards were made out of more durable plastic. If you are doing any bulk cuts with lots of thick hair, they tend to bend a bit and you have to go over the same spot a couple of times. This is not very efficient.
I think Andis make the best quality plastic clipper comb attachments so you may want to upgrade. It really depends on the type of haircuts you will be principally doing, I suppose.
The Wahl Legend blade & motor
The Legend clipper comes with Wahl's most powerful electromagnetic V9000 motor. In that, it's on par with higher priced Wahl professional hair clippers. Usually the sheer power of the V9000 can lead to some heating issues. As I mentioned, though, the all-plastic body of the Legend minimizes overheating.
What really matters is the blade. This 5 star clipper comes with the special Wahl crunch blade. It's between a fade blade and a taper blade, a perfect mix of both. Deeper than a fade blade, it nevertheless makes the Legend a great hair clipper for fades.
The potential of the 5 star Legend as a fading clipper is amplified by its distinctive side lever.
Normally, Wahl clippers have a side lever that adjusts the blade from #000 to #1.
The throw of the Wahl Legend clipper is longer than that. As a result, it opens a bit more, so you get a #1A position.
The Wahl crunch blade will encounter no difficulties with any type of hair. If you're looking for cutter for ethnic hair or a hair clipper for black men's hair, this is a great pick.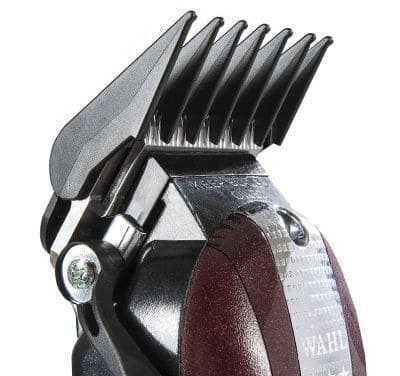 Comparison with other Wahl professional hair clippers
Given its affordable pricing, the Wahl 5 star Legend clipper is a great pick for barbers just starting out. It's also your best bet if you're a casual user with your eye set on higher grade tools.
As I mentioned in the early part of this Wahl Legend Review, the Legend is not as powerful as the Senior. However, it's cheaper, lighter and doesn't heat that much. While you'll have it vibrating to some extent, the vibrations will also be softer.
This is part of dealing with any electromagnetic motor system clipper. Vibrations and noise cannot be avoided unless you opt for a rotary motor system. That said, it is nice to have a model that is less rough and noisy as some others are.
In regards to its ease of use, it can be compared to the Wahl 5 star Magic Clip hair clipper. If you go with the cordless Magic Clip, the Legend performs a bit better. However, it does lack the flexibility and mobility. Both models feature a stagger-tooth crunch blade, so no big difference here.
Where the Wahl
Legend falls short
I have two gripes with this Wahl electric hair cutting machine: the guards and the lever maintenance.
It's great that you get so many Wahl combs, but their plastic leans on the flimsy side. That's not isolated to the Legend only either. Their plastic can feel soft and unreliable, even slightly bendable. The quality of the guards really doesn't live up to the clipper's great performance.

Another thing, this time isolated to this model specifically, is the side lever. It's great that it's way more flexible than usual Wahl hair cutters. Yet you should be careful with it as it tends to get loose easier than other Wahl clippers. Monitor the screw holding the adjustment arm so your haircuts (or fades) stay tight and proper.
With a few small complaints set aside, the Wahl 5 star Legend clipper is a fantastic cutter for its price as proven here in this Wahl Legend Review. If you're looking for a starter barber clipper kit, this machine is a very reasonable pick.
Does it pack as much of a punch as big players like Andis Master or Wahl Senior? No. Yet, it's V9000 motor and crunch blade are just powerful enough to ensure smooth haircuts.
Start with this before you move on to higher grade clippers for barbers. I don't think you'll be disappointed.