So, you've decided to test the waters with your very first clipper for home use. You want something easy, simple and with just enough variety. If it's on a budget, even better.
In short, you're probably thinking of the Wahl 79300-400 Color Pro haircutting kit. It's so popular with a reason, and that reason involves both its price and capabilities.
Yet you should know a few additional things to make a more informed choice. This Wahl Color Pro review will also look at how the Color Pro from Amazon.com differs from the corded one. I'll compare the Color Pro vs Chrome Pro too.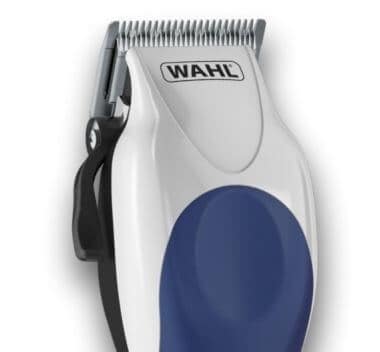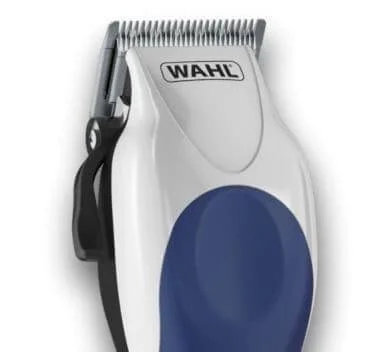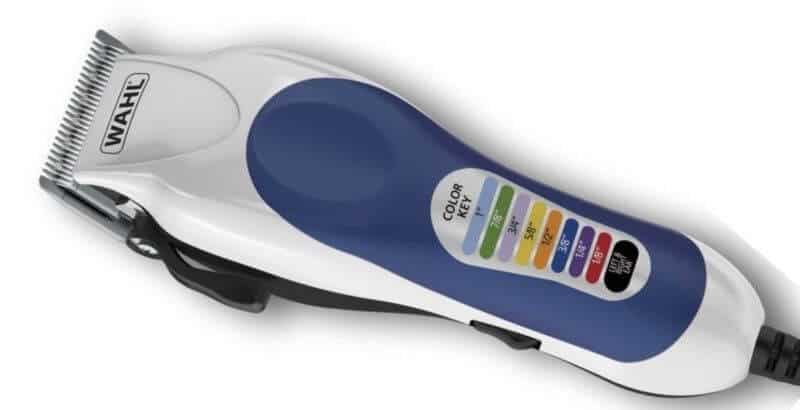 Wahl Color Pro

Comes with Color Coded Guide Combs to help you intuitively switch between them. A complete set for easy home haircuts.
Wahl Color Pro: An Overview
| You'll love it for these | But you won't like these |
| --- | --- |
| | |
| Variety kit for the family | |
| | |
| Rubberized grip for easy holding | |
Wahl Color Pro haircut kit: what you get in the box
Before getting deeper into this Wahl Color Pro review and getting to the fine details of how the Color Pro performs and its cordless version, let's look at what the clipper Santa has got in stock for you:
The Wahl 79300 clipper itself

Barber comb, styling comb and scissors

Typical maintenance items: blade oil, cleaning brush, blade guard

A set of combs #1/2 to #8 (1/16″ or 1.5mm to 1″ or 25mm in size)

Left & right ear tapers

Ear trim comb
A total bargain considering you'll be paying as much as you would for a single haircut at the barber's, no? Read more details in our Wahl Color Pro Review.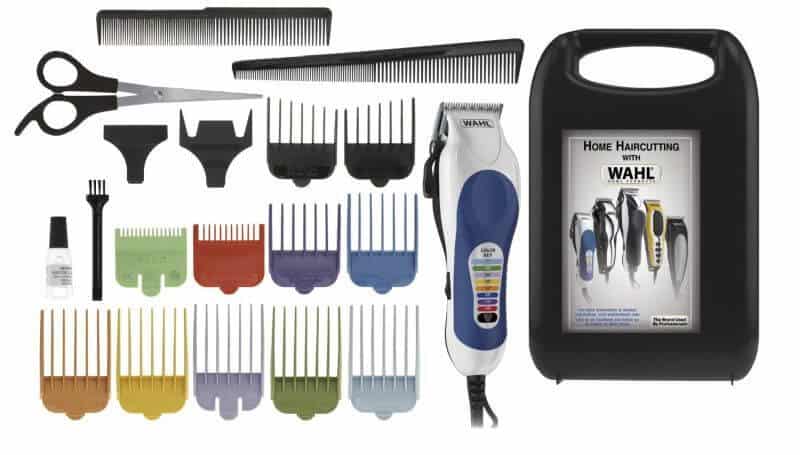 What's really neat is you've got colored combs here. Is it that important? Probably not, but it's very convenient to just grab the color you need instead of going through all combs every time.
A lot of people with no hair cutting experience are intimidated by changing blades as they don't know what it means. Having a system like this takes all the guesswork out of it and makes it simple. That means with a tool like these anybody can cut hair.
This is especially true if you want to use this as a family clipper and all members prefer a different haircut length. Most of the time you'll be using the #4 (orange) and #5 (yellow) guides for easy cuts. #1 (1/8″, red) and #2 (1/4″, purple) are for shorter buzzcuts.
If you plan on doing any regular haircuts then the guards will only get you so far. It may be way shorter than what you want on top so you'll need to figure out how to use scissors to trim the top and blend it into where you clipped with the sides with the clippers.
It isn't as hard as it sounds, but it will take some practice to master it. I mean, barbers go to school for up to year to learn after all!
With the what's in the box part ticked off, let's venture onward to how the Wahl Color Pro gets the job done.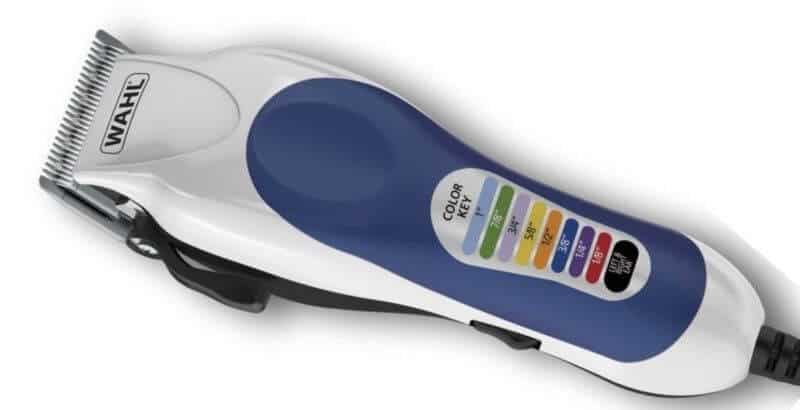 Wahl Color Pro

Comes with Color Coded Guide Combs to help you intuitively switch between them. A complete set for easy home haircuts.
Corded and cordless Color Pro:
how are they different?
The corded Color Pro has the typical Wahl design – slightly bulky, with wider upper part for easier handling. What you'll love here is the blue rubberized grip in the middle section of the clipper.
This will allow for firm grasp of the cutting machine and will minimize slipping. On the same blue section you have the "Color Key", reminding you what comb corresponds to what length.
Wahl understands exactly what people cutting their own hair need to have at their fingertips to make sure they can get the job done. They strived to make it as easy as possible to use their clippers to do this so people will actually use them.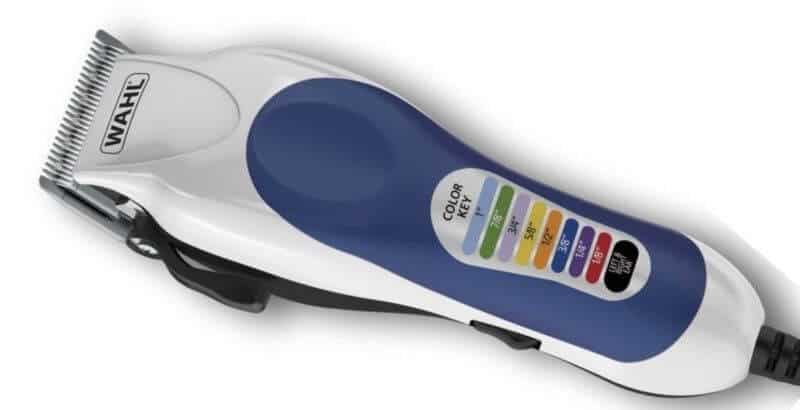 On the side, you have the clipper side lever. Pulling it upwards or downwards will further control the length of your cuts.
You can make a nice taper very easily with this lever. By adjusting it incrementally, you can work your way up getting gradually longer as you go. This way you don't have a haircut that is one length on the sides and then really long on top. The only way to have a balanced and proportional haircut is to have it start short and slowly get long as as you move up the head. Otherwise there is no way to blend the sides into the top.
A solid cord that doesn't weigh too much will provide you with freedom of movement. You can plug this machine (120V/60HZ) without worrying too much about mobility.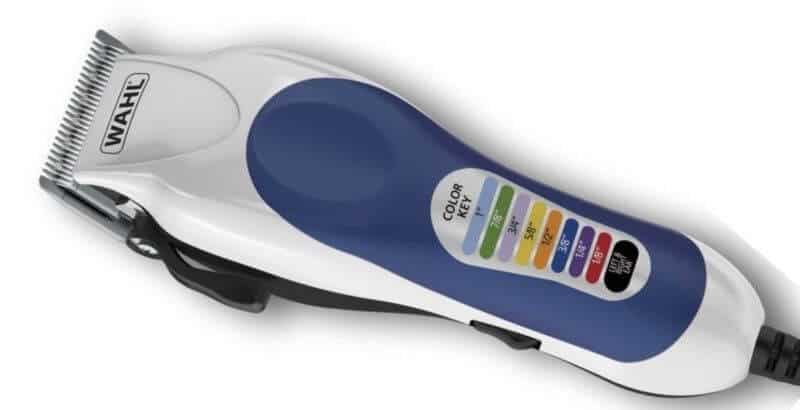 Wahl Color Pro

Comes with Color Coded Guide Combs to help you intuitively switch between them. A complete set for easy home haircuts.
As for the cordless Color Pro…
The Color Pro on Amazon.com retains the overall capabilities of the standard model. However, it gives you the unmatched convenience of a cord-free home haircut.
The battery should last you for up to 60 minutes. Keep in mind it isn't a Lithium-ion one, but the older NiMH battery technology. However, the price compensates for this.
If you want a longer lasting cordless clipper then you can click that link to read the full article. Keep in mind that you will pay more money and most of those models are for professionals which may be more than you really need.
There's two very important other differences. First, you can remove and rinse the blades of the cordless model. This saves quite a lot of time – many people dread post-haircut clipper cleaning.
A lot of hairs can get stuck in the blades no matter how careful you are. As you can guess, this might compromise the longevity of your hair cutter.
Secondly, the cordless Color Pro has a more modern-looking, ergonomic design. The middle part has gone through a special renovation. The clipper just looks slick, like a Color Pro v.2: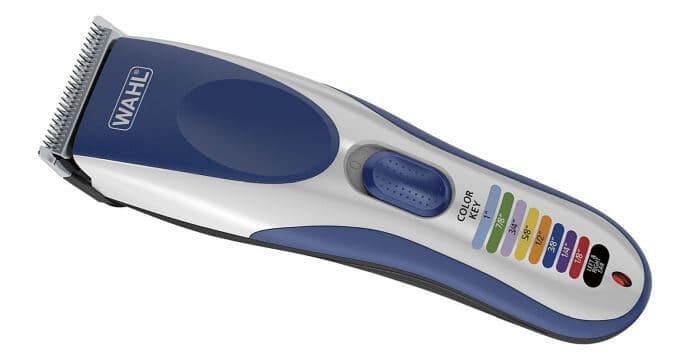 The only significant drawback here is that the cordless Color Pro clipper doesn't have a side lever. You can't "open" or "close" the blade to control the cuts like the corded one.
That said, you still receive a full set of Wahl guards, so it's not that big of a deal!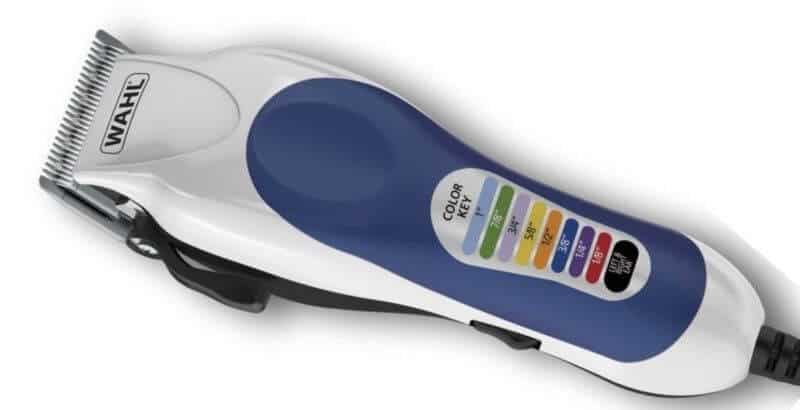 Wahl Color Pro

Comes with Color Coded Guide Combs to help you intuitively switch between them. A complete set for easy home haircuts.
Wahl 79300: performance and haircut quality
The Wahl Color pro hair clipper comes with self-sharpening stainless steel blades. The self-sharpening part doesn't mean you have to neglect oiling the blades, though.
Generally, you want to perform blade oiling per every 3-4 haircuts to ensure their optimal performance. You'd do that more often if the blades weren't the self-sharpening type.
Honestly, Wahl Color Pro isn't that remarkable in terms of performance. It's perfect for simple cuts and buzzcuts, but don't expect intense action from its blades and motor.
What you receive here is a variety of cutting tools on a ridiculously cheap price. You won't be getting any barber-grade haircut quality from the Color Pro clipper.
In other words, if you want to do more specific stuff like fade haircuts or seek the mobility of a cordless clipper, look elsewhere. If you're ok with easy haircuts and simplicity, the Wahl 79300-400 is a fine choice.
Wahl Color Pro vs Chrome Pro: The Review
Speaking of affordable haircutting kits, this Wahl Color Pro Review also has to mention their Chrome Pro model. We've reviewed the Deluxe version that includes a hair trimmer and a few other things.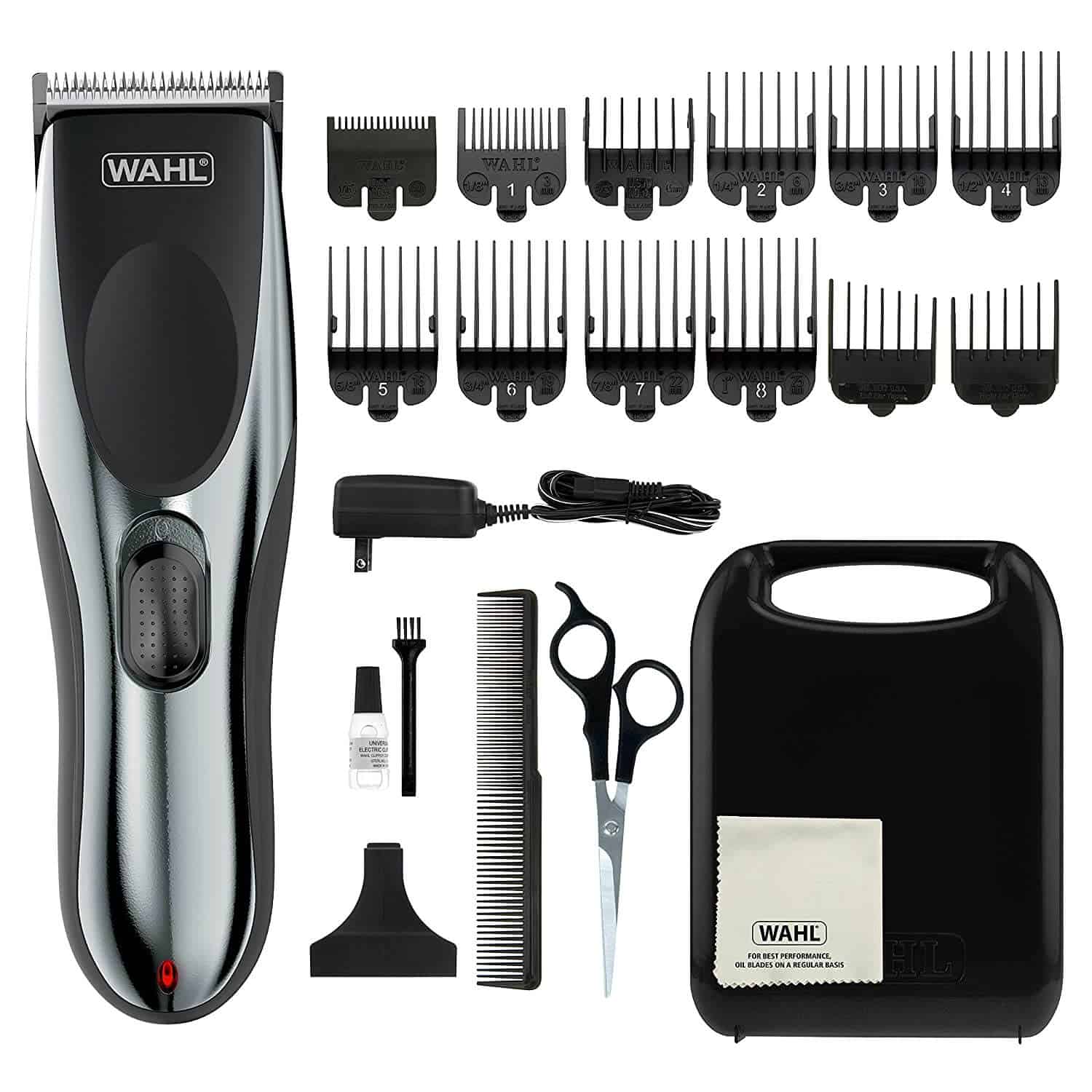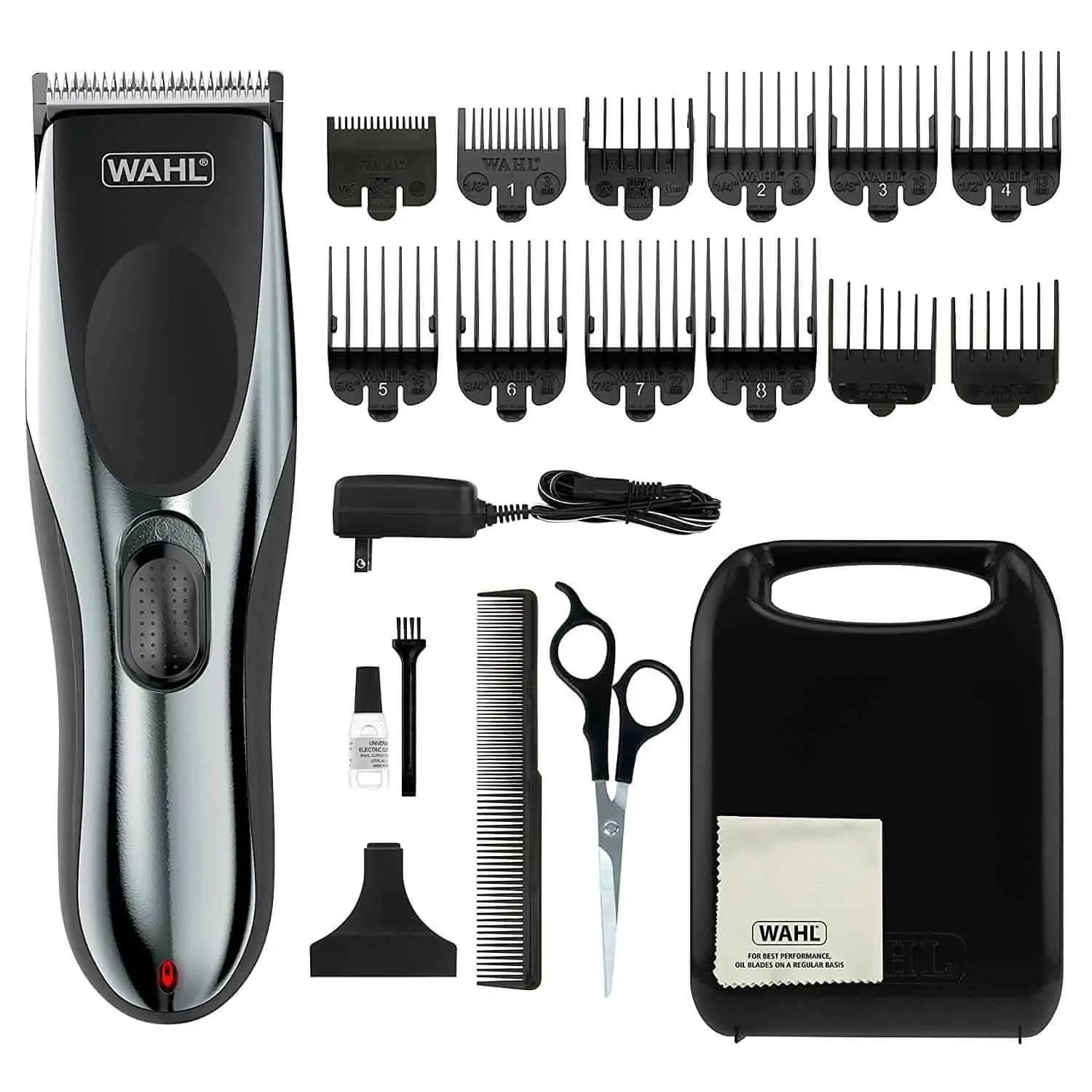 The standard 79434 kit from Amazon.com comes with a few things you won't find with the Color Pro. Namely, a barber cape, a flattop comb, neck duster and hair clips.
In terms of performance, I'd say both models are quite similar. The advantage of the Chrome model would be less overheating problems and better sturdiness. It might be worth it to consider making an upgrade here.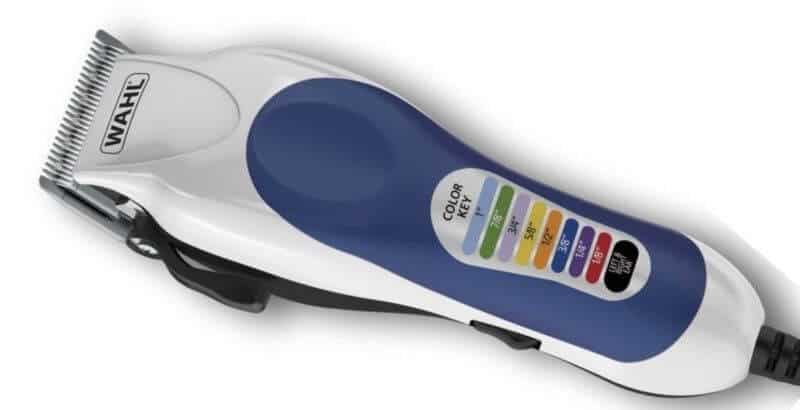 Wahl Color Pro

Comes with Color Coded Guide Combs to help you intuitively switch between them. A complete set for easy home haircuts.
Weak points of Wahl 79300 Color Pro clipper
At this model's pricing point, you can expect to meet a few problematic things. Depending on your preferences, they can make it or break it for you.
First of all, the clipper is heavy considering its power output. Higher performance clipper kits like the Wahl Elite Pro are also heavy, but they make up for it with their capabilities. Here it is: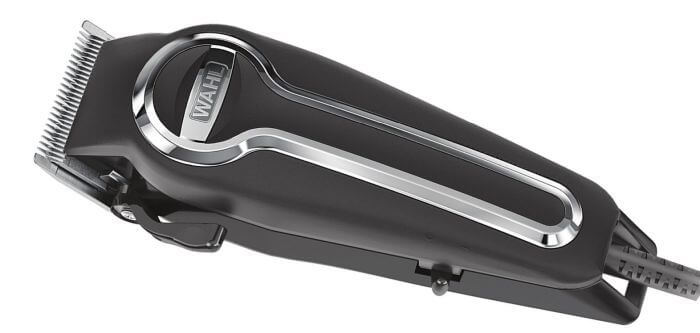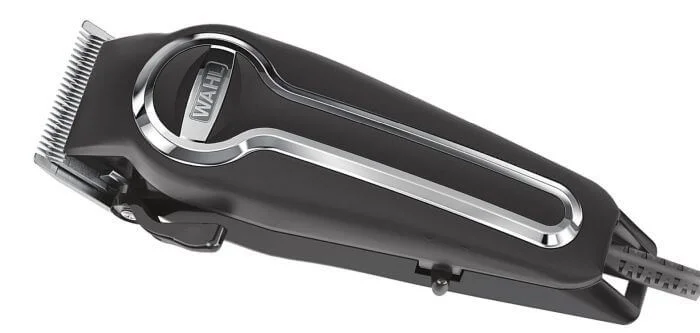 Second, you'll notice that the Color Pro is both loud and vibrates a lot. If you use it as a kid's clipper and your child prefers silent machines, that might be a problem. Vibrations are 50/50, most people get used to them eventually.
Last but not least, the side lever controlling the cutting length is worse than usual Wahl clippers. It feels flimsy and you have to be careful when operating with it.
Wahl Color Pro: Final verdict
For budget-seekers reading this Wahl Color Pro review and folks who want a simple clipper ready for home use, the Color Pro 79300-400 is a reasonable choice.
With its colored combs and self-sharpening blades, it will take care of any easy cut or buzzcut in no time. Family members can get their length assigned easily which saves quite a bit of hassle.
If you want to perform something more complicated, though, you have to look elsewhere. Wahl Color Pro was never meant to be a professional clipper. At its price range, you can't really expect it to be either. All in all, a solid pick for self-haircut newbies.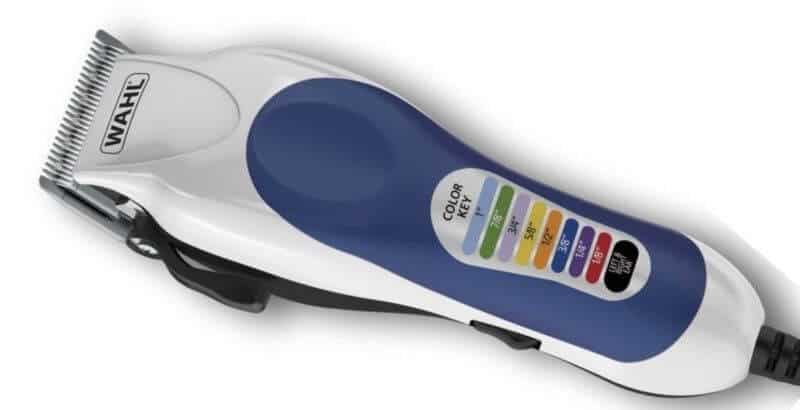 Wahl Color Pro

Comes with Color Coded Guide Combs to help you intuitively switch between them. A complete set for easy home haircuts.
I'm an outdoor enthusiast and have sported a full beard since I was in my early 20's. Originally, growing a beard was a way to save time when getting ready each day, but I quickly realized that keeping a neatly trimmed beard takes work and some forethought. That's where this site comes in.
You get to benefit from my years of experience. I've reviewed many of the top hair clippers on the market today and also included some information on what works best for me. A great beard will turn lots of heads in your direction.
Since I never know when I'm going to find myself being photographed, whether it's climbing in Yosemite, or playing volleyball on the beach, it's important to me to always look my very best. Maintaining my beard is part of my daily routine and I hope you'll find some useful tips and information on this site to help you on your journey.