What if you could have a full gift box to suit your grooming needs? An assortment of tools to address every single thing you want to take care of.
Andis Promotor combo is just that. On top of it all, the grooming kit is a total bargain as you can see on the Promotor combo Amazon page. With 27 pieces included you're getting full versatility treatment.
What's the real quality of these tools, though? This detailed review will do a thorough look at that.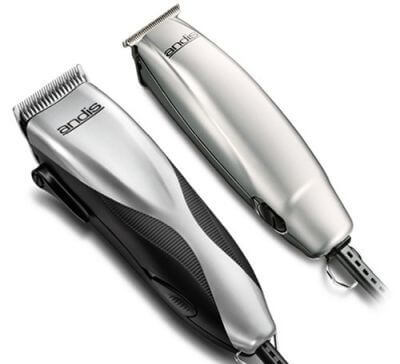 Overview of Andis Promotor kit
| You'll love it for these | But you won't like these |
| --- | --- |
| | |
| 27 tools for your home grooming needs | |
| | |
| Good for crew cuts and short haircuts | Don't count on these for more detailed work |
What's in the Andis Promotor gift box?
Before going deeper into the Andis Promotor combo review, let me first tell you what you will receive with this kit. Andis have prepared 27 tools for you:
A pivot motor Andis adjustable blade clipper

A T-blade hair trimmer

8 clipper standard attachments combs: 1/16″, 1/8″, 3/8″, 5/8″ and a 7/8″ blending comb, plus left and right ear tapers

4 hair clipper safety guards: 1/4″, 1/2″, 3/4″ and 1″

4 hair trimmer combs: 1/16″ to 3/8″

Styling barber comb & tapered barber comb

Stainless steel shears

Barber cape

Maintenance tools: cleaning brush, blade guard & clipper oil

Storage case (soft plastic)
Quite a few things, huh. Here's how they look when put together: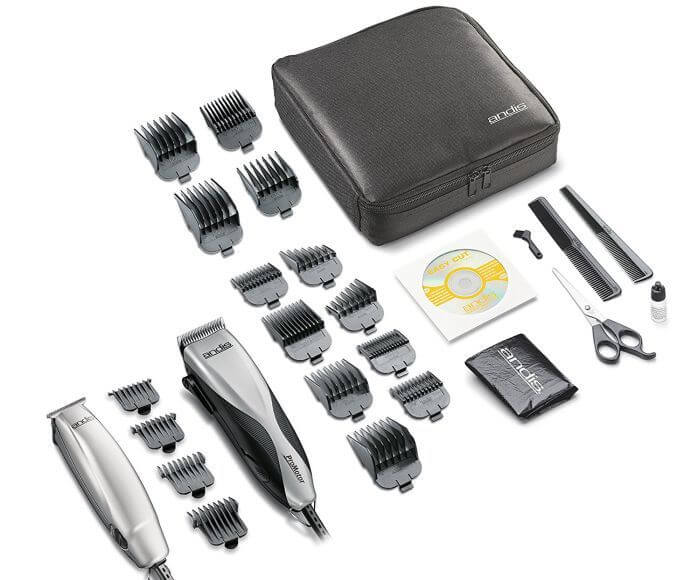 What I really like about the accessories here are the safeguard combs. They are perfect for more sensitive skin or if you want to do kids haircuts with clippers.
It's very nice of Andis to think about that too, among all other tools. A 5 year warranty is spectacular, to say the least. Not many products can take pride in such a long period warranty.
How does the Promotor combo perform?
Let's focus on the important part: the clipper and trimmer. Somewhat lightweight, both of the tools have a similar design. Rounded, with smooth surface and hard plastic casing, they score some good points from me. All in all, what you would expect of a home haircut kit's body.
The Andis Promotor combo clipper comes with a pivot motor. The product descriptions praises its power, but I tend to disagree a bit. For its price, the Promotor clipper is decent. However, you really should think twice about it if you have thicker or ethnic hair. The motor isn't that powerful and is more suited for crew cuts, buzz cuts and shorter haircuts as a whole.
Though the pivot motor may not be very powerful, it is quiet. Since it rotates it doesn't rock back and forth from the typical Andis clipper electromagnetic motor, it simply spins inside. This makes it a great choice for cutting kids hair since it won't make so much noise that scares them. It also keeps the clipper from heating up. Electromagnetic motor systems end up with the body getting hot and uncomfortable in the hand. And the blade can also get hot which is uncomfortable against the scalp.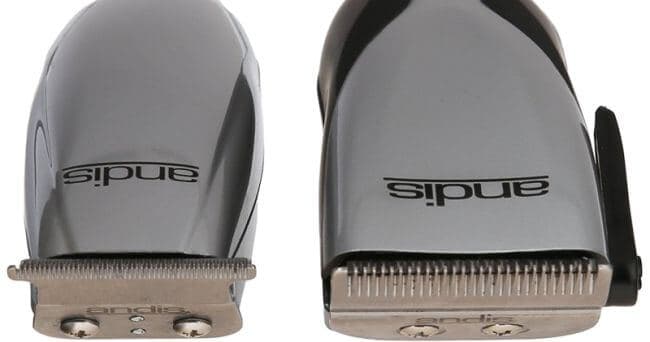 The clipper is somewhat ergonomic, with its no slip housing going easy on your hands and preventing mishaps. The trimmer is also compact and scores pretty well in terms of how easy it is to hold and use it. In the next section I'll elaborate a bit more on the T-blade trimmer and what you need to know about it.
Both hair cutting tools can be used for dry or wet trims or cuts. Please make sure you oil the stainless steel blades once in a while. This will retain their sharpness and make them last longer.
You should make sure to keep the blade clean. Whether you rinse it off under the faucet or wipe it off with a brush, the blade shouldn't sit with hair on it between uses. Hair is very acidic and will cause the blade to get dull much faster.
Issues I have with the Andis Promotor kit
In a way, the Promotor grooming package is similar to what Wahl do with their Chrome Pro haircutting kit. Both are quite comparable with each other. And, for some reason or another, they both suffer from a common issue:
The trimmer included in them isn't that good. At all.
The Andis Promotor combo hair trimmer with a T-blade simply lacks power. If you have a thicker beard, sideburns or want extra sharp and neat trims, I have some bad news. You'll find it a headache to maneuver with the otherwise sleek-looking trimmer. I want to call it "decent", but it really isn't.
As for the clipper, don't count on it for fades as I already said. Its stainless steel blades aren't bad, but they aren't top quality either. They will do just fine for shorter, normal haircuts. Anything requiring more detailed work or bulk cutting won't turn out great.
This hair clipper also suffers from heating issues. While it won't get sizzling hot, it'll accumulate some heat and will force you to take a break for longer cuts.
Because of that, I can't really recommend this combo set for new barbers looking to save some money on their gear. Yes, you aren't making money yet and want to go as cheap as possible until you upgrade, but these clippers simply don't make the cut in a professional setting. Excuse the pun! These really are just good enough for home haircuts.
All in all, you get what you pay for here. This is an insanely well-priced kit with amazing set of accessories. It might be perfect for simple home haircuts, but you shouldn't expect anything more than it.
If you're looking for more powerful combos from Andis, I suggest you check out our Professional barber combo review. Alternatively, you can also take a look at Andis Stylist combo. Both enter medium budget territory, but are way more powerful and will give you an overall better experience.
In case you're satisfied with a lower budget, casual user-friendly haircutting kit, this Promotor combo is a safe bet. Who knows, maybe you'll like the T-blade trimmer a bit more than me?
Good points
Good value for price
27 tools in the kit
5 year warranty
Good for crew cuts, short haircuts
Bad points
Trimmer lacks real power
Clipper overheats
Blades aren't that sharp
Not a good choice for fades/detailed work
I'm an outdoor enthusiast and have sported a full beard since I was in my early 20's. Originally, growing a beard was a way to save time when getting ready each day, but I quickly realized that keeping a neatly trimmed beard takes work and some forethought. That's where this site comes in.
You get to benefit from my years of experience. I've reviewed many of the top hair clippers on the market today and also included some information on what works best for me. A great beard will turn lots of heads in your direction.
Since I never know when I'm going to find myself being photographed, whether it's climbing in Yosemite, or playing volleyball on the beach, it's important to me to always look my very best. Maintaining my beard is part of my daily routine and I hope you'll find some useful tips and information on this site to help you on your journey.