On a budget? Need something to both cut your hair and trim your beard or neckline? Andis have taken care of your needs.
Andis Stylist combo is a more than affordable package of a barber clipper and a professional hair trimmer. It easily lets you graduate to your own barber with quality haircutting tools.
Should you buy it? In this Andis Stylist combo review I'll provide you with all the information you need to decide.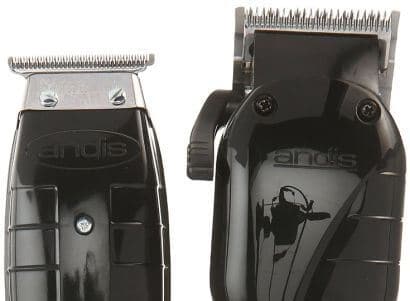 Andis Stylist Combo: An Overview
| You'll love it for these | But you won't like these |
| --- | --- |
| | |
| | |
| Great blades on both products | |
| | |
What's in the box of the Andis combo clipper set
In this Andis Stylist combo review, you will realize that it is like a gift box, you get so much stuff. First, you've got the clipper with its hard plastic, glossy black body. It's slightly heavier and bigger than other barber clippers at 7″ and 1.1 lbs. It really is an Envy clipper, one of Andis medium-budget pro tools.
These are actually quite light as the Wahl Senior has a few ounces on it. That might not seem like much in the grand scheme of things but when you are working then you'll appreciate any savings in the weight department.
For use at home, you want something that has some heft to it. This differentiates it from the drug store cheap clippers that feel like one wrong move and they will crack open.
The type of plastic polymer used for the body is durable and can take a bump here and there without breaking.
Next, it's the T-Outliner hair trimmer with a T-blade. Matching the glossy black color scheme, it's more compact and as durable. If you take a look at it, you'll see it's very close to Andis' standard T-Outliner trimmer. Same as the clipper, it runs on 120V/60hz.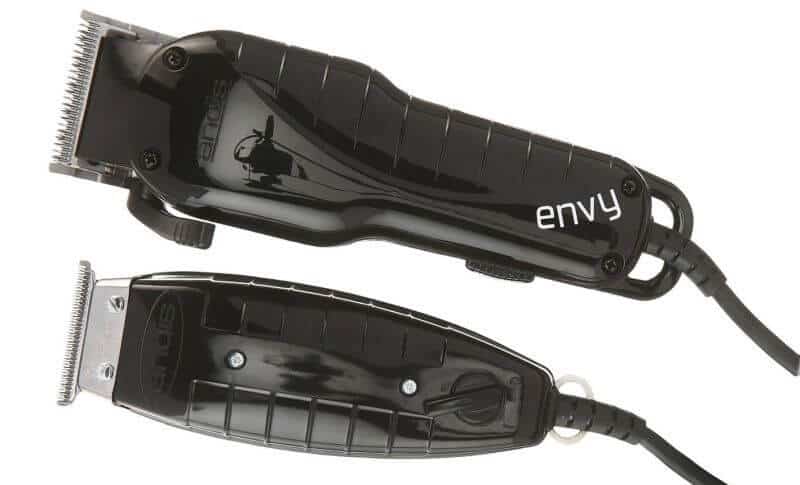 As if this wasn't enough, though, the company gives you some accessories for free. You'll get six attachments for the clipper – 1/16″, 1/4″, 3/8″, 1/2″, 3/4″ and 1″ guards. You'll also grab four trimmer attachments – 1/16″, 1/8″, 1/4″, 3/8″. A blade guard and some clipper oil serve as the cherry on the top for this box of awesomeness. Keep reading our Andis Stylist Combo review for more details.
This is more than enough to get you on your way to cutting your own hair at home. The plastic combs will help you give a regular haircut tapered on the side. The lever will give you a nice tight fade that is easy to blend in. If you think you have the patience, then doing a clipper over comb cut means you don't even need any scissors to do a whole haircut at home.
Performance of Andis Stylist combo
Overall, the combo performs more than satisfactory for casual users or semi-professionals. The clipper features an electromagnetic motor operating at up to 7200 strokes per minute. That's not quite as powerful as an Andis Master or Wahl Senior, but for the price tag, it's more than enough.
Read any Andis Stylist combo review, and they will tell you the same thing. The Envy clipper is not powerful enough to get through a lot of clients per day.
Especially if you have a lot of clients with thick, African American, or ethnic hair. They may struggle a bit when confronted with challenging hair.
If you are just starting out as a barber and don't have a big clientele, then you can probably get away with this as your starter set. You may only be doing a handful of cuts per day in which case they should be fine.
Then when you are making some money, you can upgrade.
I had the T-Outliner as my first trimmer when I just started out as a barber and it got the job done and then some.
Yes, you will likely not be using this T-Outliner the day you retire. There are better Andis trimmers out there and you will probably upgrade as soon as you are making more money.
But, there is literally nothing wrong with these trimmers.
Made of carbon-coated stainless steel, the blades are adjustable. The lever will help you control their length between #1 and #000, depending on your cutting preferences. From styling and chopping wet hair, to performing fades or shape ups, they do an overall nice job. Very versatile in terms of application.
Even short fades are pretty easy to do. I wouldn't try to 0 gap these and do skin fades, but for a tight fade, it is easy to blend in without leaving any lines.
If you are a new barber then these are great to get started with while you learn the ropes when it comes to fades.
The trimmer also runs on an electromagnetic motor and performs well. I want to clarify something: this is not a GTX T-Outliner! It might seem similar due to the glossy black, but it's closer to the standard T-Outliner trimmer with a T-blade.
Don't get the impression that these are just cheap throw ins. The T Outliner is a very good set of trimmers that many barbers use for years without thinking of changing since they get the job done. They might not blow you away with their performance but they are a workhorse of a trimmer.
Then again, its carbon-coated blade features slightly deeper teeth. This helps for trimming bulk hair, or specific, more "difficult" types of hair such as thick, curly or ethnic hair. You can go no guard on your necklines, but I suggest trimming with the guards you're given. The T-blade can nick you a bit.
Is the Andis Stylist combo different than Andis Barber combo?
You know, that's a great question. Honestly, I don't think there's that much of a difference here. Andis official website even lists them at an equal budget.
My personal impressions are that the Andis Envy combo clipper here is a little less spectacular than the Professional barber combo on Amazon.com one. At the same time, though, the T-Outliner trimmer included here seemingly outshines the other one.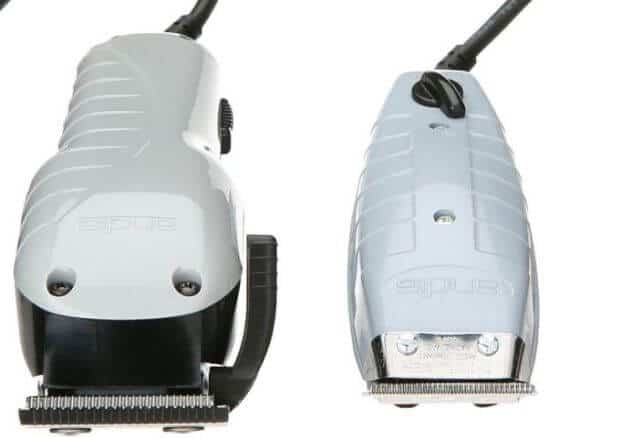 The most easily seen difference is the glossy black color of this set. I'd say it really boils down to cosmetic preferences and really minor differences between these Andis combo clipper sets. You can read our Barber combo review to learn more about it.
Shortcomings of Andis Stylist combo
The usual for Andis barber clippers with powerful electromagnetic motors: they tend to get hot easily. While the polymer body isn't metal, you can expect the tools to get warm to the touch in about 15 minutes or so. It's easily solved if you throw in some coolant in the mix. In any case, that's a bit of a drawback.
You've probably read more than one Andis Stylist combo review and come to the conclusion that they get hot. But, this is the case with any electromagnetic motor driven clipper. Just keep some Kool Lube handy as you will need to spray down the blade if this is going to be your primary clipper.
As I mentioned, the body doesn't too hot compared to, say, the Andis Master since it has an aluminum body, but the blade can end up hot against your clients scalp.
With any luck you will be able to upgrade quickly and this can end up as your backup clippers or for your detail work.
What I really don't like with the Andis combo clipper on Amazon.com is that it also gets pretty loud. And it doesn't get the Master-type of noise, which is one of the coolest sounds. The good thing is that with a little bit of tweaking around the power screw, you can resolve this issue. The Envy combo clipper won't become completely still, but it won't be as noisy.

Another thing are the plastic guards. I feel they're a bit flimsy compared with other Andis combs. In any case, what I advise you to always do, is just stick to Andis purple magnetic combs. The Envy clipper is US-1 according to the brand's guidelines. This means it fits the single magnetic Nano guards.
I assure you: they will change your cutting game. Especially considering the Stylist combo clipper can miss hair sometimes and you'll need a more secure attachment slapped onto it.
For users looking for clippers to use at home or semi-pros, this is a total bargain. You're getting a clipper + trimmer combo and quite a few guides to go with your cutting tools. While not Andis' most spectacular, the models will do more than fine.
I'd say whether you go with the Andis Stylist combo or switch to the Barber combo, the difference is minimal. It's entirely up to you and your preferences. This Andis combo clipper set does look a bit more elegant and I like the glossy hair trimmer more.
Sometimes while you are learning the ropes, it pays to at least look the part of a professional to inspire confidence in your clients when they sit in your chair for the first time. The elegant style of this set may do just that.
While there are a few shortcomings, the combo is an amazing value for the price tag. Start with it, and then consider moving on to higher grade barber clippers. It'll be worth it.
I'm an outdoor enthusiast and have sported a full beard since I was in my early 20's. Originally, growing a beard was a way to save time when getting ready each day, but I quickly realized that keeping a neatly trimmed beard takes work and some forethought. That's where this site comes in.
You get to benefit from my years of experience. I've reviewed many of the top hair clippers on the market today and also included some information on what works best for me. A great beard will turn lots of heads in your direction.
Since I never know when I'm going to find myself being photographed, whether it's climbing in Yosemite, or playing volleyball on the beach, it's important to me to always look my very best. Maintaining my beard is part of my daily routine and I hope you'll find some useful tips and information on this site to help you on your journey.