If you landed on this Lithium Ion review, you're probably looking for a cordless solution to your home haircut needs.
I understand your sentiments. If there's a usual "suspect" for easy, mobile haircuts, it's the Wahl Lithium Ion Pro kit – click here to check it out on Amazon.com.
But is it really that great? What are its strong sides? Any drawbacks you need to know about?
Let's analyze these points in this Wahl Lithium Ion Pro review so you can make an informed choice.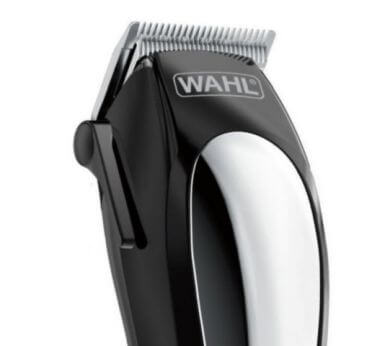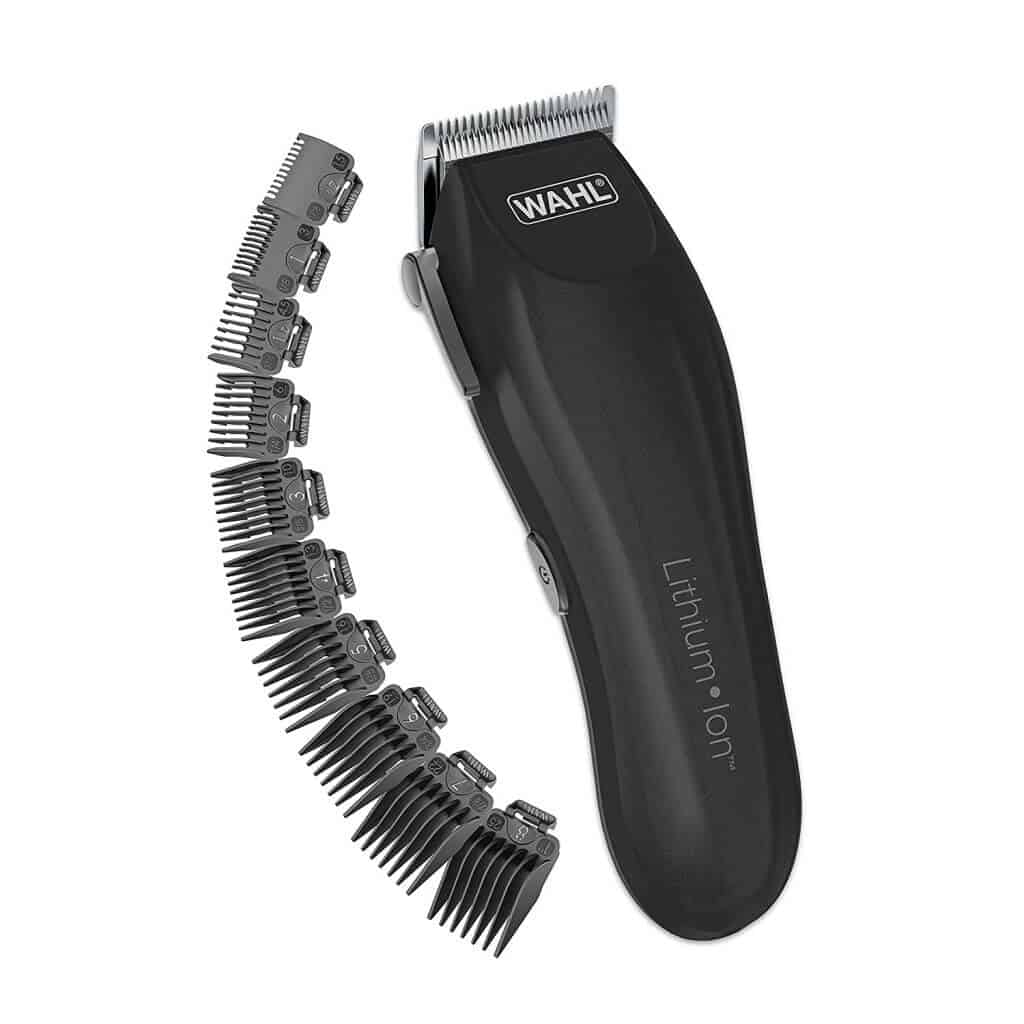 Wahl Lithium Ion Pro

Convenient, and quick to charge - this is a must-have for home haircuts.
Overview of Wahl Lithium Ion Pro combo
| You'll love it for these | But you won't like these |
| --- | --- |
| Very durable battery run time | Trimmer included is lackluster |
| | Somewhat flimsy build quality |
| "Quick charge" feature for emergency haircuts | Non-removable clipper head |
| Rich variety of accessories | |
What's in the Wahl #79600-2101 box
Before analyzing the clipper's performance, let's first take a look at what you get. I had people writing to me concerned that the clipper itself was 2 lbs, which is quite heavy.
Don't worry: that's the weight of the whole box. The clipper itself is rather lightweight, it probably doesn't go above 0.9 lbs.
It's good that people were writing in and asking. The weight of your clippers is very important. Your hands and your wallet depend on it being lightweight.
Why the wallet?
Well, if your hands are cramping then you're going to slow down. I always emphasize that quality should come before quantity, but you don't want to take too long. When you slow down you do less haircuts and make less money. So, your wallet feels bad when you have a heavy clipper too!
The kit has got this black-and-chrome-colored hard plastic look, very minimalistic and clean: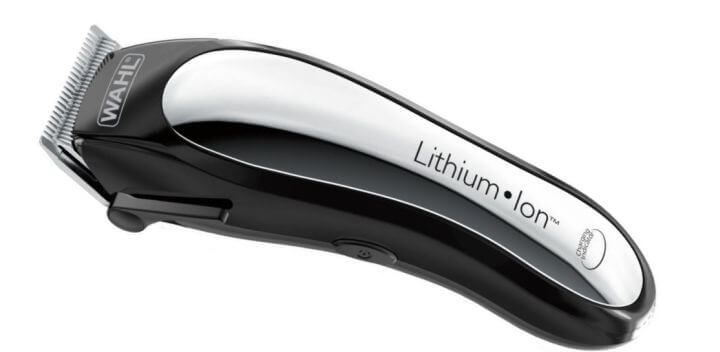 Similar to other kits like the corded Elite Pro, the Lithium Ion combo also includes lots of accessories:
Guards (#1/2 to #8, or 1/16″ to 1″ in cutting lengths)

Bonus hair trimmer that runs on AA batteries

Ear tapers and brow trim guides,

Scissors, styling & barber comb

Cape, hair clipers, soft storage case, clipper oil

The charger for the main Lithium Ion Pro
Expressed in one image, here's everything you get with this Wahl lithium combo: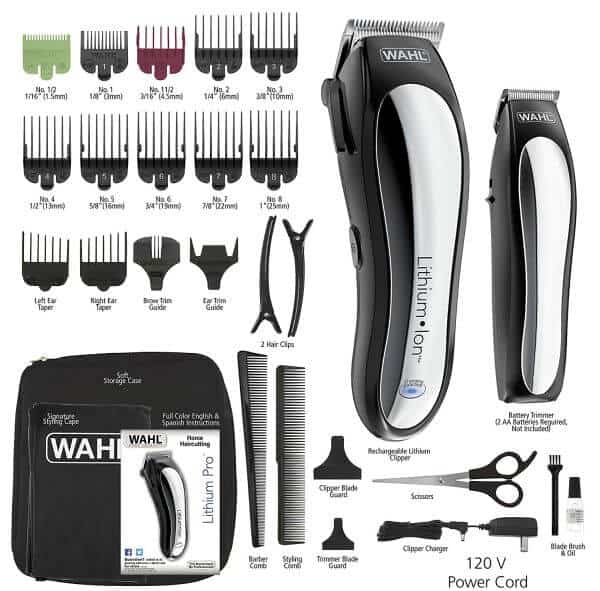 Best thing about it: the battery
If I were to point out the clipper's single strongest point, that would be its battery. A 2 hour charge is crazy considering a) the clipper's medium price and b) the "bundle" deal. Even some of Wahl's barber-grade models don't run for more than 90 minutes!
It does depend on what kind of haircut you are doing as to how long it will last, too, though. Thick hair will have the blade slow down and strain the motor which will cause it to run the battery down.
Also, you need to make sure you are taking care of your blades so they don't slow the motor. More on that later, though.
What you'll especially love is the so called "Quick Charge" feature. In a pinch and you forgot to charge the Lithium Ion properly? You can use the feature for a quick haircut powered by a mere 10 minute charge!
Considering it charges, on average, for about 4 hours or so, you have a great charge-to-actual-battery-life ratio.
Lithium Ion batteries are definitely the way to go when you also consider that they last longer than other Nickel based ones. What I mean by that is that they end up able to charge for much longer before they eventually stop charging. This will likely be after two years of heavy use before that happens. Make sure you occasionally let the battery run out completely before recharging to keep it lasting longer.
Definitely an area where the Lithium Ion clipper from Wahl breaks all the records!
Also great: blades and ease of use
Similar to the Elite Pro kit, you've got stainless steel, self-sharpening blades. They're rust-resistant and will put out a great overall performance. Way better than the cheaper Chrome Pro set, they should do well with thicker hair types too.
Even though they are self sharpening, you still want to keep the blades clean so don't leave hair on them. Hair is acidic and will eventually dull the blades. Just wipe the hair off after you're done using them and they will last much longer.
Every once in a while you should do a deep clean on your blades. After a while they accumulate grime and whatever hair products you've been using. Use a blade wash to get them brand new again. Not only will they be less likely to pull your hair since they are sharp, but they will save your motor and battery as I mentioned earlier.
It also looks better than the Chrome Pro: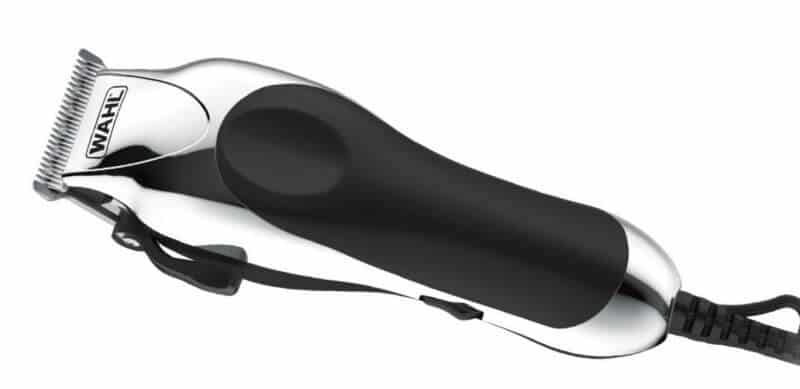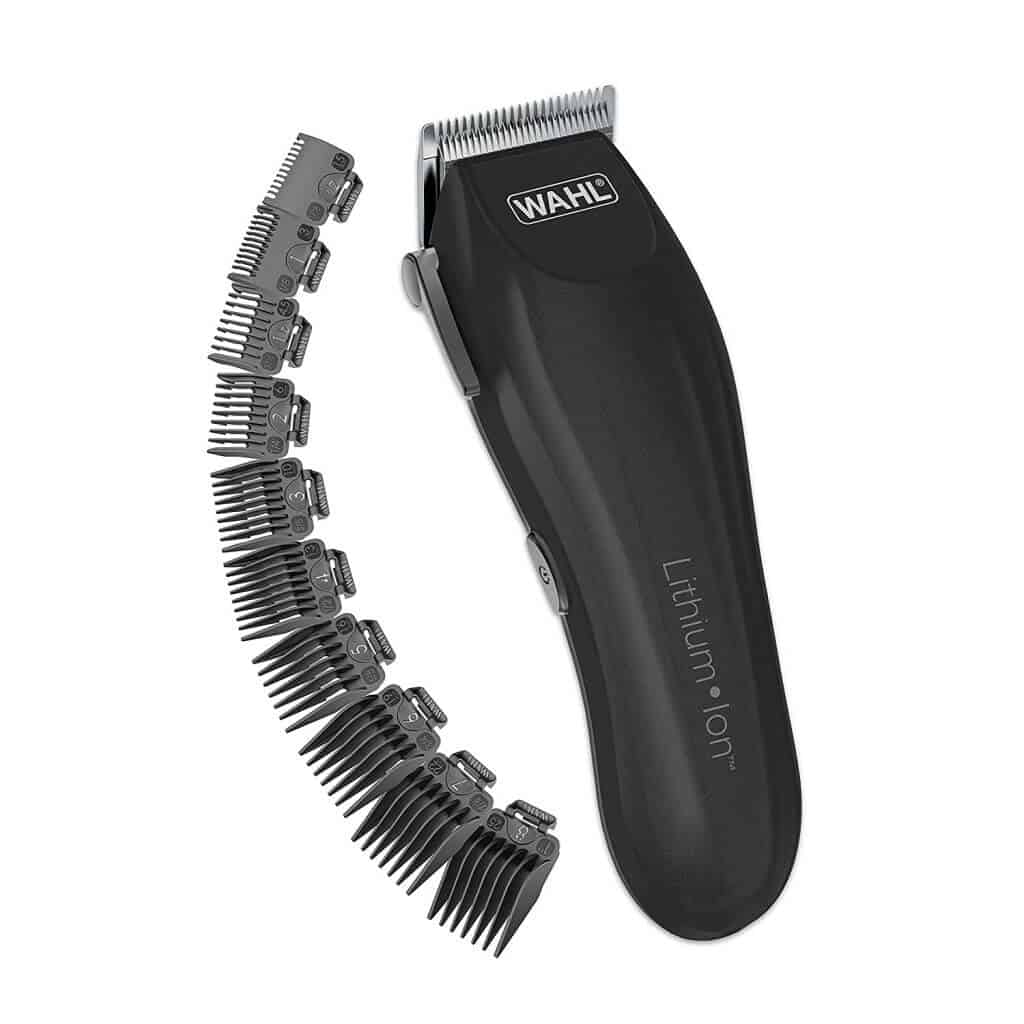 Wahl Lithium Ion Pro

Convenient, and quick to charge - this is a must-have for home haircuts.
If you haven't touched a clipper before, the Ion pro is a great contestant for your first set. It's lightweight, simple to use and provides you with good mobility.
I think I'd put it among the easiest home sets to use, along with the Remington HC4250.
Could be better: build & removable head
That said, I'm not a huge fan of the hard plastic body here. True, most clippers – be it Andis, Wahl or Oster, will be made of plastic. However, there's definitely a degree to their sturdiness.
Most professional clippers use a plastic polymer that is hard as a rock and can really resist some bumps and bruises. You also pay a heck of a lot more for a professional clipper so remember that you get what you pay for. That said, you don't need to walk on eggshells when using this clipper. They can even handle a drop or two and won't disintegrate. It's just important in this Wahl Lithium Ion Pro review to remind you every once in a while that we are dealing with essentially a high end DIY clipper for cutting your own hair.
As I mentioned earlier in this Wahl Lithium from Amazon.com clipper review, the model's a bit flimsy. It's definitely not as sturdy as a Wahl Designer, for example. I'd give it a 3/5 in this regard.
Another thing I don't like is the lack of removable clipper head. Some competitors like the HC4250 let you take off the blades and rinse them under the tap for easy post-haircut cleanup: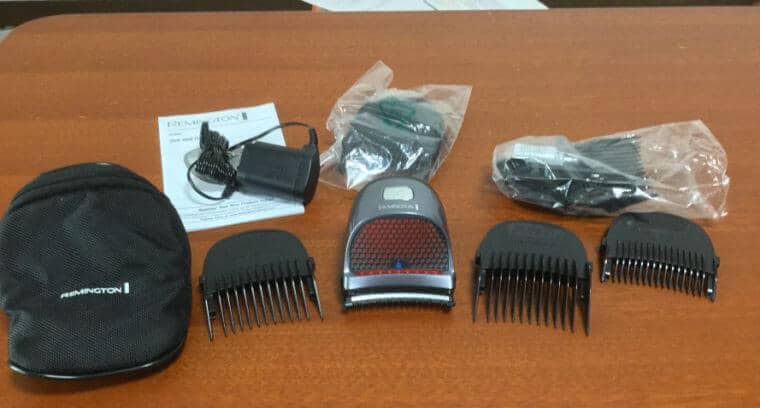 For some people that's not a big deal. Others, however value shaving off a few minutes of maintenance.
You probably won't read any other Wahl Lithium Ion Pro review that mentions that since to most people it is not a big deal. And I don't consider it a deal breaker, just something worth mentioning.
A common Wahl kit issue: the trimmer
Nobody can dispute the fact that Wahl are awesome with providing you accessories in their kits. Still, there's a common weak point with most of their home kits. Indeed, that's the included small trimmer.
Now, for a lot of people the trimmer doesn't even matter. They just want a haircut and the clipper's more than enough.
For those looking forward to the trimmer: it uses AA batteries so you have to replace them. There's no guards included with it. And, to be honest, it can get quite noisy while also not being spectacularly precise with trimming hair.
Back to the batteries for a second here. This is the major weakness of these trimmers. Now, you may only be using these for a few minutes at a time. But, for example, if you are going to edge your hairline and trim your beard, then you've just done a number on the batteries. How many uses will you get out of them? That's the thing, it's hard to know. It's highly dependant on the batteries you use. Which is why I would have preferred that they use a rechargeable battery so you always know how long they will last.
All in all, it's a nice addition, but it's definitely far from the quality of a good standalone hair trimmer.
It's more than good enough for use at home, but I wouldn't consider these to be viable in a professional shop. For that matter, I wouldn't use the clippers in a shop either as I doubt they could handle the rigors of a busy shop.
You may end up wanting to cut your friends and family's hair, too. And that is fine. These can definitely handle a few haircuts once in a while. As long as you don't push them too hard they can handle it. Don't try any complicated haircuts like skin fades or anything like that. Regular haircuts, undercuts, or even buzz cuts are the types of haircuts you can easily do.
In this detailed Wahl Lithium Ion Pro review, it shows the combo is an above average cordless solution for your grooming needs. The top highlight is its battery life – while other clippers run for 40 to 90 minutes, the Ion towers at 2 hours. Its ease of use is also tremendous.
At the same time, it could do better in other areas. Remington HC4250 on Amazon.com is mostly for buzzcuts, but provides more flexibility/compactness and you can wash it for quicker maintenance.
Every clipper has its strengths and weaknesses so you need to evaluate what type of haircuts you'll mostly be doing so you can get the right one. If you take anything away from this Wahl Lithium Ion Pro review it's that this is a good clipper for simple haircuts.
Wahl's cordless Designer delivers more professional results with better blades and stronger motor.
Stick to the Lithium Ion clipper kit if you value having loads of accessories and you hate charging your clippers too often. For its price range, it's a well-rounded, all-in-one solution that justifies its popularity for the generic home user.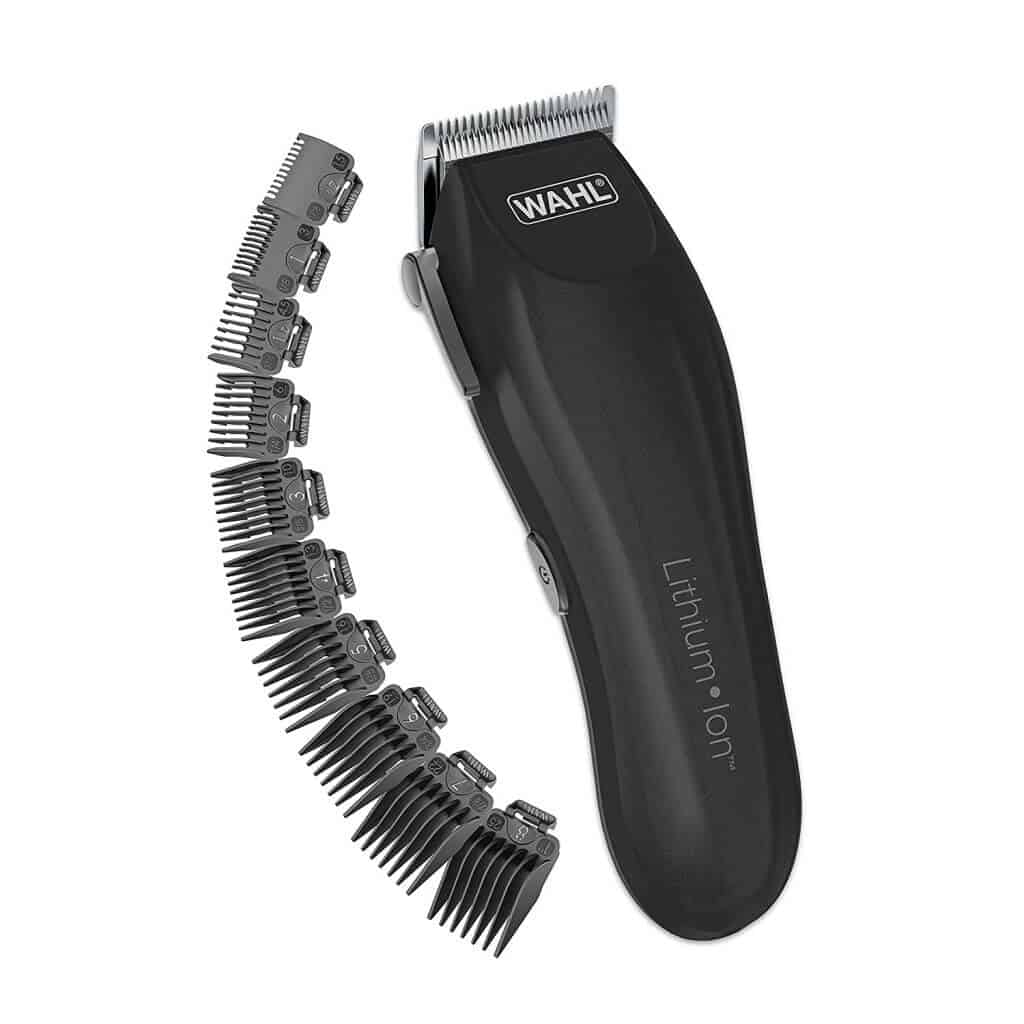 Wahl Lithium Ion Pro

Convenient, and quick to charge - this is a must-have for home haircuts.
I'm an outdoor enthusiast and have sported a full beard since I was in my early 20's. Originally, growing a beard was a way to save time when getting ready each day, but I quickly realized that keeping a neatly trimmed beard takes work and some forethought. That's where this site comes in.
You get to benefit from my years of experience. I've reviewed many of the top hair clippers on the market today and also included some information on what works best for me. A great beard will turn lots of heads in your direction.
Since I never know when I'm going to find myself being photographed, whether it's climbing in Yosemite, or playing volleyball on the beach, it's important to me to always look my very best. Maintaining my beard is part of my daily routine and I hope you'll find some useful tips and information on this site to help you on your journey.