This post wouldn't have existed if me and my wife weren't so open to discussing our body hair.
I'm a burly man with facial (and not only) hair for generations to come. And, honestly, she can easily keep up if she decided to go all natural. A note: I wouldn't mind that, actually!
However, she prefers trimming it and styling it in ways I didn't imagine even existed. For this, she uses this gentle Schick trimmer from Amazon.com.
So, anyways, one day we had a bit of a strange talk. It went like this:
"Hun, got a question here. Pubic hair trimmer and a bikini trimmer – any difference?"
"Not really. Both can trim, some of them can even shave your bikini area."
"Wait. Then why both of them exist? Doesn't make sense!"
We pondered that. The best reason we came up with is that with the best bikini trimmers, you usually get a no-bells-and-whistles product that's designed particularly for that purpose.
When we discussed pubic shavers, it was obvious that a lot of them come with a myriad of attachments. This makes some of them run a bit more expensive.
The thing is, it's hard to nail only one trimmer. Not to mention that some ladies, unlike my wife, prefer to use a razor on their bikini area.
So the best we could both do is draw from her personal experience – and that of others, and present you with a quick list of the best bikini trimmers and best bikini razors.
4 Best bikini line trimmers & razors for you
Product
Details

Shick Hydro TrimStyle

Dermatologist tested
5 Curve-sensing blades
Water activated Hydra-Boost Serum formulated

Check Price on Amazon.com

Philips Perfect Bikini

Wet and dry for cordless use
Maintenance free
3 super-precise attachments

Check Price on Amazon.com

Panasonic ES2207P

Sharp shaving blades
Wet/Dry shaving convenience
Hypoallergenic Stainless-Steel blades

Check Price on Amazon.com

Panasonic ES246AC

Gentle shavingbBlade
Personalized Five-Position settings
Lightweight and Portable

Check Price on Amazon.com
Difference between bikini trimmer and shaver
I touched briefly on what my wife and I think is the difference but let me take a moment to go into more detail.
I want to make sure that you understand exactly what you need so you end up with the right one.
Intended Use
If you are looking to shape and trim the hair down that you plan to leave, then a trimmer is the way to go.
It won't shave down to the skin leaving it clean and smooth and you may not want to use it to remove all of the pubic hair. It will leave some stubble. How much stubble? It depends on the model.
The only time I would say that you would want to use a trimmer when you want to go totally bald is to trim the hair down to where the razor or electric shaver is able to work. You can't shave full length hair with a razor or shaver so you have to trim it first.
The ideal time to use a trimmer is if you are looking to make a design, or you plan to leave some hair there. A landing strip for example or even to just get the edges that may poke out from the sides of a bikini.
Now, assuming you have your pubes down to stubble, you can use the shaver to take it all of leaving it smooth. This even applies to the edges. If you don't like having any stubble even when you use your trimmer to shape your bush, then the edges will get close as skin with the shaver.
Accessories
With a trimmer, you're likely to also receive some attachments to regulate the length. These are plastic combs that clip on over the blade so you can trim the hair down evenly. Instead of trying to freehand with some scissors, you can save time and be way more precise by using a guard over the blade.
Other attachments that make your life easier that are a possibility are different trimming heads, like for your nose, ears or eyebrows so you can do a total body grooming session.
With shavers, there are no accessories or attachments. What you see is what you get. There's nothing wrong this approach. It's just that it is designed to do one thing so it can't handle any extras.
What to look for in a bikini trimmer for sensitive skin
To get the most out of the trimmer you end up with it is important to consider some factors that will affect how effective it is for you. Remember, it is important to get the right tool for the job so you don't end up with buyer's regret.
Hair type
How effective your trimmer will be on your particular pubic hair is going to depend on how thick, thin, dense or sparse it grows. If you have very thick pubes that grow in densely, you don't want to go with a tool that is great for thin hair. You'll end up with irritated skin since you'll have to run the trimmers over your bikini multiple times to get it down to even stubble.
Likewise, if it is meant for thick hair, that doesn't mean it will work against thin, wispy hairs.
Versatility
If you plan on using one tool to cover everything from your lady bits to your underarms to your eyebrows then you need a multi functional trimmer that features loads of attachments.
Ergonomics
Having to reach lots of nooks and crannies is not easy when you have a trimmer that is hard to hold, not long enough, too wide or any other number of factors.
Make sure that it has a grip that fits comfortably in your hand. You shouldn't need any pressure to hold onto it so the width of the body is important. If it has a non slip grip this is good for use in the shower or when your hands are wet.
The length of it should be long enough that it extends past your grip so your fingers are not getting in the way of the blade.
Then the blade width should be narrow to get around contours such as the inner thigh where it connect to the groin. If the blade is wide, it will be difficult to remove all of your hair, especially if you need to get towards your anus as well.
Battery Life
Lastly, you need a battery that will last a while to be able to do everything. Like after a long winter when you are finally ready to bare some flesh the trimmer will be doing extra duty. Make sure to get a Lithium Ion battery that will last at least 30 to 40 minutes between charges.
1. Best trimmer + razor for bikini area combo:


Shick Hydro TrimStyle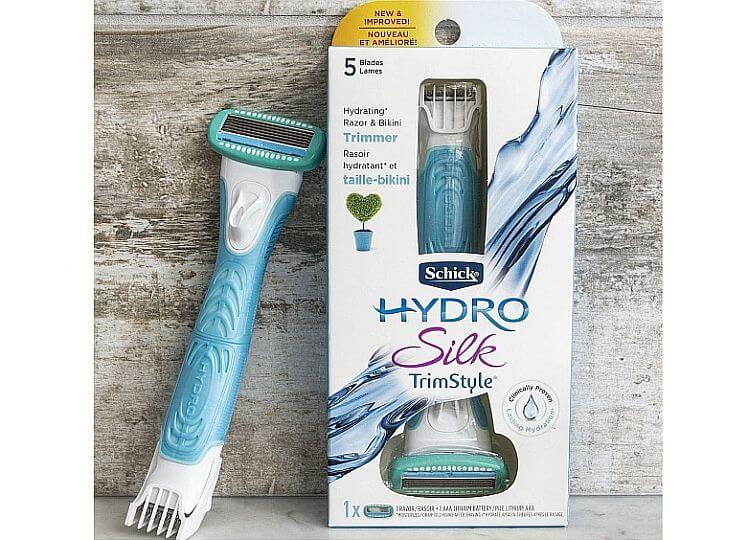 No, you're not hallucinating: we're recommending you a cheap, simple product instead of an ultra fancy bikini hair trimmer.
The reason?
It simply works. We're a Shick family – my wife uses the TrimStyle, while I switched to Shick Hydro 5 razors for my beard. Both are inexpensive and provide a great shave.
What's beautiful about the TrimStyle is that you can use it either as a bikini area razor, or as a trimmer.
Want to go all silky smooth? Or rather leave a bit of a fuzz? You're free to do both with only one product!
The real secret lies in Shick's moisturizing technology. The usual pain with trimming/shaving comes after you groom yourself.

Shick have the so called Hydra-Boost serum with gentle shea butter. It will moisturize your skin so you don't get hit by irritation – something that many "best" electric bikini shavers fail to achieve.
To further make sure your silky skin is protected, the razor has five blades with skin guards that follow your contours.
The trimmer itself is waterproof and comes with an adjustable combs with 4 settings. You can either go as-close-to-shaved-as-possible, or leave a bit more bush.
Imagine your standard women's razor. Now, go back to the Shick Hydro: the surface of the blades is a bit wider than classic razors. At the same time, it's a little bit narrower than electric bikini shavers.
In other words, you'll cover some decent area on every go – but not as much as electrics.
The downside is that you have no bells and whistles, just a very straight-forward, plain product. But honestly, do you really need to care if it gets the job done?
Especially when you have a bit of a rubberized grip to avoid slipping and possibly nicking that gentle skin!
For my wife this is an inexpensive, reliable way to trim her bikini area. High chance you'll be that satisfied too!
2. Best electric bikini shaver:


Philips Perfect Bikini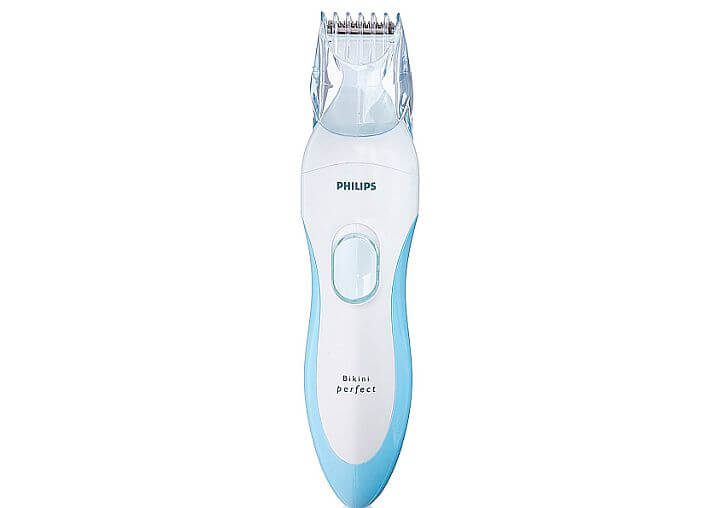 Alright, so things are getting a little bit fancier here.
My wife has used the 6 attachment model of this product, as we discussed in our best pubic hair trimmers article.
However, if you want to focus on your bikini line, you don't really need all 6 of them. Plus, you'll save a bit of money you'd pay for a premium that doesn't make sense.
The best thing about Panasonic's electric bikini trimmer is the 60 minutes of cordless operation. I can be also used both wet or dry, depending on how you feel about trimming your bikini line.
A neat little detail is that you still get a travel bag for free for some easy, stylish storage.
So, how is the trimming itself? Is it close? Is it irritating?
Philips definitely know how to take care of women with their hypo-allergenic blades. This model doesn't stray from the path. Don't worry, it's gentle enough and shouldn't pull your hairs unless you intend to do so.
That said, the Shick might be the one of the best bikini trimmers for coarse/thick hair. Pure electrics sometimes struggle with that.
My wife's bush, as I mentioned, can be pretty dense. That's why she uses her Panasonic mainly for other body hair.
At the same time, though, the Perfect Bikini gives you an easier, non-manual bikini trim. Some people prefer the best bikini razors in electric type exactly because of that: it's a relatively "hands-off" approach.
Plus, let's be honest – Panasonic's design is way better. It looks cuter, and it looks cute while doing a mighty fine job with a bit more customization/length control options. Really one of the best bikini trimmers I can recommend.
Good personal shaver for bikini area:


Panasonic ES2207P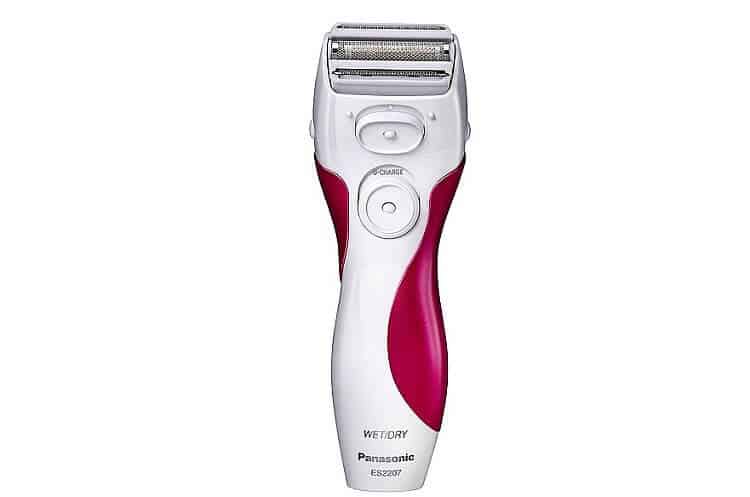 This is more of a general purpose electric shaver. However, there' a pop-up bikini hair trimmer for close shaves – so the ES2207P makes the list!
Alright, so the best/worst thing about this bikini line trimmer is its head.
By that, I mean that it leans on the bigger side of things. On one hand, you're able to cover more area when you trim with it.
On the other, it can get frustrating to properly move around your curves down there. A bit bulky for some, including my wife.
The thing is, this Panasonic is amazing for dry shaving. In fact, it outshines other similar electrics if it's about going dry on your bikini line. The blades are gentle and cut/trim with accuracy and without skipping on stray hairs.
An important note is that you either want your skin to be completely dry or completely wet when using this one. Otherwise you'll risk pulling hairs or cutting yourself.
Its charge lasts more than the Philips (that also depends on how thick your hair is to some extent.) It's recommended to charge it after every use just in case – you don't want to risk it losing power and pulling on your bikini area hairs.
Overall, this is a good combination. You can either use it as tentative best bikini trimmers, or extend its use to arms and legs. Something you can't do with the Shick, for example.
Best slim bikini hair trimmer:


Panasonic ES246AC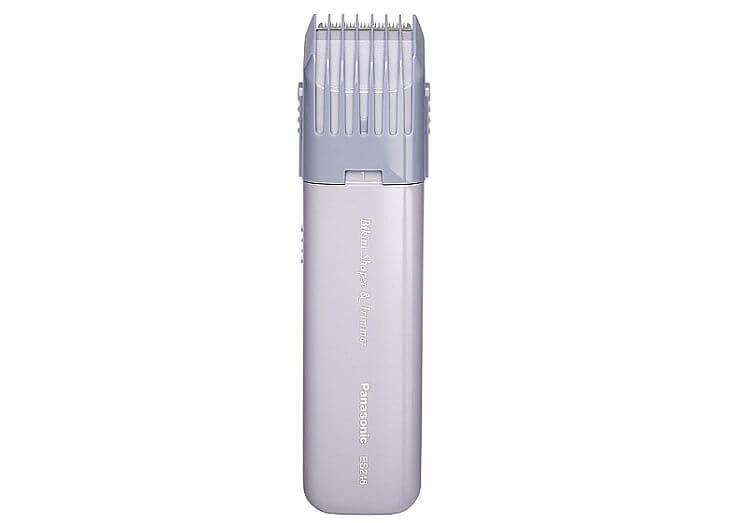 If you want something lightweight, portable and cheap, this will become your bikini line's new best friend.
There's no other electric shaver for sensitive bikini skin that is so light and easy to work with. Can you imagine a width of only 1.5″?
To make things better, you have 5 adjustable trimming lengths. A bit more control over shaving or trimming your bikini line compared with other options.
The two main drawbacks here are that this neat little shaver is neither waterproof, nor ready for wet usage. So if you like trimming yourself under the shower, you'd have to pass on the small ES246AC.
If you can live with that, you'll enjoy the combination of skin-friendly blades and intelligent protection through the plastic "barriers". Definitely one of the best bikini trimmers for sensitive skin out there.
A total no-brainer given its very affordable price, really!
How to trim your bikini area the right way
Trimming your bikini line using the best bikini trimmers and best bikini razors can seem pretty intimidating if you're doing it for the first time.
However, it's absolutely simple as long as you take your time and don't rush it too much.
Generally, a bikini area grooming session goes through three stages:
Preparation

Trim/Shave

Aftercare
Now, if it's your first time to use these best bikini trimmers and best bikini razors, chances are you'll have quite a bit of hair to take care of. Don't grab your electric bikini shaver (or razor) yet!
These are not ready to cope with so much hair.
Instead, get a pair of scissors and take off some inches until your hair down there is shorter. Don't be misled by some people calling them "bikini hair clippers" – these products were designed for more detailed work.
If you're using one of the best bikini razors, get your shaving cream or gel ready. You need to go wet with most razors, unlike hair trimmers.
If you have an electric shaver/trimmer, you can easily go dry without prepping your bikini line skin.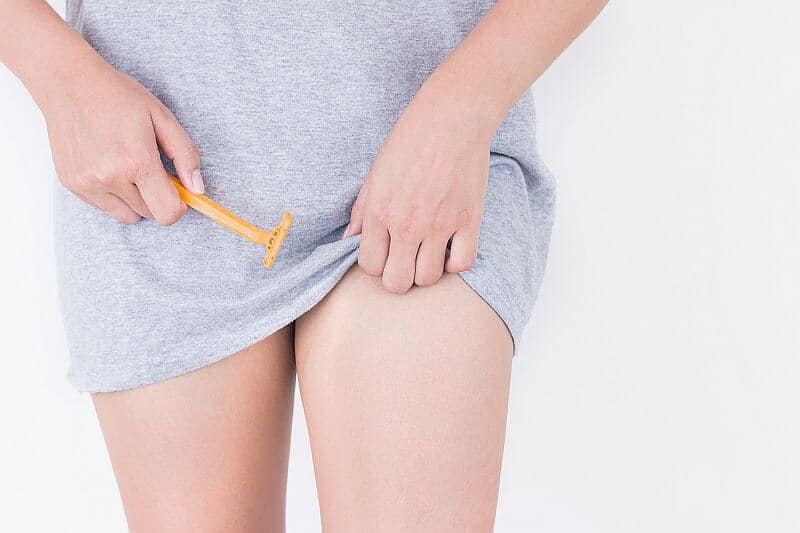 Be patient and go slowly. Rushing through it will lead to pulled hair or nicks and the bikini area is one of the last places you want to get skin irritation!
The golden rule of any body hair trimming is to shave in the same direction it grows to reduce the risk of razor burn. The same applies here too.
With these best bikini trimmers, you've got a bit more leeway, as a lot of them have protective "caps" going over the blades. So even if you go against the grain, you shouldn't experience huge inconveniences.
Aftercare boils down to two things:
First, moisturizing your skin. This is a complete must and not doing it is simply begging for irritation and headache.
My wife loves the Shick bikini razor exactly because of its automatic moisturizing feature. However, most of the standard or the best bikini razors or bikini area electric shavers don't have this option.
In other words, it's up to you to grab some moisturizer and apply it once you're done.
Go for a non-scented product, if possible. Perfumed varieties can irritate your skin.
The second thing involves cleaning up your trimmer/razor. With most personal shavers for bikini areas, this involves a quick rinse under the tap to remove leftover hairs.
Others will come with a cleaning brush you should use to clean up.
Whatever the product is, make sure it's kept clean and unclogged. This will guarantee a more enjoyable next grooming session for you and your skin.
I'm an outdoor enthusiast and have sported a full beard since I was in my early 20's. Originally, growing a beard was a way to save time when getting ready each day, but I quickly realized that keeping a neatly trimmed beard takes work and some forethought. That's where this site comes in.
You get to benefit from my years of experience. I've reviewed many of the top hair clippers on the market today and also included some information on what works best for me. A great beard will turn lots of heads in your direction.
Since I never know when I'm going to find myself being photographed, whether it's climbing in Yosemite, or playing volleyball on the beach, it's important to me to always look my very best. Maintaining my beard is part of my daily routine and I hope you'll find some useful tips and information on this site to help you on your journey.