I'll be honest: before my wife introduced me to pubic hair shavers, I hadn't paid any mind to them.
You heard me right. I was just hacking my way through with the traditional Gillette blade and shooting for the best. The thought of a dedicated grooming tool hadn't even crossed my mind, seriously.
A few years later, I know better. My wife sticks to her Philips Bikini Perfect from Amazon.com, I'm with Norelco 7100 from Amazon.com. As these might be a bit expensive for some, we've made an effort to introduce to you more budget-friendly options too.
Hope you enjoy this list of the best pubic hair trimmers and shavers for men and women. I know that my life is quite more convenient since I discovered the key to quality, efficient grooming around my private parts.
The Best Pubic Hair Trimmers For Men And Women
Product
Details

Philips Norelco 7100

Wet or dry use
50 minutes battery life on 1 hour charge
Gentle self-sharpening blades

Check Price on Amazon.com

Gillette Fusion ProGlide Styler

Slim and lightweight design
Extremely precise blades
Ergonomic

Check Price on Amazon.com

Philips Norelco 1100

Great for sensitive skin
Wet or dry operation supported
Cordless and lightweight

Check Price on Amazon.com

Philips Bikini

All-in-one grooming tool
Cordless convenience
Gentle on the skin

Check Price on Amazon.com

Panasonic ES2216PC

Extremely skin-friendly
Slim, light and beautiful
Wet or dry shaving

Check Price on Amazon.com

Panasonic ES246AC

Extremely budget-friendly
Very lightweight
5 adjustable lengths

Check Price on Amazon.com
The 3 best men's pubic hair trimmers
Top pick best pubic shaver for men
Philips Norelco Bodygroomer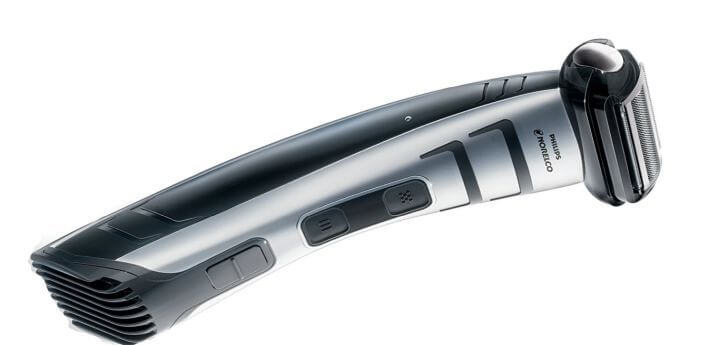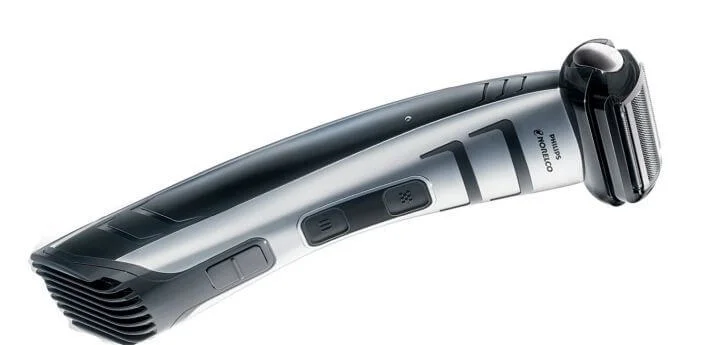 Pros:
You get a pubic shaver + pube trimmer in one grooming tool

All about precision: pivoting head follows your body's shape

Adjustable comb with 5 lengths (1/8″ to 11/25″)

Forget about skin irritation: gentle self-sharpening blades

50 minutes battery life on 1 hour charge

Wet or dry use
Cons:
Trimmer could cut a bit closer

Replacement parts can be expensive
With the Norelco Series 7100 you're not only getting a pubic hair shaver. You're getting a whole multi-purpose tool for all your private grooming needs. This means that you can also trim or shave your chest, legs, underarms and shoulders aside from your groin.
I love when tools are multifunctional. When a tool can only do one thing, it doesn't get as much use as it should.
Since you can do so many other grooming jobs with this one trimmer/shaver, it means you'll more than get your money's worth out of it.
Let me first point something out: the 7100 is a pube trimmer and an electric shaver for your pubic area whcih is why it falls among out best pubic hair trimmers on our list. Depending on your preferences, you can either trim to stubble, or completely eradicate groin hair.
The Norelco 7100 is convenient. Why? Mainly due to two things. First, it has a pivoting head that is extremely flexible and follows your body's contours. Sometimes shavers for pubic hair are very unintuitive in their movement. Not this model.
With inferior pubic hair shavers, you need to be something of a contortionist to get into the right spot. When you have a pivoting head, you don't even always need to see what you're doing to make contact with the skin to get an even shave.
One thing you don't want is to think you've gone bare only to have it pointed out that you missed a few spots.
Expect it to glide properly over your delicate parts and perform smooth, precise cuts. Truly Philips' best shaver for pubic hair, the 7100 comes with an adjustable comb. You can pick from 5 lengths, adjusting the trim (or cut) from 1/8″ to 11/25″.
Nobody likes skin irritation, especially when it comes to using a pubic hair trimmer. The self-sharpening steel blades of this model are designed to eliminate risks of irritation. They will be the gentle to your delicate parts, so don't worry about it.
The way the blades are positioned also prevents your skin from getting stuck and pinched between the blades. If you're shaving around any loose skin, which if you're trying to get all of your pubes then this will be the case, then you won't have any of that skin getting in there. You do still have to make sure you're pulling the skin tight to have the razor glide over the hair. That is the case with any shaver or trimmer, though.
You're looking one of the best pubic hair trimmers that also cordless, making it ideal for pubic hair. The Norelco 7100 actually performs quite good with 50 minutes of battery life on only 1 hour of charging. Quite convenient considering how much it takes for other electric shavers for pubic hair to get up and running again.
Everybody knows trimming your groin hair in the shower is more convenient. Good news: the 7100 is water resistant so you can use it in the shower too. Of course, if you prefer doing it the dry way, you are free to do so.
I recommend that you use the trimmer part to cut down long hairs when you're dry. It's hard for any trimmers to cut long hair when they're wet. They stick to the skin and they don't cut cleanly so it's just frustrating.
To get the best results, use it dry until you have stubble and then you can shave it in the shower or even out of the shower with shaving cream if you prefer.
One nitpick I have with this Norelco genital shaver is the trimmer, as it could cut just a little bit closer.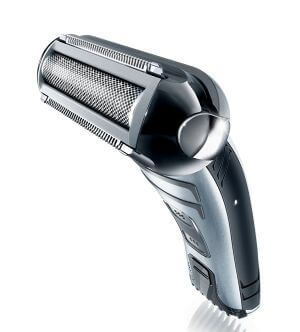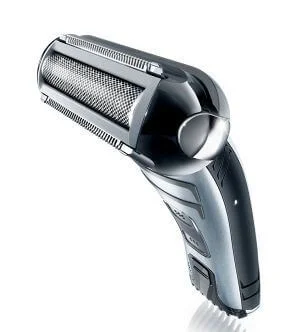 Its replacement parts can also run expensive. Also, remember to let the personal hair trimmer charge for 24 hours initially.
For convenience it has an LED light to indicate when it is low on battery and when it is fully charged. And it only takes an hour to get fully charged. As it's a Lithium Ion battery it will be able to hold a charge for a long time. All rechargeable batteries eventually start to fail to hold a charge, but it takes a lot longer for that to happen with a Lithium Ion.
However, as a whole, this is the best pubic shaver + pube trimmer for men combined in one product. With a great battery charge, quality blades and good grip on the body, the Norelco 7100 doesn't leave much to be desired, its one of our best pubic hair trimmers.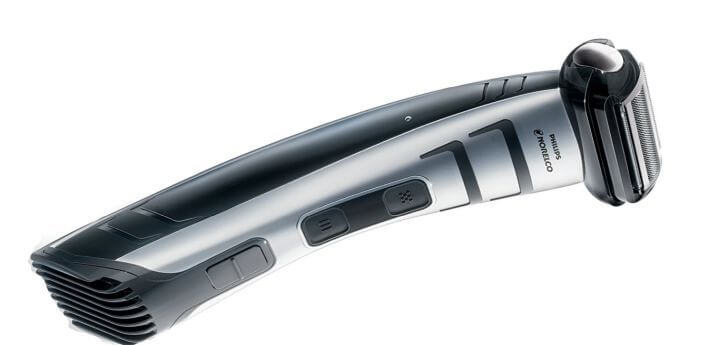 Philips Norelco Bodygroomer

You get a high-precision, long-lasting pubic shaver and pube trimmer in one amazing tool.
Best electric razor for pubic area:


Gillette Fusion ProGlide Styler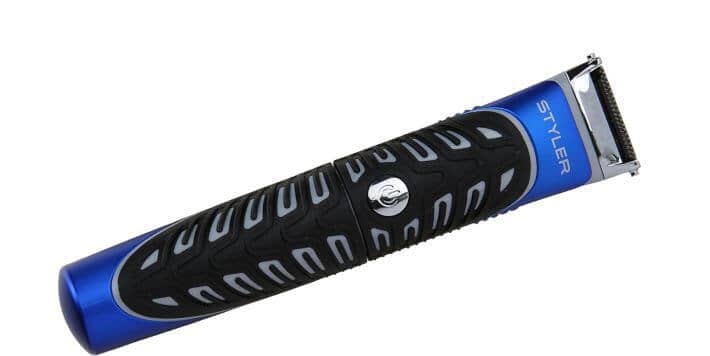 Pros:
An innovative approach to good ol' razor blades

All you need: trimmer + cartridge + 3 combs and batteries

Slim, ergonomic, lightweight design

Extremely precise blades powered by Braun technology

Naked razor or combs: your choice to different cutting lengths

Quite good bang for your buck
Cons:
Not as versatile as a pube shaver for men

Have to change blades and batteries
Shavers for pubic hair are alright, but a lot of people still prefer grabbing the razor. The ProGlide Styler takes a twist on that and presents you with an outstanding pubic hair razor. Especially considering its budget-friendly price.
This genital shaver system includes a trimmer, one power cartridge (ProGlide), 3 combs, a battery and an organizer. You just use the slim personal trimmer body and slap Gillette's quality blades onto it. The combs provide additional length adjustment.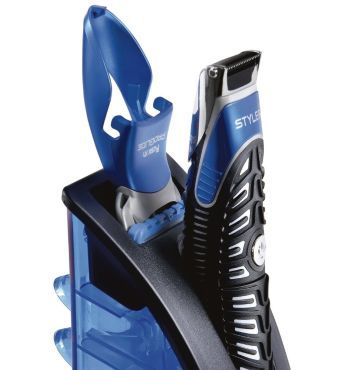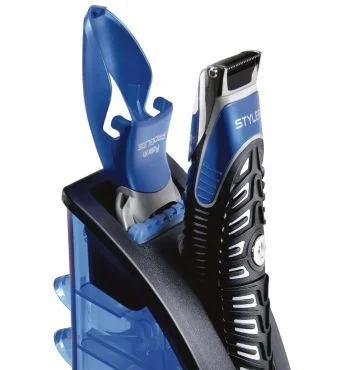 Gillette have really thought this pubic hair razor properly, which is why it makes it to our list of the best pubic hair trimmers. The tool is very slim, extremely ergonomic and quite lightweight. It's more maneuverable than many pube shavers on the market.
It is a really nice idea to have everything on one tool even though they are totally different. Normally you would need to use a separate trimmer to cut your pubic hair down to stubble. Then you'd have to prep yourself and get a razor to shave it down to the skin.
Now all you have to do is pop on the razor as soon as you're done trimming with the same tool. I love that!
Of course, what really matters is how the blades perform. With a trademark Braun technology, the precision edging steel blades will take care of your groin area impeccably.
The cuts are smooth, even and extremely gentle on the skin.
If you use the combs, you'll be using this as a pubic hair trimmer. Picking a naked blade will cut closer, but be careful as the blades are quite sharp.
You'll see a green strip on your Fusion ProGlide razor for pubic area. This is the lubricating strip and when it turns white, it's time to change the blade. The timefrime depends on how thick your hair is and how often you trim your private parts.
You definitely do not want to be shaving down with a dull razor around your private parts! Make sure you replace that cartridge as soon as it shows signs of being past its prime. It's easy anyway since you're using the same Gillette Fusion blades as the regular razor.
Don't forget that you are dealing with a humid area that attracts bacteria. A dull blade is more likely to nick you and then you can easily get an infection with all the germs lurking around there.
This Gillette pubic hair razor can be used for wet shaving. Just grab the genital trimmer and get to work while you're having a shower. Also, ProGlide Styler runs on 2 AA batteries. They should last you anytime from a month to two months.
I'll be honest that this is better suited for blade enthusiasts. Compared with the best shavers for pubic hair out there, the ProGlide Styler can feel somewhat limited or not that convenient.
Though it is ideal for shaving in the shower since a regular razor blade loves wet shaves. It saves time and the razor glides well over the skin. Plus, when your skin and stubble are really wet, it makes for a much smoother and closer shave with a lot less chance of getting nicked or razor burn.
However, if you're the type that sticks to conventional razors, this is your jam. Considering its very affordable price, this is one of the best pubic hair trimmers sets plus razor for the pubic area that's in line with anyone's budget.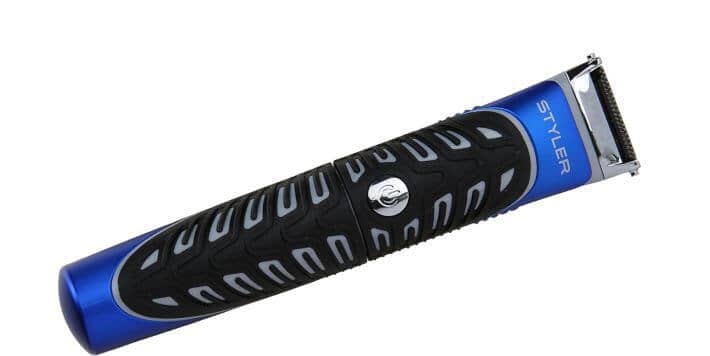 Gillette Fusion ProGlide Styler

you get a very slim, extremely ergonomic and quite lightweight trimmer
Best budget pubic hair trimmer for men:


Philips Norelco Bodygroom 1100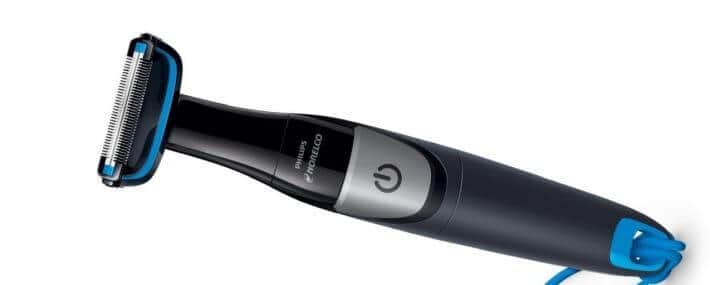 Pros:
Smart tech: blades cut in both directions when you trim your groin area

Variety for your length preferences: from 7/64″ to 1/64″

An additional 1/8″ comb for longer hairs

Great for sensitive skin

Wet or dry operation supported

Cordless and lightweight

Quite cheap
Cons:
Doesn't work as a pubic hair shaver like Norelco 7100

Construction not as good as the 7100 either
If you want a pube trimmer but don't want to spend much, the Norelco 1100 is the best personal trimmer option for you. It's easy to use, lightweight and gets the job done surprisingly good for its price.
Preface: look, this is not an all-in-one groomer like the Norelco 7100. This one is mainly targeted at delicate areas (yes, you can use it as a ball hair trimmer too if you wish!) It's also not a pubic shaver.
And that's ok. Some people prefer to not go completely hairless. Having some stubble is just as hygienic and people with very fine pubic hairs will feel like it's bald anyway.
There is much less chance of getting nicked which can then invite bacteria and infections. You're also less prone to ingrown hairs which are painful and annoying. And it takes much less time to shave yourself if all you are trying to do is clean up the hair there.
With that out of the way, let me say I'm impressed with this one among our top picks and best pubic hair trimmers. First, you've got quite the length adjustments here. This Norelco personal trimmer lets you go from 7/64″ (~3mm) to 1/64″ when it cuts. Additionally, you've got a 1/8″ comb for longer hairs.
What stands out is the cutting technology of the 1100 groomer. The blades cut in both directions, forwards plus backwards, when you move with the pubic trimmer. This results in extremely precise cuts with almost zero hair left behind.
It also makes it much easier to position yourself to get in there around the groin. You don't even have to change the way you hold the trimmer much less change position. This is not only convenient it is also safer to do since you have more control so you're less likely to pinch your skin and nick yourself.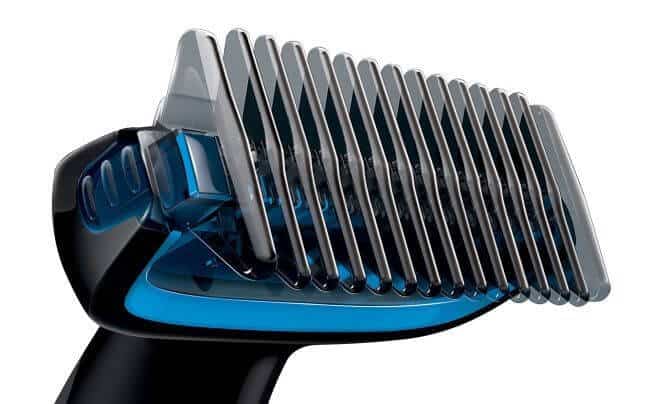 While doing so, the private parts groomer also protects your skin via an intelligent skin protector. Very clever and something any person with sensitive skin will treasure deeply.
Amongst our best pubic hair trimmers on a budget, the Norelco 1100 is water resistant and you can once again use it in the shower. Wet or dry operation are both alright, but it will work better on dry skin.
It is not easy to shave wet hair when you are using an electric trimmer. Even a sharp razor will struggle to cut long hairs. When the hair is stubble and you are just trying to maintain a short length then it isn't as difficult and can be trimmed while wet.
Similar to the ProGlide Styler, this pube trimmer runs on 2 AA batteries. It would be nice, however to be able to charge it so you aren't going through batteries. It is fairly easy on the usage of the battery so you won't be changing often. But you could find yourself in a jam if they go dead and you don't have fresh ones to replace. Having a cord to use it while plugged in would be good. The cordless mode is very convenient, as is the fact that you only need to rinse it under warm water to keep it clean.
The only drawback is something I already mentioned: this is not a pubic hair shaver. It will provide you with a close groin trim, but if you want to cut all private parts hair off, switch to the Norelco 7100.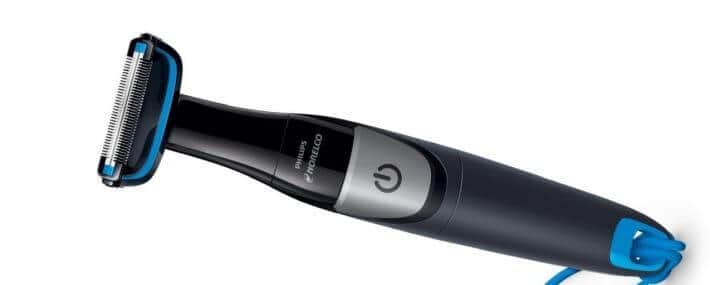 Philips Norelco Bodygroom 1100

Extremely precise cuts with almost zero hair left behind
The 3 best female pubic hair trimmers
Best All-in-one female pubic shaver:


Philips Bikini Perfect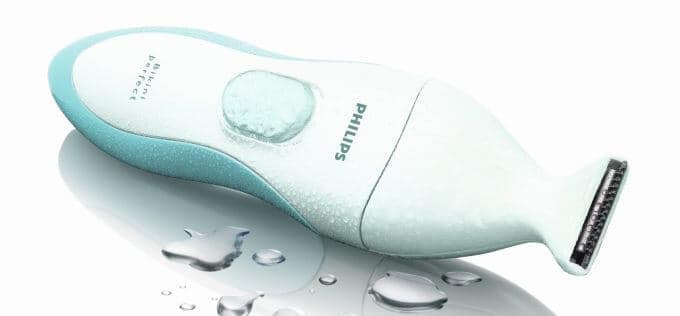 Pros:
All-in-one grooming tool with 6 different attachments (see review below)

Luxury treatment with accessories like a travel bag, tweezers, and exfoliation glove

Cordless convenience

A spectacular 60 minute battery life

Wet or dry shaving

Gentle on the skin via special technology
Cons:
Epilator function isn't that great

Expensive if you're only looking for a female trimmer only
Men have the Norelco 7100 as their go to All-in-one pube shaver. The women's equivalent is Philips Bikini Deluxe, a female trimmer, shaver and…everything, really. Let's take a closer look at my wife's favorite grooming tool for delicate areas.
Although this is clearly designed to look feminine, there is no so called "Pink Tax" associated with it. What is the Pink Tax? This is when a tool that can easily be used by either a man or woman gets colored pink and designed with a womanly aesthetic and then they add more to the price. This is just as cheap as the male version and works just as well. There is no extra cost just to make it marketed towards women!
Philips HP6378 aims to please any lady's needs with six attachments, namely:
Precision female trimmer for bikini lines and general trims

Precise comb with 5 built-in length settings

Epilator to remove any hair without leaving stubbles behind

Eyebrow comb + micro female trimmer for eyebrow shaping

Micro shaver for personal shaving (hypoallergenic foil)
Quite a great choice among the best pubic hair trimmers right there! In addition, with this pubic shaver for women, you'll also receive tweezers, a travel bag, and an exfoliation glove. While my wife hasn't used the glove and tweezers much, they are a great addition.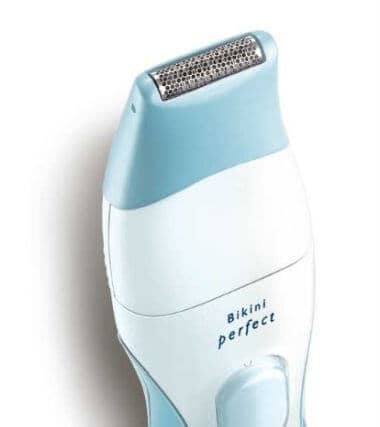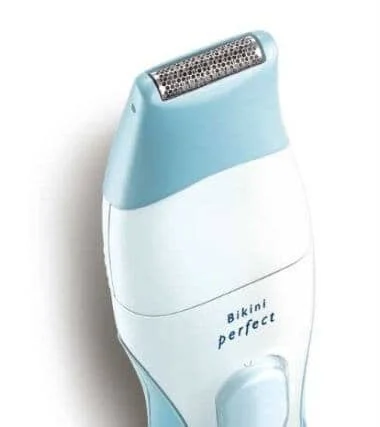 Let's talk about the genital shaver itself. First of all, it's cordless so you have absolute freedom in your grooming. The battery life is quite spectacular at 60 minutes, one of the best times in the niche. The bikini shaver will charge fully in 10 hours.
The cordless operation is supplemented by the Bikini Deluxe's wet or dry mode. You can freely take care of your private parts under the shower. Cleaning it afterwards is quite easy too – just rinse with warm water and don't concern yourself with extra maintenance which is why it made it to our list of the  best pubic hair trimmers.
If you like to shave with shaving cream in front of a mirror then these work just as well with foam as it does with water. Just have a bowl of water nearby to rinse it off so it doesn't get gummed up with hair and cream.
Wondering about the smoothness of your skin? Worry not. This thing is extremely gentle on any skin type, so you won't suffer from the dreaded irritation when shaving.
I have to stress on this: the HP6378 isn't limited to being an electric shaver for pubic hair. You can use it for anything from eyebrows to armpits and feet. After all, you've got six attachments with versatile uses for any lady's needs.
This will essentially pay for itself with how much you use it because of its versatility. Even if you only shave your pubic hair once in a while it will still get plenty of use by shaving your legs, armpits and other unwanted hair.
That said, my wife points out that the epilator could be a bit better. If you want to use it, it's not bad, but a dedicated standalone epilator might prove better for you. Indeed, the female pubic hair trimmer function is the strongest and highest quality part of the Bikini Deluxe set.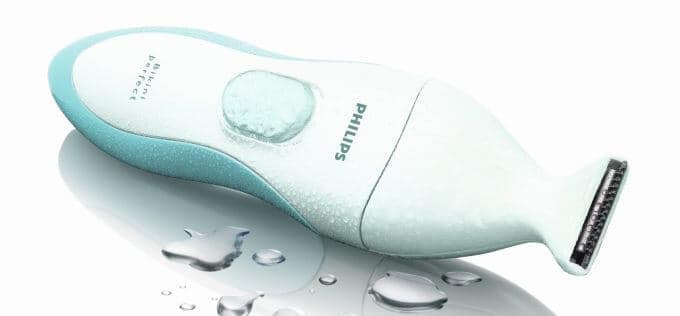 Philips Bikini Perfect

All-in-one grooming tool with 6 different attachments
Balanced best pube shaver for ladies:


Panasonic ES2216PC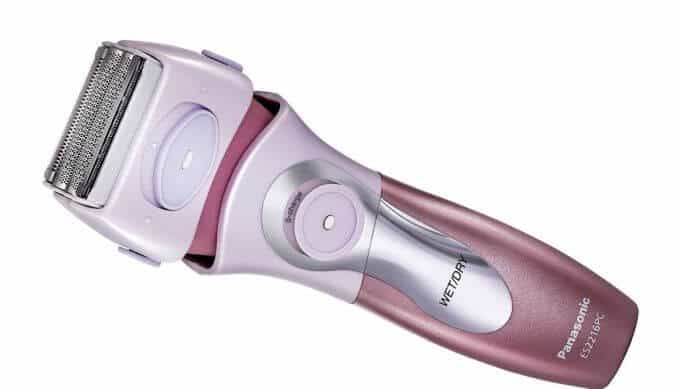 Pros:
4 pube shaver heads float to trace your body contours for smooth shaves

Versatility: you can use it for legs, undearms and other delicate areas

Multiple lengths to shape your perfect personal trim

Extremely skin-friendly with hypo-allergenic, gentle blades

Outstanding design: slim, light and beautiful

Cordless mode with 30 minutes to 1 hour of battery life

Wet or dry shaving
Cons:
Might snag hair when battery is low

Slightly lower running time than some other lady pubic shavers
If you're looking for a more affordable among the best pubic hair trimmers options that still offer you a lot, Panasonic have got the right thing for you. ES2216PC can be used not only for your delicate parts, but also for your legs, underarms and other sensitive body areas.
The model is based on four floating pube shaver heads. They glide along your body, tracing the contours of your skin. As you can guess, this allows for more precise, close cuts that skip on irritating your trimmed areas.
As a women's personal trimmer, Panasonic ES2216PC also features a snap-on bikini trimmer attachment. With multiple lengths to choose from, you can shape your intimate trim just the way you want it to be.
All pubic shavers feature smooth cutting blades gentle on the skin. The ES2216PC shaver for women does exceptionally well here, though. Its hypo-allergenic blades will glide through even the most delicate skin without causing irritations or bumps.
Another forte is the design. Admittedly, most female pubic shavers are quite slim, lightweight and eye-catching.
Still, this Panasonic model goes even further, combining a soft, ergonomic body with a convenient cordless operation.
With the cordless mode, you get 30 to 60 minutes of wet or dry shaving, depending on your preferences. Panasonic recommends the dry mode, which is critical to consider when choosing from our list of the best pubic hair trimmers.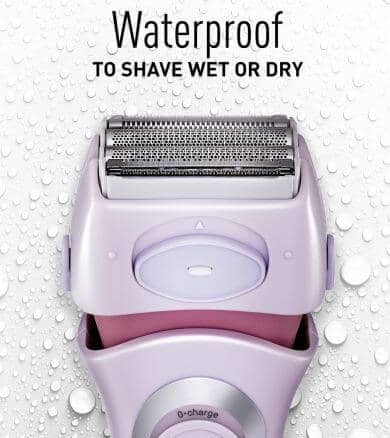 However, usually getting some foam or gel and trimming your intimate parts under the shower is more comfortable.
As for maintenance, this Panasonic shaver for pubic hair is quite straightforward. You just need to rinse under water and the leftover hair (or gel/foam if you used some) will be gone in a few seconds.
One particular weakness of this pube shaver for women comes up when the battery's low. In this case, it can pull your hair. Its battery life could also be a little better as it usually lasts for 30-35 minutes. Still, at its pricing point, this is one of the best pubic hair trimmers and or shavers you'd want.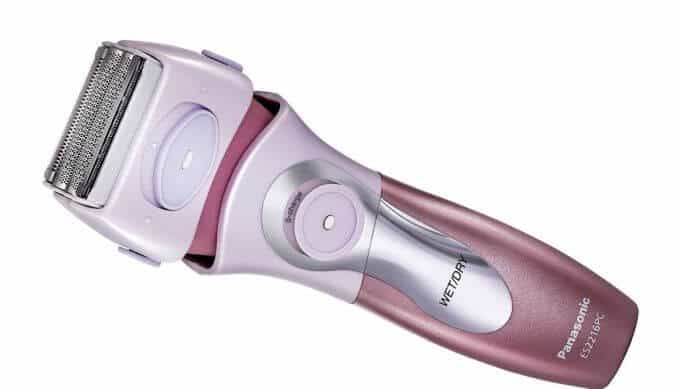 Panasonic ES2216PC

4 pube shaver heads float to trace your body contours for smooth shaves
Budget best pubic hair trimmer for women:


Panasonic ES246AC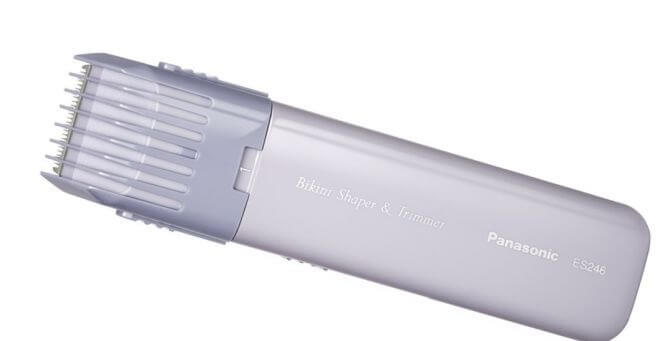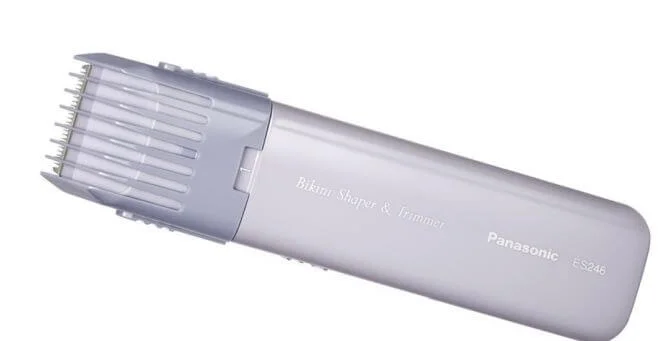 Pros:
Extremely budget-friendly

Very lightweight and compact: 4 ounces / 1.5″ width

5 adjustable lengths for your intimate trimming

Sensitive skin-friendly blades & protection mechanism

Cordless with 45 minute runtime
Cons:
Dry shaving only, as it's not waterproof

You can't rinse it under the tap; have to use the cleaning brush

Won't shave fully as it's a pube trimmer only
An absolute best seller, this little female personal hair trimmer is your best budget option. Don't think it'll be stingy on providing you with a quality trim, though!
First of all, the lightweight body. This model is exceptional in this regard with its 4 ounces and 1.5″ width. Easily the most maneuverable pubic trimmer for ladies out there. Convenient as it is, it also features smooth tips on its head to eliminate razor bump occurrences.
Panasonic ES246AC comes with 5 adjustable lengths for your personal pleasure. You can shape your delicate areas however you wish by simply picking your desired trim length.
The design protects your skin from direct contact with the blades.
As expected, the blades are great for sensitive skin. They also go through different hair types without too much hassle usually.
Two fully charged batteries here will net you around 45 minutes of cordless private area trimming.
Quite good considering the price point of this neat little pube trimmer. Keep in mind that this is intended for dry shaving.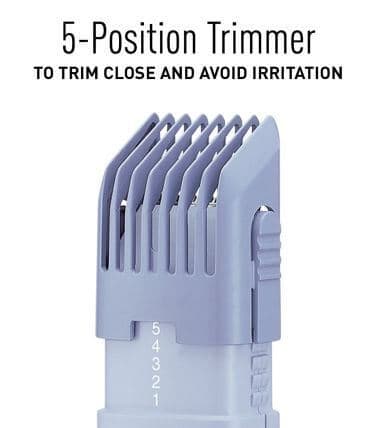 The downsides to this female pubic hair trimmer are mainly two. First, it's not waterproof, so you can't use it in the shower. Second, you need to use the cleaning brush included in the kit, as you can't simply rinse the intimate groomer under the tap.
These maintenance and functionality issues aside, Panasonic ES246AC is a very good bargain for its price. It'll help you trim your delicate area properly and deliver smooth results without hesitation.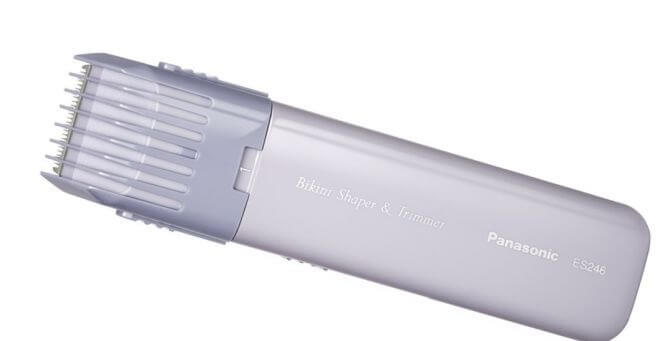 Panasonic ES246AC

Get 5 adjustable lengths for your intimate trimming
I'm an outdoor enthusiast and have sported a full beard since I was in my early 20's. Originally, growing a beard was a way to save time when getting ready each day, but I quickly realized that keeping a neatly trimmed beard takes work and some forethought. That's where this site comes in.
You get to benefit from my years of experience. I've reviewed many of the top hair clippers on the market today and also included some information on what works best for me. A great beard will turn lots of heads in your direction.
Since I never know when I'm going to find myself being photographed, whether it's climbing in Yosemite, or playing volleyball on the beach, it's important to me to always look my very best. Maintaining my beard is part of my daily routine and I hope you'll find some useful tips and information on this site to help you on your journey.