I know why you are reading this. You are sick of razor bumps and ingrown hair down in your "Private Area".
There must be a solution that doesn't involve painful plucking or waxing. Is there a razor out there so you can still shave yet stay smooth and comfortable?
Yes, and I made a list of the best razors for women with sensitive skin so you can shave your bikini and not deal with bumps or discomfort.
Plus, I'll give you some tips on how to use the best razor for sensitive skin so you can avoid any irritation.
Here's a quick list of the best razor for bikini area, but for all the details read the full article!
How to get a smooth shave down there
Even the best razor for bikini area is going to struggle if you don't take some extra measures to prepare your pubic area to be shaved.
Preparation is actually more important than the razor. Just throwing some shaving cream on and using a razor that's been sitting in a damp area for weeks is not going to give you a smooth and comfortable shave.
Here are some ways you can make sure you're going to get a top notch shave.
Trim it
You can't just take a razor to long pubic hairs and shave. Well, you can, but you're going to increase the odds of ingrown hairs and irritated skin as you'll have to keep going over the same spot to get rid of all the hair.
Instead, take a bikini trimmer and get the hair down to just above stubble. You want it short, but still long enough that the hair will absorb water and soften up. If you go right down to the skin then it actually works the opposite that logic would tell you.
You need the hair softened to be easier to shave. Which leads to the next section…
Take a bath or shower
When your skin and hair are well hydrated and warmed up, you're going to have a much easier time shaving without getting ingrown hair or red bumps.
The easier the hair is made to be shaved, the less work your razor has to do so it will be more comfortable.
Make sure your pubic area is wet with hot water for around 10 minutes. If you are in a bath then this is very easy. In the shower, make sure you are focusing the water down there to really soak it with hot water.
Exfoliate
What you really want is to shave under the top most layer of skin to get down as close to the root as possible. Not only will this make for a smoother shave, but it will also last longer before the stubble starts coming in.
Use a gentle exfoliant soap all around your bikini. Don't go too crazy or you will actually make it more likely you will get irritated skin when you shave. You just want to take some of the dead skin off of the top layer before you shave.
This will also get any hairs that are lying flat to pop up so they won't end up growing back under the skin.
Use shaving lotion
Lotion, not cream or foam.
Foams from an aerosol can or, worse, gels, don't help keep the hair and skin moist. They only serve as lubrication. Lubrication is important, but if the hair isn't soft from water, it doesn't do much to achieve a smooth shave.
And if your shave isn't smooth and close then you risk the hair growing back too quickly in the best case scenario and worst case means ingrown hairs.
Look for a lotion that has stuff like shea butter or aloe vera to keep the skin and hair very soft.
Use enough to keep the razor gliding across the skin, but not so much that you can't see the area where you are shaving.
Go with the grain
Before you start shaving and after you have trimmed your pubic hairs down to little more than stubble. Try to get an idea of which way the hair grows. Usually, it grows from the top down, but the sides can grow inward.
You want to start shaving with the grain so to speak, or in the direction the hair grows. If you run your fingers along the hairs and it feels smooth then that is the direction they grow and you should run the razor in the same direction.
If it feels sharp that means your fingers are running against the grain and the hair grows in the opposite direction.
First, go with the direction for the first pass.
Then once you have shaved the entire area you want to be hairless, you can go for another pass.
But this time go across the grain or perpendicular to how it grows. A 45° angle, then.
Finally, for the last pass, you can go against the grain. Use a light application of shaving cream to make sure your razor doesn't snag and run the razor lightly over the pubic area.
Cool it down
Now that you are totally bare, you want to calm the skin down. You can stand in the shower with a handheld showerhead and run cold water over your bikini area. Or you can soak a towel in some frigid water, ring most of the water out and apply it to your pubic area for about 5 minutes.
Moisturize
Once your skin is calm, add a moisturizer that will rehydrate the skin and repair the damage from the razor.
Something soothing like aloe vera is ideal, like this one from Kerah Lane on Amazon.com comes highly recommended.
Sanitize your razor
Now comes the most important part that is often neglected by many women. And men for that matter.
You need to disinfect your razor by swabbing a cotton ball with alcohol over the blades. This will prevent any bacteria from growing which can infect your razor bumps.
Then, keep your razor in a dry place so it will stay sharp longer.
Best razor for bikini area
Many women have become aware of what is called "Pink Price". You know what this is even if you have never heard the term. Take something that can be unisex or for men, give it a feminine name, color it pink and, boom, now you can charge more money for it.
Everything listed below is "Pink Price" free. These are all tools that work well and are reasonably priced. If I see something that has a male version of the same tool for less money I will not add it to the list.
So, take a look and see which you think will be the best razor for women to shave their pubic hairs that will work best for you!
Schick Quattro For Women Trimstyle Razor & Bikini Trimmer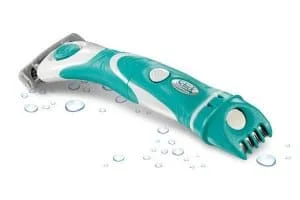 I love tools that have everything you need in one place. Since you may need to be trimming your pubic hairs in order to shave them, then the Trimstyle is the perfect solution for you.
With one side a trimmer head to trim your hairs down to a shaveable length, and the other side a 4 blade Schick razor, it is super convenient.
The Razor
I think 4 blades is more than enough to give a good shave. A lot of blade manufacturers these days will put as many blades as they can fit on a cartridge since it markets better. But, the reality is that a 4 blade system works great.
The head pivots and is flexible enough to go around curves and requires very little pressure is needed so when you go over sensitive bits like genitalia, it glides safely.
The Trimmer
On the other side of the handle is the battery operated trimmer.
You have two settings available. One will get your hair very close to the skin. I recommend using this only if you don't plan to shave that area and just want a tight trim up as it isn't the ideal length to use the razor on after as I mentioned in a previous section.
The other setting leaves it slightly longer than stubble. The ideal length to then shave if you follow the instructions I laid out already.
Always trim the long hair when dry. Wet hair gets stuck in the trimmer blades and is hard to cut evenly. You'll get better results when the hair is dry even though it can be used wet.
Ergonomic
The size and shape is really nice to use in the shower or bath as it is easy to grip and is petite enough to manage easily. It can get into some hard to reach areas and is never bulky feeling in the hand.
Easy to clean and maintain
Clean up is simple as you can rinse the trimmer under running water to get all the hairs out of it.
The same obviously goes for the razor side.
Just make sure that when you put it away it is dry. Dry it off with a towel and leave it in a dry area.
This is not rechargeable and since it needs to be opened and closed to put new batteries in, it is not as secure as you may want it to be to keep any dampness from getting in. One it gets damp in the battery area it's game over.
Verdict
This is an awesome razor/trimmer hybrid that is kind of a no brainer. It works well and the price is right. For convenience it is ideal.
The only downsides are that the replacement cartridges are expensive, but that is par for the course when it comes to razors. The other point is that it is not rechargeable. It would be nice to plug it in to recharge and not having to worry about replacing dead batteries.
If you can live with that, then you should have the best razor for sensitive skin when it comes to your bikini area.
Close Curves Panasonic Electric Shaver for Women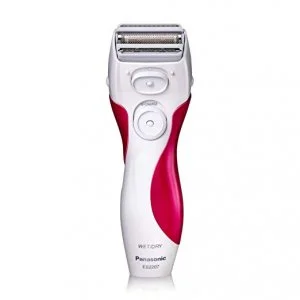 Another razor that is not only highly effective and is on the list for best razor for women for the bikini area but also very convenient is the Close Curves electric razor.
Once again, you don't need a trimmer to mow down your pubes no matter how long they are.
You don't even need a different trimmer head to do the job like with the Trimstyle. With one pass you trim down the hair and then shave it.
Shave and Trim
With two trimmer blades on either side of the foil razor in the middle, you simply pass the razor over the hairy area you want to shave. The trimmers cut the hair down to stubble and then the foil razor in the middle shaves it right down. This is not only convenient but highly effective.
When the trimmers cut the hair, they also lift them straight up to be shaved so they are in the ideal position to be shaved very close.
The angle of the trimmer blades is also just right. You can maintain close contact with the skin without it nicking or pulling your hair.
And the hypoallergenic foil hides some really sharp blades underneath. The foil is thin enough for the blades to cut very close, as close as with a regular razor blade, without nicking or irritating the skin.
Very smooth
All three of the blades, the two trimmers, and the foil razor, float independently of each other so you can get a very smooth and comfortable shave.
Basically, they all sit on sort of buffer that allows the blades to move around with the contours of your body.
Battery
This is the one downside to using the Panasonic Close Curves. You only get 20 minutes per charge. While this is generally more than enough time to shave your genitals completely bare, you probably will only get one shave session off of each charge. It can be used with the charging cord, outside of the shower obviously, so you can at least shave if it gets low on battery or dies mid shave on you.
Verdict
There is a lot to like about this electric razor and it sits comfortably in the best razor for sensitive skin category since it does such a great job with the trimmer/shaver combo. It is easy to use, easy to clean and leaves your pubic area smooth and bump free.
I like to recommend women who suffer from razor bumps to use a foil system electric razor as it is so gentle on the skin. This is no exception.
Philips Norelco Oneblade QP6520/70 Pro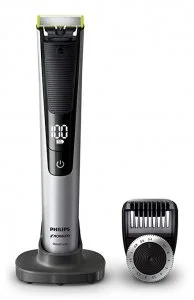 This is a trimmer/shaver combo that is designed for men but I think works great for women too. Whether we are talking about men or women it is definitely one of the best razors for sensitive skin as it is designed specifically for that.
One of the reason for that is that the razor doesn't shave right down to the skin.
The Razor
While it is a foil razor like Close Curves, its design is much different. First of all the shape is square and flat.
The other difference is that it is not designed for a smooth as a baby's bottom shave. If you have trouble finding a razor that doesn't leave you with razor bumps no matter how much it is geared towards sensitive skin then you may want to leave a slight bit of stubble.
When I say slight, I mean very slight. The area will look bald, but a run of the hand over the area will reveal that there is a bit of stubble left there.
This is very helpful to avoid ingrown hairs and red bumps. You won't end up with irritated skin as it is not aggressive at all.
The Trimmer
Just like the Close Curves, the One Blade Pro has two trimmer blades on either end of the foil razor to cut down the hair as it passes over to the be cut by the razor.
So, you don't need to pre trim the hair to give yourself a shave down there.
Just run the Oneblade right over the area and in minutes the hair is gone.
The other benefit of the trimmer blades is that they can be used as an edger. If you want to leave the hair on your genitals and just shave around the bikini line, you can give yourself a nice edge by using the trimmers on the side and perpendicular to the skin. Then just shave the area you want to be bald and you're done. No need for another tool.
It also has an adjustable plastic comb to put over the blade if you want to trim your pubic hair but leave up to ⅓ of an inch of length.
Ergonomic
The size of the Oneblade is only slightly larger than a regular razor and is about half the size of the Trimstyle.
This makes it super easy to navigate around your groin and even your butt if you decide to go totally bald.
It gives you a nice non slip grip so if you are using it in the shower it will be easy to hold.
Wet or dry
Use it in the shower, or with shaving cream for wet use. If you are in a rush, then it works equally well dry. Especially since it isn't meant to get totally smooth.
Battery
This is a nice rechargeable type of razor and sits on a very small charging dock to maximize your space on your vanity.
It takes an hour to fully charge and gives you a whopping 90 minutes of runtime.
Verdict
To me, this is the best razor for women with sensitive genitals and don't mind that it isn't totally bald. The price is great. It performs really well and it lasts a long time.
There really is no downside to it at all.
Gillette Fusion5 ProGlide Power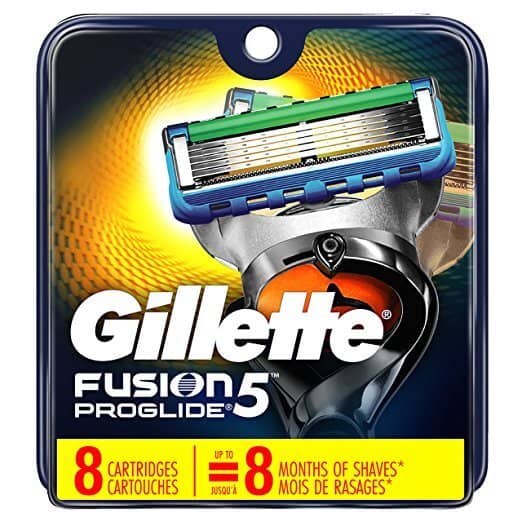 Ignore the packaging and the fact that this is marketed towards men. This is every bit as good for women to use on their bikini line and genitals. It has so many features that makes it ideal as the best razor for bikini area.
It's just another case where it is the marketing that changes but not the product. You don't need this to be pink or even have a different sized razor head just because you are a woman.
Flexball
With a head that pivots side to side and front to back, this razor will follow every contour and curve that you throw at it.
Going around the inside of your thigh, plus over your actual genitalia presents some contours that the Flexball technology can easily handle.
Microcomb
To help when your hair is longer than stubble but not long enough to warrant breaking out the trimmers, you have a small pre trimmer called a microcomb.
It lifts the hair nicely to be shaved by the razor blades making it the Proglide the best razor for sensitive skin as it won't pull the hair and is very gentle.
Power
It is battery operated so it is efficient at shaving due to the microvibrations. This also helps to lift the hair up so it's easier to shave.
Again, it makes it great for sensitive skin since you won't be running the blades over the same spot multiple times.
Versatile
Since it is a Gillette razor you can swap out the cartridges for other razors. It works with any of the Fusion blades.
Verdict
There isn't much more to add since most people are already familiar with Gillette Fusion, but I hope that it opens up your eyes to the possibilities that maybe you hadn't thought of. Since it is marketed towards men and face shaving it may not seem like a logical choice to shave your vagina. I would say it is ideal and is likely one of the best razors for bikini area that may not be on most women's radar.
Final Thoughts
I hope this article helps you realize that even if you have suffered from razor bumps, irritated skin, and ingrown hairs that there is still hope for using a razor.
You don't need to go to get waxed at an expensive salon, you don't need laser treatments or painful plucking.
You may just need a different approach to using a razor to shave your pubic hairs.
If you have any questions about any of these razors or have used them and still need some help avoiding the ingrown hairs, then just ask away by dropping a message into the comment box below.
Sadly, being a barber does not make me an expert in female genital grooming, but I am married and can at least ask my wife!
I'm an outdoor enthusiast and have sported a full beard since I was in my early 20's. Originally, growing a beard was a way to save time when getting ready each day, but I quickly realized that keeping a neatly trimmed beard takes work and some forethought. That's where this site comes in.
You get to benefit from my years of experience. I've reviewed many of the top hair clippers on the market today and also included some information on what works best for me. A great beard will turn lots of heads in your direction.
Since I never know when I'm going to find myself being photographed, whether it's climbing in Yosemite, or playing volleyball on the beach, it's important to me to always look my very best. Maintaining my beard is part of my daily routine and I hope you'll find some useful tips and information on this site to help you on your journey.