5 best nose, ear & eyebrow trimmers for men & women
There's sexy hair: hellooo, beards! And then there's the oh-god-please-no totally unsexy hair. You can see the latter sprouting its dreaded spawns… Around your ears. Inside your nose. Turning your eyebrows into thick, furry caterpillars.
Ouch!
This is, of course, truer for us hairy men. However, ladies do encounter similar issues sometimes. Don't we all need a top rated ear, nose and eyebrow trimmer to tame the facial hair beast?
Yup. I use this awesome Wahl lighted trimmer from Amazon.com. My wife sticks to her Panasonic eyebrow trimmer from Amazon.com for her own grooming needs. You know… I also used to have this Panasonic trimmer: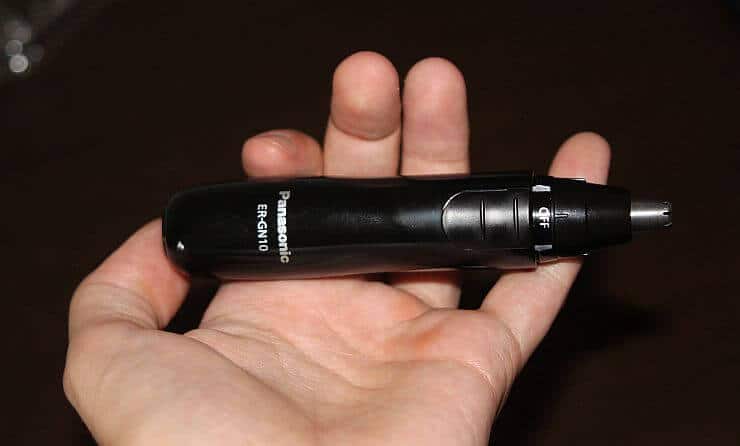 But I found it a bit outdated, so I made the leap to another set of nose hair clippers. It's not like they're extremely expensive anyways, right?
Anyways! Let's keep the ball rolling with some comparison tables, before we get to the eyebrow and nose hair trimmer reviews in 2017.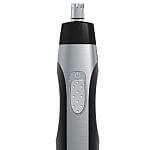 Wahl #5546-200

Best for:
Built-in flashlight-like feature for more accurate nose trims & very sharp, precise blades.

Comfort:
★★★★★

Trim precision:
★★★★★

Versatility:
★★★★½

Price: $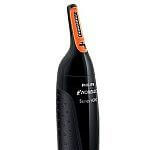 Norelco NT5175/49

Best for:
Versatility: two brow combs, beard comb, can also trim neckline & sideburns.

Comfort:
★★★★½

Trim precision:
★★★★

Versatility:
★★★★★

Price: $$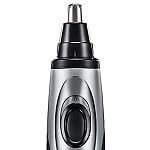 Panasonic ER430K

Best for:
Vacuum feature that sweeps trimmed hairs & gentle curved blades.

Comfort:
★★★★★

Trim precision:
★★★★★

Versatility:
★★★★½

Price: $$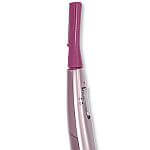 Panasonic ES2113PC

Best for:
Elegant design, hypoallergenic blades, two brow combs and flexible pivoting head.

Comfort:
★★★★★

Trim precision:
★★★★½

Versatility:
★★★★½

Price: $$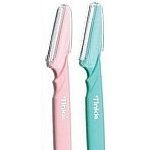 Tinkle Razor

Best for:
Unmatched precision, all-around solution for peach fuzz and women facial hair.

Comfort:
★★★½

Trim precision:
★★★★★

Versatility:
★★★★½

Price: $
The 5 best nose, ear and eyebrow hair trimmers
1. Best overall nose hair trimmer:


Lighted trimmer #5546-200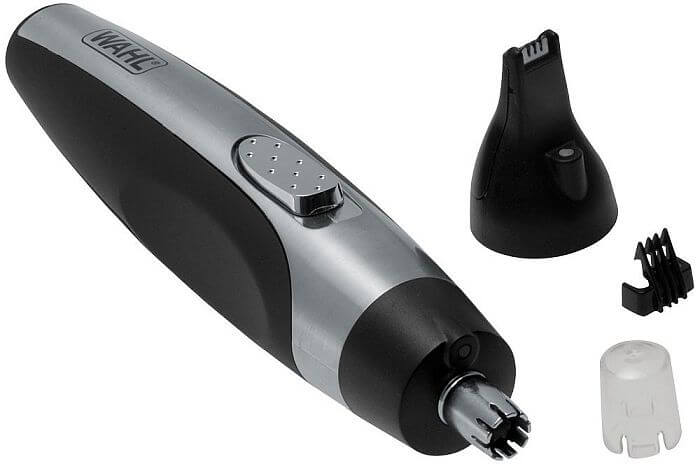 Here's the thing: Wahl have some more popular ear, nose and eyebrow trimmers for men out there. But for me, this model achieved the best results.
I won't lie, a big portion of that is due to its "Mini-spotlight" feature. You literally have a small flashlight inside of that thing that guides you through the hairy depths of your nose. And let me tell you, my nose sure is a furry cavern!
As you can guess, this allows for some absurd precision nose hair trimming. That's far from everything the Wahl clipper for nose hair has to offer you, though.
You can also use it as an eyebrow trimmer for men! In fact, you have two swappable heads here. Use the reciprocating head for your brows and ear hair, and the rotary head for your nose. A protective cap will keep both clean.
Adding to its flexibility, this little guy is also ready for both wet or dry use. Take your pick, though I don't like nose trimming under the shower, it's all dry for me. The sharp stainless steel blades achieve the best cut of all nasal trimmer I've used so far.
The Wahl nose trimmer runs on one AA battery. Lucky us: the product comes with one battery included in the package, so you can use it straight away! It should last you for quite a while, depending on your grooming needs. I mean, if you only use it for the nose, one battery lasts an eternity.
Two main downsides here. First, you're not getting a little pouch for storing this little fellow. Second, its design might not seem as exciting as some other models (Panasonic or Philips) out there. By the way, it's a great nose trimmer for ladies too!
2. Best Philips micro trimmer for nose hair:


Norelco NT5175/49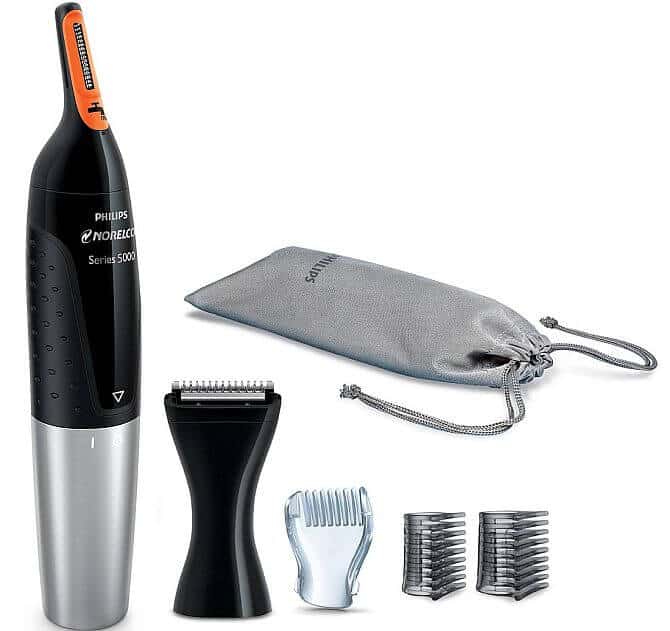 The name Norelco is a classic in body grooming. From beard to pubic trimmers, Philips have nailed the art of providing us with cool grooming gadgets and now include the best ear trimmers.
Their Norelco 5100 ear, nose and eyebrow trimmer is yet another example. In fact, it goes well beyond, as you can use it to shape a bit of your neckline and sideburns too. Supposedly it works as a beard stubble trimmer too, but it's not that effective there.
Anyways, the keyword here is customization. This thing is like an all-in-one unwanted hair extinguisher! You've got two eyebrow combs (1/8″ and 3/16″), a beard comb at 1/8″, a soft pouch, a brush…
If that isn't some seriously luxurious treatment, huh! Combine that with an included AA battery and the convenience of cleaning it just by rinsing under water…And you've got a winning formula, check it out in action:
The 5100 trimmer for men's eyebrows and nose hair has two important technologies in it. First, it's the ProtecTube tech that prevents pulling or nicking, a.k.a any irritation when you trim.
Then, you've got the DualCut feature that ensures more powerful trimming at better speed with limited friction. Between these two, you shouldn't experience any inconveniences. I mean, who wants to have their nose hair being pulled in such a sensitive area?
Now, there's one thing you need to know: the blades are sharp, but not top grade sharp if compared with some other models. They'll do the job just fine, but if you're extremely hairy, look at some other alternatives.
3. Best vacuum trimmer for nose hair:


Panasonic ER430K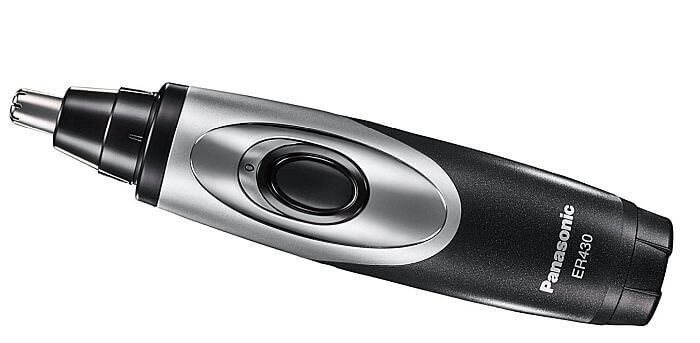 We've discussed how cool it's to have a vacuum beard trimmer or hair clipper. So, why not extend it to nose or ear hair? At least that's what Panasonic seem to have thought.
And it sure works. ER430K is the best ear trimmers for men with a reason. Its Micro-vacuum system will make your unwanted hairs go all POOF! If you hate cleaning after trimming, there's your solution.
That's cool, you think, but how does it actually perform? Worry not, hairy fellow, Panasonic wouldn't betray you like this.
The curved, hypoallergenic blades of the vacuum nose trimmer are pretty comparable to how my own Wahl performs. They won't irritate and will chop those pesky hair invaders in one go.
Once again, you're free to use this gadget both wet or dry, depending on what you prefer. The design is ahh-mazing, very sleek, very ergonomic. You also grab a travel pouch for convenient storage.
The cons? Well, the vacuum feature makes it operate a liittle bit louder, to be honest. Also, unlike the other models, you don't get a battery included in the pack. But these aren't a tough pill to swallow in exchange for that vacuum function, right?
4. Best electric eyebrow trimmer for women:
Panasonic ES2113PC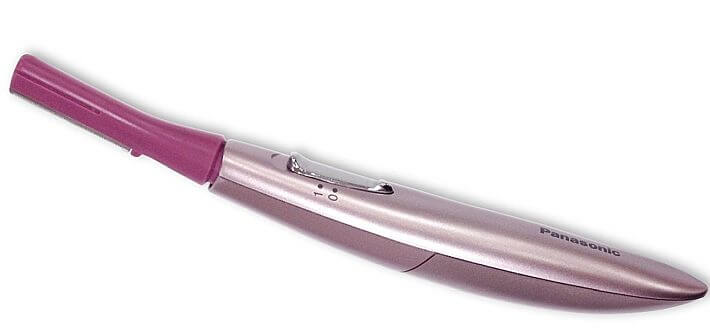 Once again, Panasonic, and a favorite for women all over the world. It all starts with the very attractive, slim and lightweight design of this female facial trimmer. ES2113PC looks like a gentle pink feather, ready to take care of your eyebrow trouble.
Two comb attachments (A & B) provide you with different lengths you can trim your eyebrows with. The pivoting head allows for precise, close eyebrow trimming as it follows your face's contours.
Ladies are even more concerned about skin irritation. Rest easy: this facial trimmer for women has hypoallergenic blades that won't cause any issues. They'll glide over your skin, ridding you of the unwanted follicles in no time.
In fact, you can also use this as a neck hair trimmer or as a peach fuzz trimmer for women. So, there's some versatility included in the eyebrow shaver package!
What you won't receive, however, is the AAA battery it needs to run on. A slight disadvantage, but nothing too bad. My wife's main remark is that, unfortunately you can't buy replacement blades if something happens to the stock ones.
5. Best female facial & eyebrow razor:
Tinkle razor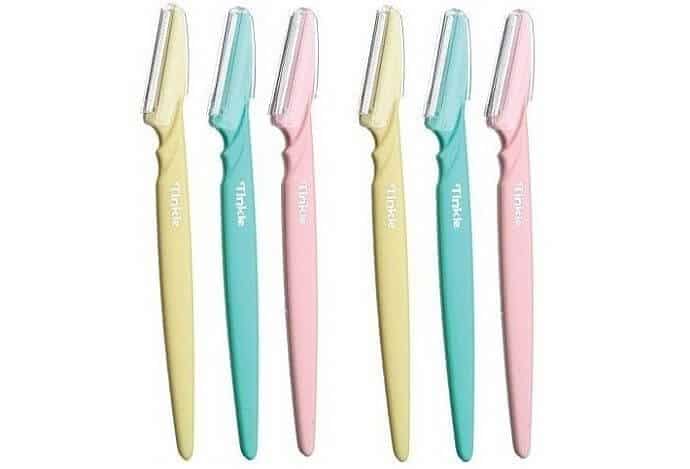 Some ladies skip on facial trimmers and go for eyebrow razors instead. It's a matter of personal preference, really, as both seem to work fine according to my wife. Keep in mind that razors are sharper and you need to be more careful, though!
Tinkle is, hands down, the best option here (Shiseido would be a runner up.)
Grabbing one of these means you can eradicate any peach fuzz anywhere on your face (around lips too!), or shape your eyebrows beautifully. A note: razors can be a bit harder to pull off with brows, as there's a higher margin of error. If you're a total beginner, a trimmer might be better.
Please use one of these only after you've cleaned your face, possibly adding a little bit of moisturizer. Don't perform too quick, wide-swept motions – instead shape slowly, with careful, tiny motions.
Here's a video on how to shape your eyebrows and you can see some facial razors in action there:
Tinkle razors will leave no hair behind as their blades are absolute champions. As long as you're careful with your shaving technique, you also won't encounter any irritation. Grabbing a pack of these is cheap enough and will last you for quite a bit!
How to use a nose hair trimmer:
is it that hard?
No, not at all. In fact, it's ridiculously easy.
There's two main things you need to watch out for: proper vision "inside" your nose, and not going too deep with the gadget.
On the first point, just grab a pocket mirror or be in front of one. If you tilt your head back a little (which you should do), you'll be able to peek inside your nose. Start trimming away and inspect the insides of your hairy, nosy jungle to see how you're faring.
An alternative is a built-in light, such as the one my own Wahl trimmer for men's nose hair has. That's why I can skip on keeping a mirror around, but not many models have this nifty feature.
Please, don't go too deep with the trimmer. You don't need to perform an excavation! Otherwise you risk discomfort and let me tell you, your nose is way too sensitive to like it.
The same applies for your ears. In case you decide to clean up your ears a bit, don't go too far in. If you're too zealous with how deep you go, you risk damaging your ear canal.
Bonus point for using an ear trimmer is hygiene. You want your ears to be clean before using it, so get to work. Now, many people advise against using Q-tips, but that's my way to do things.
Anyways, once you've got that ear wax out of the way, start trimming with gentle motions close to the surface of your ear. Nothing too complicated, really.