Comfortably sitting among the more popular medium-budget clippers, Andis Speedmaster 2 is a bit different.
In contrast with standard models with stainless steel blades, the Speedmaster blades are ceramic. Ceramic blades stay cooler and they generally stand the test of time better.
Add to this the Speedmaster 2 clippers' sleek design and you've got a more than a decent machine.
I'll elaborate on these points and some other things in this Andis Speedmaster 2 review.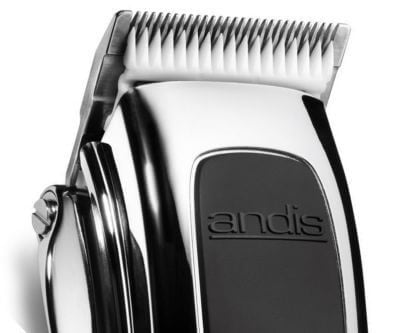 Andis Speedmaster 2 Clipper Review: An Overview
| You'll love it for these | But you won't like these |
| --- | --- |
| | Motor isn't that powerful |
| | Not great for bulk cutting |
| | |
| | |
Andis Speedmaster 2: unexpectedly stylish
Considering its price range, the Speedmaster 2 clipper really pleases the eye. Its body is made of chrome-plated plastic, very durable and sleek in design. The machine is lighter than other Andis clippers at 0.9 lbs and measures 6″.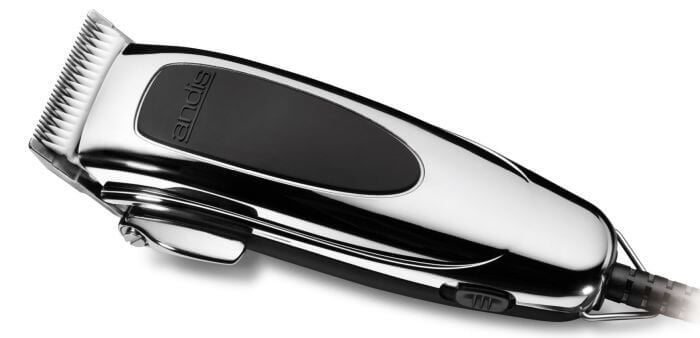 The weight is a perfect balance – it's just heavy enough for proper hair cutting. Nobody likes clippers that are too lightweight, because your grip will suffer then.
There is a balance to it being heavy enough to feel solid and light enough to not give you hand cramps. If you use these professionally then you need to get through the day without heavy clippers slowing you down.
When you use them at home it doesn't really matter how light they are, anyway.
Speaking of grips, the Andis Speedmaster II clipper has a black rubber section on its top part. This further helps in terms of ergonomics.
As if this wasn't good enough, Andis have gone an extra mile with this cutter. You'll also receive a total of 9 Speedmaster guards – sizes 1/16″ to 1″. Of course, you'll get clipper oil, blade cleaning brush, and a blade guard. A very, very sweet deal.
If you need to do the whole haircut with your clippers you will definitely need some longer clipper guards. I recommend the Nano magnetic ones from Amazon.com. They clip on really well without any chance of the guard popping off mid haircut.
Andis Speedmaster 2 blades & motor
I already mentioned earlier in this Andis Speedmaster 2 review how unconventional it is for a medium-budget clipper to have ceramic blades. This is a total godsend because Andis ceramic blades stay way cooler than your usual stainless steel ones. The brand advertises 75% cooler blade action here, which might be a bit over the top. Nevertheless, you will feel the difference and you'll love it.
One thing to keep in mind though is that ceramic blades are more fragile than the carbon steel ones. The nice thing is that they also resist getting dull, even if you aren't as diligent with keeping them hair free as you should. Hair is acidic so it dulls the carbon and stainless steel ones if you leave hair on them.
Another thing, so two things to be aware of, is that they are also more expensive than the regular steel blades.
As an Andis adjustable blade clipper, the Speedmaster 2 allows for blade adjustment. You can pick a length from #1 (1/8″) to #000 (1/100″.) The ceramic blades cut sharp and are durable, making this model a great fading clipper.
It also goes through the thicker ethnic hair types without hassles.
The motor is a pivot one and runs very quiet. Few other clippers as a whole, not only Andis', can take pride in such a quiet operation. The Speedmaster 2 clipper's motor is decent, but not great.
It doesn't have as much torque as other rotary motor systems. The motor is just not as powerful as some of the Oster clippers with the same type of motor. But it does do a better job at cutting through thick hair than an electromagnetic motor.
Comparison with other professional hair clippers
A few people have asked me for an Andis Speedmaster 2 vs Andis Master comparison. I'll be blunt: there's not much to compare. While the Speedmaster 2 clipper is way cheaper than the Master, and runs cooler, that's where it all ends for it.
The Speedmaster has a 3400 strokes per minute pivot motor, while the Master can cut at up to 14 000 strokes. You can't really compare the output those two models have. In addition, the Master simply smashes it as a fade clipper. Similar conclusion can be said about the new Andis Pro Alloy XTR and the Speedmaster.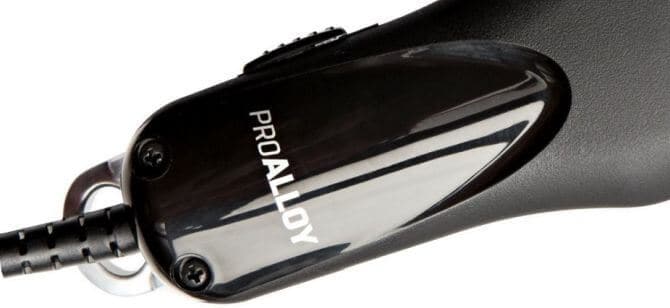 If the Speedmaster 2 clipper can be compared with another clipper, this would be the Oster Fast Feed. Both run on pivot motors and are in the medium-budget clipper pool. The Fast Feed isn't that shiny and elegant, but I'd say it performs a little better. A tough match, in any case.
Things Andis Speedmaster 2 clipper doesn't do that well
If you're looking for a heavy-duty clipper, ready to easily cut in bulks, this model might not be your optimal choice. As I already mentioned, the root is the pivot motor. 3400 strokes per minute are actually decent, but other barber clippers simply perform better.
Pivot motors simply get beaten by electromagnetic motors when it comes to cutting hair in bulk amounts. You can use the Speedmaster 2 as your hair clipper for home use, or as a supplement to a main cutter. If you plan on doing buzzcuts and short haircuts, it's king. It's also good for getting some tight fades. But it won't be your best bet for heavy-duty tasks.
These will work great as secondary clippers that aren't being relied upon to do the bulk of the work at the shop. If you just need a clipper for detail work then this is a good option.
For home use I think it's excellent. The quiet motor is useful when cutting kids hair so they don't get scared by loud clippers. If you're not using these all day then there really isn't much of a downside.

The Andis Speedmaster 2 clipper also vibrates a bit. While it's not as serious as some of the barber clipper tough guys, you'll feel it. Honestly, that's not that much of a problem to me. Especially with a lighter body like this model, you can't expect a hair cutter to stay still all the time.
For perfectionists, the Speedmaster 2 doesn't have notches to keep things extra tight like the Master. Anyway though, everything stays secure and you shouldn't expect any slips or operation-related headaches.
Andis Speedmaster 2: Final Verdict
To summarise this Andis Speedmaster 2 review, the clipper is a great bang for your buck, overall. Cosmetic fancy things put aside, the ceramic blades and quiet operation make it a real winner. While the slightly weaker motor and vibrations are a shortcoming, they aren't a critical drawback.
It's simple: this is not a true Andis barber clipper. As a hair clipper for use at home, however, it's more than a reasonable choice. If you cut shorter hair, do some fades or want to do some quality beard trims along the way, the Speedmaster is your way to go.
Not only are they cheap for the quality you get, but also grab a nice set of additional accessories. I say go for it!
I'm an outdoor enthusiast and have sported a full beard since I was in my early 20's. Originally, growing a beard was a way to save time when getting ready each day, but I quickly realized that keeping a neatly trimmed beard takes work and some forethought. That's where this site comes in.
You get to benefit from my years of experience. I've reviewed many of the top hair clippers on the market today and also included some information on what works best for me. A great beard will turn lots of heads in your direction.
Since I never know when I'm going to find myself being photographed, whether it's climbing in Yosemite, or playing volleyball on the beach, it's important to me to always look my very best. Maintaining my beard is part of my daily routine and I hope you'll find some useful tips and information on this site to help you on your journey.