Let me get this straight. If it's about Andis cordless trimmers, there's no model that beats the Slimline Pro Li. This Andis Slimline Pro Li review will tell you why.
In fact, I'd put this model among the top 3 best cordless hair trimmers on the current market. A good deal of reasons for that, starting with its lightweight body, precise blades and 6000 strokes per minute power.
At the same time, though, plenty of people wonder how the Slimline Pro Li vs Slimline Pro and Pro Li vs Slimline 2 comparison turns out. Let's start this Andis Slimline Pro Li review by taking a quick look at the 3 models: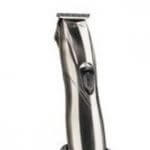 Slimline Pro Li

Body:
6.13", 0.3 lbs. Tough ABS polymer.
★★★★★

Motor:
Rotary motor @ 6000 SPM
★★★★½

Blades:
Andis D8 T-blade.
★★★★★

Battery:
Lithium-Ion, record-breaking 2 hours.
★★★★★

Accessories:
4 guards (1/16", 1/8", 1/4", 3/8")

Price: $$+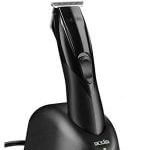 Slimline Pro

Body:
5.63", 0.3lbs. Polymer.
★★★★

Motor:
Rotary motor @ 5700 SPM
★★★★

Blades:
Andis D7 T-blade.
★★★★★

Battery:
NiMH, lower battery life.
★★★★

Accessories:
4 guards (1/16", 1/8", 1/4", 3/8")

Price: $$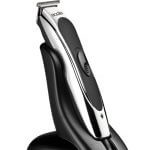 Slimline 2

Body:
6.25", 0.3 lbs. Polymer.
★★★★

Motor:
Rotary motor @ 6000 SPM
★★★★½

Blades:
Andis older gen T-blade. Can't be zero gapped.
★★★½

Battery:
NiMH, lower battery life.
★★★★

Accessories:
8 guards (1/16" to 3/4")

Price: $$
As you can see, for just a few bucks more than the Slimline Pro or Slimline 2, you get increased battery life, better battery technology and a more durable body. Slimline 2 also encounters troubles with zero gaps and its T Blade is a bit older than the Pro Li/Pro blades.
Let's move on to the real Andis Slimline Pro Li review!
Andis Slimline Pro Li: seductive elegance
One glance at the body of the Slimline Pro Li and you'll be charmed. A bit longer than usual trimmers at 6.13″, it nevertheless weighs a mere 0.30 lbs. This is exactly half the weight of an Andis T-Outliner, for example. It isn't just for looks, though. The shape is very ergonomic and provides a nice shape for a proper grip. You can get your hands right around it comfortably so it doesn't feel awkward in the hand.
This also helps for maneuverability so you can easily navigate around your clients head. Good for him since your presence is not going to be annoying and good for you so you can work quickly and effectively.
Take a look at the Pro Li cordless trimmer and guess what it's made of: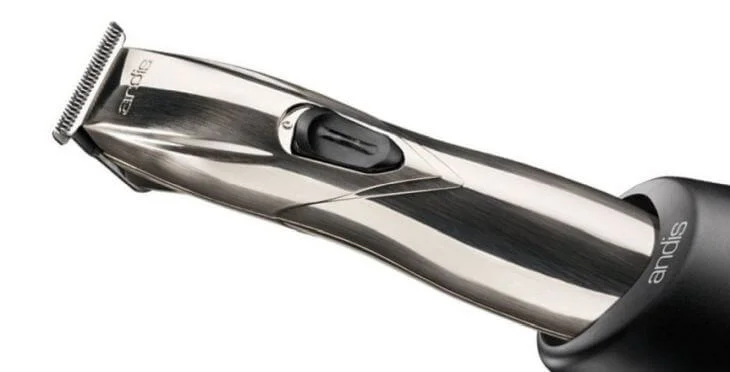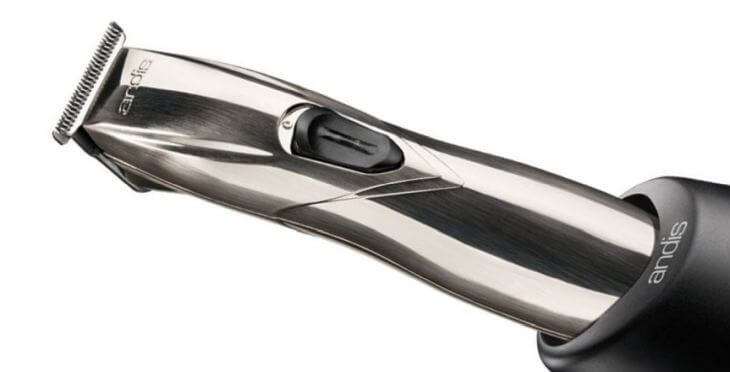 The answer is: ABS polymer with a brushed nickel finish. The ABS is a very tough polymer, with impact resistance built in it. The metallic finish coats this sturdiness with a stylish, elegant shell.
Using ABS polymer is good for a couple of reasons. First is that it is a good way to keep the cost own. It costs a lot less than aluminum or titanium for example. And this cost is passed on to you so you can get a great quality trimmer for a lot less than you would expect to pay.
Another reason is that it is more lightweight. When you're working with your hands, it's important to keep your tools as lightweight as possible to avoid hand cramping.
The downside to having it with a metallic finish is that it shows every scratch. And scratches are inevitable when you are working in a busy shop no matter how careful you are.
Aside from the trimmer, usually you should receive a set of 4 guards, 1/16″, 1/8″, 1/4″ and 3/8″ in length. Of course, the charger stand and blade oil are also included.
Note: the trimmer runs on 120V, but it's compatible with both 50HZ and 60HZ frequencies. You also get 1 year manufacturer's guarantee.
Inside the Slimline Pro Li trimmer
The parts that really matter are as exquisite as the casing of this Andis cordless hair trimmer. First of all, you've got a rotary motor operating at 6000 strokes per minute (SPM).
Rotary motors are quite durable, and with 6000 SPM, you're getting a trimmer that's more powerful than some clipper models. In other words, you shouldn't be concerned with the Pro Li lacking power to do its job properly.
Rotary motors are way more powerful than the electromagnetic ones seen in many trimmers and clippers. They give more torque so they can cut through hair much easier. Usually you see this in clippers like in the Oster line, but it is nice to also have the option in a trimmer.
A very important point I'd like to touch on are the blades here. Slimline Pro Li is one of the trimmers that can achieve the closest shaves ever. Its carbon steel blade is both accurate and extremely sharp.
What some people (me included) will advise you is to zero gap it. This way it will do even finer detailing, with laser-precise neckline shaping, touchups or whatever task you want to use it for.
You can either do so by getting the special Slimline Pro blade setteror follow this video's instructions:
A battery life to astound you
Few cordless trimmers can boast about a battery charge that lasts for 2 whole hours. With its powerful Lithium-Ion battery, Slimline Pro Li is a true champion.
What this means in practical terms is that you can pretty much get a full day of haircuts before it needs to charge again. Since the average haircut only needs the trimmer for a few minutes, you can probably do about 20 or 30 before you need to charge it again. Of course, it has a charging dock to store it so you can just keep it charging between cuts.
What's even better is that fully charging the trimmer takes around 2 hours and 15 minutes. The "downtime" you'll get with it is just a little bit longer than its actual operation time!
Honestly, for home use, you can go without charging it for quite a long time. The trimmer's lightweight body makes it very maneuverable. You'll trim your mustaches, necklines, beard or sideburns in no time. It's also perfect for smaller hands and for women barbers.
Andis Slimline Pro Li vs Slimline Pro
I really think there's no need for a standalone Andis Slimline Pro review. While these two models appear similar at a first glance, there are a few core differences between them.
Here's how the Pro model looks: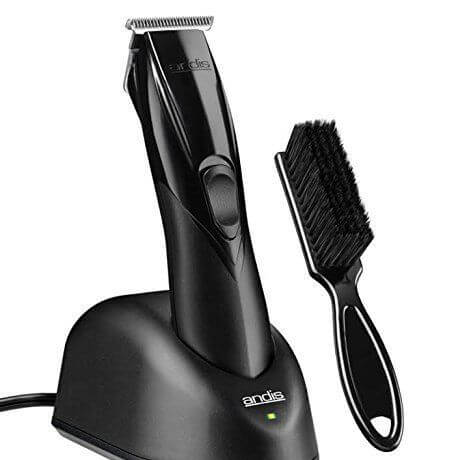 Of course, the first thing you'll see is the Slimline Pro trimmer being cheaper. This is due to the following three things:
Slimline Pro has a slower motor at 5700 SPM (vs Pro Li with its 6000).

The Pro trimmer comes with the older NiMH battery technology. It lacks the durability and overall battery quality of the Lithium-Ion Pro Li.

It features a gloss black finish that is neither as stylish, nor as sturdy as the brushed nickel of the Pro Li trimmer with T blade.
The only significant benefit of Andis Slimline Pro is its 5.63″ body that is with 0.5″ smaller than the Pro Li.
Regarding Andis Slimline Pro Li vs the Slimline 2…don't even get me started. Just skip on the Slimline 2 and go for the better Pro Li. It wouldn't be fair to even compare them.
Weaker points of the Slimline Pro Li T blade trimmer
In this part of Andis Slimline Pro Li review, there's nothing that substantial to complain about here. I just want you to know that, while powerful for a cordless hair trimmer, the Pro Li still can't match up to the corded Andis trimmers.
For example, both the T-Outliner and Andis GTX trimmer will run at 7200 SPM. Especially the GTX can be more versatile in its uses. However, you lose the flexibility (cordless) and will encounter some heating issues with these.
Pictured below: the standard T Outliner.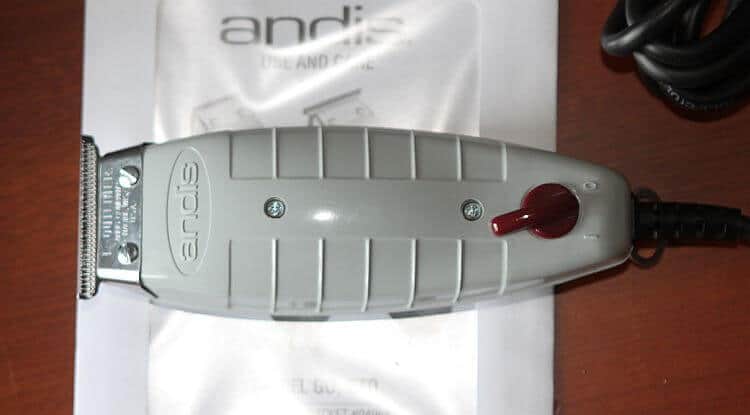 You also have to be careful with the Pro Li blades. Especially if you zero gap them, they can nick skin. Don't apply too much pressure, especially if you have more sensitive skin.
Without any doubt, this Andis Slimline Pro Li review shows that the Slimline Pro Li is the champion of Andis cordless trimmers. It's the equivalent of what Wahl Sterling Mag is to Wahl wireless hair trimmers.
The Pro Li combines seductive looks with tremendous cutting power considering it's a cordless model. As a finishing touch, it also adds an outstanding 2-hour battery charge to the mix.
All of this on a very lucrative price if you compare it to other cordless trimmers on the market. After doing this Andis Slimline Pro Li review, I'd recommend it to both barbers and home users looking for something more professional. It'll change your grooming habits for sure.
I'm an outdoor enthusiast and have sported a full beard since I was in my early 20's. Originally, growing a beard was a way to save time when getting ready each day, but I quickly realized that keeping a neatly trimmed beard takes work and some forethought. That's where this site comes in.
You get to benefit from my years of experience. I've reviewed many of the top hair clippers on the market today and also included some information on what works best for me. A great beard will turn lots of heads in your direction.
Since I never know when I'm going to find myself being photographed, whether it's climbing in Yosemite, or playing volleyball on the beach, it's important to me to always look my very best. Maintaining my beard is part of my daily routine and I hope you'll find some useful tips and information on this site to help you on your journey.