When was the last time you had fun being soaked? Amplify this a thousand times and you'll get how a not-dryed-pooch must feel.
In my past insights about pet grooming, I focused on the clippers I use for my Shih Tzu. But hair cutters are just one small part of the whole process, right?
The truth is, you can't have a proper grooming session with your pup without a dog blow dryer. This rings especially true for professionals. If you're from the DIY home groomer crowd, though, you also need to consider one.
Towels can only go so far, especially with bigger dog breeds with heavier coats.
Of course, it's more nuanced than that. Let me start with this comparison chart before moving onto the review of dog blow dryers. You can count on me for some general buying tips, as well as how to properly use dog blow dryers.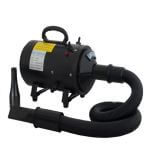 Go Pet Dry

Best for:
Home users and both light or heavy coats. Not as effective for double coats or as a pro groomer dryer.

Body:
15" x 9" x 6.5", 10 lbs.

Air flow strength:
★★★★
5000-10,000 FPM

Horse power/amps:
★★★★½
Up to 3 HP.

Temperature control:
★★★★
2 modes, 86°F to 157°F.

Price: $$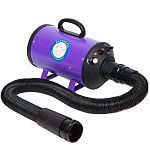 Flying Pig One

Best for:
Professionals seeking a heavy-duty blow dryer. Great for even the thickest of coats or very big dogs.

Body:
16" x 9" x 9", 10.5 lbs.

Air flow strength:
★★★★★
Up to 28,000 FPM

Horse power/amps:
★★★★★
4 HP & 16.36 amps.

Temperature control:
★★★★★
2 modes, 86°F to 157°F.

Price: $$+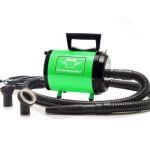 MetroVac AirForce

Best for:
Lightweight dryer for home use or pro grooming. Double coats, medium duty at above average power and air flow strength.

Body:
12" x 7" x 7", 6 lbs.

Air flow strength:
★★★★½
11,500-23,000 FPM

Horse power/amps:
★★★★
1.7 HP & 7.5 amps.

Temperature control:
★★★★
Good control, cool & powerful drying.

Price: $$+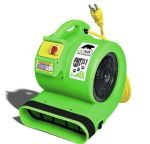 B-Air GP-1 Grizzly

Best for:
Cage dryer for hands-off use and lighter drying for extra anxious pets. Not good for very thick coats.

Body:
19" x 18" x 19.5", 41 lbs.

Air flow strength:
★★★★
3550 CFM

Horse power/amps:
★★★½
1 HP & 9.8 amps.

Temperature control:
★★★★
Good control with 3 motor speeds to further customize.

Price: $$$
The 4 Best Blow Dryers for Dogs
1. Best dog blow dryer for home

Go Pet Club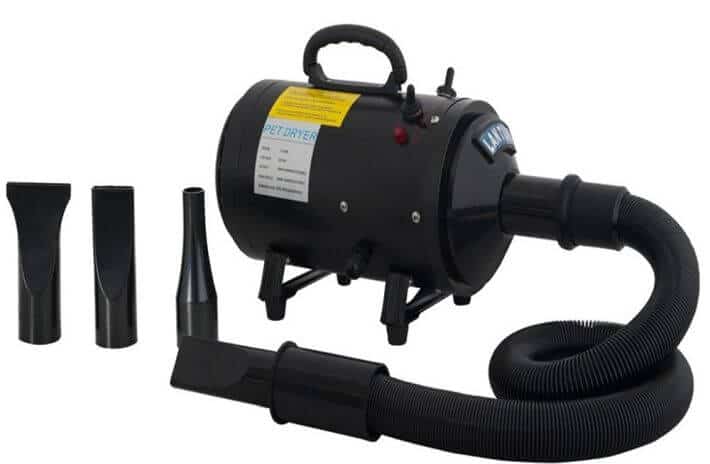 Let's be honest.
Most home users don't need an extreme powerhouse, but they do need quality. Go Pet's product does exactly this. Even better: it's price is extremely lucrative and won't break your bank.
So, what do you get here?
A pretty decent offering in terms of power and control. Go Pet's dog blow dryers come with 2 speeds and 2 adjustable temperature controls.
As you can guess, you'll use the lower speed for skittish dogs with lighter coats. The higher one will draw more watts, working on heavier coats with decent results. This pet hair dryer goes up to 2400W in terms of power, and its lowest starting point is 400W.
The temperature range is pretty decent: from 86°F to 157°F. Careful with the higher temperatures as the heat, combined with the higher speed might cause irritation for your beloved fluffball.
Let's see it in action:
Another good thing is the overall construction quality. The hose is flexible and attaches properly; the body of the dryer is quite durable too. You won't get cheaped on despite its pricing point.
Now, the bad things. First, flexible as it is, the hose only goes at around 4-6 feet or so. This is a little bit on the shorter side if you want more moving range.
In addition, Go Pet's model is somewhat noisier than other dog blow dryers I'll review here. Keep that in mind if you have an extra anxious companion at home. If you're a professional groomer, this won't quite cut it in my opinion. Look for more powerful options.
2. Best high velocity dog dryer

Flying Pig's pet grooming dryer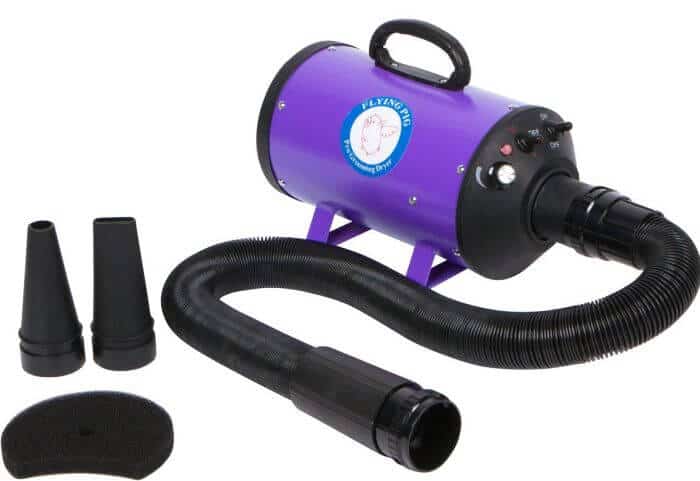 We're entering professional dog blow dryers and groomer territory with Flying Pig's force dryer for dogs. This is a brand that's very respected among experts and there's a reason for that. Solid price for extreme performance and quality.
This model clocks at 4 horse power and 1800 watts, ready for all kinds of coats and adheres to the highest pro standards. The motor powering all of this is extremely intelligently manufactured and will last you for a long time.
Once again, you have 2 different speeds to choose from. You can deal with shedding undercoat with the higher speed, for example. The lowest is once again great for getting the pet acquainted with the dryer.
Flying Pig's dog dryer expands on Go Pet with 3 temperature modes: low, high, and none. It's just a bit more versatile at 85°F to 165°F.
As a whole, this is how any dog will feel with this high class appliance: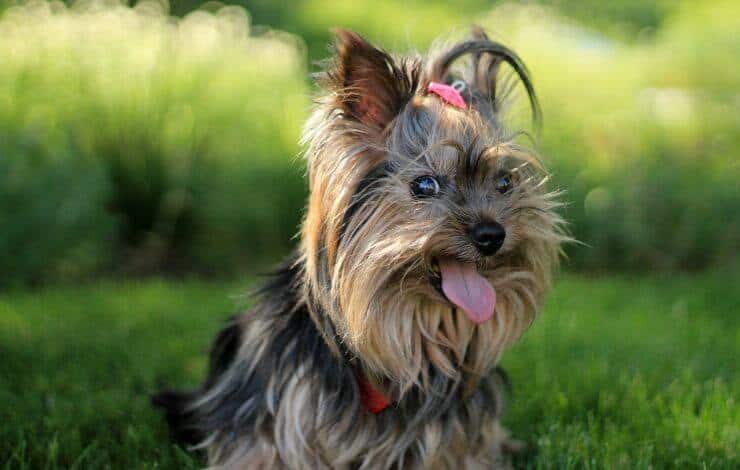 A huge upgrade here is the hose. At 10 feet, it's outstanding if you're a groomer who needs to move around more. With two different nozzles included, as well as a filter, you've got the needed customization covered too.
What you'll surely love is how quiet this high velocity dryer runs given its 16.36 amps. Despite being a professional tool, it really cuts back on noise levels. Any groomer will appreciate this.
For its price range, I don't see any drawbacks to this Flying Pig dog blower for grooming. For home users, however, this might lean on the pricier range of things.
3. Best force dryer for dogs:

MetroVac Airforce Commander 1.7HP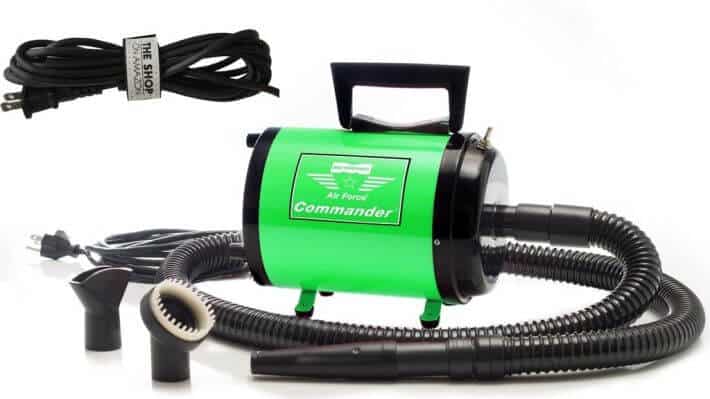 It was about time for MetroVac to make an appearance. You can't do a few reviews of dog blow dryers without including one of the most prominent brands.
The model I've included here is their Air Force Commander's 1.7 horse power, 7.5 amps version. It's labeled as perfect for heavy coats. With its HP and 900W, it's a middle range dryer ready for balanced use.
Of course, if you prefer a weaker model, just get the short coat one (1.17HP and 900W.) Alternatively, there's a double coat model that is 1350W and runs at 4HP.
Now, onto the model itself. This one scores extra on versatility, as you can use it both horizontally and vertically. I know some people might not care about this, but it's a feature I like. Here's a quick video before I continue:
Once again you have a few speed controls to suit you and your pet's preferences. Where MetroVac excel is customizability. You've got a groomer rake, air flare and air concentrator included with this dryer for some quality grooming.
As far as flexibility goes, the hose here stands at 6 feet, while the cord measures at around 12 feet. It's not as wide-range as Flying Pig's model, but you still get a decent range here.
Unlike other dog blow dryers, this one excels in temperature control. The technology the Commander uses is very intelligent and there should be no risk of having your dog inconvenienced/irritated by any heat.
In addition, changing the filters and as a whole, the maintenance of MetroVac's product is quite a straight-forward, easy task. Very easy to clean filters and you know you'll need to maintain them once in a while.
4. Best cage dryer for dogs:

B-Air Dryer GP-1 Grizzly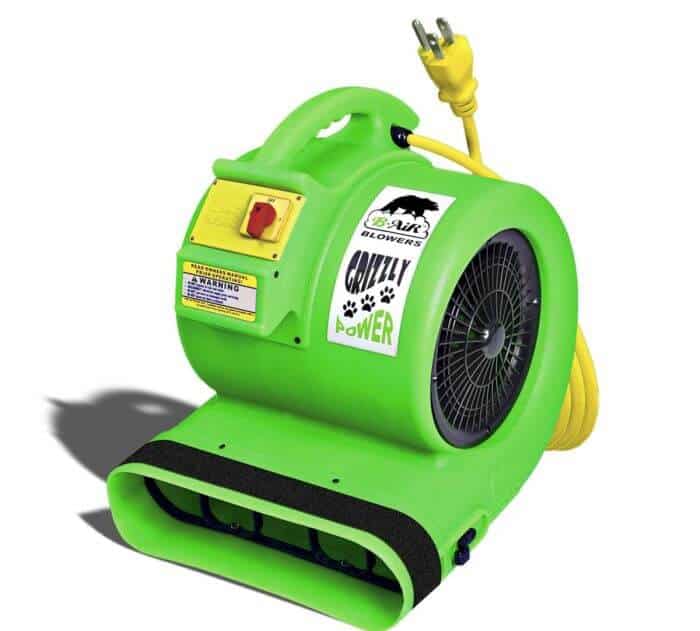 Some people like cage dryers, others don't. I'm neutral, but you should always remember that a cabinet dryer for dogs isn't as powerful as the previous options. If you have a dog that has a double coat/extremely thick coat, this model won't be as effective.
However, the distance between the cage dryers and your dog is great if you have an extremely anxious pet. They will be able to walk around in their mesh/cage and you don't need to hold the dryer all the time.
At only 1 horse power and 9.8 amps, GP-1 falls behind, but scores high on convenience and safety. For your pet's comfort, it has safety locks. For your own peace of mind, it's made of Roto-molded Polyethylene that's both anti-skid and durable for long-term use.
In addition, the GP-1 pet cage dryer can be used at 3 angles: horizontally, at 45 or 90 degrees. With 3 speeds to choose from, you can customize your fluffball's drying process easily.
The model is bulkier than others I mentioned, but that shouldn't concern you. After all, you'll just hang it on the cage.
As I mentioned, the biggest drawback is it's limited power. The air flow also clocks at only 3550 CFM: that's good for smaller dogs or lighter coats. But a very heavy coat and a bigger area to dry will take quite some time.
Why not a human hair dryer?
Of course, in a more financially convenient world, you'd be able to save some cash and go for normal dog blow dryers. Here's the catch, though:
Dogs have thick fur that requires a) more power and b) more time.

Our pooches aren't us: they are more sensitive to warmth and the heat a human blow dryer emits risks making them uneasy or hurting them.

The normal dryer technology and process might harm your dog's healthy coat. Dog blow dryers are made so they keep the coat healthy/detangle it while blowing dead fur off.

In fact, high velocity dog blow dryers/force dryers don't use internal heat per se. Instead, the air gets heated by the sheer pressure when going out.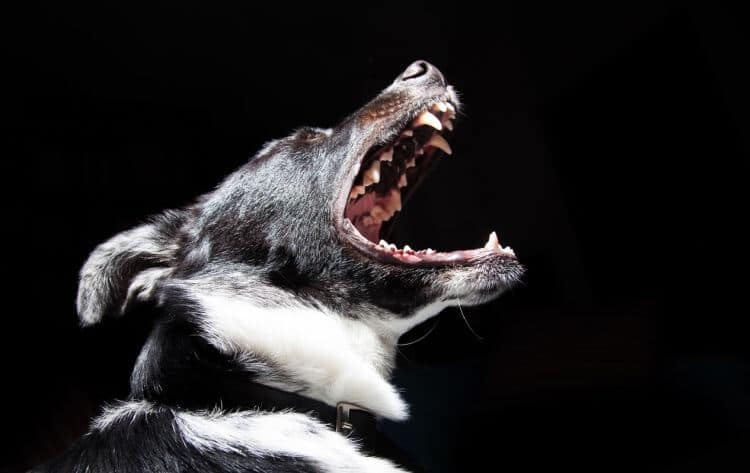 7 things to look for when reading dog dryer reviews
What you want to see in any blowdryer for pets depends on whether you plan to use it at home, or as a professional groomer. There's a few points of comparison to consider when buying a blow dryer for your dog:
Speed modes: Most modern pet or dog blow dryers dryers are either 2-speed or 3-speed ones. This helps with drying the coat (light, heavy, double) of various breeds. Groomers will want at least a 2-speed dryer. With lower speeds you also get a quieter operation. This is good news for those dogs that get anxious with high noise levels. It may take longer to dry them, but at least it will be drama free. You may also be able to start out with a low speed and ramp it as they get used to it. If you are planning to do your grooming at home and have just one dog then a single speed dryer since you won't need to be varying the speed.

Strength/Air flow: The air pressure any model puts out equals how fast and how well the pet's coat will dry. Heavier coats will require higher FPM (Feet per minute.) Most proper dog blow dryers will have various FPMs for different coats.

Heat control: As you saw with the pup dryers I recommended, controlling how warm the appliance gets is a crucial part of a quality model. You'll use it not only for different coats, but according to how sensitive a pet is.

Noise: This is quite similar to dog clippers – both dryers and cutters are something new to our pets. They feel scared and confused. High noise appliance will only make it worse, so a quiet-running dryer is a must for more skittish animals.
Maintenance: You'll need to clean/take care of your pet grooming dryer from time to time. How easy to clean are its air filters? How affordable are the spare parts? Luckily, most models score great on both points.

Build quality: Buying one of these can cost you a bit, especially if it's a dog groomer dryer. You'll want a sturdy metal construction that won't bruise easily. In addition, you want good quality, durable hose that will withstand any air flow power. One note about the dryer being metal. You need to make sure that you keep this in an area where it will not rust or get corroded. Also, metal can make the dryer noisy. If you are afraid of too much noise when you use it, then you may want to opt for one of the plastic polymer models from this list. Also, check to see how it is rated for impact resistance. As we all now, any dog grooming tool can take a beating so it is important that it can handle a bump or bruise on occasion.

Compactness/Storage: This applies especially for home users. Some models can really take a lot of space or can be difficult to operate with due to their bulkiness. Keep in mind the dimensions of the model you like. Can you also use it vertically or horizontally? If you have a lot of space like a big garage or basement, then you can probably get away with having a cage dryer. Most at home groomers can probably get away with just using a stand dryer. These will take up a lot less space than a cage dryer and will definitely get the job done.

Quality Nozzle: A cheap nozzle is susceptible to cracking due to heat and air speed pressure. If you do a lot of grooming then the chances are even greater your nozzle will fail. It should be made with a durable plastic polymer that won't overheat and is wide enough for air to flow through it properly.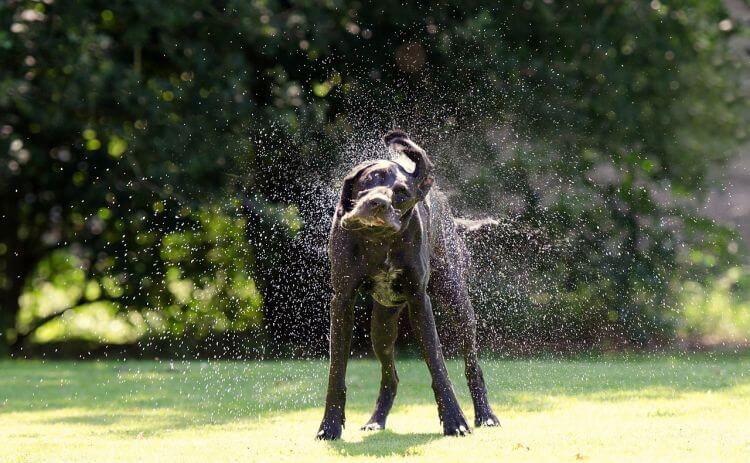 Especially if it's your pet's first drying experience, it's easy for things to get a little bit out of hand. Here's a quick rundown on how to use a blow dryer on your dog for best results:
After turning the dryer on, first test it by yourself. Direct it at yourself and check its warmth. This might also reduce the anxiousness of your pet: they see that this appliance is something their owner is familiar with.

To further get your dog used to the whole idea of the dryer, connect and disconnect the attachments while they watch a few times. After disconnecting them, place them closer and let them inspect them if they seem interested. Otherwise let them sit there so they can look at them and get used to the idea of how the machine works.

This depends on the model, but start from afar. Don't rush it and don't put it too close to your pet before it's gotten used to the air flow being directed at them. A gradual approach is better.

Work with careful, circular motions. Move the nozzle in circles on the chosen parts of your dog's fur. Take your time for proper blow drying, but don't linger too much on the same spot so you don't inconvenience your dog. Never blow the air directly into the dog's face. They won't appreciate the warm wind in their eyes, nose or ears. At least not at first. It might seem like something they would like seeing as how they love to stick their heads out of the window of a moving car. Yet, they don't love the dryer blowing in their face.

Especially force dryers for dogs part the skin when working as they're very powerful. That's your best chance to look for your fluffball's overall skin health. Check for any hidden wounds, abrasions etc.

Be careful with sensitive areas: face and ears mainly. Check the temperature and lower both heat and air pressure. Whenever you're using the dryer near the ear area, cover your pooch's ears with your fingers to reduce noise levels.
 If you still prefer to go the towel way, this article has some good tips.
Final Thoughts
If you end up buying one of these best dog blow dryers from the list, then you're halfway there to a delighted puff ball.
Now follow the guide I added after the reviews and you're going to love your brand new pooch!
It won't be easy, that I can promise, but the results will speak for themselves. If you have any questions or feel I missed something then drop a line in the comment box below and I will get back to you as soon as I can.
I'm an outdoor enthusiast and have sported a full beard since I was in my early 20's. Originally, growing a beard was a way to save time when getting ready each day, but I quickly realized that keeping a neatly trimmed beard takes work and some forethought. That's where this site comes in.
You get to benefit from my years of experience. I've reviewed many of the top hair clippers on the market today and also included some information on what works best for me. A great beard will turn lots of heads in your direction.
Since I never know when I'm going to find myself being photographed, whether it's climbing in Yosemite, or playing volleyball on the beach, it's important to me to always look my very best. Maintaining my beard is part of my daily routine and I hope you'll find some useful tips and information on this site to help you on your journey.