If you find yourself just out of grooming school and getting ready to become a professional dog groomer, then you should be looking into what the best dog clippers are.
Try to not be tempted to go for something cheap that you plan to upgrade later.
Professional dog clippers will actually end up paying for themselves, for a couple of reasons.
First, a good set of clippers will work efficiently. Then you'll find yourself working more quickly and doing more cuts per day. Which means more money in your pocket.
The other benefit is that your work will look much better. People will notice and you'll find your clientele grow much faster.
Take a look at the busy dog grooming salons and see what they are using.
In this article, I will review the five best dog clippers that you will certainly see in the best salons around.
Here's a chart so you can compare the models side by side at a glance if you don't have time to read the whole article.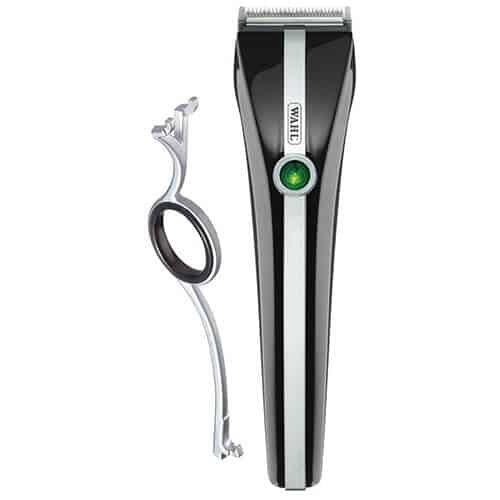 WAHL Motion Lithium Ion Clipper

Best For:
Has a lot of features that professionals will love

Speeds:
5,500 SPM

Motor Power:
★★★★

Blade:
Adjustable

Price:
$$$$$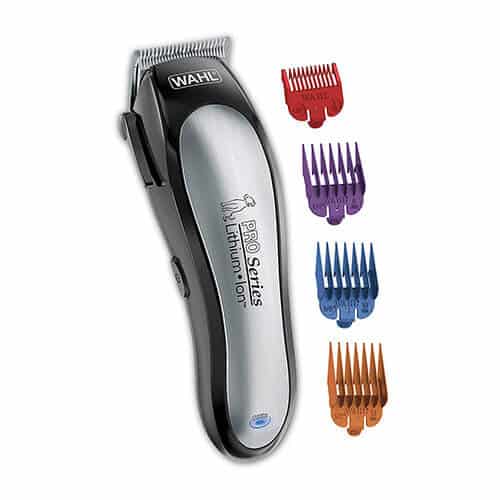 WAHL Lithium Ion Pro Series

Best For:
Great budget option for groomers just starting out

Speeds:
6000 SPM

Motor Power:
★★★

Blade:
Adjustable

Price:
$$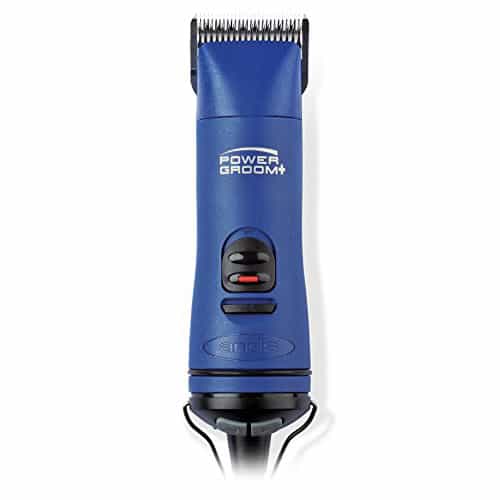 Andis Power Groom+ 5-Speed

Best For:
Superb versatility and power with a cordless option

Speeds:
5 Speeds

Motor Power:
★★★★★

Blade:
Detachable

Price:
$$$$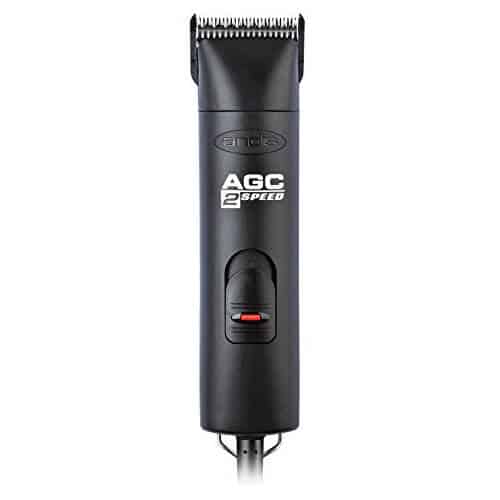 Andis ProClip AGC2 2-Speed

Best For:
2 speeds for versatility and good torque from rotary motor

Speeds:
2700 SPM and 3400 SPM

Motor Power:
★★★★

Blade:
Detachable

Price:
$$$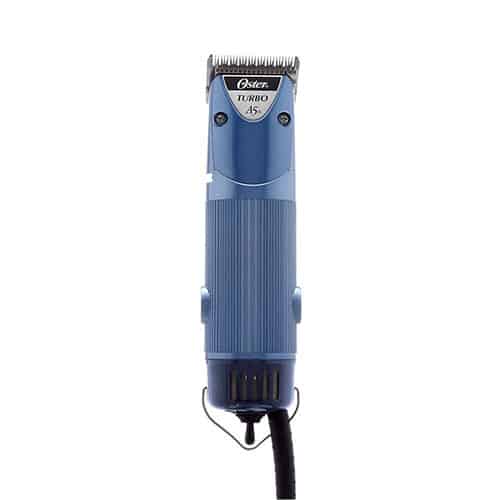 Oster A5 Two Speed

Best For:
2 speeds with high torque for difficult coats

Speeds:
3,000 SPM and 4,000 SPM

Motor Power:
★★★★

Blade:
Detachable

Price:
$$$$
What to look for in professional dog clippers
Torque
This is easily the most overlooked feature of a clipper.
For a powerful motor to be able to really cut through anything, then torque is essential. This is the force it takes to rotate something. In this case the piston in a clipper motor or the blade.
While it is important to have a high-speed capability, that is not so indicative of how easily it can cut.
Torque is what you want to get through those thick matted coats.
Speed
Measured in Strokes Per Minute, or SPM, the speed of the blade is also quite important. When you need to get through a cut quickly, then this number becomes something you really need to look at.
If you can have a multi-speed clipper, then this is the ideal option. High speed is great for bulk cutting, but it can cause the dog clippers to heat up. When you are doing detail work, it is more useful to use a lower speed and avoid the high temperature the high-speed causes.
The downside to multi-speed clippers is that they tend to be heavier than the single speed ones.
Weight
On the subject of weight, this is also something that may not be considered important. When you are well into your shift and your hand starts to get fatigued, then you will understand how a few ounces can make a difference.
Anything over 1.5 pounds is considered heavy. Not that it would be a deal breaker, but if your primary clippers are over that it could lead to some tiring days.
If the clippers you are interested in are over that weight but won't be your primary clippers then it should be ok since you won't be using them the entire day.
If they are your primary, or even only, dog clippers then you should try to find the lightest ones that still fit the rest of your criteria.
Blade Type
You have two choices. Detachable blade systems or an adjustable blade. Each has their benefits and drawbacks.
Detachable blades are made of either ceramic or carbon steel. Either version is very strong and stays sharp for a long time.
Adjustable blades are sometimes not quite as sharp as the detachable and sometimes struggle against thick fur.
The benefit of using an adjustable blade though is speed. When you need to change sizes, it is a simple flick of a thumb.
Changing a blade in the middle of a cut with an uncooperative dog is not the most pleasant thing to do.
Price
My motto is to always spend to the upper limits of your budget. If you have $100 to spend, don't look at the $50 clippers. I am not trying to say that money should be no object and to get the most expensive dog clippers. I simply mean that you should get the best ones you can afford.
I made the point earlier about how the clippers will pay for themselves, and I stand by that.
You'll get a lot of features that you really need in a professional setting by getting the best dog clippers you can afford.
Here's Our List of the Best Dog Grooming Clippers for Professionals
WAHL Motion Lithium Ion Clipper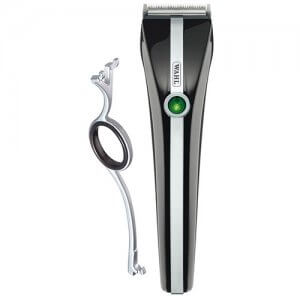 | You'll love it for these | But you won't like these |
| --- | --- |
| Cordless or corded operation | |
| | |
| | |
| | |
| Removable finger grip for stability | |
| 5 in 1 blade adjusts to sizes #9, #10, #15, #30, and #40 | |
These clippers almost look too elegant to be used on anything other than a supermodel.
It is futuristic looking, shiny and very cool.
But, when you are a professional, form has to take a back seat to function.
And these function superbly.
They are cordless, so they are very easy to use on even the most disagreeable dog. With an added finger grip that can be removed, there is no way these are getting knocked out of your hand. Similar in appearance to the grip of a scissor, they can be removed for when you don't want to use them.
This is something unique that I had never seen in a set of clippers before.
As for how they cut, they have everything you need to be able to perform at your best.
The speed is a very nice 5,000 SPM, but more importantly, have a high torque.
The speed stays a constant rate even when hitting the rough stuff. If an area of the coat is particularly tough, the torque comes in and helps keep a constant speed to cut right through the problem area.
The adjustable blade ranges in sizes #9, #10, #15, #30, and #40. It is very easy to change the blade length on the fly with one hand to keep on going.
The blade itself could be sharper, however. The power and speed of the clipper make it effective, but a sharper blade is needed here.
This is one of the lightest dog grooming clippers out there. This makes it ideal for busy salons.
Battery life is very good, lasting up to 90 minutes on a full charge. When the battery runs out it can charge right back up in 60 minutes on a charging dock. If you miss your chance to charge it, then just plug it in and keep going as it works as a corded clipper too.
Verdict
This is one of the best cutting clippers out there. As long as the blade stays sharp which can be prolonged by keeping it clean and washing once a month with blade wash. Yes, it is expensive, but you'll be thankful you spent the money when you can power through some thick coats.
WAHL Lithium Ion Pro Series Cordless Dog Clippers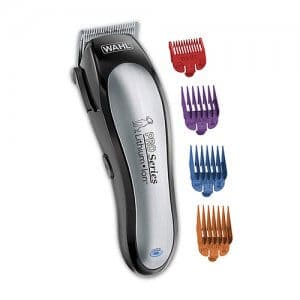 | You'll love it for these | But you won't like these |
| --- | --- |
| | |
| Long battery life (2 hours) and quick charge (15 minutes) | |
| Adjustable self-sharpening blade | |
| Kit comes with plastic comb attachments | |
| | |
If you do have a strict budget, for example, if you are just out of school, then this Wahl Pro Series may be the best dog clippers you can get.
Wahl is a brand that makes very good clippers to it is easy to trust them even when you see a price as low as this.
What you get is a reliable cordless dog clipper that can handle just about every breed.
The blade is self-sharpening so it never gets dull. Well, as long as it is maintained. It should be oiled after ever two or three cuts and blade washes once a month. It works very well on shorter coats and does some nice detail work. It may slow down a bit with thicker coats and can struggle against matted fur.
It sports 6000 SPM which is quite good for a cordless clipper, but it lacks the torque necessary to cut easily through matted fur.
A two-hour charge will keep you working, but the key here is a quick 15 minutes to fully charge it. You can plug it in while the customer is paying and in that few minutes replenish the battery enough to keep going.
The kit comes with plastic comb attachments to give you some more length for those longer haired dogs.
With the blade closed and no guard, it works great under the paws and other areas where you want it very short.
There is a bit of false advertising in regards to the noise level. They make it very clear that these dog clippers are supposed to run quietly. In reality, they are some of the loudest clippers around. It has an electromagnetic motor that rocks the blades back and forth and this causes noise.
Verdict
Though these are not perfect, they are definitely a great set of dog clippers for the money. Are they the best dog clippers? For the price, no doubt about it. If these are all your budget allows for then you will be happy with what you get. If you do have more money to spend then I would recommend something else from this list.
Andis Power Groom+ 5-Speed Detachable Blade Clipper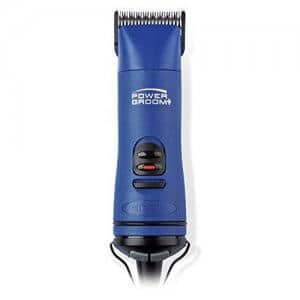 | You'll love it for these | But you won't like these |
| --- | --- |
| Works cordless or with a cord | Gets hot on higher speeds |
| Lots of versatility with 5 different speeds | |
| Easy to switch speeds with touch button controls | |
| Detachable UltraEdge blade | |
| Very powerful rotary motor | |
| Long swivel, anti-tangle 16 foot cord | |
Walk into any dog groomer salon and you are very likely to see Andis in many of the groomer's hands.
This Power Groom+ is easily one of the best dog clippers for professionals. It is lightweight, powerful, easy to use and very sturdy.
As a primary clipper, you aren't likely to need a back up. It is as versatile as they come with 5 different speeds ranging from 2500 to 5000. To give this speed a powerful boost, the rotary motor provides a lot of torque.
You can easily handle any breed or kind of coat. Really without any issues.
And you can change speed on the fly. The buttons to go up or down on the speed are located right at the base of the clippers for one-handed operation.
The cord is long and on a swivel attached to the base for added dexterity. And an anti-tangle will keep frustration with an unruly cord to a minimum.
If you really hate cords though, you can use the battery from the Andis AGR+. This is not included, and must be bought separately, however.
These professional dog clippers are lightweight and have a very ergonomic grip. You won't be suffering from hand fatigue even after a long day at the doggy spa.
The only downside, and this is nitpicking, is that the clippers tend to heat up when used on the higher speeds. But this is the case with any clippers really. High speed is not supposed to be used the whole time. That is why it has the lower speeds so it won't get too hot unnecessarily.
Verdict
These professional dog clippers are worth every penny. If you have it in your budget, then you are not likely to be disappointed.
Andis ProClip AGC2 2-Speed Detachable Blade Clipper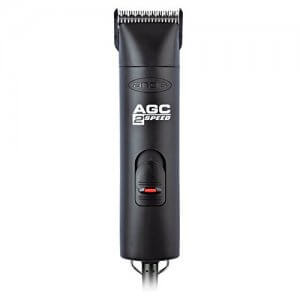 | You'll love it for these | But you won't like these |
| --- | --- |
| 2 speeds - 2700 SPM and 3400 SPM | |
| Powerful rotary motor with lots of torque | |
| Detachable carbon steel blades | |
| 14 foot long heavy duty cord | |
| | |
Great mid-priced professional dog clippers are also from Andis. These are not so expensive they break the bank and you get more than what you paid for, too.
It ticks all the boxes that a professional groomer needs.
It is durable, lightweight, strong, versatile and easy to use.
Durable because the housing is made to handle some bumps and bruises that normally happen when working on dogs. Even people for that matter!
Two speeds give you some versatility with your cuts. Keep it low speed for the detail work and for short fur. For bulk cutting go for the high speed so you can get your work done quickly.
That speed comes with a side of torque, also. When you run up against some matted hair or just very thick fur, it will hardly feel like it was there.
Since it doesn't weight much, it not only prevents hand fatigue, but it also makes it easy to use. The small profile can get you around many tight spots.
Another boon for professional groomers is the fact that these run so quietly. Thanks to the rotary motor, the operation is not going to spook your dog. Or even get annoying to listen to all day either, for that matter.
The detachable blades that come with it are strong and sharp. Any other detachable blades can be used too if you prefer the Ultra Edge or ceramic ones.
Even the best dog clippers end up getting hot when run for too long on a high speed. These are no exception. This is just part of the job, so it pays to try to use the low speeds whenever possible and then run the higher speed when faced with some thick fur.
Verdict
You really can't beat the price when it comes to how much you get with these professional dog clippers.
They last a long time and can handle the punishment brought on from working in a professional grooming salon.
Oster A5 Two Speed Animal Grooming Clipper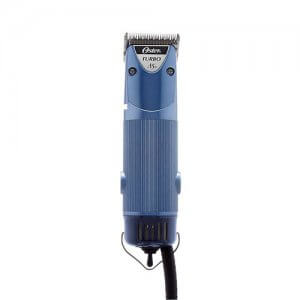 | You'll love it for these | But you won't like these |
| --- | --- |
| 2 speeds - 3,000 SPM and 4,000 SPM | |
| | |
| | |
| Strong, sharp and detachable carbon steel blades | |
| | |
Need a workhorse to get through the types of dogs you seem to always be dealing with?
Some people have it lucky and get clients that maintain their dog's coat. When you have a lot of difficult coats to fix up, then you need the big guns.
With the highest torque from a professional dog clipper for the money, you need the Oster A5.
Switching speeds is easy as flicking a switch. A one handed operation will save you time as you work.
The Oster rotary motor offers up tons of torque to power through some really demanding thick coats. Even very matted fur is no match.
The blades are extremely strong and will last quite a long time even under the toughest conditions.
You will make quick work out of any dog fur and move the line along all day. You literally are putting more money in your pocket by using these A5 clippers.
Operation is whisper silent to keep those anxious dogs calm and allow you to finish your job. I have heard many people complain about how loud their Oster clippers have gotten after only a few months of use. The problem 9 times out of 10 when this happens is that it needs a deep clean and to be lubed up inside the chamber. Doing this will make your clippers much quieter.
The only real gripe I have with Oster A5 clippers is the lack of ergonomics. The housing is very durable and sturdy, but it is just a cylinder shape that doesn't allow the hand to grip it comfortably. Especially towards the end of a long day. The ridges that run along the body also make it a bit uncomfortable.
Verdict
Aside from the lack of ergonomics, this is a pleasure to work with.
They are definitely up at the top of the list for best dog clippers in my book. They can handle just about any job and do it with absolute ease.
They aren't exactly cheap, but they are far from being the most expensive professional dog clippers.
Wrapping It Up
When looking for the best dog clippers, then any one of these listed here will do the trick.
What your needs and budget are will determine which one will best suit your needs, of course.
If you're already a groomer and know exactly what you need to have in the salon is very helpful. If you are fresh out of school, then ask around what features you really need to have. Once you know what you need, then any surely one of these will fit the bill.
If you have any questions about any of these or other professional dog clippers, then just ask away. We are always here to help!
I'm an outdoor enthusiast and have sported a full beard since I was in my early 20's. Originally, growing a beard was a way to save time when getting ready each day, but I quickly realized that keeping a neatly trimmed beard takes work and some forethought. That's where this site comes in.
You get to benefit from my years of experience. I've reviewed many of the top hair clippers on the market today and also included some information on what works best for me. A great beard will turn lots of heads in your direction.
Since I never know when I'm going to find myself being photographed, whether it's climbing in Yosemite, or playing volleyball on the beach, it's important to me to always look my very best. Maintaining my beard is part of my daily routine and I hope you'll find some useful tips and information on this site to help you on your journey.