After my previous posts, some of our readers asked me if the Wahl Bravura I use is the best choice among the best dog clippers for thick coats.
My answer actually is no, it isn't. I mean, it does wonders for my Shih Tzu. However, if you have a pet with really thick, matted hair, there's one catch:
You don't really want a cordless clipper.
Instead, it's best to go full out corded with something like the Andis Super AGC (2-speeded) on Amazon.com, heavy duty best dog clippers for matted hair.
I know, I know: you love the mobility and how flexible wireless pet hair cutters are. But thick coats are a stubborn bunch and they need a plugged in beast.
In this article I'll introduce to you the 4 best dog clippers for thick coats and matted fur. All of them are corded, but there are some differences I want to elaborate on. I'll also give you some tips re: removing matted hair.
4 Best Dog Clippers For Thick Coats & Matted Hair
Product
Details

Andis Super AGC

Combining good price with strong performance
Well-rounded choice
Extra durable body

Check Price on Amazon.com

Wahl KM10

Long-lasting brushless motor
Extra quiet operation
Motor delivers quality performance

Check Price on Amazon.com

Andis Excel Pro

5 speeds to groom smarter
Cooler ceramic blades
Best overall thick fur performance

Check Price on Amazon.com

Oster Golden A5

Heavy-duty clippers for long hair dogs
2-speed switch
Detachable blade

Check Price on Amazon.com
What is a matted coat?
When a dog sheds, especially those with long coats, the fur sometimes gets trapped and then forms a cluster of hair that just keeps snowballing. Sort of like dreadlocks except your dog isn't getting ready for a reggae festival. It is painful not to mention unhygienic.
Not to make you feel like a bad Fur Mama, but it usually happens when the coat is not being properly brushed out. Of course, it can happen even when you have your grooming game on point, but less frequently.
The worst part about some matted coats is that the matting can be hidden in the undercoat and go undetected until it becomes a problem.
Brushing at this point can be painful for your pup and also ineffective. Which is why I made this list of the best dog clippers for matted hair.
The 4 great dog clippers for thick coats
Best choice clippers for thick fur:


Andis AGC Super 2-speed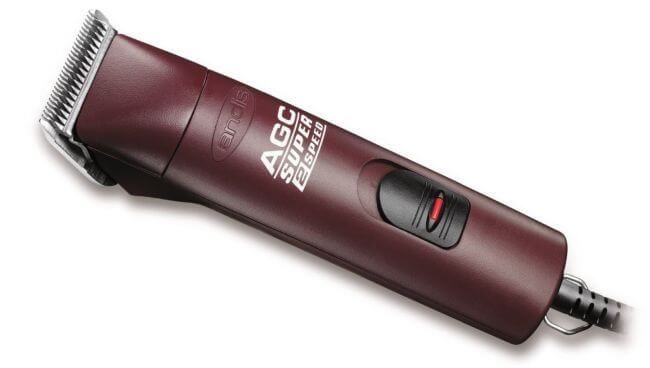 If you factor in price and pair it up with performance, the most well-rounded result would be the AGC Super 2-speed. It's probably one of the most common best dog clippers for thick coats model you'll see the most in dog grooming salons!
So, what's in for you and your pets here?
The AGC 2-Speed is a classic for anyone seeking to cope with thick fur frustrations. Its low speed revvs it up at 3400 SPM, while the higher shoots to the skies with 4400 SPM.
The AGC sports a rotary motor that has tons of torque. It isn't just about the speed that makes this one of the best dog clippers for matted hair, it has that torque to power through that thick, matted coat.
The blades on electromagnetic clippers will slow down once it encounters matted fur. Not matter how sharp they are and how powerful the motor is that will happen. In better models they still will get through it but when we are talking about the best dog clippers for thick coats, the rotary clippers are the way to go.
Quite the performance, though I once again want to mention that 3400 SPM might be too powerful for more skittish pets.
Ergonomics are taken care of, but at 1.1 lbs and some 7.13″, the AGC isn't as convenient and groomer-friendly as the Excel. No rubber-grip coziness either, but the break-resistant, extra durable housing will take care of clipper longevity.
Some people like to use them for poodles, but I actually prefer other poodle clipper options if you want comfortable grooming.
Another difference to Andis' other great choice – the 5-speed Excel, is the carbon steel #10 blade.
You're not getting the ceramic treatment here so you could expect things getting a little bit hotter. Not as hot as the Oster, though!
Cutting through thick coats and matted fur will take more time than your average grooming session, so it is inevitable that any clipper is going to heat up to some degree. As long as they don't get so hot that you can't work then you just have to deal with it.
If you're clipping down to the skin then you do want to keep the blade cool so it doesn't make your dog uncomfortable and cut short the grooming session. Spray it down with some cooling spray and that should do the trick.
All in all, the Super 2-speed AGC works like a charm on a very balanced price. It's a staple for dog groomers and more professionally-oriented DIY groomers alike.
No storage case included, unfortunately!
1. Versatile clippers for thick dog hair:


Andis Excel Pro 5-Speed
This machine right here is a real steal. The Excel 5-speed will plow through any hair that's otherwise nightmare to cut. Absolutely no compromise and maybeAndis' most versatile heavy duty clippers for thick fur.
Some people prefer it to the AGC 2-speed due to two things: more speed choices, and the ceramic blade.
Let's start with the 5-speed motor thing.
2500 to 4500 strokes per minute give you way more control over grooming your hairy pal's thick coat. You can adjust them according to the area you want to take care of or how anxious the dog you're cleaning up is.
The 2500 SPM is a big deal for delicate areas, especially for extra matted fur. AGC only goes down to 3300 SPM which can be scary to some pooches and might cause the blades to heat up. Here's a short video:
Another thing I like more here are the ergonomics and the 12.5oz only weight. You have a soft-grip housing that's one of the most convenient bodies out of the pro groomer clippers.
Pair it up with how lightweight this thing is, and you'll skip on wrist fatigue for sure.
As with some of the higher-end Andis clippers, you get a #10 size ceramic blade with the Excel Pro. It stays rather cool, but if you operate at 4500 SPM it will inevitably get a bit warm.
Remember to spray it with a cooling agent while you're working on that thick undercoat.
My main complaint would be the fact that there's no case included with the set. You're paying quite a few bucks, surely that means you'd get somewhere to store this beauty?
I wish Andis would add this little finishing touch to the best dog clippers for matted hair out there.
Also, it costs a bit more than the AGC 2-speed. For standard use, the Excel doesn't go that much above the AGC – and that's why you'll see more AGC 2-speeds in grooming salons for pets.
2. Best Wahl clippers for matted dogs:


Wahl KM10 2-speed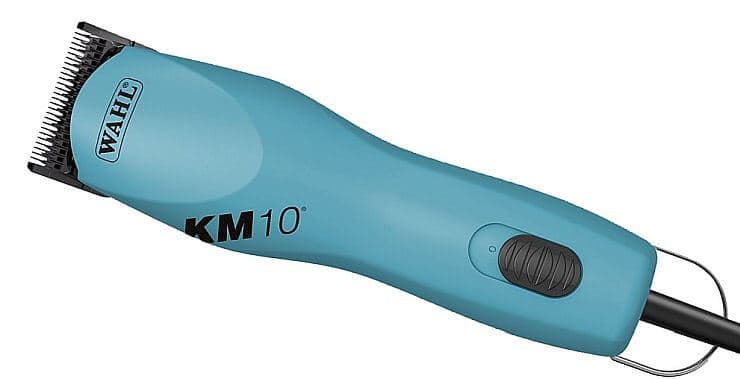 The monster power KM10 is Wahl's answer to Andis getting the Excel out. While confined to only 2 speeds, this model has a roaring brushless motor with extended lifespan. After all, you're making quite the investment here, right?
I'll tell you something: quite a lot of horse owners use exactly the KM10 to do some quality horse trimming. This should speak volumes about its capabilities.
Where this clipper for matted dogs also stands out is silent operation. Andis models are powerful, but sometimes they buzz too much for my own liking. The KM10 stays quiet, which makes it great for extra skittish pooches.
Don't think it doesn't pack a punch, though. At 3000 or 3700 SPM, its motor delivers quality performance, despite not being as spectacular as the Excel 5-speed.
You know, you can always take a peek at this showcase video of it:
Once again thinking about your comfort, Wahl have made this monstrous beauty quite ergonomic. At 12.3oz, it's even a little lighter than the Excel 5-speed. The slightly curved design makes sure it fits your hands properly, minimizing both vibrations and wrist fatigue.
The blade is once again a standard #10 size, but there's a catch: it's from Wahl's Ultimate Competition series. While not ceramic, rather heavy duty stainless steel, it shows Wahl's most elaborate blade design and long-lasting quality.
The only drawback is the cord that feels somewhat flimsy. A few people seem to complain about it getting damaged…but it really depends on how you move the machine around too. Just be careful and don't stretch it too much and you should be fine.
3. Best budget shaver for thick pet fur:


Oster Golden A5 2-speed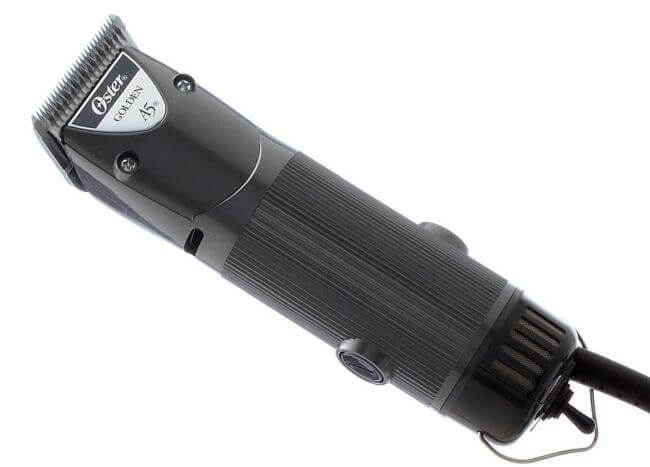 I can't do the whole professional thing without mentioning Oster. The brand is famous for its extremely heavy-duty clippers for long hair dogs prone to matted knots. The 2-speed Golden A5 is a prime example of these.
And don't get me wrong, I love the Cryogen X #10 blade you're getting here. It's comparable to the Wahl Competition series and will cut through thick pet fur like butter. But…
But, once again we get the usual A5 problem: heating up and the rather heavy body. This quite powerful fellow weighs around 1.97 lbs. Yep, you read that right: that's twice the weight of both the KM10 and Excel 5-speed.
For some people that won't be an issue, but honestly, your hand will get tired at one point. The usual universal Oster motor also generates a lot of heat and you'll need to take more frequent breaks according to my observations.
On the upside, this set of thick hair clippers is way more affordable than the previous contestants. If you're on a budget and still want to get exquisite results, that's your best friend.
Aside from the heavy body and the attention you need to pay to cooling it off, the A5 is A+ in terms of performance. No knots, no mats, no thickness can stand in its way.
Take care of your blades
Even the best dog clippers for thick coats won't be very effective if you aren't keeping your blades clean.
Dull blades make the motor have to work harder so the parts end up failing earlier. To get the most out of your clippers, it pays to take care of the blades.
Wipe them off
Something as simple as keeping the fur off of the blades will go a long way towards keeping them sharp.
What happens if you leave fur and hair on your blades? They get dull. The acid in the fur will eventually take that sharp edge away and make your blades struggle on thick fur and even start pulling.
Before and after every grooming session take a brush, or even an old toothbrush, and wipe the blade off.
Do a deep clean
Once a month or so, or longer if you groom infrequently, you should use a blade wash to give your blades a good, thorough cleaning.
A blade wash is like a kerosene that will dissolve all the grime that has built up on your blades. From dust, to mites, to dead skin, there is more build up than you realize on your blades. This makes them slow down over time and again, your motor does not like that struggle.
Keep them oiled
Now that your blades are clean, to keep them running smoothly you need to add some clipper oil. Just a drop on each end of the blade while the clipper is running will be enough to evenly coat the teeth.
How to groom a dog with matted or extra thick fur?
Getting mats out of any dog can be a real pain, especially if it's been a long time since it's been groomed properly. My top 3 tips for you would be:
Be patient

Work slowly

Don't be afraid to complement your clippers with other tools
In some especially nightmarish cases, you really want to start with a dematting comb before starting with the clippers. Professional clippers are one thing, but if there's a whole jungle of knots on the dog's fur, they won't be able to cope.
Grab a comb like this favorite GoPets dematter on Amazon.com of mine and gently, but firmly, brush through the body. Once the mats are under control (not gone, but ready to be taken on with a clipper), switch to the fur cutter.
You could also use pet scissors to achieve the same results, but a dematting rake gets things done faster and more conveniently. Also, if you've bathed your dog, make sure the hair has dried out properly.
(For larger dogs with too thick of a fur, consider getting a proper dog blow dryer to help you out!)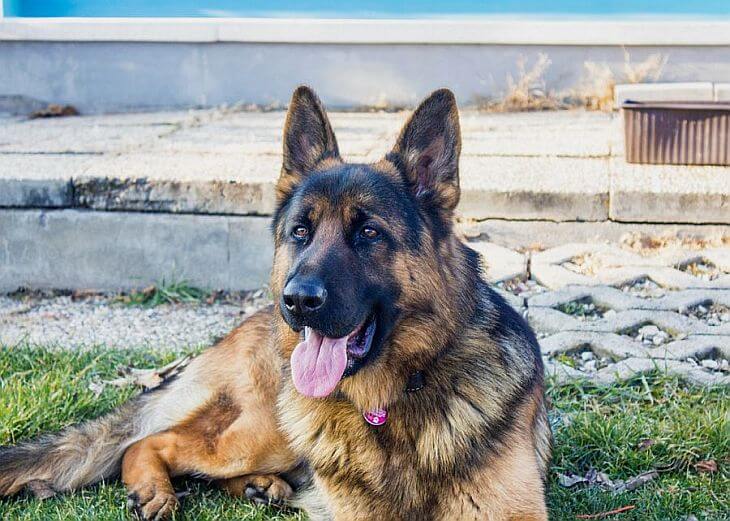 The actual process of shaving a dog with matted hair
If your dog's hair is longer, chances are the thick matted areas will obstruct your vision. Instead of jamming the clippers and starting the grooming process, take your time.
With slow, delicate motions pull the skin a little and divide the knots so you can see clearer.
You need to be aware where the skin actually starts, otherwise you might wound your dog. Remember: professional clippers come with pretty sharp blades.
Get a feel of the coat and continue working section by section without rushing through it.
Also, keep in mind that getting a #7F size blade, instead of the stock #10 sized blades can achieve better results. It leaves hair a bit longer than the #10, but this lets it get through thick matted hair easier.
You can always change to a #10 after the biggest knots have been taken care of, and groom your dog to a shorter length.
Here's a good short video showcasing the proper technique of the best way to get mats out:
I'm an outdoor enthusiast and have sported a full beard since I was in my early 20's. Originally, growing a beard was a way to save time when getting ready each day, but I quickly realized that keeping a neatly trimmed beard takes work and some forethought. That's where this site comes in.
You get to benefit from my years of experience. I've reviewed many of the top hair clippers on the market today and also included some information on what works best for me. A great beard will turn lots of heads in your direction.
Since I never know when I'm going to find myself being photographed, whether it's climbing in Yosemite, or playing volleyball on the beach, it's important to me to always look my very best. Maintaining my beard is part of my daily routine and I hope you'll find some useful tips and information on this site to help you on your journey.