In an effort to save money, many dog owners take matters into their own hands.
The problem with DIY dog grooming is that not everybody is going to be good at grooming their own dog.
If you're unsure of how good a groomer you are, then using tools like Andis dog clippers can hedge your bets and make you look like a pro.
Another benefit that sets these dog clippers apart is that they are very versatile. If you're looking to touch up a few spots or do an entire coat, then these Andis dog clippers will handle every job.
Since Andis makes several models of dog clipper, I'll take a look at several of them so you can see which one best suits your needs.
Below is a handy comparison table to see how they compare at a glance.
For more detailed reviews, read on!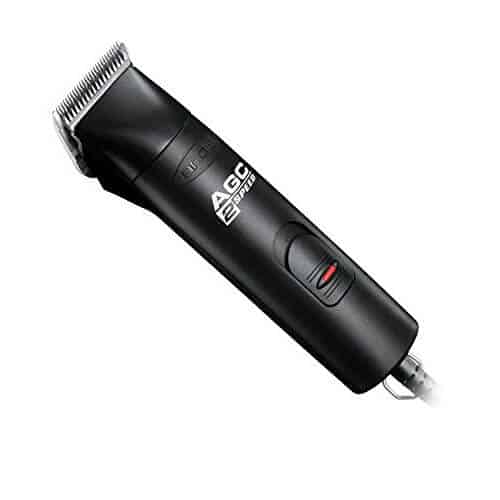 Andis ProClip AGC2

Best For:
All around grooming with 2 speeds for detail and bulk clipping.

Speeds:
2700 and 3400 SPM

Motor Power:
★★★★

Blade:
Detachable

Price:
$$$$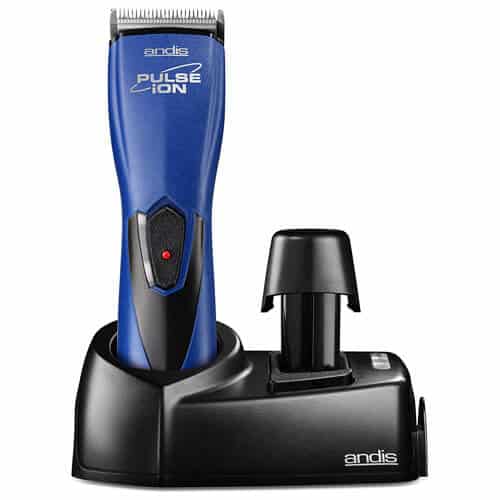 Andis Pet ProClip Pulse

Best For:
Use when your dog is fidgety and agility is a factor.

Speeds:
5500 SPM

Motor Power:
★★★★

Blade:
Adjustable

Price:
$$$$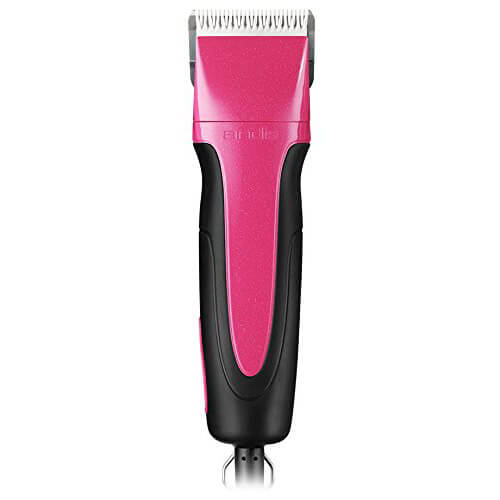 Andis ProClip Excel

Best For:
Top pick for professionals in a busy salon. Works great on all coats.

Speeds:
5 Speeds

Motor Power:
★★★★★

Blade:
Detachable

Price:
$$$$$
Are Andis Clippers the Best for Dog Grooming?
There are three camps of clippers that professionals fall into. The ones who love Andis, then Wahl and finally Oster.
Any of those three brands will do a great job whether you are a professional or at home amateur groomer.
While as a barber I prefer Oster clippers, I think that Andis makes a very good lineup of pet clippers that do an unbelievable job.
They are heavy duty and made with the professional in mind. Yet, they are easy enough for even a novice to use.
Whether you are using them once a month or a dozen times per day, they keep up the same level of performance.
Before I get into the individual product reviews, here are a few features to consider in a good dog grooming clipper.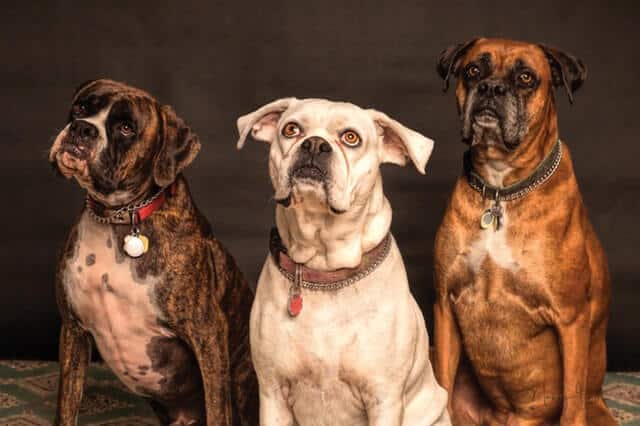 What to look for in dog clippers
To better understand which Andis dog clippers will work best for you, then it helps to understand what you need the clippers to do. Here is a list of some important features and terms that you should be familiar with before making a decision.
SPM
An acronym for Strokes Per Minute, this is the speed of the clippers. This is a good indication of the power of the motor but shouldn't be confused for how strong it is.
Even a high SPM clipper can struggle against thick, matted hair. But having a higher SPM does generally make it more effective than a lower number.
The real benefit is being able to work quickly. A fidgety dog will lose patience when the cut is taking too long.
Fast dog clippers help ensure that you can actually complete the job.
2 Speeds or More
You may not need the fasted speed clippers all the time. In fact the higher the SPM the more likely the blades are to get hot.
When the job warrants a high speed, then it is nice to be able to use a faster setting. When doing an easy coat or a quick trim up, then a slow speed works and doesn't end up overheating the clippers.
Lower speeds increase accuracy, too. It isn't always the best option to go as fast as possible.
More choice makes for a more professional looking cut.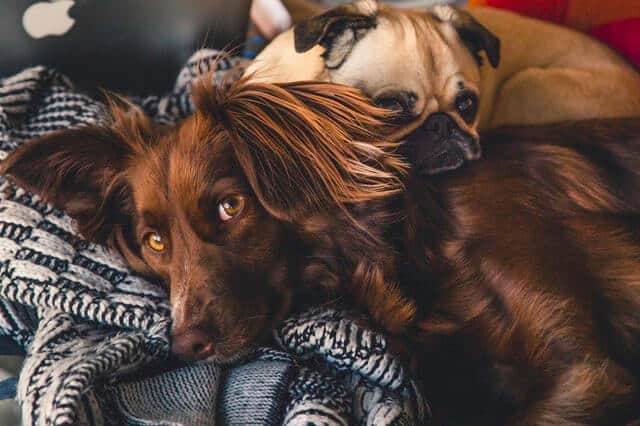 Corded or Cordless
Not a must have, but cordless clippers for dog grooming are definitely very nice to have.
No cord frees you up to be very agile which is important when trying maneuver around a dog that can't stay still.
It used to be the case that cordless clippers were not as powerful or as fast as corded ones, but that simply is no longer the case.
Battery life is generally pretty good with cordless dog clippers these days, but if you work in a busy salon, you may need to have two of them.
Having a cord means never having to worry about how much battery is left.
Each has their pros and cons, so which one is best will depend on how you plan to use your clippers.
Quiet
The clacking of dog clippers can really be a hindrance to getting a dog to be willing to get groomed.
Using clippers with a quiet motor is always the best option to effectively keep a dog or other pet calm enough to be able to work.
A rotary motor is ideal for a quiet clipper as the parts don't hit each other. The piston spins which rotates a lever that makes the blade move back and forth. Not all Andis pet clippers use a rotary motor so pay attention to this when reading the reviews.
Accessories
To save money and time it helps when a pet clipper comes with items that you'll also need to give the dog a haircut.
Things such as the plastic attachment combs to leave the fur longer, lubricating oil, a brush to clean the hair off and a carrying case are all necessary.
The Best Andis Clippers for Dog Grooming
Andis ProClip AGC2 2-Speed Detachable Blade Clipper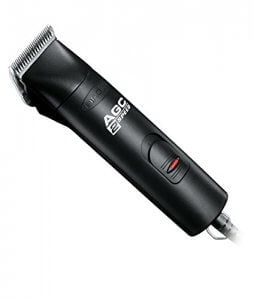 | You'll love it for these | But you won't like these |
| --- | --- |
| 2 speeds - 2700 SPM and 3400 SPM | |
| Quiet yet powerful rotary motor | Blade tends to get hot at higher speed |
| Detachable stainless steel blades | |
| 14 foot long heavy duty cord | |
| | |
Designed for professionals but with a DIY friendly price, these AGC2 Andis dog clippers get the job done no matter what you throw at them.
A powerful rotary motor has enough torque to zip right through thick, matted hair.
That rotary motor is also quiet so it won't spook your pet when it gets close to their ears.
Included is a carbon steel #10 blade that is ideal for use on dogs with thick coats. It is detachable, so it is easy to snap on another length blade to go shorter for instance.
Other blades will also fit on the AGC2 Andis dog clippers like ceramic ones. Ceramic blades are very good as they last a long time and take longer to get hot than the carbon steel variety.
Andis took into account that these dog grooming clippers will likely see some abuse and made the body with a very sturdy material that handles some bumps and bangs. There is even a blade lock so it won't suddenly flip off the body in certain circumstances like an unruly dog.
Understanding that maneuverability is crucial, the heavy duty cord is 14 feet long.
With two speeds, any type of job can be done. The lower speed is 2700 SPM which is still a good deal faster than many other dog clippers. The higher speed is 3700 SPM.
There is very little maintenance required which is great news for the busy professional groomer and also nice for the amateur that doesn't want to tackle a lot of upkeep.
Verdict
The price makes these very attractive for home use. They are more expensive than some other dog clippers that are designed to be used at home. It's better to go for a bit more money and have clippers that will last a lifetime. And the performance is much better than any cheap clipper will give you.
For professionals just starting out, this is a great budget dog clipper to get you started.
Andis Pet ProClip Pulse Ion Adjustable Blade Clipper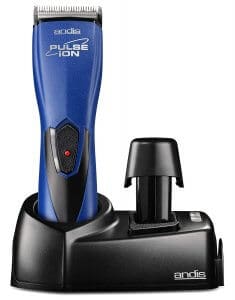 | You'll love it for these | But you won't like these |
| --- | --- |
| | |
| Lithium Ion battery lasts 2 hours on a full charge | Lacks power for thicker coats |
| Fast charging in about an hour | |
| 5 in 1 adjustable blade system | |
| Very lightweight - only weighs 0.70lb | |
Having a cordless dog grooming clipper is very convenient. It is even more convenient when the blades can be adjusted on the fly using just a thumb.
Speed is very important when grooming a fidgety dog, so sometimes it pays to not have to detach and attach blades in the middle of a haircut.
With the adjustable blade, you have sizes 40-30-15-10-9 right at your fingertips.
An added convenience is the fact that the battery charge can last up to 2 hours. If you are new to grooming and take a long time to finish a cut, or you work in a busy grooming salon and need something that doesn't need constant charging, these ProClip Pulse Andis dog clippers are very useful.
And a charge only takes an hour. If you are in a busy salon, there is also the option to charge another battery while you are using one. With this system you'll never be without a clipper.
Lightweight and ergonimically shaped, this cordless dog clipper will feel like an extension of your hand. This is not only great for efficient working but also reduces hand fatigue.
With a rotary motor and a 5500 SPM, you can manage many different types of breeds with a variety of coats.
The kit comes with a charging dock and a set of plastic attachment combs to extend the length of the blades.
The only downside really is that the blade is not as sharp as the detachable ones. Though the power of the clipper should handle matted coats, the blade may get stuck when dealing with some stubborn coats.
Verdict
With a great price and ease of use, this is a very good set of clippers for most applications.
In a professional setting, it may not be your primary set, but as a detail clipper or for quick trims it really shines.
For home use, this is an excellent dog clipper for the amateur.
Andis ProClip Excel 5-Speed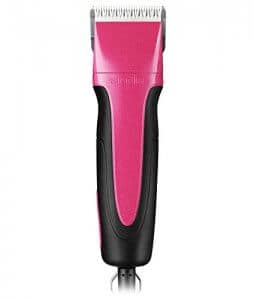 | You'll love it for these | But you won't like these |
| --- | --- |
| Lots of versatility with 5 different speeds | Gets hot on higher speeds |
| Very powerful rotary motor | Very expensive for home groomers |
| Detachable ceramic edge blade | |
| Soft-grip anti-slip housing | |
| Long 14.5 feet heavy duty cord | |
Walk into any professional grooming salon with a lot of clientele and chances are good that you will see this dog grooming clipper in action.
This is the top of the line when it comes to Andis dog clippers as it is very powerful and versatile.
With 5 different speeds that top out at 7200 SPM, you have a different setting for every job. Use the lower speeds for detail work or for use in sensitive areas and the higher speeds for doing bulk clipping.
The included #10 ceramic blade is long lasting, sharp and stays cool longer than carbon steel blades.
If you need to use this in a busy salon, then you will love the ergonomic shape and how lightweight it is. The housing is made out of a durable material and can suffer through some bangs and bumps without issue.
Though these Andis dog clippers are ideal for even the most matted, thick coats, it might be overkill for the home groomer that only needs to use them occasionally. The price is quite high and out of reach of most people.
Professionals, however will make their money back from these in short order. When it takes less time to groom a dog, you end up doing more which makes more money. They pay for themselves after a few months.
Verdict
When you need the top of the line and nothing else will do then you don't need to look any further than the Andis ProClip Excel. A 4 by 4 blade drive gives a ton of torque so it could be the most powerful dog clippers out there.
Wrapping It Up
If you are just setting out on your career of a professional dog groomer, finding the right tools can be intimidating. Stick with any of these Andis dog clippers and you're well on your way to providing a superior cut to any of your clients doggos.
For the home groomer, you may find these dog clippers expensive, but they will last you a lifetime. If you can afford them, they end up paying for themselves over time since they won't need to be replaced every year.
No matter if your dog is a big or small breed, you will have her looking beautiful and healthy after a good groom!
I'm an outdoor enthusiast and have sported a full beard since I was in my early 20's. Originally, growing a beard was a way to save time when getting ready each day, but I quickly realized that keeping a neatly trimmed beard takes work and some forethought. That's where this site comes in.
You get to benefit from my years of experience. I've reviewed many of the top hair clippers on the market today and also included some information on what works best for me. A great beard will turn lots of heads in your direction.
Since I never know when I'm going to find myself being photographed, whether it's climbing in Yosemite, or playing volleyball on the beach, it's important to me to always look my very best. Maintaining my beard is part of my daily routine and I hope you'll find some useful tips and information on this site to help you on your journey.