Poodles possess such grace and cuteness that other dog breeds are left sulking with envy in the corner.
I'm half-joking, of course. Poodles are outstanding, but I already mentioned I have a Shih-Tzu in my best Shih-Tzu clippers guide. While I adore poodles too, I'm biased!
You know, there's a lot of common things about grooming both breeds. In this guide, I'll start with the 3 best poodle clippers before expanding to some tips on poodle grooming.
Similar to my love for Wahl Bravura for Shih Tzus, I recommend Wahl's Arco from Amazon.com . Still, preferences and budgets vary, so I've included three distinctive models for you to pick from.
For those who prefer poodle grooming shears, I've also included a great set of scissors too.
Important: Please note that the teal-colored Arco comes with only a #45 non-adjustable blade!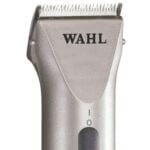 Wahl Arco

Body:
Very ergonomic. 6.7", 7.9 oz.

Motor power:
★★★★★
Up to 5500 SPM for power grooming.

Blades:
★★★★★
5-in-1 blade system (#9, #10, #15, #30 & #40.)

Price: $$$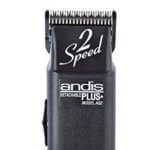 Andis 2-Speed

Body:
Somewhat heavy, 7" and 1.1 lbs.

Motor power:
★★★★
Two speeds at 2700 SPM or 3400 SPM.

Blades:
★★★★½
#10 included, quality certified.

Price: $$$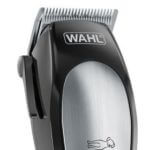 Wahl Pet Li-Ion

Body:
Semi-lightweight, good grip.

Motor power:
★★★★
Electromagnetic motor.

Blades:
★★★★
Adjustable blade with 4 combs included.

Price: $$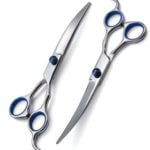 Alfheim dog shears

Body:
2x 6" scissors + 2x 7" shears.

Kit includes:
Cutting scissors, thinning shears, upwards and downwards curved shears.

Blades:
★★★★½
Precise, sharp cuts that go through thicker hair.

Price: $+
The 3 best clippers for poodles
1. Top pick clippers for poodle hair


Wahl Arco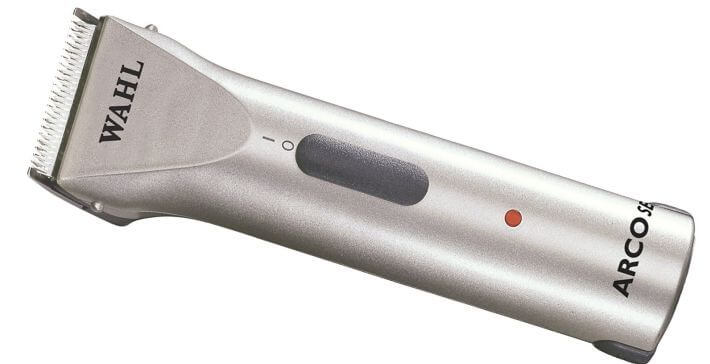 How close you groom your poodle's hair vastly depends on what part of the body you're working on. This means you'll need several blades to properly take care of your pet…The best poodle clippers cost money and take additional space.
Just like my favorite Bravura, the Arco is also one of the best poodle clippers that comes with a 5-in-1 blade system with #9, #10, #15, #30 and #40 blades included. From feet to face, to finish work or general grooming – you simply have to pick one mode and you're set.
Five separate blades for poodle clippers could easily cost you around a hundred! Not to mention how inconvenient can changing a blade be with a poodle jerking in your hands, ready to slip away.
It isn't just the convenience of the blades that make it great, it's also the quality. Wahl clippers in general are made with high carbon steel blades that are durable and long lasting.
They stay sharp and are able to power through just about any thickness of fur. Matted fur is no match either.
Bumps and bruises are inevitable since your pup may not let you know when they are about to move. Having strong blades that can resist some falls without breaking is essential in a pair of dog clippers. Not to say that they won't break, but an inferior blade is more susceptible.
Of course, this is just one of many reasons why I recommend this model. Some additional notes:
It has a 5500 cutting strokes per minute motor: powerful for quality, non-pulling trims;

At 6.7″ and only 7.9oz, there's no chance for wrist fatigue with the Arco;

It's cordless so you have way more range of motion when grooming;

Comes with a 80 minute battery life on only 75 minutes of charging;

Its design pairs slim body and great ergonomics with reduced vibrations;

Extremely easy maintenance (no clipper grease need)
I really love how these are geared towards using on small dogs like poodles. You can really get into those hard to reach areas that larger clippers struggle with. And that is without sacrificing any power. They may be small and maneuverable but you still get that speed and even some decent torque from this small clipper. The motor is rotary so that adds even more to the appeal. It's about that torque as I mentioned, so the clipper has no problem getting through curly, thick or matted fur.
 Here's a concise video that explains the 5-in-1 blade system and how it can make things easier for you:
This suite of features shoots the Arco into the best poodle clippers territory. Is your dog a bit skittish? No problem, the model both runs cool and stays quiet, minimizing two of the main worries for any dog owner.
If you work in a professional dog grooming salon then you know how uncomfortable it is to have your clippers heating up. It can really slow you down and working efficiently is very important when working with dogs.
And no rattling noise keeps dogs from getting spooked making for a more enjoyable experience for her and for you.
My only problem with the Arco is it's older NiMH battery technology, instead of the Lithium-Ion. It's not a total dealbreaker, but if you prefer a more long-lasting battery, consider getting the Bravura.
2. Best Andis dog clippers for labradoodles & poodles:


Andis 2-Speed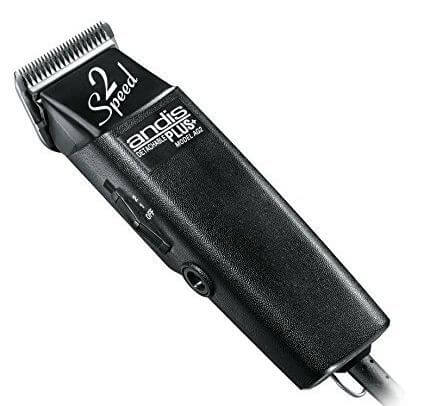 Andis 2 Speed surely hasn't got the cute, eye-catching design Arco has. Beneath its rather mundane looks, however, lies another set of best poodle clippers ready to serve you well.
What it lacks in looks it makes up for in ergonomics. It has a nice grip that you can get your hand around securely, so the design works for function and less for form. The coating is also textured so if your hands are damp or slippery, you can still keep a firm hold and are less likely to drop them.
This model is very, very durable. With a polymer black looks strengthened by a fall-resistant, shatterproof casing, you're getting ultra durability. While not cordless, the 2-speed comes with a very long cord that shouldn't limit your clipping range.
Though cordless would have been a nice option for maneuverability, it pays to have the cord and not worry about losing power or running out of battery. You get consistent results with a cord which makes up for its lack of maneuverability.
It stays somewhat quiet, similar to the Arco. A big difference here is the dual motor system. You can either go for the 2700 SPM (for gentler trims) or for the more powerful 3400 SPM mode.
Yes, this is way less powerful than the Arco. However, in some cases you might wish to go slowly. Especially if you're still a beginner to poodle grooming with clippers at home! So the lower motor speed doesn't necessary mean bad news.
Here's three things the 2-speed does worse than my top pick, though:
You only have a #10 blade size here, so you need to get additional ones;

At 7″ and 1.1 lbs, the 2-speed poodle clipper is definitely heavier;

This model does vibrate more so it's not as great for skittish dogs
I've tried out the 2-speed before and it's an uncompromising machine. High quality cuts even on matted hair. Some people also prefer corded to cordless models due to not relying on battery charges.
If you have a corded clipper you don't have to have a backup ready in case your battery runs out of juice. This is a common problem in dog grooming salons. You don't know how much time you have left with your battery and your clipper starts to slow down mid haircut.
No big deal, you'll just go get your other charged clippers. Only the pooch has other plans now and that break in the action has him ready to go. Try clipping him now! It's just better in a lot of ways to have that cord.
I also prefer a rotary motor to the electromagnetic one for the additional torque. Though, I will say that there is no lack of power with the electromagnetic motor of the 2 Speed. Though I mentioned that these clippers are silent, you will start hearing more noise as you use them longer. This just means you will need to tighten up the power screw under the power switch occasionally and will need more frequent tune ups.
If you're one of them or just an Andis fan, this is a very valid pick for poodle hair.
3. Budget pick poodle clippers


Wahl Dog Lithium-Ion Pro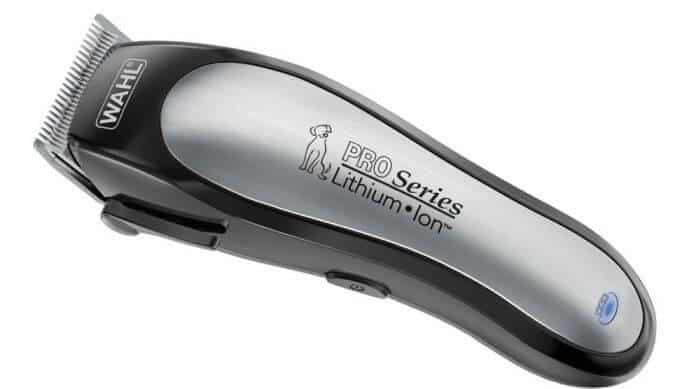 In case you want to go easier with the money spending and respect an extremely long battery life, this model is awesome. It also works as one of the best poodle clippers too.
First, let's get to the two most important things except the lower price:
First, you've got a Lithium-Ion battery with up to 2 hour life on 1 hour of charging;

And, you've got a 5 year limited warranty
Relatively lightweight and not that bulky, this poodle groomer also scores good in the design department. This is an adjustable blade clipper coming with a few additional combs so you can regulate the length: 3/8″, 1/4″, 1/8″ and 1/2″.
However, make no mistake: it can't compare with Arco's 5-in-1 blade system. It's not nearly as versatile. Two other points you should consider here:
Its motor is way weaker than Arco and you don't get the 2-speed choice of Andis;

This means your grooming session can get a bit longer than the other 2 picks;
While you get the 4 guides, their lengths can be a bit long for how some poodle owners prefer their pets groomed.
Does this mean you're getting a bad clipper? Not at all! For its price, the Lithium-Ion pet clipper is quite the great purchase.
However, don't mistake this cutter with professional poodle clippers. They're a cut below that – yet would serve you well if you want lighter grooming work.
I know it's tempting to go cheap if you are just out of grooming school, but if you are going to be doing lots of different breeds besides poodles then you may want to just spend more money and get something more versatile. Unless your salon specializes in poodles. Now a bad business idea!
They definitely tick the boxes for a great home grooming clipper, though. You don't want to break the bank but still expect them to work as they should. And they do that wonderfully. For the regular doggie DIY groomer, you won't feel like you're missing out on anything. Only a pro would really see the differences.
Of course, they're also a great set of labradoodle clippers too!
4. Best poodle grooming shears: Alfheim scissors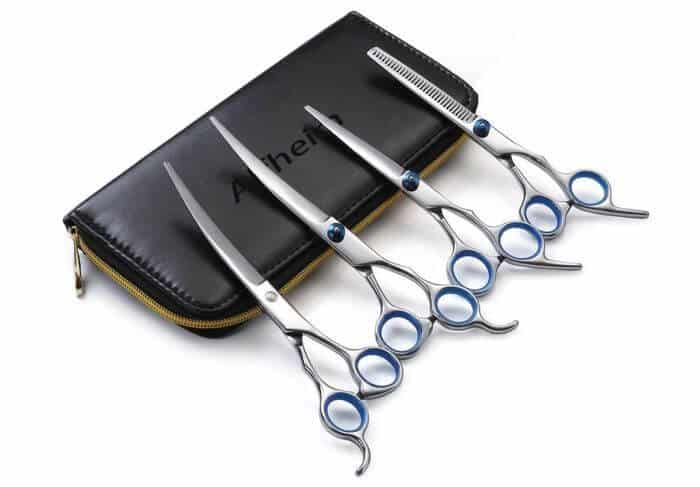 Note: if you want high-end professional dog shears for poodles, consider Andis' curved scissors from Amazon.com. For home owners, I usually don't recommend such high price purchases.
I love Alfheim. A cut above other tools, the set includes 4 shears ready for poodle grooming:
6″ cutting scissors + 6″ thinning scissors

7″ upwards curved scissors + 7″ down-curved shears
The design is light, polished, ergonomic enough to withstand even longer grooming sessions with your (toy) poodle. The stainless steel blades cut through my Shih-Tzu's hair beautifully, so a poodle won't be much different.
Make sure you keep them free of dog fur after you use them. Fur, or hair in general is acidic and will dull blades in no time. To keep a good edge they should be wiped of any hair. Dabbing a drop of mineral oil doesn't hurt either to keep them lubed up and working properly.
An adjustable tension control knob helps you customize things a bit. I love the thumb holes that reduce strain when cutting. Taking care of your pet can take time and intelligent design goes a long way.
If you're not a fan of scissors' metal digging in your hands and causing you pain, rast easy. The blue inserts you see will soften the pressure even further for maximum convenience.
Storage is an easy task too, as you'll grab a stylish case with Alfheim's poodle shears. The inside padded protection will protect these tools' sharpness. An all-around treasure for sure, that package!
How to groom a poodle with clippers: 4 important tips
Here's something crucial: you can't just go ahead and start clipping without some preparation. It can easily turn into a frustrating catastrophe.
My top tips for you would be:
Always brush your poodle's coat first! Make sure to remove/untangle any matted hair or knots as much as you can for smoother trims.

If it's your poodle's first time, make them acquainted with the clipper. First turned off, then turned on. Make it a step-for-step process with lots of treats!

Always pick a comfortable spot – both for you and your toy poodle/poodle. Your pet might move around/jerk so you need stability.

Clipper blades can get hot! Consider using a cooling spray like Andis one on Amazon.com to reduce them heating up. Some models run cooler than others.

Keep your clipper blades clean and well oiled to stay in peak performance.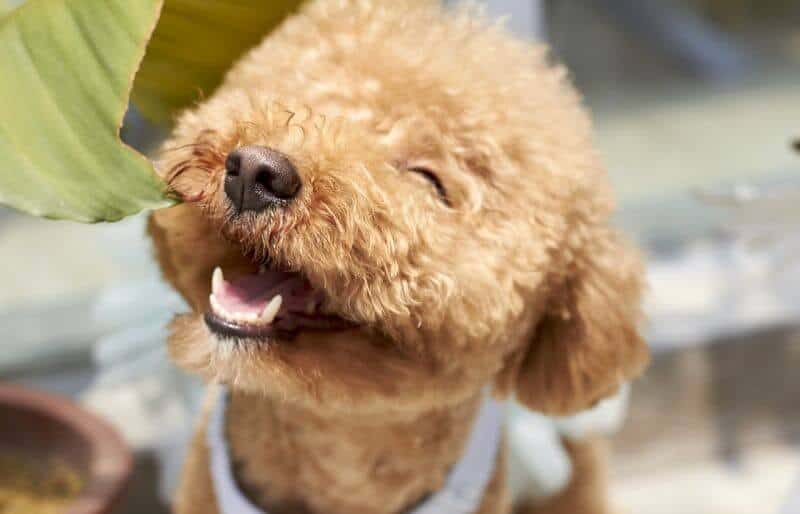 Some people prefer to brush the coat properly and make it neat, then bathe their poodles. This results in fluffy, easier to glide through hair. Go for some towel drying first and then either blow dry gentle, or leave the fur to dry it by itself before starting the session.
Note: Be careful when grooming a poodle's face. This is a very sensitive area, as I'm sure you know. Here's a good video to help you out:
Sizes of poodle hair clipper blades
If you've gone with the Arco, you've got most of your bases covered. With other best poodle clippers models, though, you'll have to buy a few additional blades.
A lot of dog owners go for the #7FC blade that leaves hair at 1/8″. Keep in mind that FC stands for finishing cuts. You'll use one only on clean, dematted coats! 
| Blade number | Size (inches) | Size (mm) |
| --- | --- | --- |
| #50SS | 1/125" | 0.2 |
| #40SS | 1/100" | 0.25 |
| #40 | 1/100" | 0.25 |
| #30 | 1/50" | 0.5 |
| #15 | 3/64" | 1.2 |
| #10 | 1/16" | 1.5 |
| #9 | 5/64" | 2 |
| #8 1/2 | 7/64" | 2.8 |
| #7 | 1/8" | 3.2 |
| #7FC | 1/8" | 3.2 |
| #6FC | 3/16" | 4.8 |
| #5 | 1/4" | 6.3 |
| #5FC | 1/4" | 6.3 |
| #4 | 3/8" | 9.5 |
| #4FC | 3/8" | 9.5 |
| #3 3/4 | 1/2" | 13 |
| #3 3/4FC | 1/2" | 13 |
| #5/8 HT | 5/8" | 16 |
| #3/4 HT | 3/4" | 19 |
| #5/8 Wide-Toe | 1/32" | 0.8 |
| #T-84 | 3/32" | 2.4 |
| #T-10 | 1/16" | 1.5 |
I'm an outdoor enthusiast and have sported a full beard since I was in my early 20's. Originally, growing a beard was a way to save time when getting ready each day, but I quickly realized that keeping a neatly trimmed beard takes work and some forethought. That's where this site comes in.
You get to benefit from my years of experience. I've reviewed many of the top hair clippers on the market today and also included some information on what works best for me. A great beard will turn lots of heads in your direction.
Since I never know when I'm going to find myself being photographed, whether it's climbing in Yosemite, or playing volleyball on the beach, it's important to me to always look my very best. Maintaining my beard is part of my daily routine and I hope you'll find some useful tips and information on this site to help you on your journey.