Pardon my enthusiasm. If you look at my other hair trimmer reviews, you'll notice a hesitance. There's no perfect trimmer and both you and me are aware of this.
But with Wahl's Sterling Mag, my confidence gets all shaky. This cordless, lightweight and ultra quiet trimmer is as close to perfection as it gets.
It blows any other Wahl trimmer away and reaches out to beat Oster and Andis models too. And while it does have its drawbacks, they're extremely situational.
Let's uncover the magic side of this trimmer in this Wahl Sterling Mag review.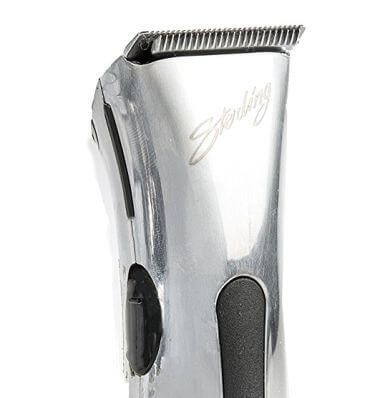 Overview of Wahl Sterling Mag
| You'll love it for these | But you won't like these |
| --- | --- |
| Record-high 2 hours of battery life | |
| Extremely lightweight at 4 oz | |
| | Guards go only up to 1/2" |
| | |
Wahl Sterling Mag 8779 trimmer: exquisite ellegance
What a body.
You wouldn't usually hear such a statement when it's about a hair trimmer. But with the Mag, it's deserved.
Now, function should always come before form, but the look of this trimmer does make a statement. When somebody sits in your chair, they are likely to take you more seriously when they see this trimmer over a loud, clanky and beat up corded trimmer.
The elegant shape does serve a purpose besides just looking good. It is shaped in a very ergonomic way to help you keep a good grip. A grip that is comfortable and allows you more freedom of movement while you work. You can achieve a very nice flow while you navigate the clients head.
Its ethereal elegance comes in a record-lightweight body of 4 oz. Measuring 5.5″, the Mag trimmer is also among the more compact models on the market. Look at its brilliance: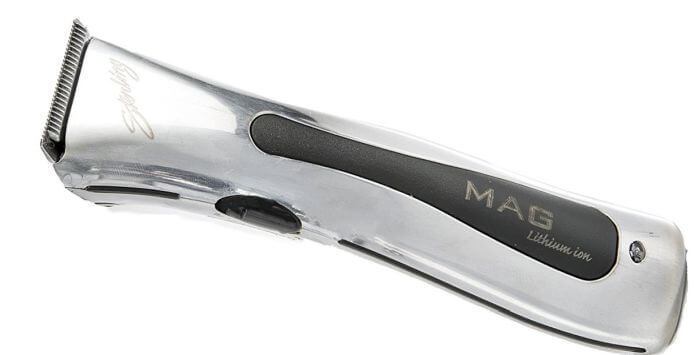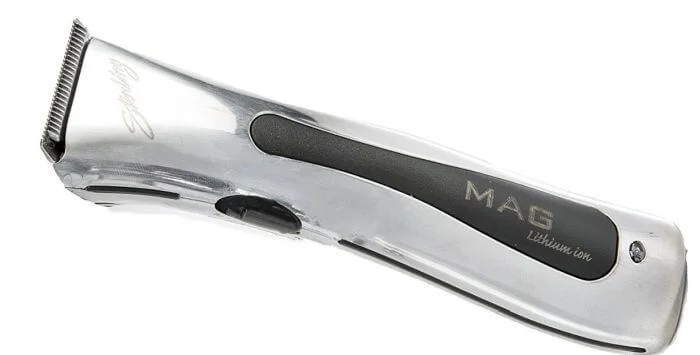 Adhering to Wahl's exquisite Sterling series, this trimmer features refined metallic looks. The black parts you see help you get a better grip and improve the groomer's ergonomics tremendously.
In this case, the form is a big part of its function. It fits well in the hands and is very maneuverable because of that.
The king of barber trimmers comes with a healthy dose of additional accessories. You'll fetch 4 trimming guides going from 1/8″ to 1/2″, a cleaning brush, clipper oil, instructions and a blade guard.
As this is a cordless Wahl trimmer, you'll also receive the recharge stand and transformers. What's unique here is the little "well" for storing accessories. Quite convenient and something many other trimmers lack. Space is always at a premium on any barber's counter. That's why I like how everything is neatly organized and within reach for this trimmer. Here's how it looks: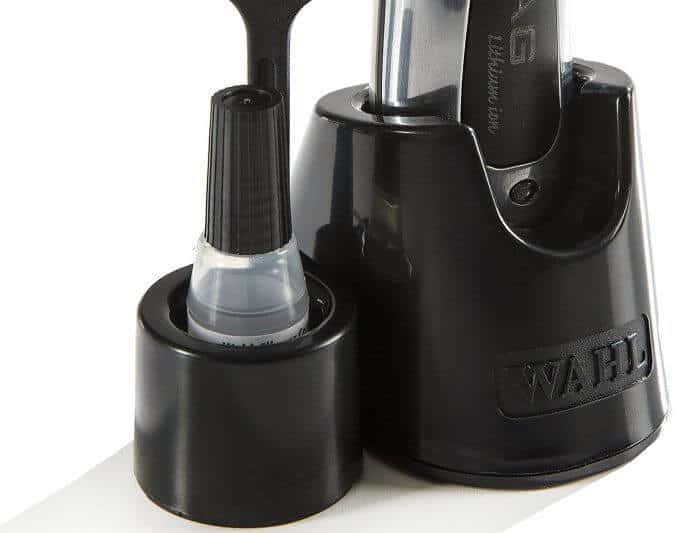 Magical applications with the Mag
What art of trimming are you after? Beard or mustache? Bald fades? Neckline shaping, edgeups, detailed work around the ears, sideburn styling?
Welcome a true stylist-grade tool aboard.
You'll be making some crips, clean lines with this trimmer that take no pressure. You won't be giving your client any razor burn by feeling the need to press against the skin to get a close cut.
Then it works great at erasing the line when you're doing bald fades. By flicking the stubble with the blade, you can blend that line into the fade and not have any shadow at all.
Versatile in its application, this Wahl Sterling Mag review recommends this trimmer can branch out to anything you want it to be. The #2111 snap-on blade is extremely precise, more than a Wahl Detailer or the Wahl Hero for example.
Scratch that – the accurate, fine operation of the Mag is unrivaled among other names like Andis or Oster too. To add to this, this model is extremely caring for even the most sensitive of skin. Ditch skin irritation worries and trim away.
Last but not least, the Lithium-Ion battery will last for up to 2 hours. This is unprecedented. No other barber trimmer, even the spectacular Andis Slimline Pro Li, will hold such a charge. The Wahl Mag groomer is an absolute record-holder.
So, what does that mean in real terms? If for some reason, you are not able to charge your trimmer in between haircuts, you could get almost the whole work day covered before it needs to charge again. You generally only use the trimmer for a few minutes at a time. Since this is so precise you can work very quickly. You don't need to keep going over the same spot to get it clean. This means that you could probably do around 25 or so haircuts with it before the battery dies. You should just dock it in its charger between cuts, but sometimes things happen and you don't. It's nice to know you aren't screwed if you can't charge it for some reason.
I like to visit other barbershops and see how they are doing things and what tools they are using. I am seeing this trimmer in more and more barber's hands lately as the word is getting around that they are top notch and are becoming a must have. Just like the Oster t Finisher was a few years ago.
Of course, you can also use it in its corded mode too. Here's an introductory video to the Mag:
A Sterling trimmer for those who value peacefulness
In terms of its high quality performance, the Mag trimmers can be compared to the outstanding Andis GTX.
Yet here's a very important difference: the lack of heating and the absolute trimming serenity when you cut with a Mag.
Without going overboard, I have to admit. This is the quietest professional trimmer you'll ever see. The Sterling Mag trimmer's presence is as elegant as are its looks. No roaring, no vibrations.
Which is, as you can guess, why it's preferred by stylists who extensively deal with children's haircuts. Even anxious, easily startled kids should have no issues with the Mag's quiet operation.
Add in how gentle it is on the skin and you have a recipe that makes it one of the best trimmers for kids. If you have your own kids or your shop has a big clientele with kids, then you really need look no further for your ideal trimmer.
I even recommend this to people to use at home doing their own haircuts since it is such a pleasure to use. It doesn't have some of those rough around the edges qualities of some other trimmers that barbers use. And it is not so expensive as to be out of reach for the DIY hair cutter.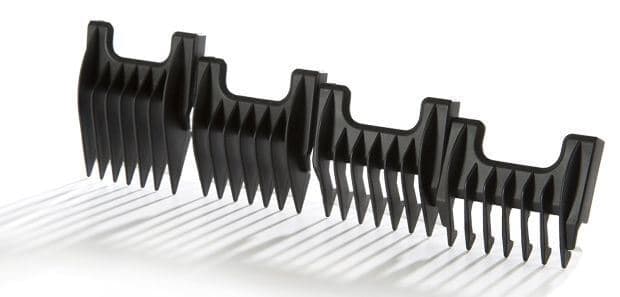 I stand by my opinion: Wahl Sterling Mag trimmer is a cut above your usual professional hair trimmer suspects. Yet there's a few things you have to take into account.
Of course, the most notable drawback here is the price. While not unbearably expensive, the Mag is still higher priced than any GTX, T-Outliner, Wahl Detailer or Oster T-Finisher.
Some might also find its special, 29-teeth snap-on blade a tad too narrow.
This is true – with the 1 1/4″ blade, you have to make a bit more efforts with wider areas.
At the same time, though, fine detailing around mustaches and other delicate areas will be way easier.
If you want a wider trimmer, Andis GTX from Amazon.com or the 5 star Detailer from Amazon.com might do a better job.
However, the Mag really outshines them in terms of quiet operation, not heating up and overall precision.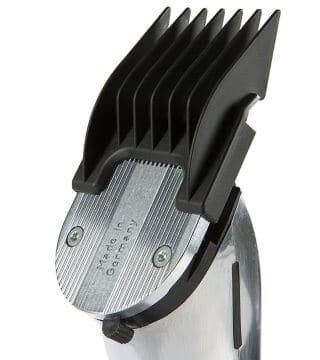 My last mention would be the guards. While it's neat that you receive 4 of them, some people mention that including bigger sizes above 1/2″ would have been even better. In my opinion, this isn't such a big deal, though.
Hands down. Wahl's Sterling Mag 8779 trimmer is a high class stylist tool. It combines ergonomics with classy looks and unmatched performance in its niche.
When you factor in the ultra quiet mode, 2 hours of cordless action and lack of the prevalent to pro trimmers heating issues…Well, it's clear how much of a winner this model is.
This Wahl Sterling Mag review doesn't lie. If you can afford the slightly higher cost, this is one of the best stylist trimmer on the market.
I'm an outdoor enthusiast and have sported a full beard since I was in my early 20's. Originally, growing a beard was a way to save time when getting ready each day, but I quickly realized that keeping a neatly trimmed beard takes work and some forethought. That's where this site comes in.
You get to benefit from my years of experience. I've reviewed many of the top hair clippers on the market today and also included some information on what works best for me. A great beard will turn lots of heads in your direction.
Since I never know when I'm going to find myself being photographed, whether it's climbing in Yosemite, or playing volleyball on the beach, it's important to me to always look my very best. Maintaining my beard is part of my daily routine and I hope you'll find some useful tips and information on this site to help you on your journey.