The Sterling 4 series are somehow left aside when it comes to popular Wahl hair cutters.
I can understand why if it's about the corded V5000 version. There are some better options in this case.
However, the cordless Sterling 4 clippers are an exceptional model. In this Wahl Sterling 4 review, I'll take a look at both versions of the Wahl Sterling 4. There's quite a few things to know about them.
I'll also do a Magic Clip vs Sterling 4 comparison as a few of you requested this. Furthermore, I'll also talk about the cordless Designer vs cordless Sterling 4, another discussed "battle".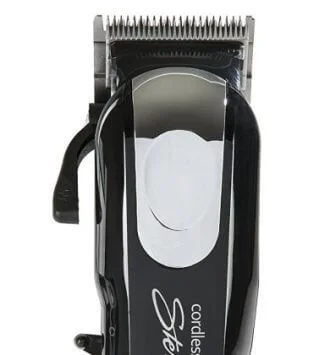 Wahl Sterling 4: An Overview
Let's start this Wahl Sterling 4 review with an overview. Both clippers from the 4 series stick to a mixture of black and chrome looks. In a way, that's similar to how the Super Taper II is. Quite distinctive and elegant, I'd say.
If you work in a retro style barber shop then these will fit right in. It has a certain style that matches well with modern shops that are going for the old school look. If you are one of those barbers that dress in the old apron with a button down shirt and tie then you'll likely love the black and white appeal of this clipper.
I am sure you're reading this Wahl Sterling 4 review because you want to know about how it works so let's get into that now.
The corded Sterling 4 clipper packs 6.25″ and weighs 1 lb, which is a standard for Wahl professional clippers. It runs on the older V5000 motor. Sure, you get enough power – Wahl electromagnetic motors are quite great, but it's not the V9000 one.
Here's how the corded Sterling 4 looks: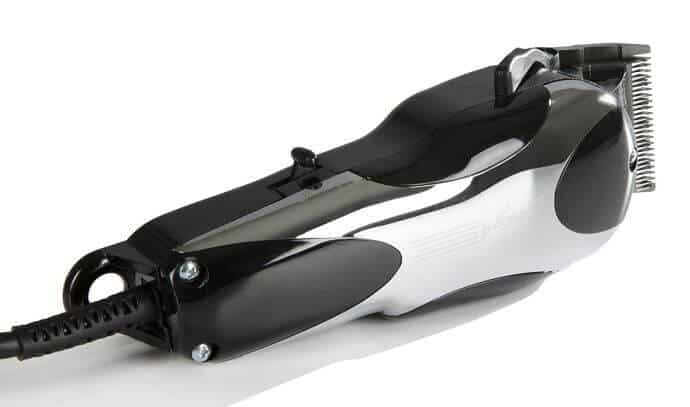 In stark contrast, the cordless model weighs only 10.2 oz, despite being the same dimension – 6.25″. It also features a rotary motor that runs cooler and moves the blades softer, reducing risks of them getting misaligned.
Regarding the weight, you will love having a lightweight clipper to avoid any hand cramping. If you work in a busy shop then you know how hand fatigue becomes a problem towards the end of the week. This really slows you down and you end up doing fewer haircuts.
Not that I condone quantity over quality when it comes to cuts, but if your hand is sore then it is going to mean you can't work efficiently. If you lose a few haircuts per week then by the end of the year you can see how much money that actually turns out to be.
With a battery lasting for more than 90 minutes and 40% less weight, the cordless Wahl Sterling 4 is outstanding in terms of mobility. Its design also differs a bit, with less chrome ornaments.
Unfortunately there is no battery light that indicates when it is running out of juice. You will notice that the motor does start to show signs of slowing down, which means you need to charge it ASAP.
The nice thing is that it can be used while charging so you won't miss a beat. You don't have to be worried about getting stranded mid haircut.
And if the battery is old and loses it's charging ability then you can always just use it corded instead of buying a new clipper.
The battery is a Lithium Ion so you will get years out of it before it starts to gradually charge less and run out of energy faster than the advertised 90 minutes.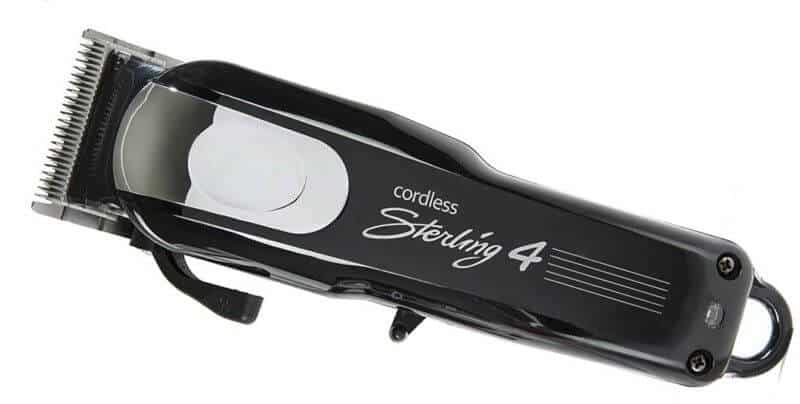 Both models share Wahl's adjust-lock #1005 blade. It's the standard professional blade, ready for bulk cuts or more detailed work.
If you plan to do lots of fades then you can 0 gap the blade and make it a great balding clipper.
With it 0 gapped there is always a chance of nicking your customer, but it is much less with Wahl clipper blades since they have a 0 overlap feature.
With the V5000 Sterling you get 6 guards (1/8″ to 1″.) The cordless Sterling 4, however, adds 2 more (1/16″ and 3/16″) which are great for blending. You'll receive both oil, blade guard and clipper brush in the packages.
Wahl Sterling 4 vs Magic Clip
Here's the thing: between the corded models, there's no reason for you to get the Sterling instead of the Clip. And I mean it.
The corded Magic Clipper beats the black/chrome 4 in every aspect. It has the newer, stronger V9000 motor instead of the V5000. You get the full set of 8 combs, instead of only 6.
And, instead of the standard #1005 blade, you get the #2191 one. A more versatile blade with more precise teeth, it's specially designed for outstanding fades.
To top it off, the Sterling is a tad more expensive than the Magic Clip from Amazon.com. A phenomenon I can't quite understand. I also like the Magic's design more: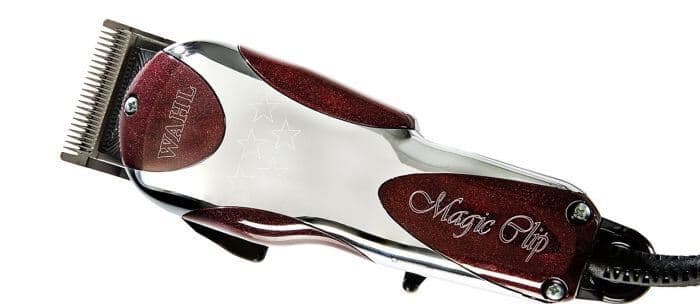 With the cordless models, it's a bit trickier. The cordless Sterling 4 clipper has the same battery as the cordless 5 star Magic Clip. Both share the same rotary motor and the same size/weight.
If you want to do fades specifically, however, the wireless 5 star Magic Clip is again better. It has the #2161 crunch blade, which is great for both sharp fading and ethnic hair. You can read our full review of the Magics here.
In case you're feeling adventurous, however, you can go ahead and install a fade blade on the Sterling. Then, you'll have a 2-hole blade like this barber:
Wahl cordless Sterling 4 vs Wahl cordless Designer
Things get extremely equal here. Unlike the blade difference with the Magic Clips, here both clippers share the standard #1005 blade.
Everything's the same: battery longevity, weight, the casing materials and overall feel. And yes, even the accessories you'll receive with these.
The Designer also boasts the ability to be used with the cord in case you find the clipper slowing down.
So, what is the difference then?
The only difference you'll have here is from a purely aesthetic standpoint. The cordless Designer has these aggressive red looks, look at it: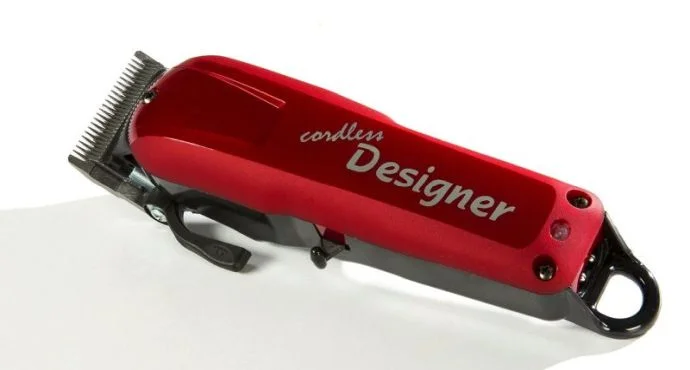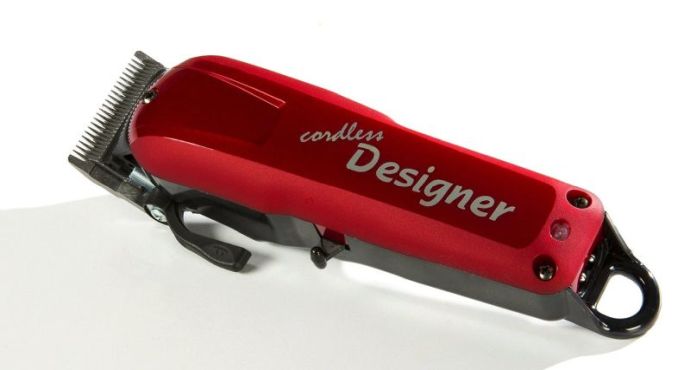 The cordless Sterling 4 clippers are more elegant and tame, in a way. It's really all about whether you prefer the black/chrome or the red/black theme.
It's really perplexing why Wahl went with making two almost identical clippers instead of just giving more color options for the Sterling 4. I am sure they have their reasons as they know what they are doing, but keep in mind you definitely do not need both of these clippers.
Every barber needs to have a primary and secondary clipper but they need to do different jobs. Your primary should do the type of cuts that you will mainly doing while the secondary needs to handle the rest. Do not get a Designer and Sterling 4 to have your two clipper set up as you are limiting yourself. I hope this Wahl Sterling 4 review actually helps and doesn't cause more confusion!
Wahl Sterling 4: Final verdict
Sterling 4 series are a hit or miss, depending on the model. I'll vote "Pass" on the corded one: you have way better opportunities, as I mentioned.
The cordless variation, though, is quite good. It features a long-lasting Lithium-ion battery, a good rotary motor and Wahl's professional blade set.
Whether you prefer going for the cordless Sterling 4 or the Designer is a matter of personal preference. If it's about the fades and deeper blending, I'd advise you to consider the Wahl Magic Clip from Amazon.com instead.
Whichever of these you go for, rest easy. You'll be getting a powerful, barber-grade wireless Wahl clipper. It'll serve you well.
I'm an outdoor enthusiast and have sported a full beard since I was in my early 20's. Originally, growing a beard was a way to save time when getting ready each day, but I quickly realized that keeping a neatly trimmed beard takes work and some forethought. That's where this site comes in.
You get to benefit from my years of experience. I've reviewed many of the top hair clippers on the market today and also included some information on what works best for me. A great beard will turn lots of heads in your direction.
Since I never know when I'm going to find myself being photographed, whether it's climbing in Yosemite, or playing volleyball on the beach, it's important to me to always look my very best. Maintaining my beard is part of my daily routine and I hope you'll find some useful tips and information on this site to help you on your journey.