Before I get into the meat of the article, let me point out that there are actually three versions of the Norelco OneBlade. For this article I am going to do a Norelco OneBlade review for the Face and Body version. Then there is the original OneBlade and finally there is the OneBlade Pro which I have
previously reviewed here
.
You might think I would say to just go with the Pro version since it does more, but with a big difference in price I thought it would be useful to also shine a light on the original model.
The lower price does not mean a sacrifice in performance as you shall see. If you don't need a lot of bells and whistles, then read on and see if you think the Philips Norelco OneBlade from Amazon.com is for you.
As you will see after reading this Philips OneBlade review, I think it is right for any guy.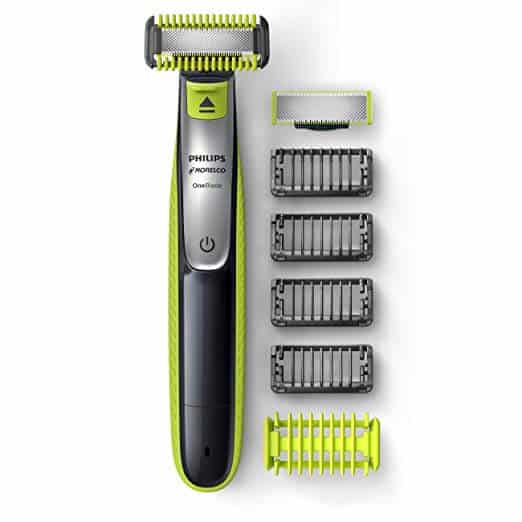 What is the Norelco OneBlade Face and Body?
To best understand what the OneBlade is and how it works, in this Philips OneBlade review we'll call it a hybrid electric razor.
This means it is a foil style electric razor which is designed in such a way that the same blade can also be used as a beard and body trimmer.
For use on your facial hair, for example, it can line up your beard with the edger blade on the top and bottom. It can then shave your face with the foil covered blade right down a slightly below stubble. And, then you can pop an attachment on and trim the full beard down to four different lengths.
So, the key is to look at it as a groomer and not necessarily a dedicated electric razor.
Benefits of Using the Norelco OneBlade
Since the Philips Norelco OneBlade is so versatile, I think it deserves a place in every man's Dopp kit.
Make sure you read the full Philips OneBlade review to understand if it is right for you, but here are a few of the reasons I think it is so helpful:
Great for Sensitive Skin
If you hate shaving because you always end up with razor burn or raw skin, then you will like using the OneBlade as an electric razor. It doesn't claim to give you a shave as smooth as a baby's bottom. In fact, they clearly market this for guys that are not looking for that.
By leaving a slight amount of stubble, it goes very easy on the skin. If you can get away with a tiny bit of shadow, or your facial hair is very fine or light, then this will work great for you.
Convenience
The fact that you can do so much with this one tool makes it very attractive. In such a small package, you can do everything from trim to shave to do full body grooming.
Many guys like to keep their gear to a minimum. Since you can replace three different tools with this single one means you have more space for other stuff in your bag or medicine cabinet, and that you have more time to focus on other things.
Imagine having to charge and replace batteries on all the devices you would need to have if you didn't go for the OneBlade!
Ergonomic
The shape and size of the Philips Norelco OneBlade fits well in the hand. It has a nice non slip grip so you won't risk it falling out of your hand if it's wet.
With trimmer blades on the top and bottom of the foil covered electric shaver blade, you can go in either direction to really get into some tight areas on the face and body.
With a pivoting head, this makes it even more maneuverable.
It only has two buttons for the minimalists out there. A power button and the ejector to pop the razor head off when it needs replacing.
Full Body Grooming
Because of the lightweight and ergonomic design, it is one of the most ideal body trimmers out there.
Considering that it shaves, trims and edges, I can't think of a better tool to do literally everything you need it to do.
Trim your chest down to stubble or even shave it all the way down. You can trim your pubes, or shave them completely. Since this is designed with comfort in mind, it won't irritate your sensitive areas down there even when you are going for full hair removal.
Use Wet or Dry
I love multitasking as most guys do, so it is really nice to be able to use this in the shower, bath or gym locker room. You can shave with foam or gel too if you really want to make sure it doesn't irritate, but I feel like it performs better when you use it dry or when your face is simply wet.
There are some specially formulated preshave lotions for electric razors. After you read this Philips OneBlade review check out this full article to learn more about them.  
Travels Well
Since you can now take one tool instead of three, it's safe to say that it deserves a place in everybody's travel bag.
It has a rechargeable Lithium Ion battery so it can be recharged anywhere if you are on the road for a while.
And it is so small and lightweight, it won't weigh you down.
How it Works
Let's break the Philips Norelco OneBlade review into components. This way we can get a deeper understanding of how cool this actually is.
Blade
What makes this really different from other electric shavers is the unique design of the blade. It has sort of a foil cover like you find on a traditional electric razor, but it is totally flat.
Underneath the cover is an oscillating blade that rocks back and forth at a rate of 200 times per second. Since it is so fast, it can trim down even slightly longer hair like a thick beard.
This prevents that painful pulling of your beard when you are trimming it down when it is long.
It's a little bit smaller than the length of a traditional shaving head of an electric razor at 1.5 inches, but this is actually a good thing in my opinion. Since you may be using it on other areas besides your face, it can get around better than if it had a very long head.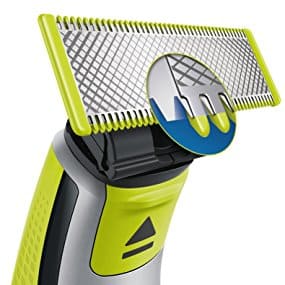 Trimmer
Another area in which this is totally unique is that the trimmer is two fixed blades on either side of the blade face.
To better understand how it operates take a look at the close up image above.
The Norelco OneBlade can now trim and shave at the same time due to this ingenious design.
As it cuts down the long hair, the foil section of the blade shaves it right down to the skin.
If you want to use it as an edger to do a line up, simply turn it so the blade is perpendicular to the face and make your line.
It can be used from any angle to really nail down exactly the design you are looking for.
Attachments
If you are looking to trim down your facial hair, or any other body hair, there are five different plastic comb guards that you can use.
There is a body comb that will leave you with 3mm of hair after going over it. This is pretty short so if you wanted to keep your body hair longer and are just looking to trim the ends keep that in mind.
For some weird reason, the body comb can only be used in one direction. The top of the comb is closed so you can only shave going from top to bottom. If you want to change direction and go from the bottom up then you have to turn the OneBlade over.
For the face, or even for areas of the body you want shorter, there are four more ranging in length from 1, 2, 3 and 5mm.
With these four combs, you can go in either direction since they are open at both ends. Go with or against the grain without having to flip the trimmer over.
Norelco OneBlade Battery
If you have read an old Philips Norelco OneBlade review, then you may think the battery was not very good. Well, at the time of this writing, they have really improved the runtime and charging of the battery.
With a full charge you can now get 60 minutes between charges as opposed to 45 minutes.
This may not seem like much of a difference, but if you are using it for a full body trimmer, then you know how long that can take. When trimming from face to toes, every extra minute of runtime helps.
There is a plug to recharge rather than a charging dock to also add to the convenience. It takes roughly four hours to fully charge.
The battery will be able to be recharged for years since it is a solid new generation Lithium Ion. To make sure it lasts as long as possible, try to let it run out of juice or at least close to it before you recharge it.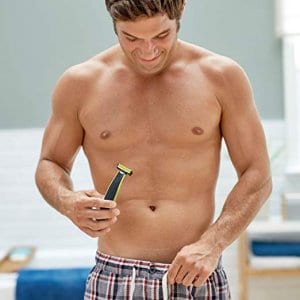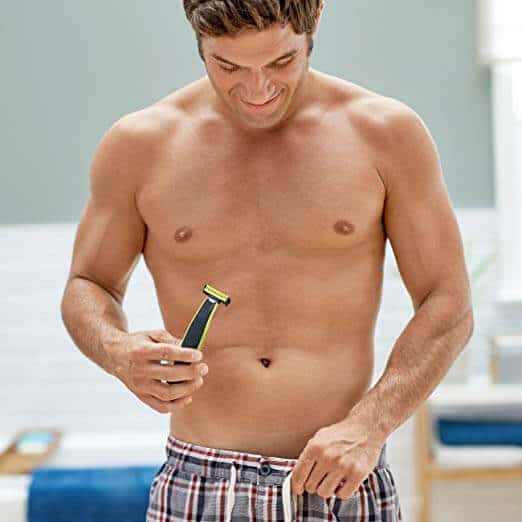 What We Don't Like
There is no such thing as a perfect product so we need to address the negatives in this Philips Norelco OneBlade review. I don't think any of them are necessarily deal breakers, but just something to keep in mind when you're ready to buy your own Philips Norelco OneBlade.
Blade Life
The one aspect of how the Philips Norelco OneBlade compares unfavorably to other traditional electric razors is that there is a continuing operating cost. The blades only last for four months before they need replacing. A replacement pack of two cartridges on Amazon.com are around $20.
You get an extra one when you buy the trimmer so you have two to start off with. That should last you around eight months, but it could be less.
That four month duration is assuming you shave a full beard twice per week. If you shave more often, have a very thick beard or are using it as a body trimmer, then expect it to need replacing in less time.
At a minimum you'll need three blades per year which is around $30.
No LED Light
A little thing that I feel easily could have been added is an LED light for charging. When you plug it in, you have no idea if it is charging or not. And you don't know when it has finished charging. Nor do you know when it needs to be charged as it doesn't let you know.
You really only know when you can see that it is starting to slow down. Well, this could mean that you end up losing a charge halfway through a shave.
It would also be nice if you could use it while it is plugged in to finish, but you can't.
Norelco OneBlade Face and Body vs OneBlade Pro
| OneBlade Face and Body | OneBlade Pro |
| --- | --- |
| | |
| | |
| | |
| | |
| 5 Attachment Plastic Combs | |
| | |
| | |
| | |
If you think you might prefer the OneBlade Pro, then you can head check it out on Amazon.com.
Final Thoughts
I hope this Norelco OneBlade review was helpful in showing you that there is a more convenient way to groom. With the latest tech coming out in the male grooming space, I would expect the Philips Norelco OneBlade to get better over time even.
Don't go out and get a special tool for every piece of real estate that needs to be shaved, trimmed or lined up. Just get yourself a Face and Body and do it all. It's like one stop shopping!
Obviously, if you read the entire Philips OneBlade review then you saw that it is not without a couple of minor flaws, but it still beats a lot of the competition.
I'm an outdoor enthusiast and have sported a full beard since I was in my early 20's. Originally, growing a beard was a way to save time when getting ready each day, but I quickly realized that keeping a neatly trimmed beard takes work and some forethought. That's where this site comes in.
You get to benefit from my years of experience. I've reviewed many of the top hair clippers on the market today and also included some information on what works best for me. A great beard will turn lots of heads in your direction.
Since I never know when I'm going to find myself being photographed, whether it's climbing in Yosemite, or playing volleyball on the beach, it's important to me to always look my very best. Maintaining my beard is part of my daily routine and I hope you'll find some useful tips and information on this site to help you on your journey.