I enjoy shaving – and in a sense, I have to due to my thinning hair. A smooth scalp or face just feels right.
However, I'd be lying if I said that getting rid of hairs is always an effortless experience. You yourself also know that it's not.
I'm using an electric shaver as my main weapon of grooming coupled with the best electric shave lotion. My partner in shaving crime is this Braun Series 5: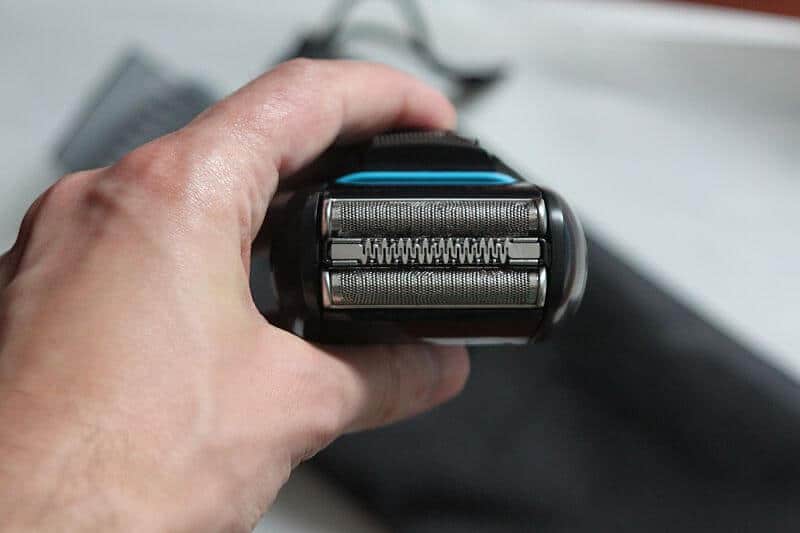 Here's the thing. Sometimes the difference between a lackluster shave and one of those irritation-free, gliding experiences is a…pre electric shave solution.
Before I review my favorites, I'd like to mention that there are 3 main types of these:
What's the difference between them?
Well, all of them will make your shaving team easier. But if we, say, look at powders, naturally they'll be a bit messier to apply. It's a powder, after all!
Who should use an electric preshave?
Basically, anybody who hates to use an electric razor. If you've often thought you would like to use an electric razor but have had a bad experience, like your face gets really irritated, then you need to try using a preshave.
It totally smooths out the experience and even people like me who often thought I was destined to use a regular razor forever, are able to go back to a comfortable shave with an electric.
And now let's talk about the best electric shave lotion. The problem with lotions is that they often have alcohol in them. So while they're convenient, those with extra sensitive skin might not want to grab a bottle. I'm one of those people, hence me usually sticking to cremes or powders.
I've picked 4 best electric shave lotions that are best as pre shaves for those of you using an electric razor like me. Let's kick it off with some comparison tables: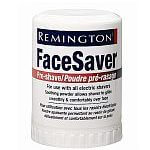 Remington FaceSaver

Best Feature:
Compressed powder: no alcohol, yet less messy than other powders!

Lubrication:
★★★★★

Fragrance:
★★★★

Price:
$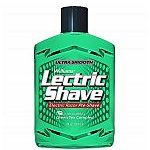 Williams Lectric Shave

Best Feature:
Outstanding lubrication and Green Tea complex to soothe skin and reduce alcohol effects.

Lubrication:
★★★★★

Fragrance:
★★★½

Price:
$+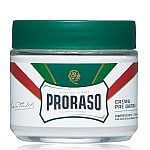 Proraso Cream

Best Feature:
Softens facial hair impressively. Minty feeling and organic ingredients.

Lubrication:
★★★★

Fragrance:
★★★★★

Price:
$+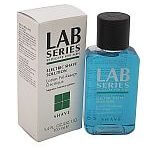 Aramis Lab

Best Feature:
Lotion that doesn't dry out that much. Better smell than Williams solution, and also a bit less alcohol.

Lubrication:
★★★★

Fragrance:
★★★★½

Price:
$$
How do electric pre shave lotions work?
There are two main functions of a pre shave oil for electric razors.
To lift the hair away from the skin and to lubricate to reduce drag of the razor head.
The first function of lifting the hair is to make sure you give the hair a clean cut at the lowest possible spot on the follicle. This makes your shave go faster and also reduces irritation.
Think about it like this.
If the hair is lying flat on your face then the razor will have to go over that spot a few times to cut the hair down to where the skin is smooth. When you do that, you are increasing the odds of getting razor burn. You're also likely to be using pressure to get the shave closer which further pushes the hairs down and leads to even more irritation. Lifting the hairs up allows the razor to get the blade closer to the base of the follicle.
Then you need the razor to glide over the skin. Obviously this is essential in making sure that you don't end up with razor burn all over your face. If you do need to keep going over the same spot then this will reduce the irritation and gives you a much more comfortable shave.
Types of pre shave products
There are 3 primary ways to shave your face with an electric razor as far as the pre shave goes. You can use a powder, lotion, splash or gel.
Which one is best for you depends on what your needs and how you want it to work.
For you to get a better idea I will list the ways they are different from each other.
Powder
It may seem strange to consider, but a powder pre shave is the best lubrication for your electric razor.
It does a few things at the same time, but the primary feature is how well it can provide glide to your razor head and reduce irritation just by providing a well lubricated surface.
At the same time it can clear your face of any oils if you have greasy skin since it is a powder. It can absorb any sebum that may be clogging your pores which helps to reduce any acne.
It is very easy on the skin since it doesn't contain any drying agents like alcohol. If you have sensitive skin then this may be your best option.
Lotion/Gel
A less messy alternative to powders is a gel or lotion that you apply before the shave.
These usually contain alcohol to tighten the skin and make a smooth surface for your razor to glide. It will also lift the hair away from the skin.
These are easy to apply and give you a very close shave since they do both the lifting of the hair and provide lubrication.
They do also contain moisturizers in some cases so they will leave your skin feeling refreshed and hydrated.
Look for ones that contain moisturizing agents.
Splash
A splash is almost like an aftershave but its purpose is to life the hair and tone the skin before the shave. These also contain alcohol and may irritate the skin if you have sensitive skin.
They don't provide as much lubrication as the powders or gels but are very effective at giving you a very close shave.
At the end of the shave, your pores will be tightened so your face will feel much smoother leading to a closer shave.
And a lot of times they also smell really nice.
1. Best electric pre shave powder:


Remington FaceSaver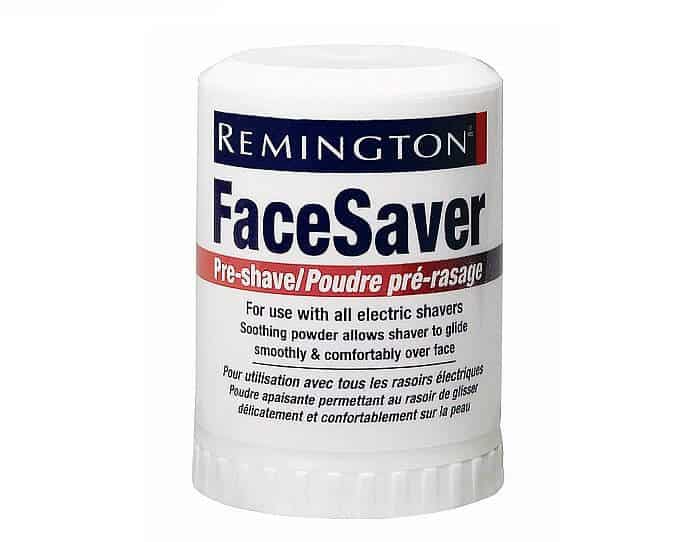 We've written about our admiration for Remington products in a review of their current hit: the HC4250 hair clipper.
FaceSaver has been around for many, many years. It's safe to say that it's one of Remington's most iconic products.
It's iconic because it simply works.
Note that I mentioned powders can be messy. Good news: this one is not one of those loose powders that create a fine-dust apocalypse around you.
Instead, the FaceSaver is talcum powder, tightly compressed into a convenient stick. This means less mess, but the same amount of gentle lubrication for your face or noggin.
Inarguably for me, this provides extreme lubrication. The selling point is that you get it without the alcohol ingredients usual lotions have to include so they can allow your shaver to glide effortlessly.
If you have sensitive skin and are ok with powders, that's your best bet. Just rub the little stick across your head or face and distribute the FaceSaver.
A small note: usually talc products are mineral-based. Usually minerals can have a detrimental effect on stainless steel blades and their longevity. However, I'm sure that Remington have thought this out – otherwise this wouldn't be as popular, right?
What you'll notice when you use it for the first time, is that you will think that it isn't cutting. It glides smoothly and it doesn't make the same kind of noise that you expect when you shave.
Then you check by rubbing the area you just shaved and are surprised to feel it totally smooth.
So, give it a bit and you will realize it is not only working but working so well you don't even know it.
2. Best pre electric shave lotion:


Williams Lectric Shave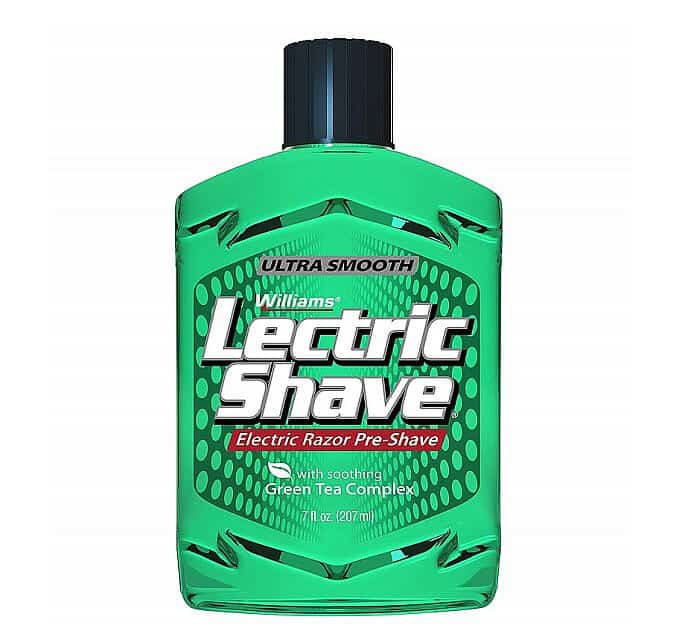 I mean, what else could I mentioned here?
Lectric Shave is not a product, it's a whole institution! Easily the most famous, most widely used lotion for electric razors and smooth shaves.
Yes, as a solution it indeed has alcohol in its ingredients list. Yes, usually that might irritate your skin or dry it out.
Williams balances out alcohol's effect on skin with a soothing Green tea complex formula. This is what makes it better than your usual drugstore pre shave lotions.
As you probably know, flat hairs are one of the main factors for uncomfortable shaving sessions. What Lectric Shave does best is making your facial hair "stand up" so you can cut through it in one go.
Yes, less ingrown hairs or those dreaded bumps we've been talking about in other posts.
Using it is easy: apply a bit of the lotion, wait a few seconds (10-15 are enough) for the skin to absorb it, and shave. Rinse your face/head after that.
The only issue here is the smell. It's definitely stronger in terms of fragrance compared to other best electric shave lotions. If you think that's a problem for you, check my recommendation #4 below.
This is the preshave my father used to use and was what I tried when I first used an electric razor. Honestly, it didn't go so well for me. I have and have always had, sensitive skin and this exacerbated it. So, your mileage may vary. I include it on the list since it does work very well for a lot of people. Just not so great for me.
3. Best pre shave creme for electric razor:


Proraso Creme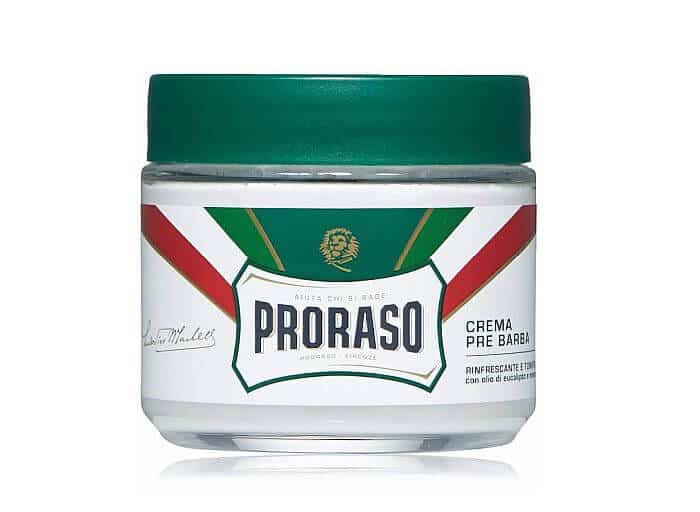 No surprises here either. If there was one pre shave creme that deserves my 100% support, this is Proraso. Italy has fascinating barber traditions, and this brand manufactures all of its products there…It's actually been doing so for close to 60 years!
What this little guy here focuses on is softening your facial hair and toning your skin to prepare it for the shave. I doubt you'll experience any irritation: this is paraben-free, silicone-free and SLS-free.
For the ethical and eco-conscious gentlemen, it's also cruelty-free and 95% organic.
The best thing about Proraso is the minty feeling you get when shaving. The key is the blend of Eucalyptus oil and Menthol.
It's a cool, breezy way to purify your skin and soften things up for some effortless gliding over your face or head. Especially during summer months, I'd say: nothing better than getting out with a minty noggin!
You don't need to apply a lot of the creme. A dollop is more than enough. Be sure to first wet your face, preferrably with warm water. Massage the product onto your face/head and get to grooming!
Since I tried Proraso for the first time a few years ago on a trip to Italy, I have been hooked. They are quickly becoming one of the most popular products we sell in the barbershop. The smell, combined with the way it wakes up the skin, is just a delight. This isn't just for smell, it works great as a lubricant for your electric shave.
4. Less fragrance, same efficiency pre shave lotion:


Aramis Lab Solution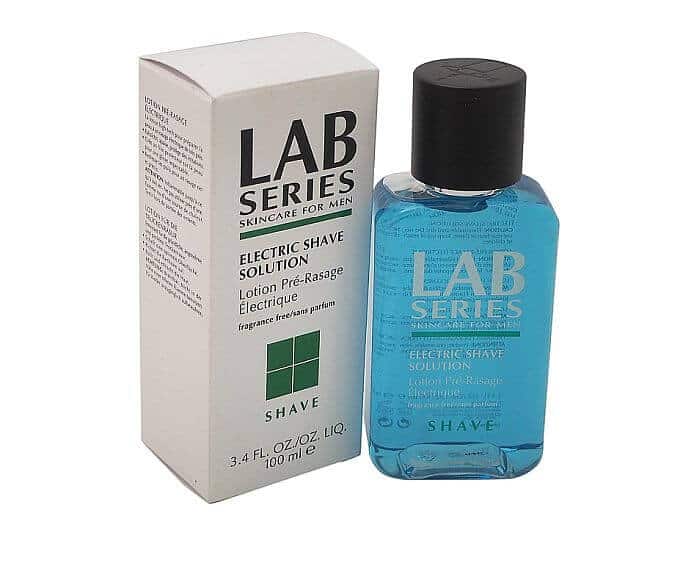 So, remember what I said about the Williams Lectric Shave, right?
Well, for those of you who want less smell, Aramis Lab will fit the bill. Its fragrance is more subdued and definitely more pleasant than the Lectric Shave.
On top of that, it uses just a little bit less alcohol too.
Both of these come at a cost: the price tag with Aramis Lab is definitely higher. Really depends whether you want to shell out a bit more cash for a pre shave solution.
As a whole, Aramis Lab is pretty comparable to Williams. Maybe you don't get as much gliding and forcing the facial hair to stand up…But it's a better pick for those of you who have sensitive skin or are not fond of lotions that have an overly aggressive scent.
What do these products exactly help with?
OK, so – there's a whole lot of things that can go wrong when you're shaving.
For example, your skin might be too oily. Or too dried out because of the current season or other outer factors.
Then, the type of facial hair you have can also affect your grooming routine. If you have a lot of flat lying hairs, or your hair grows in different directions, hitting your face straight with an electric shaver might be a bad idea.
What pre shaves do is generally providing you an additional layer of lubrication and protection.
They raise your hairs, tone the skin and make sure there's as little friction as possible between your head/face and the razor.
What if I get the latest electric razor model?
I mean, that makes sense, considering how shavers have evolved.
We've actually written on some of Braun's champions like the Series 9, as well as comparing Braun vs Norelco.
It's true that the latest electric razors have additional lubrication and complicated blade systems. Series 9 from Braun even has a special part that straightens your flat hairs!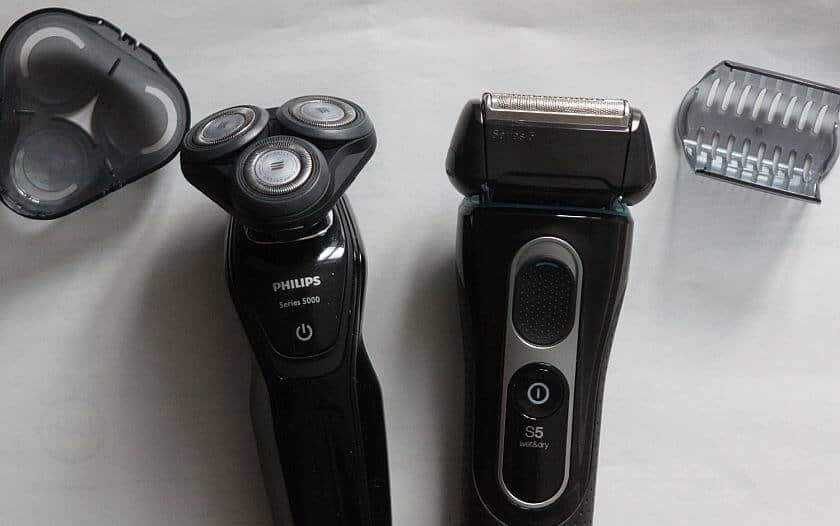 So in a nutshell: getting a new model will definitely reduce your chances of needing a pre shave lotion, creme or powder.
However, there are plenty of people with high-end shavers who still need to add a pre shave using the best electric shave lotion to their grooming routine.
For example, usually people have no issues with the Braun 5: the shaver I'm using right now. However, if I don't do some pre shave preparation, I'm left with ingrown hairs and reddish bumps.
It's not purely Braun's fault. Despite my diffuse thinning, my remaining hair is just coarse and grows in all directions.
The same can be said for my facial hair PLUS it being curly which makes it even worse. 🙁
I'm an outdoor enthusiast and have sported a full beard since I was in my early 20's. Originally, growing a beard was a way to save time when getting ready each day, but I quickly realized that keeping a neatly trimmed beard takes work and some forethought. That's where this site comes in.
You get to benefit from my years of experience. I've reviewed many of the top hair clippers on the market today and also included some information on what works best for me. A great beard will turn lots of heads in your direction.
Since I never know when I'm going to find myself being photographed, whether it's climbing in Yosemite, or playing volleyball on the beach, it's important to me to always look my very best. Maintaining my beard is part of my daily routine and I hope you'll find some useful tips and information on this site to help you on your journey.