In the world of electric shavers, there's three big names:
Braun, Philips Norelco, and Panasonic.
And while I do respect Panasonic, to me the Big Battle is a fierce competition between Braun and Norelco. A rivalry that's given the world quite a few outstanding products for us gentlemen's grooming habits.
A common misconception I see is people thinking that Braun is better than Norelco, or vice versa. I propose an argument here: it's not about a difference in quality.
It's about the difference in technique.
Overview: Braun vs Philips Norelco Shavers
These are the two shavers I've been testing over the recent months for my Braun vs Philips Norelco shavers comparison. Mosf ot the basics apply for later models from both brands, though.
In other words, they will be applicable to popular shavers like the Braun Series 7 too. 🙂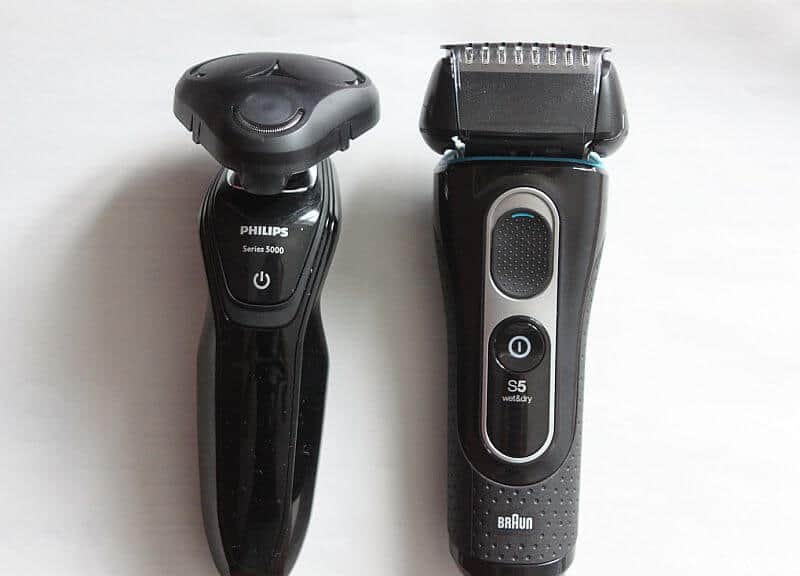 Let's peek underneath the hood…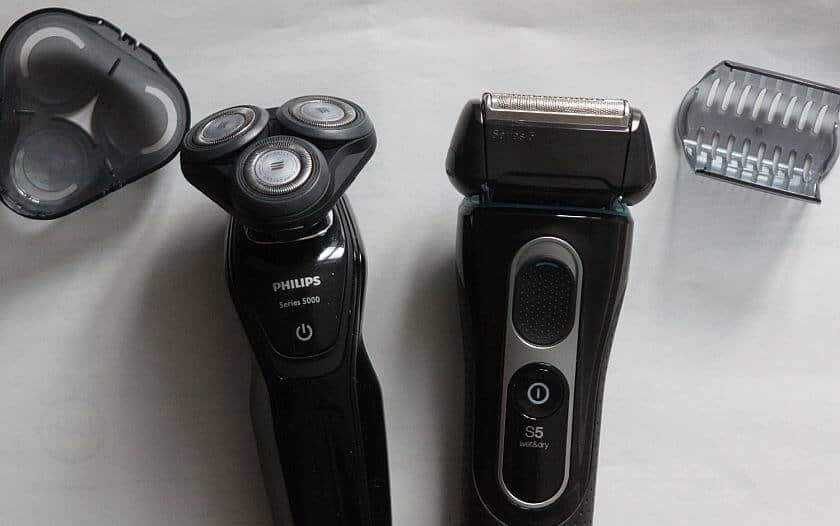 Note: If the product above is not available, check out Philips Norelco Electric Shaver 5100 on Amazon.com here.
There goes your main difference in Braun vs Philips Norelco Shavers. Braun exclusively produces foil shavers, while Norelco takes care of your hair with its distinguished three-blade rotary heads.
Now, I've written an in-depth guide on foil vs rotary shavers…But you might want just the summary. And here it is:
With foils, you move back and forth, in straight lines. You don't do any circular motions, as it'll cause skin irritation.
With rotaries, you do the opposite: going in circles, following the spinning rounded blades as they graze through your hair.
Foils tend to shave closer, but my personal experience found that rotaries are gentler on the skin. At least for me – keep in mind that our skin is a fickle buddy. What works for one gentleman might not work that well for another one.
The thing is, both Braun and Norelco have extensive product lineups. Sometimes the difference between their own series (say, Braun Series 3 vs Braun Series 9 from Amazon.com) is more prominent than how they differ from their competitor.
Go figure, huh?!
Alright, the basics out, let's dig deeper into some fundamental parts of what you'd like to see in an electric shaver.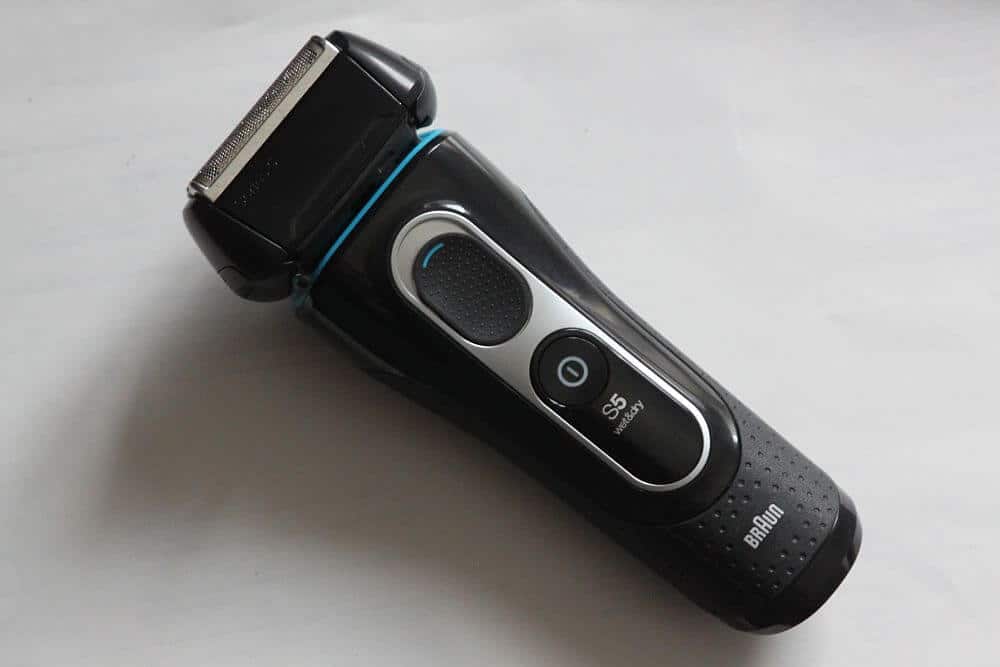 The Braun vs Philips Norelco Cheatsheet
Generally, Braun shavers are more powerful. Even the supposedly 'older' Series 5 I have spins at 30 000 cutting actions per minute. With the newest Series 9, this gets bumped to 40 000.
That's nothing new: foil shavers usually put out a better performance than rotaries like Norelco. Especially if you count Braun Series 9's AutoSensing motor that's the top performer in the industry.
This helps for extra thick hair or those of you with really curly facial hair. The downside in Braun vs Philips Norelco Shavers? Well, a more powerful shaver will also be way noisier.
This power is pretty important. It actually ends up easier on your skin as you don't have to keep going over the same spot multiple times to get a closer shave. The fewer passes you end up doing, the less irritation your face will have to endure. And since there a lot of guys out there that still won't go near an electric razor for fear of how harsh they are on the skin, the power then becomes essential.
Which is why, in general, Braun shavers are louder than your average Norelco one.
This is a very, very tough factor to cover. The reason is, even among their product line up, both brands change the blades quite a bit. I can't put a SH90/62 newer blade technology on my Norelco Series 5000 with its SH50/52 blades.
So, what I propose we use as a benchmark here are the directions which the blades utilize when shaving.
Put simply, the more directions, the better shave. Having more directions means the blades can approach the hairs from different angles, providing more accuracy and reducing unfinished work that might lead to ingrown hairs, bumps and other unpleasantries.
This also leads to less irritation as I mentioned earlier that the less times you need to go over the same spot, the less likely you will end up with razor burn.
I'll be honest with you about Braun vs Philips Norelco Shavers: anything above 5 directions is pretty good already.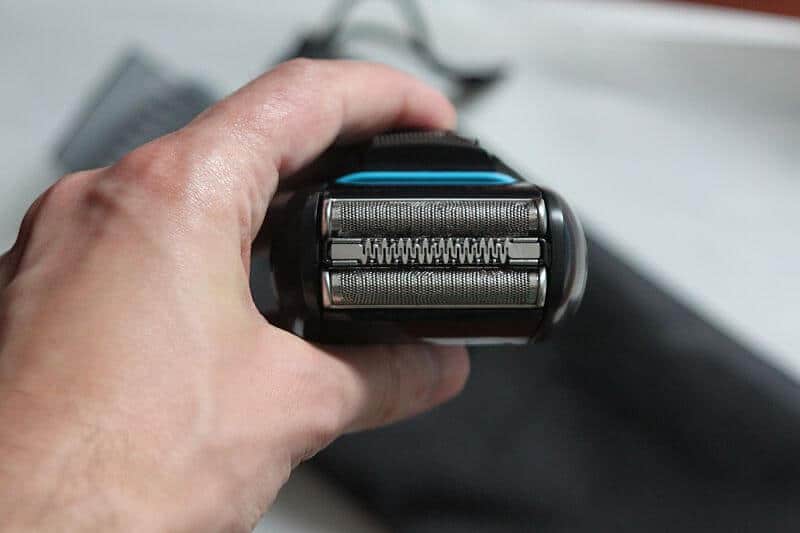 But there's something called ultra closeness, and some gentlemen do want their dose of luxury, flawless shaving.
Braun wins over Norelco with its Series 9 foil shaver here. The brand's latest, it features a stunning feat of 10 directions which is a total record in the world of electric shavers. It's simply unmatched.
With the movements of the blades, you can keep close contact with the skin at all times. Even when talking about all the contours of the face like over the chin and a hard jawline. These are the areas that most electric razors struggle against that the Series 9 takes in stride.
Series 7 and 5 are on par with Norelco's 8900 from Amazon.com or 9700 Series – exactly 8 directions, which is a very smooth, high quality shave anyways.
The Norelco rotary I use, being a bit older, spins 'only' in 5 directions. Sure, I do get a bit of a better job with my Braun, but even 5 directions is plenty.
If you have thick hair, once again you'd want as many directions as possible. But if your facial hair is straight and thinner, even 5 directions will serve you well.
Wet/Dry shaving performance
I'll be honest on Braun vs Philips Norelco Shavers: the older Norelcos are pretty bad with wet shaving. But if you pick a newer model, they're on par with Braun's lineup.
Still, I think foil shavers fare a bit better if you're using a thicker shaving gel/foam, especially if you use a lot of it. Keep this in mind depending on your shaving habits.
A nice in between is to use preshave oils and creams specifically for electric razor shaving. All you need is a very thin layer to smooth out the experience. If you don't like doing dry shaves but at the same time are not keen to deal with globs of shaving cream or sticky gel, then you should think about using one.
Then again, I'm more of a dry shave person. Remember to always sprinkle a bit of witch hazel (better than aftershave) to reduce irritation or razor bumps.
Taking some time for your post shave will not only soothe your skin but it will give you a closer and smoother shave by tightening the skin with an astringent.
Obviously, both brands tout their proprietary technology in every aspect. V-Track Precision for Norelco's blade system; Sonic Technology for Braun's.
But I already talked about blades, so let's take at two other deciding factors: battery and maintenance.
1. Battery
Times have advanced to the point where you can't imagine using a corded electric shaver. Oh, the inconvenience!
To cater to demanding people like you and me, both brands' newer lineup has migrated to being cordless. Lithium-Ion batteries and quick charges make sure we're not left alone (and possibly naked) in our shaving routine.
In terms of battery life, the difference is negligible. A standard for both Norelco and Braun is a 50 minute battery life on 60 minutes of charging. Interestingly enough, some of the Series 5000 Norelco hold 60 minutes!
In other words, either one will give you more than enough battery time for at least three or four shaves before you need to recharge. If you are taking 50 minutes to do a shave and feel like the battery doesn't last long enough, then you are definitely doing something wrong!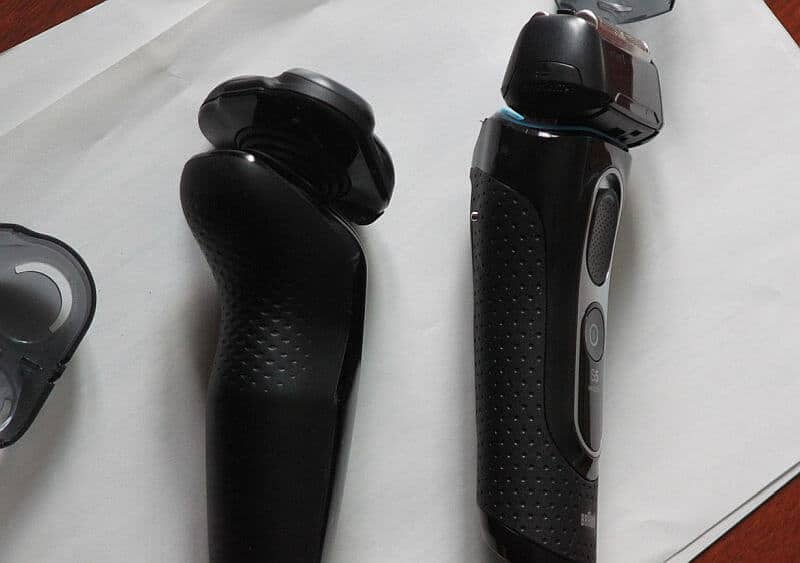 Perhaps it's the less powerful motor in motion?
What I like about my Norelco is that it has a Quick Charge function. Basically, if you forgot to charge it, you can plug it in for some 5 minutes or so and it'll come out ready for a quick shave. My Braun doesn't have such an option.
2. Maintenance
By maintenance, I'm talking about the cleaning systems newer shavers come with. Generally, a cleaning system has three responsibilities: to clean, to charge, and to lubricate the blades.
That's right, Braun and Norelco decided to go all techie and combine cleaning plus charging in one so it's more compact and easier for you and me to shave properly.
The Braun Series 9 and Norelco 9700 from Amazon.com introduced another feature: their cleaning stations also dry the blades after they've finished with the other tasks.
Who knows, in the future they'll also provide us with a hands-free grooming session, huh?!
Anyways, both brands have top quality cleaning system. They really do.
The only big difference is this:
Braun cleaning stations use an alcohol-based solution to kill the germs and refresh the blades.
Norelco's cleaning agent is alcohol-free.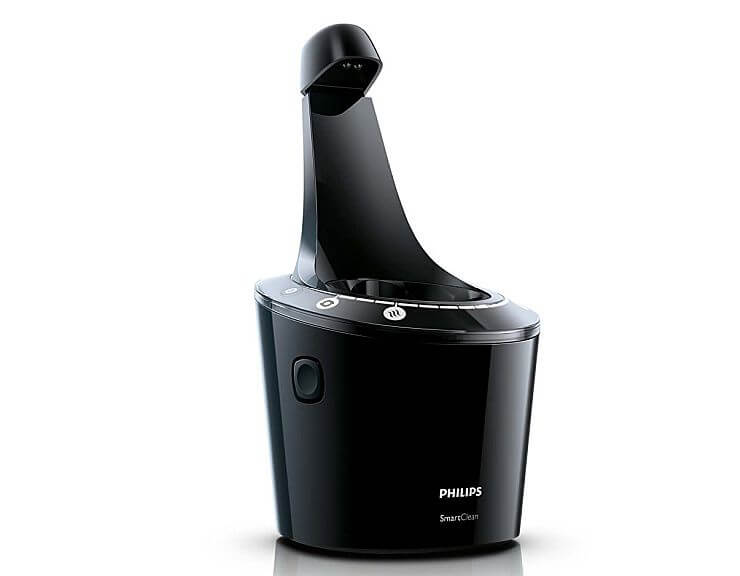 My skin has no problems with either of these, so I'm all set. However, I've heard of very sensitive skin that might be in a no-no situation with any alcohol-based liquid. Now, Braun have made their incredibly soft and diluted and it shouldn't be an issue – I'm just informing you of the main difference.
If the blades are dry then it is almost a non existent problem that your skin will react the the alcohol from the blade disinfectant.
What Braun Does Well
I covered some of the basics that you want to look for in each of the razors, but here are some bonus features that may tip the scales on which one is going to be better for you.
Autosense Technology
The Braun models from 5 and later have what is called Autosense technology. This makes it something of a smart razor since it can detect how thick your hair is so it can give a power boost. This will prevent your razor from slowing down or the blades getting clogged when it encounters a rough piece of terrain.
Most guys have patches of their beard where the hair gets notably thicker. Usually around the mustache and chin. Usually the cheeks are thinner and then it gets thick again under the chin where the beard ends.
It's nice to not have to kill your battery by keeping it at the max the whole time and only using the extra power when you need it. Like I mentioned about the cheeks being thinner. It saves it's power since it doesn't need as much there. Then boosts the juice when it encounters resistance to keep it flowing.
What Norelco Does Well
Not to be outdone, Norelco have an advantage in an area where the Braun razors fall a bit short.
Works great wet
Not only is there something to how the rotary heads work better when wet, but Norelco have a special system to give them the edge.
It features something called Aquaseal. This is a special coating so water doesn't go too deep into the shaving head which would impact how the blades cut.
In fact, because of this, even shaving gel and foam doesn't enter too deeply so it works great if you use it as a wet shaver when you aren't in the shower.
Should You Use Shaving Cream?
The debate rages over whether you should shave wet or dry with an electric razor and whether or not to use shaving cream.
Of course, this all really boils down to personal preference but here are a few things to consider if you're wondering which way to go.
First let's dig a little deeper into what a shaving cream does and the different kinds you may want to use.
The most obvious thing the cream does is provide lubrication. The ingredients in the cream will help your razor glide across your skin and prevent any irritation. For this reason alone it is worth it for some to go with the cream as they find that either a foil or rotary razor gives them razor burn.
There is a bit more to it than just providing some glide.
If you use a canned aerosol shaving foam then yes, you're really only getting that lubrication. If you want to really up your shave game then go with a cream or soap that can absorb into the follicles and soften them to make for a much cleaner cut. This gives you a much smoother shave. A cream like Cremo, for example is excellent for use with a cartridge razor, straight edge or even electric razor.
Using your hand and adding some water, the cream will activate and will get the skin hydrated and the shaft of the hair ready to be cut.
Now, doing a traditional shave and using a brush with a shaving soap, would put you on another level altogether.
This will add time to your shave, but it will be worth it since you are less likely to end up with razor burn and razor bumps can also be avoided.
One of the downsides about using an electric razor is that you are more likely to get razor bumps since the hairs get cut very unevenly. In fact they are sort of torn apart. If you could see under a microscope a hair that was cut by a razor and one cut by an electric shaver would be dramatic.
When the hair is soft from the cream and water combo, then the hair is cut far more evenly so it won't grow back curled under the layer of skin.
Using a shaving brush and soap like back in the day may seem strange when using a modern electric razor, but some guys don't want to use a cartridge and others don't want to learn how to use a straight edge.
From here on:
A conclusion
As I mentioned, objectively there is not a winner, or a loser in this curious electric shaver case. It all boils down to your personal preferences and characteristics like skin sensitivity, thickness of your facial hair and similar factors.
What I especially want to say is that it's not always that you need the most expensive model. A medium-budget pick can work well enough.
I hate to sound wishy washy about it, but it basically boils down whether you prefer a rotary or a foil shaver. Braun are the best for foils and Norelco makes the best rotary. Either brand does a great job and last a long time.
The reason I got both a Norelco and a Braun is because I'm interested in everything clippers, trimmers and shavers related. I use my Norelco for shaving my head, and my Braun for taking care of my neckline and sides when I'm in the mood for a clean shave.
But I could easily use any of them for both my scalp or facial hair. I'm just a little bit crazy re: grooming tools.
In other words, both brands' lineups are something you wouldn't regret as a purchase. Just think about your preferred technique and make the choice.
Hope my in-depth comparison helped, if a little bit!
I'm an outdoor enthusiast and have sported a full beard since I was in my early 20's. Originally, growing a beard was a way to save time when getting ready each day, but I quickly realized that keeping a neatly trimmed beard takes work and some forethought. That's where this site comes in.
You get to benefit from my years of experience. I've reviewed many of the top hair clippers on the market today and also included some information on what works best for me. A great beard will turn lots of heads in your direction.
Since I never know when I'm going to find myself being photographed, whether it's climbing in Yosemite, or playing volleyball on the beach, it's important to me to always look my very best. Maintaining my beard is part of my daily routine and I hope you'll find some useful tips and information on this site to help you on your journey.