Adjustable hair clippers have their kings Andis Master and Wahl Senior. Detachable clippers for barbers have one emperor – and that is the Oster Classic 76. You can say a lot of praises about this beast of a barber tool. Undoubtedly, one of its most cherished features are the Oster 76 blades.
In this article, we'll walk you through everything you need to know about these sharp pieces of art:
A full, detailed Oster 76 blades chart

What to use various blades sets for

How Oster Classic 76 blades are produced and why are they a pinnacle among detachable blades

How to change the blades in a simple way
Let's start!
The comprehensive Oster 76 blade chart
When you buy this model, your Oster blades set will include a #000 and #1 detachable Oster clipper blade. These are the most commonly used blade sizes, so there's nothing surprising. If you've ever had an adjustable clipper (like Andis Master or Wahl cordless Magic clip), you know these have an "open" and "closed" position.
There is no adjusting these blades. They are fixed at a certain length and when you want to go shorter or longer, you have to detach the blades. This may not give you as much accuracy as being able to change the length incrementally, but it does give you more power and cutting ability.
The #000 Oster blade is the same as the closed position of any adjustable hair cutter. That said, you have a lot more options and versatility with your professional 76 clipper. Here's the chart:
| Blade number | Size (inches) | Size (mm) |
| --- | --- | --- |
| #00000 | 1/125" | 0.2 |
| #0000 | 1/100" | 0.25 |
| #000 | 1/50" | 0.5 |
| Modified 0A | 1/50" | 0.5 |
| #0A | 3/64" | 1.2 |
| #1 | 3/32" | 2.4 |
| #1A | 1/8" | 3.2 |
| #1 1/2 | 5/32" | 4 |
| #2 | 1/4" | 6.3 |
| #3 1/2 | 3/8" | 9.5 |
| #3 3/4 | 1/2" | 12.7 |
| Flattop T | 1/50" | 0.5 |
| 18 Skiptooth | 1/8" | 3.2 |
| Texturing Blade | 1/8" | 3.2 |

Oster 76 blade chart

This blade set gives you more options and versatility with your professional 76 clipper.
Using the various Oster 76 blade sets
As you can see, the blades from #00000 to #000 are for quite close cuts. The #00000 is for a complete shave, resulting in a totally bald look. The #0000 and #000 are amazing for bald fades. A #0A is perfect for light caesar haircuts. While the #1A Oster Classic 76 blade is fitting if you want to use it as a clipper for fades, the #1 is for bulk hair removal.
If you plan to do clipper over comb haircuts, then your best bet is to use the #000 or anything shorter. Over that and you won't be cutting the hair right to the level of the comb. This isn't a bad thing, but you may find it doesn't go short enough and you will need to get closer to the head with the comb to take that extra few millimeters off.
You can easily see how some sizes differ:

I want to emphasize on #3 1/2 and #3 3/4. They are awesome for getting some length on the nape and the sides and taking it from there afterwards.
If you will be doing a lot of regular haircuts where you work then you'll be using these two blades a lot. The #3.5 is great to start the taper and then finish it with the #3.75 right to the crown where you'll begin the blend in. The length of the blade makes the transition to the longer hair so easy to blend.
With the special 18 Skiptooth, Texturing and Flattop T included, you have fourteen  blades to pick from. Quite the variety!
One word of warning, though is that the carbon steel blades are expensive. You will end up spending a few hundred dollars if you buy every version available. For new barbers on a budget, setting up your kit can be pretty expensive so I recommend just getting the blades you absolutely can't live without at the beginning and then adding more later as you need them.
Of you can opt for the plastic comb attachments to extend the length cheaply. This isn't a good long term solution but will get you started. Using the plastic combs doesn't get you as accurate a haircut as the naked blades will.
By the way, if you still haven't decided whether you want this hair cutter, head out to our professional Classic 76 clipper review. It will help you gauge whether it fits your style.

Oster 76 blade chart

This blade set gives you more options and versatility with your professional 76 clipper.
What makes Oster Classic 76 blades so special?
The masterful art of producing and strengthening any Oster 76 blades set is outstanding. I doubt there's something as meticulous as their creation. Maybe only Andis equally spectacular CeramicEdge blades used by their barber BGRc clipper.
Any Classic 76 blade is made of the highest quality stainless steel with up to 1.2% carbon inside. This allows for not only tougher and sharper performance, but also makes these accessories last way longer than your usual clipper blade. Oster ensure that through rigorous tests:
First, the blades are treated in scorching heat of around 1000°F. This lasts for an hour or so. The purpose is to allow the <=1.2% carbon to disperse equally among the steel material. Every speck of the blade gets "infused" with the carbon molecules' strength.

Then, the Oster Classic 76 blades are thrown into the exact opposite: a harsh, freezing environment. In temperatures lower than 300°F, these beauties spend over 20 hours to receive a further boost in their durability.
The result is an insanely solid, long-lasting and ultra tough blade that cuts through any hair type with zero effort. A knife blade of tremendous quality will rank around 55 to 60 on the Rockwell scale. Oster 76 blades can take pride in a 62 to 66 score.
That doesn't mean you should neglect your Oster clipper blades. The opposite: owning such a beauty should inspire you to undertake proper clipper blade maintenance.
Make sure you oil your Oster 76 blades frequently so it cuts smoothly and lasts even longer. In case your blades run hot (and they do, considering this Oster barber cutter's power), spray some coolant on them.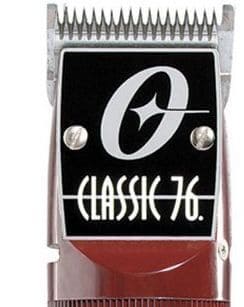 How to change Oster 76 blade set: easy and fast
At first, you'll think you'll never be able to cope with Oster 76 blades. Changing them seems so intimidating, you'd think! Think about it. Didn't cutting your own hair with clippers seem like a scary thing to do in the beginning too?
To be honest, changing Oster 76 clipper blades will be ridiculously easy for you once you ditch the fear. Here's how I do it – in line with what Oster themselves recommend.
Step 1
Don't turn off the clipper. I know it sounds counter-intuitive. I know it sounds like you'll be cutting your fingers in no time. But you won't. So just keep it running. You can also do it with the 76 being turned off, but then you might encounter an issue (see Step 3.)
Step 2
Pick the Oster 76 blade at its sides. Pull away from the clipper head gently, but with a quick motion. This will release the latch that's holding it. Then, remove it by sliding it off.
Step 3
In case you decided to turn off the clipper when removing the old Oster 76 blade, turn it on! Here's the thing: in the middle of the clipper head there's a lever. This is where the new blade will "fit" (you can see the blade's "slot" if you look closely.)
WARNING: this lever stops on different places when you turn off the Oster barber clipper. This leads to the risk of the new blade not properly lining up and falling in too hard. Why does it matter? In time, the blade will get loose and will start pulling hair. And nobody likes a powerful beast of a hair cutter pulling on their locks.
Letting the clipper run while inserting the new Oster Classic 76 blade will avoid such a hassle. Again, don't worry about it – you won't get hurt if you follow these directions. The new Oster blade will snap back on very easily.
If you prefer a video guide, just watch this walk through, courtesy of the brand itself:
Hope that this guide on Oster 76 blade sets has helped you out in more than one way. If you have any questions, let me and Alex know in the comments below. If you've decided on the new detachable blade you need for your 76 clipper, then…

Oster 76 blade chart

This blade set gives you more options and versatility with your professional 76 clipper.
I'm an outdoor enthusiast and have sported a full beard since I was in my early 20's. Originally, growing a beard was a way to save time when getting ready each day, but I quickly realized that keeping a neatly trimmed beard takes work and some forethought. That's where this site comes in.
You get to benefit from my years of experience. I've reviewed many of the top hair clippers on the market today and also included some information on what works best for me. A great beard will turn lots of heads in your direction.
Since I never know when I'm going to find myself being photographed, whether it's climbing in Yosemite, or playing volleyball on the beach, it's important to me to always look my very best. Maintaining my beard is part of my daily routine and I hope you'll find some useful tips and information on this site to help you on your journey.