It's been a while since I first started shaving both my head and facial hair with one of the best electric shavers I have tried. Talk about an interesting switch to this from my previous experience with hair clippers and trimmers.
The reason I'm writing this article right now is because I totally get you. There's a good chance this is your first contact with the world of best electric shavers. And you're as confused as I was.
I mean, there's a ton of these! Designs and way of shaving differ, there's a lot of marketing mumbo jumbo and features that might not make much sense to you…
Let's first start with a snapshot of my 3 most recent babes. A Braun Series 5, a Norelco Series 5000 and the barbers' darling Andis Profoil Lithium – all considered as the best kind.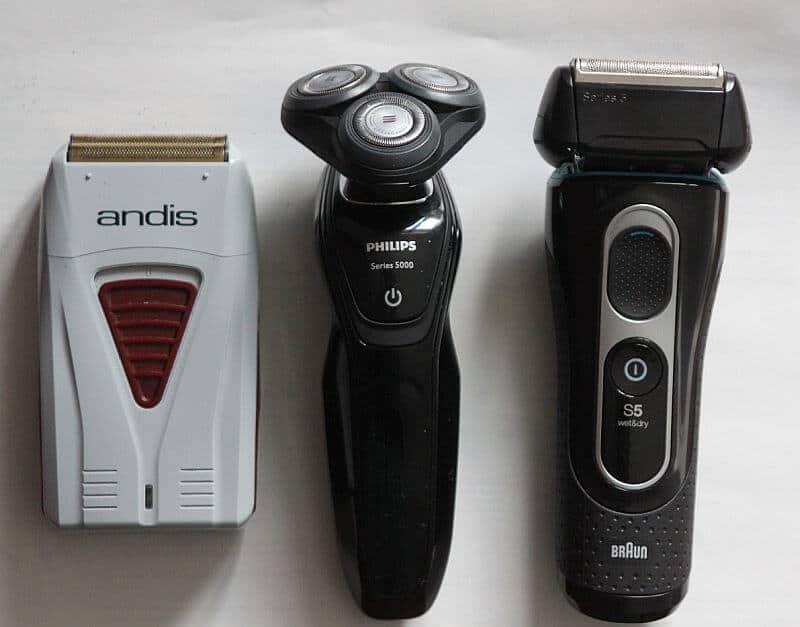 Notice something? That's right. The Norelco has three circular blades, while the other two are what we'd call a foil shaver.
These 3 best electric shavers approach shaving from an entirely different angle and I'd like to explain this to you.
However, let's first take a look at a quick comparison table between the 6 best electric shavers I know. Note that I've picked rotaries and foils from several different brands, with products ranging from budget pricing to the full luxury treatment.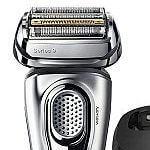 Braun Series 9

Summary:
Most versatile and flexible shaving head and Braun's most powerful shaver. Cutting-edge technology for high-end grooming, but expensive.

Shaving Directions:
Record-breaking 10 directions.

Wet & Dry?
Yes.

Closeness of the shave:
★★★★★

Contouring & Skin-friendliness
★★★★★

Battery:
50 mins on 1 hour charge.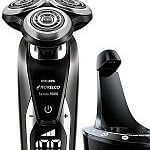 Philips Norelco 9700

Summary:
Most cutting-edge rotary shaver. V-Track precision blades with good contouring, and facial brush for better shave prep. A bit lackluster compared to high end foil shavers, however.

Shaving Directions:
8 directions.

Wet & Dry?
Yes.

Closeness of the shave:
★★★★½

Contouring & Skin-friendliness
★★★★½

Battery:
1 hour on 1 hour charge.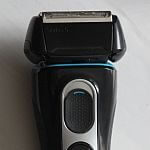 Braun Series 5

Summary:
Mid-range Braun shaver. Perfect for good enough shaves on a very attractive price. Lacks high-end features, but will satisfies the needs of the average gentleman.

Shaving Directions:
8 directions.

Wet & Dry?
Yes.

Closeness of the shave:
★★★★½

Contouring & Skin-friendliness
★★★★

Battery:
50 mins on 1 hour charge.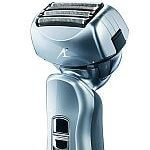 Panasonic Arc4

Summary:
Best bang for buck Panasonic shaver. Ultra thin foils with unique cutting technology deliver close, smooth shaves. Quality Japanese manufacture. Shaving head a bit bulky and clumsy, however.

Shaving Directions:
Multiflex head, comparable with mid-range Braun and Norelco shavers.

Wet & Dry?
Yes.

Closeness of the shave:
★★★★½

Contouring & Skin-friendliness
★★★★

Battery:
~50 mins on 1 hour charge.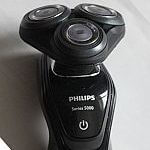 Norelco 5000

Summary:
Very affordable mid-range Norelco shaver. Easy to maintain, very gentle for its price range, good for casual users. Leaves a bit of stubble and isn't that great if you don't shave frequently (every 1-2 days.)

Shaving Directions:
5 directions.

Wet & Dry?
Yes.

Closeness of the shave:
★★★½

Contouring & Skin-friendliness
★★★★

Battery:
~45-50 mins on 1 hour charge.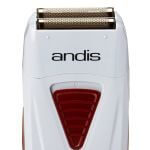 Andis Profoil

Summary:
Barber-grade shaver. Extremely powerful, very close shaves and perfect for people prone to razor bumps. Lightweight body. Not recommended for total beginners and not that sophisticated.

Shaving Directions:
Not specified, comes with only two parallel foils.

Wet & Dry?
No.

Closeness of the shave:
★★★★★

Contouring & Skin-friendliness
★★★★

Battery:
80 mins per charge.
Also, let me be honest. A lot of a shaver's efficiency depends on your own body. I'm talking about things like:
How thick/coarse your hair is

How sensitive/prone to razor burn or bumps your skin is

What your skincare rituals involve (preshave, post-shave etc.)

How much stubble you are comfortable with
That said, I've thought of the best models to suit your preferences.
Before we start:
How foil and rotary shavers differ
You might notice that the two Norelco models I've included have this 3-blade circular design.
This is what we'd call a rotary shaver. The blades spin and gently cut your hair as you pass through your face or head.
As you can gather from their design, rotary shavers are best when you do circular motions when shaving yourself. The moment you decide to go back and forth or up and down instead is the moment you get skin irritation.
Foil shavers are the exact opposite. As you can see, they include several layers of foils with a rectangular design: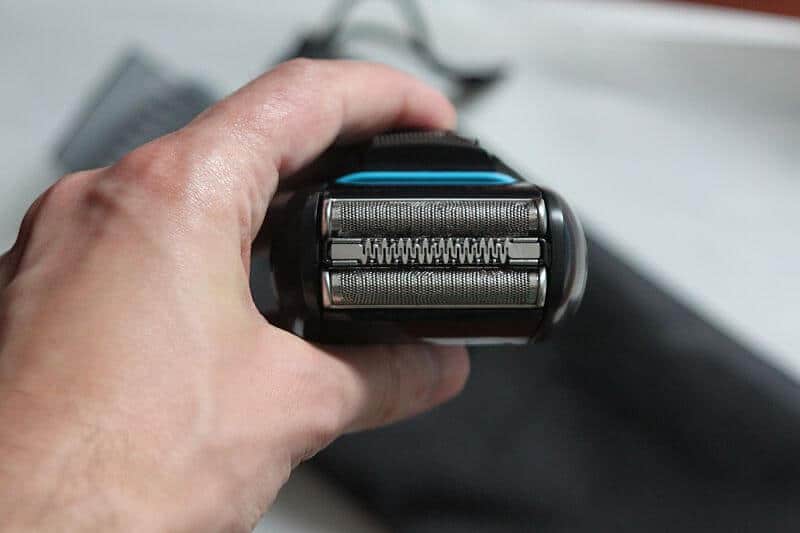 As you can guess, the big no-no here is going in circles. Instead, you want to shave yourself with slow, deliberate back and forth motions.
I'd like to clarify that neither foil, nor rotary shavers are inherently "better". They just approach shaving in a different way. Foils are supposedly gentler to the skin, but this differs across the individual gentleman.
For example, I've found that rotaries are way better for my scalp. However, the foils do deliver a closer shave. If you want to read more, head to my foil vs rotary shaver comparison.
What to look for in an electric shaver
As you will see as you read on to the review section, there are quite a few different ways to approach an electric shaver. So, how do you know which one will be best for you? Just saying that one model is the best might not mean it is the best for your needs.
Here are a few factors to keep in mind as you start your journey towards a purchase.
Price
I'll start with this as it is likely to be the biggest factor in your decision.
You can pay less than $20 for an electric razor up to several hundred.
Now, do you have to pay several hundred to get a good quality electric razor? No, but I do think that the more you spend the more you get. Whatever your budget is, I would spend to the upper limit of it to make sure I get something that will stand the test of time.
Battery Type
Rechargeable batteries have come a long way in the last few years with two being the predominant types. There is Lithium-Ion and Nickel Cadmium.
Generally, the better of the two is the Lithium Ion. Now, Nickel Cadmium has come a long way and can last just as long as some Lithium ones on a full charge. Where it comes up short, however, is in terms of longevity. At a certain point, a rechargeable battery will just stop charging. This usually takes a few years.
A Nickel Cadmium battery generally reaches that point first. They are less expensive than a Lithium Ion one, but in the long run, will cost you more as you will have to replace the shaver sooner.
Options
Some razors will include a pop-up detail trimmer to be able to edge your beard and hairline. Generally, these trimmers don't work as well as a dedicated beard trimmer, but they do get the job done when you just need some small details covered like lining up your sideburns.
Another option that is nice to have are charging and cleaning docks. I love killing two birds with one stone and having a way to clean the blades while it charges is a no brainer. The one downside to it is that you need to have the space to accommodate it.
Moving Blades
Having blades that sit on buffers will give you some comfort and also a closer shave. Since your face, or your head, has contours, you want the blades to be able to maintain close contact with the skin. Some razors have blades that can move in 10 different directions so the blades always have maximum contact. This means that it takes fewer strokes to shave the hair. The fewer times you have to go over the same spot, the less likely you are to experience irritation.
Also, when they sit on these buffers, if you press down a little they won't rub your skin raw.
Back in the day, I tried using an electric razor and it was so uncomfortable I swore them off. Then I gave the Braun Series 5 a try and changed my mind. Now that they are using blades that move they are way more comfortable than they ever have been.
Speed
How fast those blades are moving is going to determine how quick your shave is and how close it gets.
The faster the better obviously.
With speeds reaching over 14,000 SPM, you can cut those hairs really fast and very efficiently. That means you won't be running over the same spot a bunch of times to get all that stubble down. Then your shave is much faster. Even if you're only taking a couple of minutes off per shave, I would say it is worth it to go for the faster razor.
You can also cut through thicker facial hair faster when you have a higher SPM.
Wet or Dry
Even if you don't plan to shave in the shower, it may be a good idea to have the option to wet shave with your electric razor. They can be cleaned easier, can also be used with shaving cream if you have sensitive skin and they resist moisture so they last longer.
What you came here for:
The 6 electric best shavers right now
1. Best premium Braun shaver:


Braun Series 9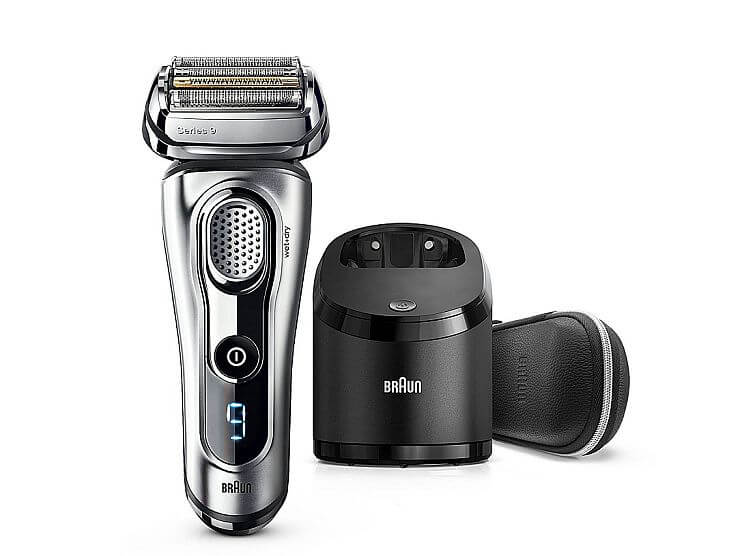 Few would dispute the fact that Braun has emerged as THE face of foil shavers and one of the best electric shavers. And even fewer would argue against a simple truth: Series 9 is the brand's most sophisticated gadget yet.
I'm not a fan of maximalism, but there's one thing that makes the Series 9 unbeatable:
The 10 shaving directions it delivers to your skin.
As I've mentioned in my Braun Series 9 review, the amount of shaving directions correlates to how close and precise your shave is. And there's not one other shaver that can take pride in having as much flexibility as the Series 9.
This neat feature is further amplified by the shaver head which is also Braun's most sophisticated yet. With Series 9, the brand moved from their 4 Shaving Elements system to an approach involving five parts.
The extra detail is the so called Direct & Cut trimmer. In short, it cuts facial hair growing in different directions. That's a very common pain point for many men and usually involves a lot of frustration and risks of getting razor bumps.
Series 9 is also Braun's most powerful shaver as its motor clocks at 40 000 cutting actions per minute. Numbers don't say much, so let me paraphrase it into what matters.
This pace, combined with 10 shaving directions and the sophisticated shaver head allow for the closest, fastest and most gentle shaves among all best electric shavers on the current market.
Sounds pretty good, right?
What's not that good is the relatively high price you'll be paying for this model. Especially if you also go for the cleaning system.
Two other things that will surely matter for you are…First, the fact that the 9290cc Silver model is a wet & dry shaver. Feel free to use it with shaving gel/foam under the shower if you want to.
Second, the battery life. Don't expect anything out of the ordinary here. You're getting the typical 50 minutes/1 hour of charging deal. Considering how fast this electric razor works, however, 50 minutes are more than enough. It'll last for quite a few grooming sessions.
2. Best Norelco Rotary Electric Razor


Philips Norelco 9700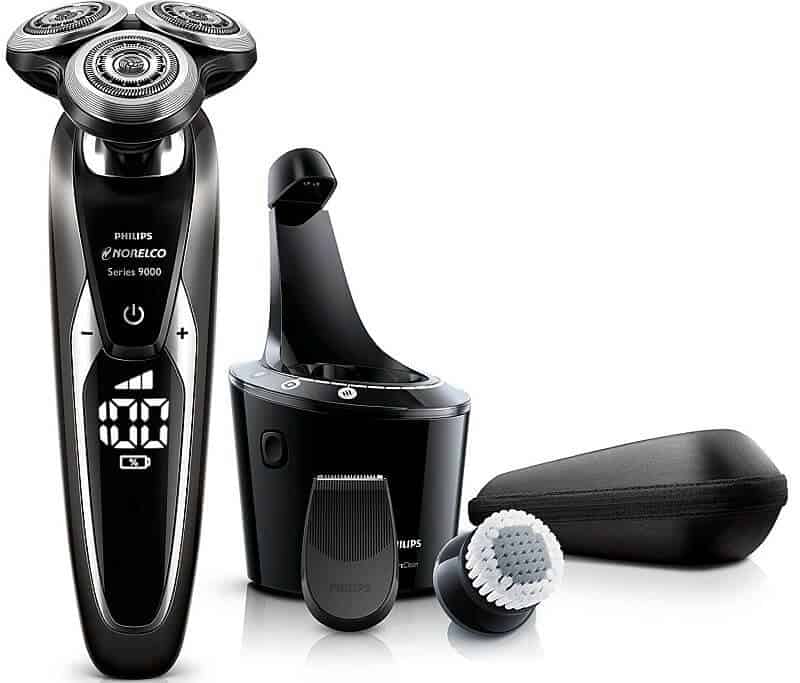 We had the king of foil shavers, now it's time to look at the emperor sitting on the rotary electric razor throne.
Series 9700 is peak Norelco. It retains their trademark design with rotaries, yet makes it sleeker, more ergonomic, and throws a neat digital interface to make it feel futuristic.
Of course, we're not after looks only here. We want to see utility…and we sure enough get a good deal of it!
The Series 9700 can boast about its 8 shaving directions which is the highest you'll see in any rotary tool. This contouring grace is paired up with the V-Track precision blade system to deliver accurate and skin-friendly shaving results.
The coolest thing with the 9700 are the three speed settings. You can alternate from a slow, extra gentle shave to the quick-paced, I'm-in-a-hurry shaving mode. That's a feature you won't see in many other models, even high-end ones.
Another cute detail is the facial brush you get in the package. You can stick it on the shaver instead of the rotaries, and have some fun cleansing your face before actually grooming yourself. This is an important way to unclog your pores or soften your skin so you get better results when shaving.
Sure, you can do that with your hands or a standalone brush/sponge…But it's cozy to get an All-in-1 package when buying your electric razor.
Onto other important details: this one has a 1 hour Li-Ion battery on a 1 hour charge. So, a little more battery life than your typical Braun or previous Norelco models.
Wet & dry shaving are both totally alright with the Series 9700. That said, I've found rotary shavers have a harder time coping with extra thick shaving foams or gels, so be careful.
Last but not least, this Norelco model comes with an advanced cleaning system. Compared to previous ones, the SmartCleanPro also dries the shaver blades after lubricating and cleaning them.
I can't emphasize how this is considered as one of the best shavers. Also, the cleaning agent is non-alcohol unlike Braun's alcohol solution. Feel free to read my Norelco vs Braun comparison for more little details between the Series 9700 and Braun's Series 9.
3.

Best Braun budget electric razor


Braun Series 5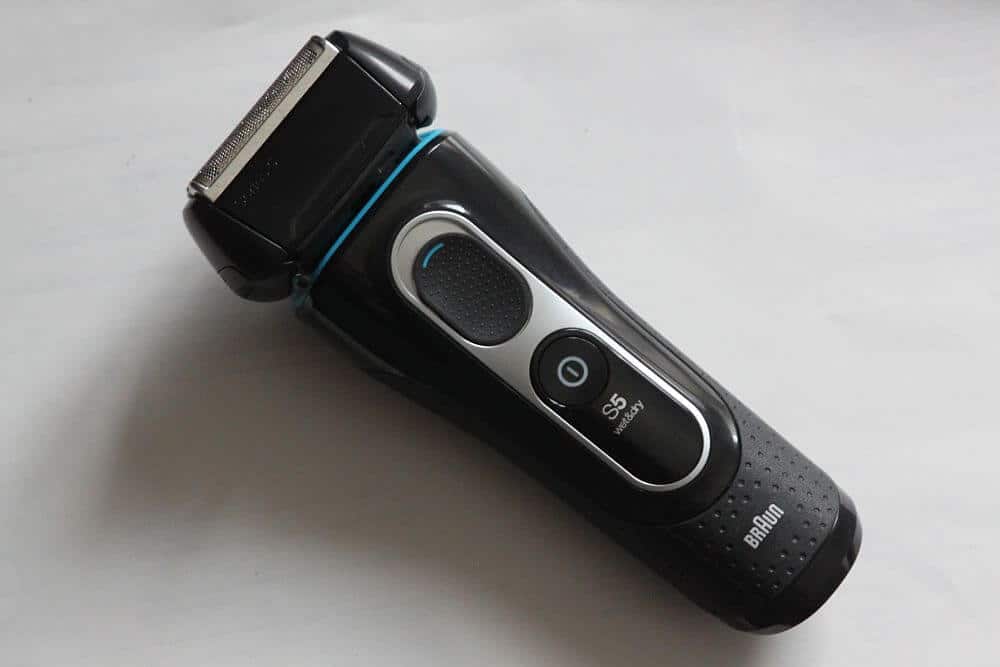 Let's get this straight: a budget pick here doesn't mean some serious compromise on convenience and shaving quality when it comes to the best electric shavers . I mean this for both Braun and Norelco.
I'm actually as satisfied with the Braun Series 5 as I was with the brand's newer electric cutters. But yes, generally you'll get a bit less convenience with it.
As always, I'll start with the shaving directions. The foils turn in 8 directions here, which is a considerable step back from the Series 9.
You also get the typical older generation Braun foil head which looks like this: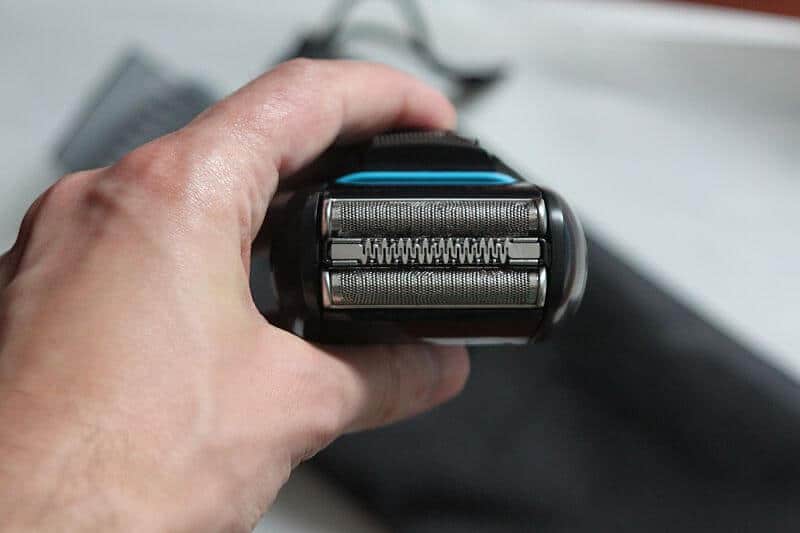 That said, the two OptiFoils perform pretty well and I haven't had them jamming on my scalp hair or facial hair. The shave is smooth and quick, definitely better than the budget Norelco rotary I have at my disposal.
What's neat about the Series 5 is that, unlike a lot of lower priced best electric shavers, it's a wet & dry grooming tool. Usually, budget picks are dry shave only.
Oh, and the battery life is just about the same as the higher priced Series 9.
Of course, you do sacrifice a bit of the convenience and closeness you'll get with a higher-end model. The motor cuts slower (30 000 actions vs 40 000 in Series 9), the foils aren't extra protected and there's no part taking care of hair growing in different directions…
But for those of you who want a good enough shave, Series 5 is a very good pick. I like my scalp as smooth as possible without having to resort to razors.
This model helps me do just that, unlike the lower end Norelco rotary that leaves a bit too much stubble for my liking.
4. Best Panasonic electric razor:


Panasonic Arc4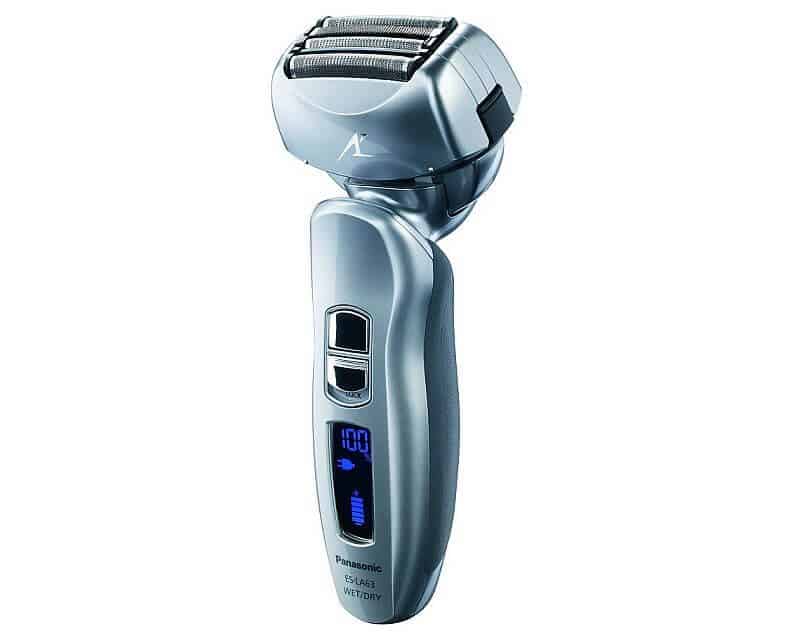 I'll be honest that I was – and still am, underestimating the impact of a good Panasonic shaver. I've seen them in action and they seem good, but…Somehow I prefer to stick to Braun for my foils.
So why this one and not Arc5?
Because the difference between both is again not that substantial – even less so than Brauns, while the pricing gap is rather big. There's a reason why Arc4 is still a best seller from the Panasonic lineup.
Speaking of foils, Panasonic approach them with somewhat thinner foils compared to Braun. Arc4 follows a similar structuring pattern like older Brauns, though.
The stainless steel foils here cut at 30 degrees, aiming at the root of the hair. According to the brand's research that's the cleanest way to groom a man's facial hair. You'll see Braun advising you to hold their shavers' head at 90 degree angle…
I'm not sure whose mathematics and equations are better. But the fact is, the Arc series delivers quite the precise shave. There's a hair lifting trimmer in the shaver head here too, which is important. Flat hairs are a #1 reason for bumps and skin irritation and no self-respecting model should skip on having a dedicated shaver head part to take care of this.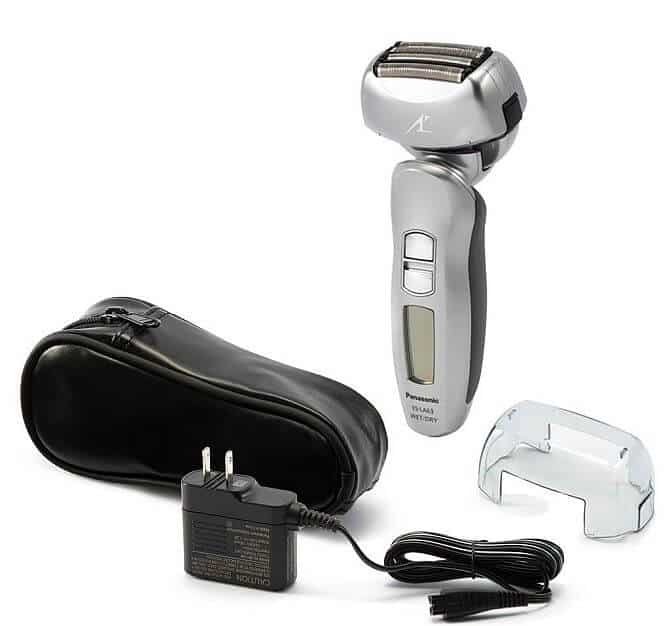 As always, thin and sharp blades don't mean much if there's not a good motor to supplement their operation. I was surprised to read into Panasonic documentations and find out their foil shavers are actually faster and more powerful than Braun ones!
For example, each of the Arc4 blades spins at 14 000 cycles per minute (the motor is linear, so perfect for that back-and-forth foil cutting.) If you multiply it by 4, this turns into 56 000 cycles. In comparison, even the highest Series 9 from Braun clocks at 40 000 cycles.
Back to batteries and shaving modes, Arc4 gives you the standard treatment. 45-50 minutes of Li-Ion battery life and the typical wet & dry shaving. Charging to full extent takes a bit less than an hour here, though.
I mentioned rotaries are more prone to clogging according to my experience, right? Well, the thin blade design here is an exception from the foil shaver world. Be careful with extra thick creams or foams and the Arc4.
All in all, this is a pretty good offer from Panasonic. Bonus points also include the fact that this is Japanese quality construction, as all the parts are manufactured there. And you know how the Japanese are with their attention to detail.
Where the Arc4 falls short is the design of its shaving head. It's significantly builker than the Braun Series which can be a bit irritating. Especially if you want to use it in tight spots that require more detailed work and flexibility.
5. Best budget Norelco rotary electric razor


Norelco Series 5000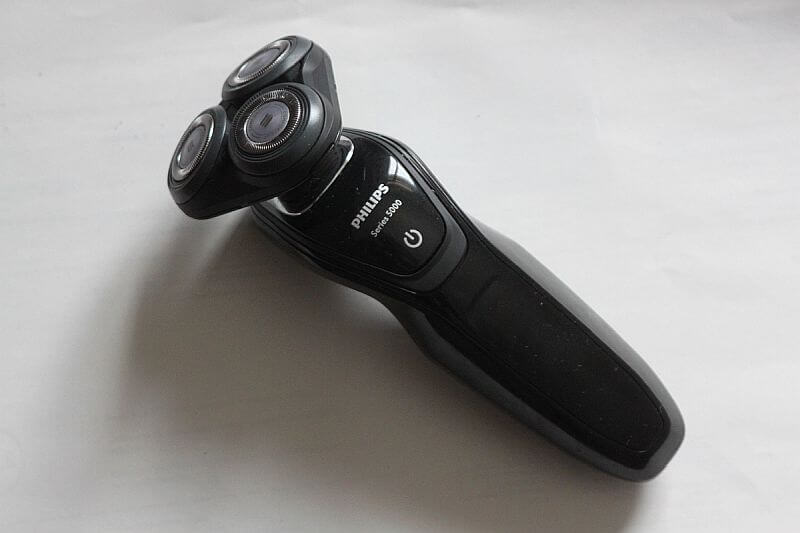 Series 5000 is not the cheapest Norelco rotary out there per se, but it's the most affordable well-rounded model they have.
It's also the single easiest to clean and maintain grooming appliance I've had. This is crucial considering how dirty and clogged can these things get: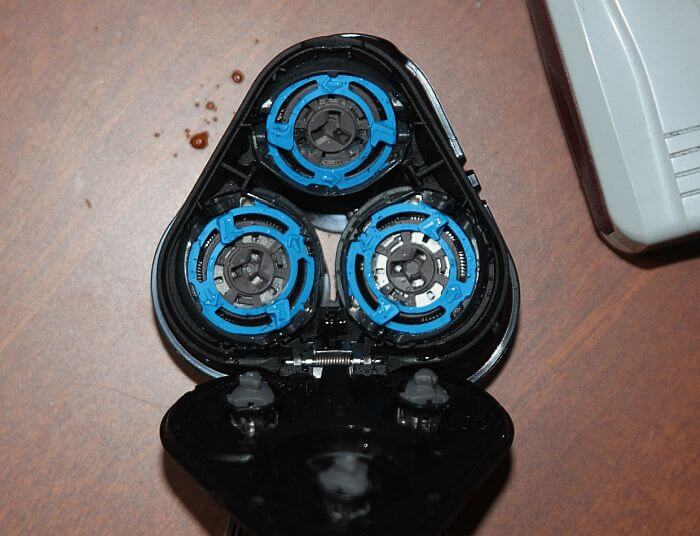 Keep in mind that this one won't deliver nearly as close shave as all other previous models I mentioned. Two reasons for that.
First, there are only 5 shaving directions here. And second, this is an older gen rotary shaver: basically, this guarantees you'll see a little bit of stubble left.
This is especially important for those of you who are looking for an electric razor to shave your head with. My usual grooming session involves taking the bulk of my stubble with a Series 5000. Then, I finish up with my Braun Series 5.
It's just too much difference in terms of how close they get. The Series 5 leaves me sleek and shiny, while Norelco's 5000 leaves a ~6 hour stubble.
That said, the Multiprecision blade system is really gentle. I guess the fact that there's a slower motor there and it's a rotary really contributes to how delicate this shaver is to my otherwise sensitive skin.
There's a turbo mode feature you can use for some extra power (10%), but it's not that spectacular. The battery holds for up to 45 minutes on 1 hour of charging, another staple for the industry.
With a wet & dry function, this is well above other Norelco older shavers that would be only compatible with dry shaves.
If I'm to sum it up, the Series 5000 is for those of you who would shave pretty frequently. If you skip 2 days of shaving with this fellow, you might have trouble with getting a smooth, close shave. Something that wouldn't happen with the higher end rotaries or basically any foil shaver out there.
If you're ok with this and are looking for an affordable solution, good. But if you want to postpone shaving that stubble and seek extra close, powerful grooming…Look elsewhere.
6. Best barber grade electric razor


Andis Profoil Lithium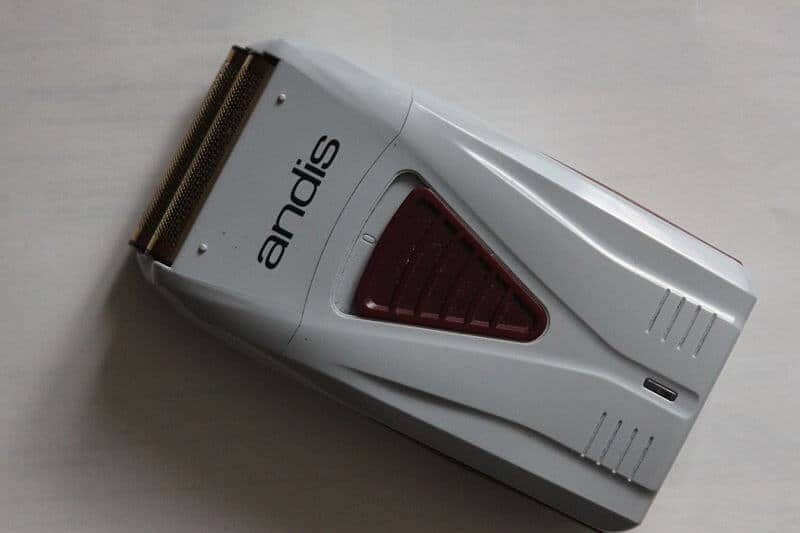 We're heading to a model you won't see in many other articles recommending you the best kind of electric shavers.
Which is a shame.
Andis, together with Wahl, is a top brand offering anything from hair clippers, to trimmers and shavers. And the ProFoil Lithium is their cutting-edge offer to stylists, haircare professionals and people on the lookout for a ridiculously close shave.
This thing is ready to ROAR with its hypoallergenic, titanium foil blades: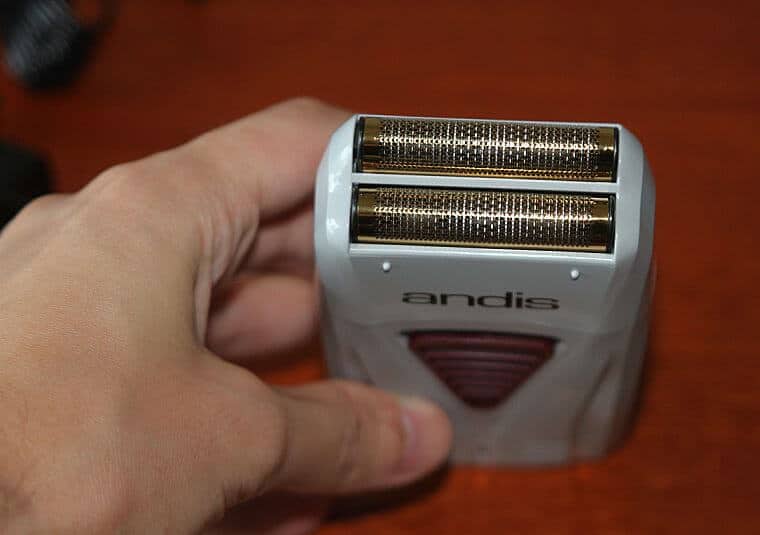 Also, it's the single lightest electric shaver you will ever see. At only 0.2 lbs (!) and a mere 4.75" size, this is a model that offers you insane mobility.
Did I mention that it's battery also runs for some record-breaking 80 minutes?
And it's easily two times cheaper than most other best electric shavers.
Alright, alright…so what's the catch?
The catch is that it's quite powerful and can feel a bit more challenging/overwhelming for a first time user. Andis are not hand holding you with some premium features, cleaning stations and whatnot.
Shaving 101 involves not applying any pressure on the grooming tool. This is especially true with the Profoil. You go too hard with it, you end up with a neat looking rash on your scalp or face. It's just way too powerful, I can't emphasize this enough!
Also, there are less protection parts and sophisticated technology quirks with the shaver head. If you look at the above picture, you'll see only 2 golden-colored titanium foils. That's just about it. No fancy-named trimmers and additional parts.
That said, if you are willing to take your time and practice a bit, the Profoil is a total beast.
Barbers usually use it for anything from head shaving, to general facial hair annihilation, to fades and blending. And it's inarguably one of the best electric shavers for black men – as it's exactly them who are most prone to the dreaded razor bumps.
If you want a more bare-bones approach to foil shaving and are willing to challenge your grooming habits, Andis has the perfect tool for you. The cost performance ratio is insane, the closeness of the shave too. Just make sure you take your time to perfect your technique.
What can you do to make your shaver last more?
I've seen way too many people complain about their best shavers not living up to their expectations.
I get the frustration. Your typical shaver can easily hit $100 and is not a negligible investment, after all.
On top of that, replacement foils, cleaning solution refills and all that jazz can become a further dent in your budget.
But in a ridiculous amount of cases, the failure of an electric shaver isn't due to the manufacturer getting a half-assed, filmsy product out. It's due to improper usage or lack of frequent maintenance Regardless if you have the best electric  shavers, if you don't know how to take care of it, it won't last very long.
Foil shavers have one disadvantage compared to rotaries: they're pretty delicate.
Even reinforced, titanium-coated foils can tear easily if you're not careful. And 'not careful' means you applying too much pressure when shaving.
As I mentioned before, foil shavers are more powerful. Which means that you only need to gently touch your scalp/face when shaving. I really mean it. Just glide the foils across your skin and it'll be enough. Twice so if you use it with a shaving foam.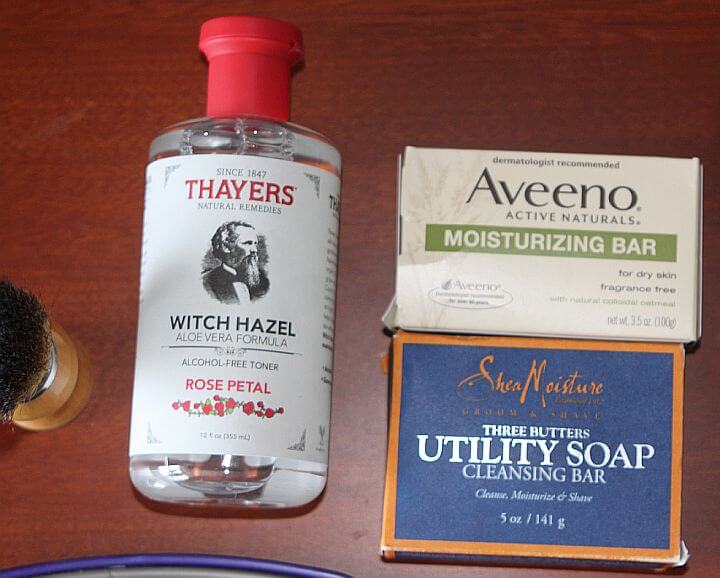 Powerful motors equal to the friction generating heat. And heat causes foils to both be more susceptible to tearing and them irritating your skin if you go too hard.
If you don't want to shell out some bonus bucks for foil replacements, just be more gentle during your grooming sessions.
Unlike clippers, a lot of best electric shavers will mention that they don't need oiling. And certainly, most of the cleaning stations also lubricate and refresh the foils/rotary blades.
If you don't have a cleaning station, however, you can easily forget that we're talking about friction and blades, after all. At one point even those supposedly 'you don't need to oil them' stainless steel parts will get dull.
I'm oiling my Norelco Series 5500 rotary once per month if I'm not shaving my head too often. If I buzz it frequently, I oil the machine once every other week.
You should hear the difference in how the motor roars! Not to mention how quick the three blades start spinning, delivering better cuts.
Remember: no matter how sophisticated a shaver might be, it still needs lubrication or oiling. And this goes to all the best shavers out there, no exemption!
Cleaning all those leftover hairs
Similar to any other grooming tool, these best shavers get a lot of leftover hair stuck around the foils/blades, or sometimes even in the motor compartment.
Either get a small cleaning brush (a clipper one would work fine), or get a small-headed toothbrush to clean the compartments out.
(This is, of course, assuming you didn't get a model with a cleaning station included.)
To be honest, both rotary and foil shavers are pretty easy to clean. Most of the best electric shavers models have detachable shaver heads and with one click you can pop them off to get rid of the hair/debris underneath.
Still, not only relying on rinsing, but also sweeping a little bit with a cleaning brush will net you better results. Some leftover hairs can be pretty stubborn!
I'm an outdoor enthusiast and have sported a full beard since I was in my early 20's. Originally, growing a beard was a way to save time when getting ready each day, but I quickly realized that keeping a neatly trimmed beard takes work and some forethought. That's where this site comes in.
You get to benefit from my years of experience. I've reviewed many of the top hair clippers on the market today and also included some information on what works best for me. A great beard will turn lots of heads in your direction.
Since I never know when I'm going to find myself being photographed, whether it's climbing in Yosemite, or playing volleyball on the beach, it's important to me to always look my very best. Maintaining my beard is part of my daily routine and I hope you'll find some useful tips and information on this site to help you on your journey.